Designing A Bamboo Playground
By Diane Diaz | August 5, 2022 | Alumni -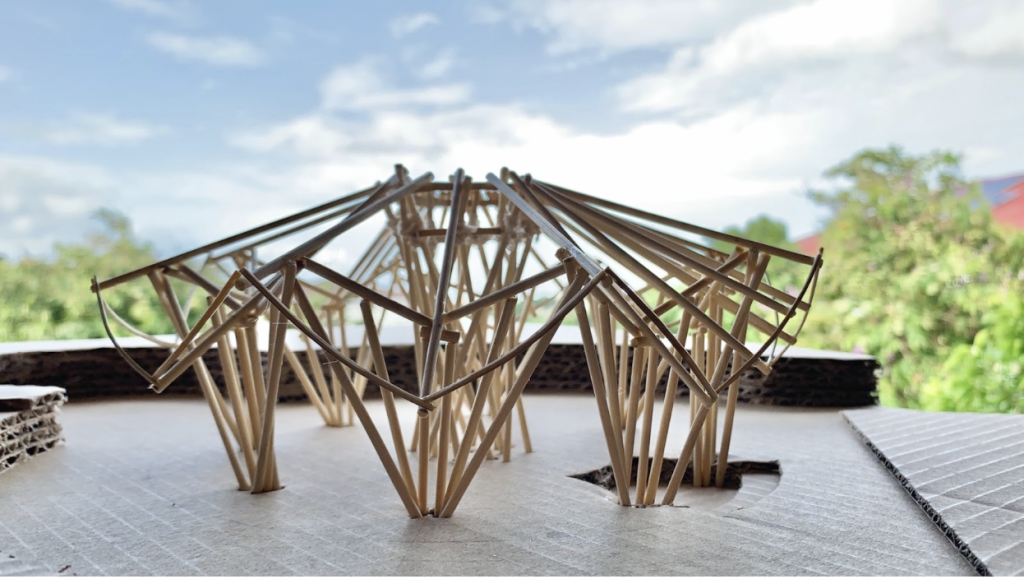 Follow Diane's journey of designing a bamboo playground in the Philippines during the online course.
I'm Diane, a young architect from the Philippines, a nature lover, part-time yoga teacher, and I care deeply about how we treat the earth. My dream is to create healing spaces - both physical and abstract. As an architect, I hope to design structures and spaces that allow people to live well while respecting mother nature no matter what the scale.
I have always been very interested in bamboo as a sustainable material for building. There are a lot of natural resources, such as bamboo, in our country and I think that there is so much potential in putting these to good use in the building industry but it has not reached its full potential here despite the fact that we have vernacular architecture built with bamboo. I hope I can take part in helping sustainable construction become more accessible.
Through the online course, I learned a lot about how to get started with exploring bamboo as a building material - all the way from growing, harvesting, and designing with its best qualities in mind. Learning about its strength in tension has really taught me to think differently from the way we build with concrete and this really helped me in being more creative with the final form of my project.
The Bamboo Building Concept
The name of my bamboo project is Play Place, it is a playground and is 176 sqm.
Play Place challenges the typical playground setting that we often see in our communities. What inspired the idea was the observation of the lack of activity in our own village playground. The space allocated was very open to the hot sun, bland in its play equipment, and lacking the quality of creativity and imagination. Less and less children are playing outside perhaps due to the rise in heat from climate change or the growing fascination with computer games.
Outdoor play in childhood is important, and therefore how can we create playgrounds in communities that are more inviting, to allow creativity to flourish? Building a playground using bamboo would allow children to immerse themselves in an environment that is less artificial. It also provides the opportunity to create interesting forms and shapes that can inspire imagination and reactivate dull community spaces as a place of gathering. It changes the idea of a typical playground with plastic and metal play equipment - materials that are actually painful to touch when exposed to the hot sun in the afternoon.
The Play Place is meant to be a space that is warm and inviting for children to play in while activating a social space that members of the community can also enjoy as a place of gathering. It aims to be a model that can easily be replicated in different communities including areas where the members of lower social classes reside. A lightweight structure with materials that are widely available in our country not only makes the structure more sustainable but also gives character while providing an open space that shelters from the hot sun and rain. It aims to create an experience that feels as natural as simply playing in nature.
Design Brief and Concept Sketches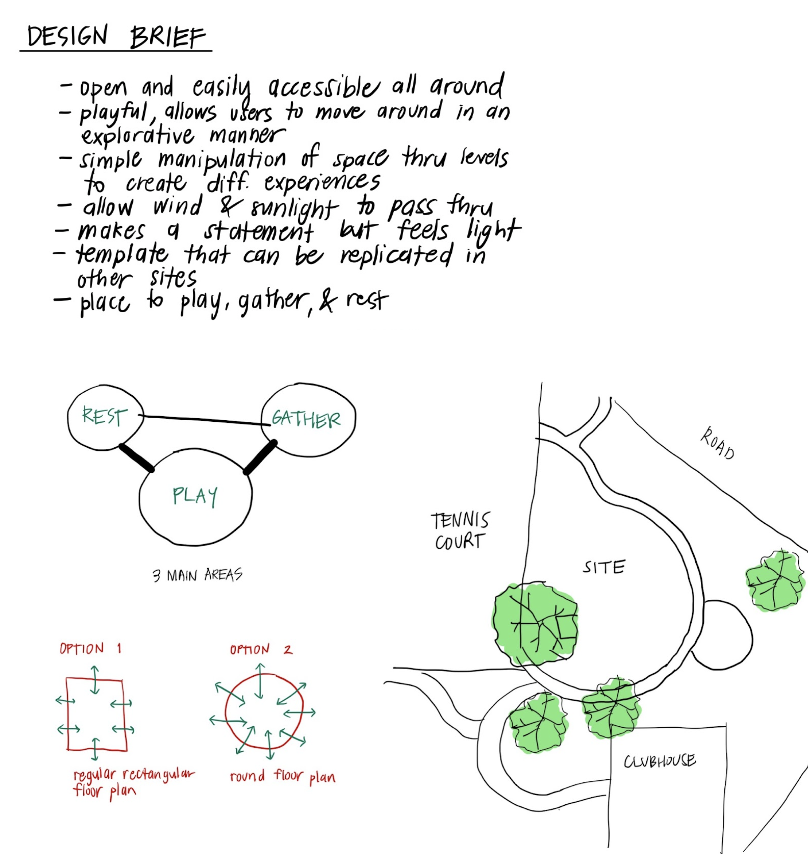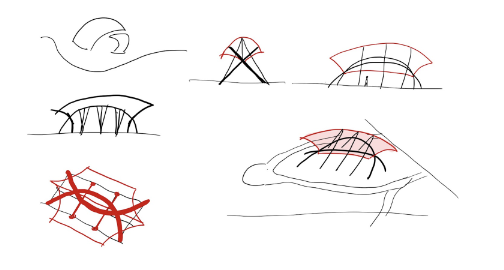 Conceptual Model

Developing The Concept Into a Final Structural Model
The project brief calls for creative movement and play through the space which inspired the idea to keep the structure organic in shape to encourage imagination in play. From the rigid straight lines of the concept model, I played around with imagining the space like a forest with trees towering over it as inspiration.
One of my favorite takeaways from the course were the structural principles that really allow the tensile strength of bamboo to shine. I took the idea of the hyperboloid tower as a main structural element to keep most of the space open since play areas are best kept open to allow its users to run around freely. This element really gave life to the idea of entering a forest - imagining yourself under a canopy of trees.
One of the challenges I faced with the final model was the roof. It had to give character to the structure while providing proper shelter from the sun and rain. I went with a shape similar to the petals of a flower; with the roof lifting upwards by the openings to the structure, inviting people to enter the space. I learned a lot from our facilitators and speakers and their guidance and willingness to answer all our questions contributed greatly to my design process all throughout.
The species chosen for the structure are those that are widely available in the Philippines. Bambusa blumeana (Kawayan Tinik in vernacular) and Dendrocalamus asper (Botong in vernacular) were chosen for the main structural elements. For the roof, a three-layer system is employed similar to what we learned through the course. Nipa palm for the outer layer, asphalt membrane for the middle layer, and sawali (bamboo matting weaved with thin strips) for the inner layer which will be the ceiling finish seen from inside the structure. Nipa palm roofing and sawali are materials locally made in the Philippines.
"Doing this conceptual project (which I hope to build in the future!) was a really great learning exercise and aided in putting what we learned to practice."
It's hard to choose just one module from the course as my favorite. There were valuable takeaways from each module from learning about the different species and harvesting sustainably to learning structural principles to the design philosophies shared by Elora Hardy and her team. It was a well-rounded course and learning from the local artisans as well was amazing.
Structural Model

Bamboo play equipment is part of the vision of the project. Here are some sketches showing an exploration wherein an entry point can be turned into a swing area. It would have to be a location where there is less foot traffic expected - such as the area on site (used for this conceptual project) adjacent to the fenced-off tennis court.
A change of elevation can create a cozy gathering space for the community and also a place to rest for the kids and their guardians.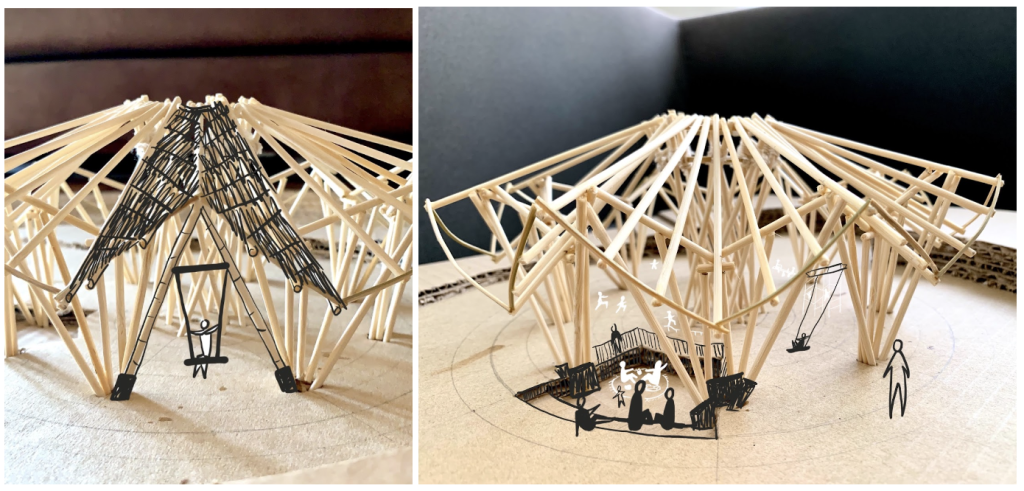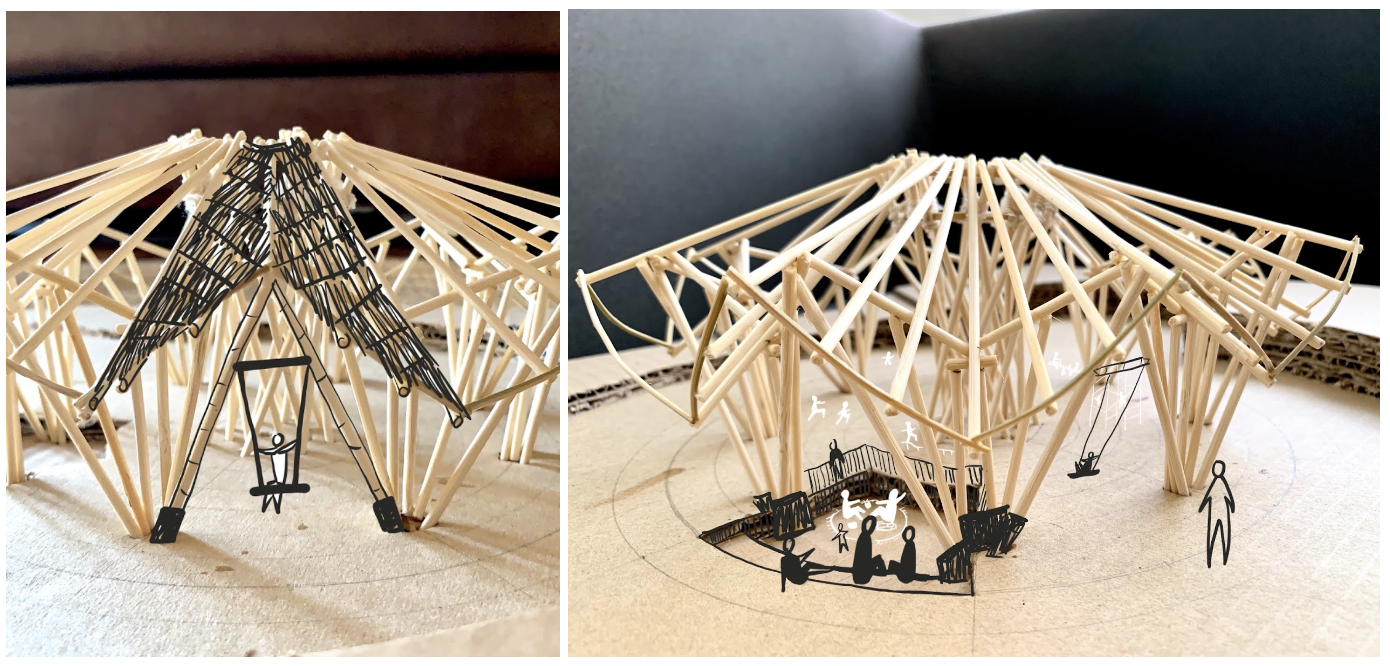 The key inspiration for me throughout the course and this project was to think out of the box and to remove any preconceived notions I had of what it was to build. Bamboo has a structural strength that can rival reinforced concrete but it is at the same time delicate, organic, and renewable. There is so much potential in using this material that can greatly contribute to healing our earth. Bamboo can bring us back to nature even through simple structures such as this play place exploration. I appreciate how it challenges us to be more creative and to include caring for the well-being of ourselves, others, and the earth whenever we build or create.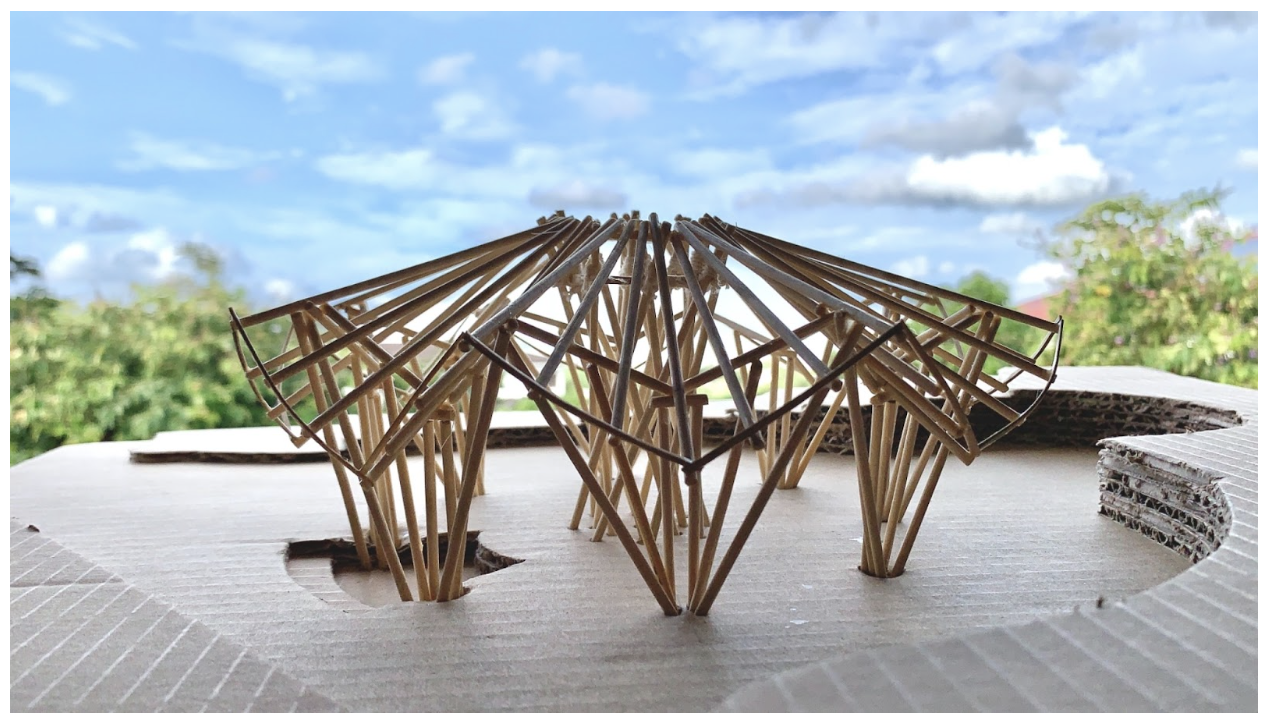 Are you interested in designing your own bamboo project? Learn more about our online course: https://www.bamboou.com/onlinecourse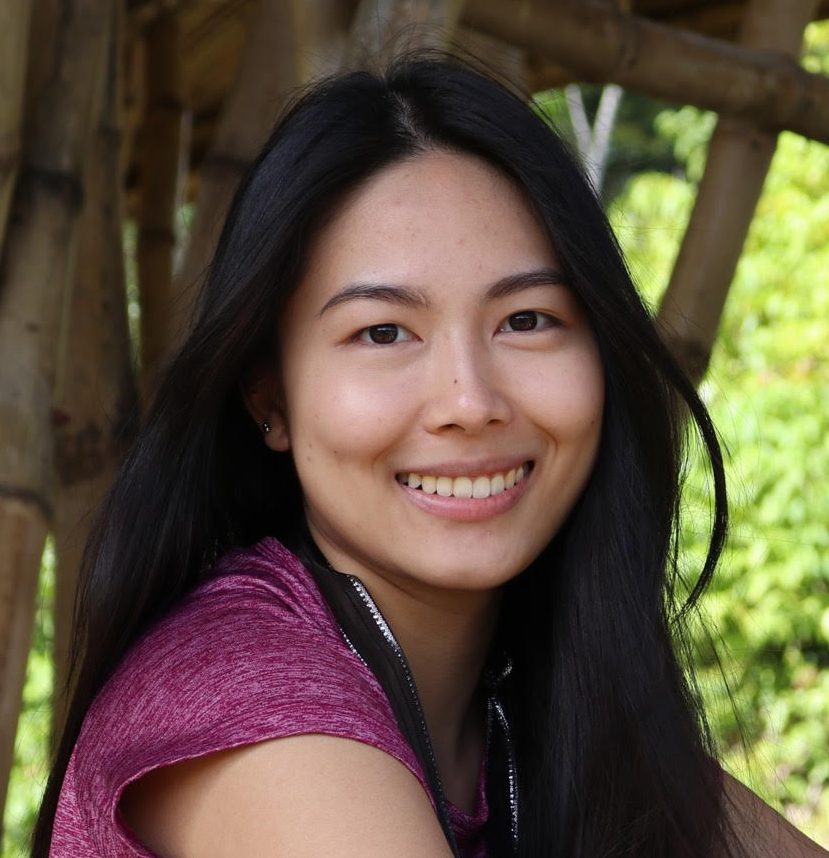 About the author
Diane Diaz, a young architect from the Philippines, a nature lover, part-time yoga teacher, cares deeply about how we treat the Earth. Her dream is to create healing spaces - both physical and abstract. As an architect, she hopes to design structures and spaces that allow people to live well while respecting mother nature no matter what the scale.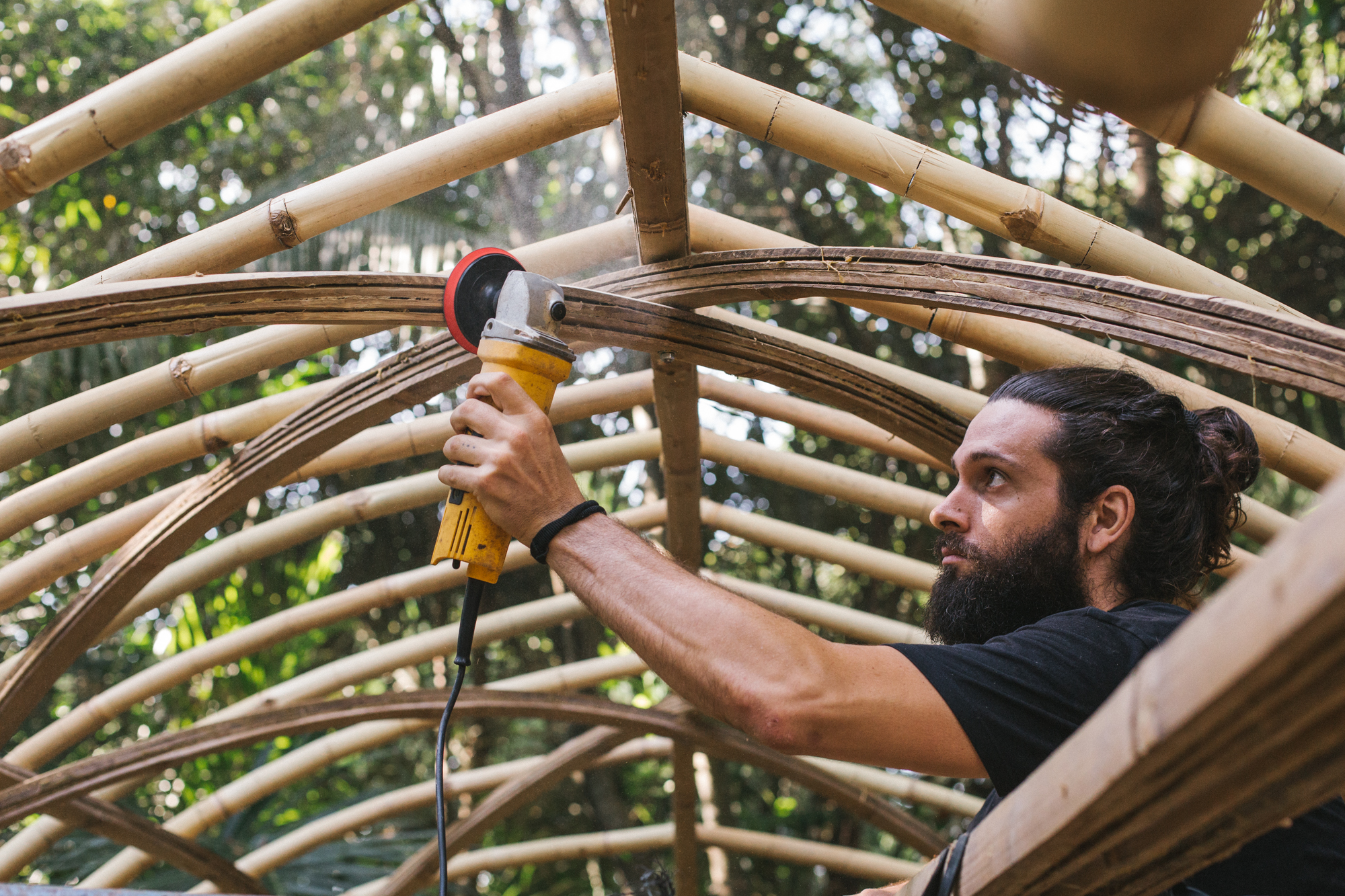 October 20-31, 2023
The 11 Day Bamboo Build & Design Course in Bali
In 11 days, we'll show you how to build bamboo structures we'll share all that it takes to build with nature.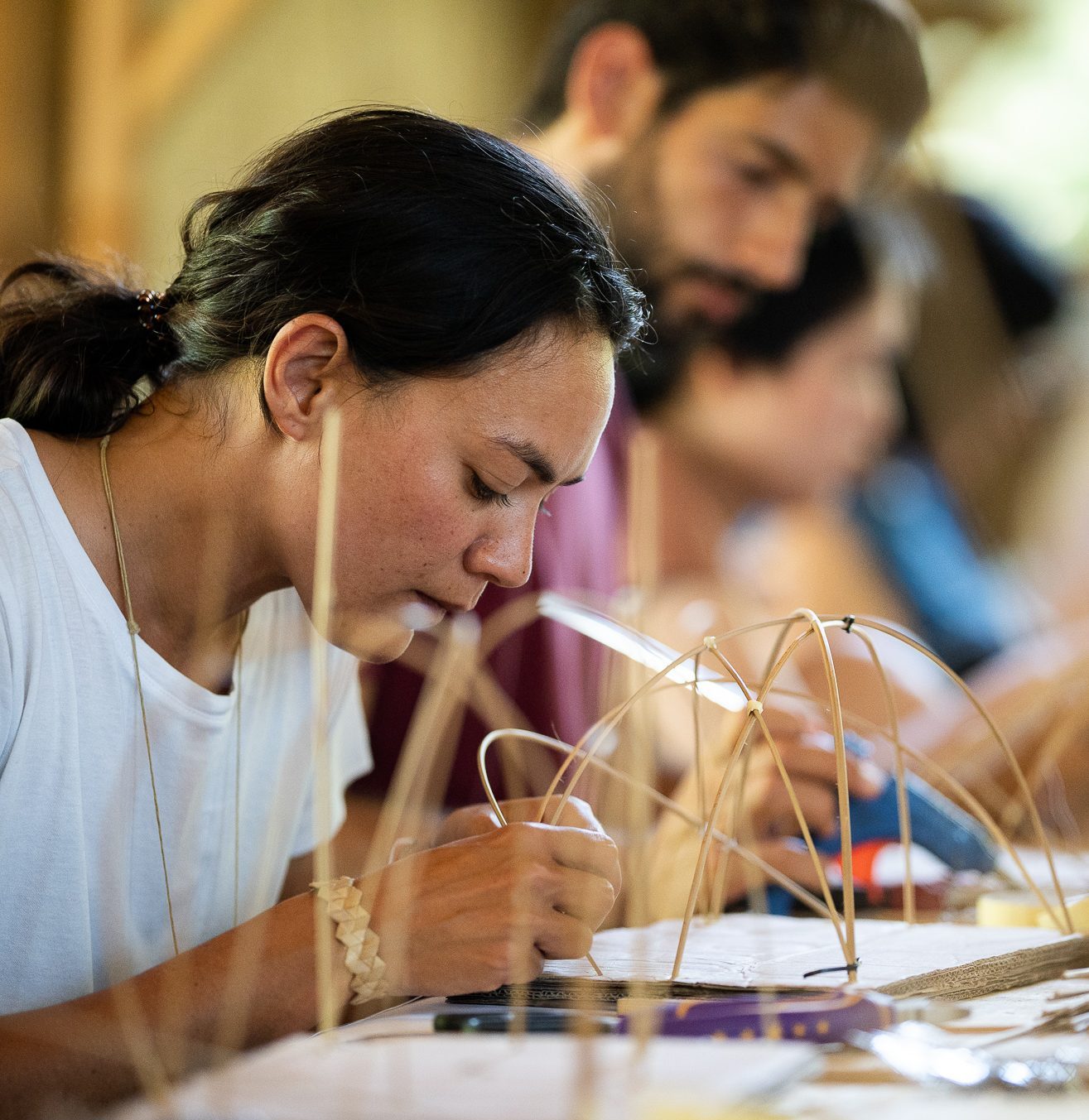 2024
The Fundamentals of Building with Bamboo Online Course
All the fundamentals you need to get you started working with bamboo. Deep dive into cinematic videos and step-by-step guides that will provide you with a strong understanding of bamboo as a design and building material.