Bamboo Structural Systems : Post And Beam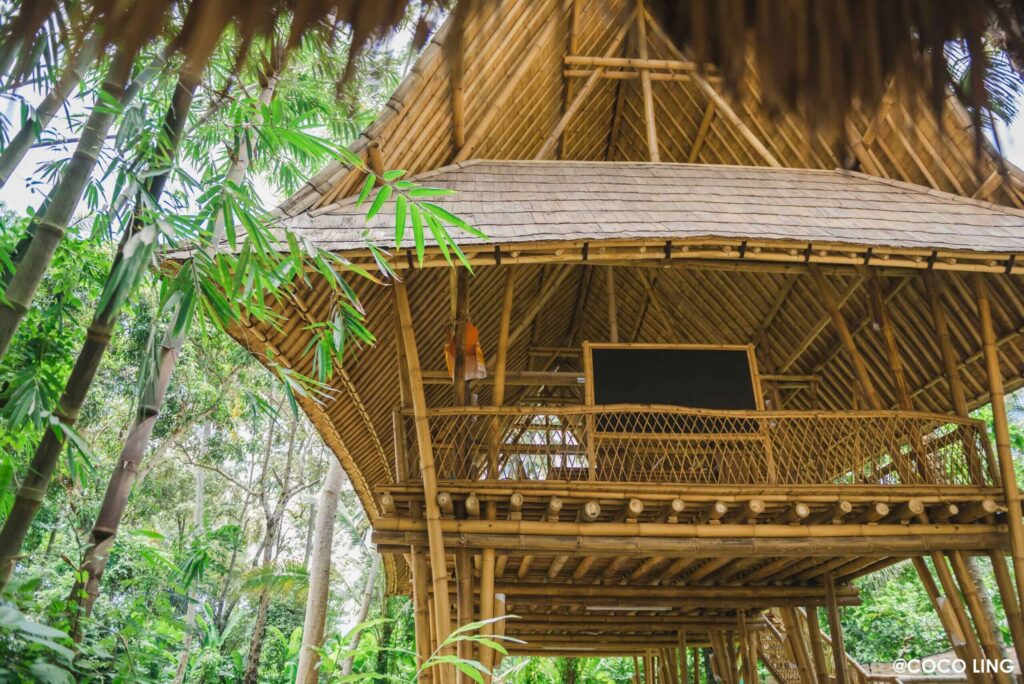 Post and beam construction is a common structural system used in many conventional and traditional buildings. Traditional post and beam systems allow for the creation of expansive and flexible interior spaces.
In conventional architecture post and beam structures are built using materials like stone, timber, and RCC. This makes them rigid but restricts building designs to 90 degree framed members.
Because of bamboo's lightweight and flexible nature, it provides some interesting opportunities and variations on the traditional post and beam construction.
In this article we share the 3 main types of post and beam construction that are used in bamboo architecture:
Vertical posts and Horizontal beams/ trusses
Fan/ Spray posts and Curvilinear beams
Central Tower posts and Ring beams
1. Vertical Posts and Horizontal Beams/ Trusses
Inspired by traditional timber framing, vertical posts and horizontal beam construction follows the same principles as those used to build traditional wooden houses. The structure is supported by three main elements: vertical posts, horizontal beams, and cross-bracings to triangulate the structure for stability. In bamboo architecture round bamboo poles are used for the structural elements. The roof structure is then supported with trusses.
The Green School classroom pictured below which was built during a Bamboo U Immersion in Bali is one example of this system.
This structure is a 14M long and 6M wide G+1 building. Dendrocalamus asper poles were used for all the structural members. This structure is supported by 5 mainframes each consisting of 2 main posts, 2 main beams (also supporting the intermediate floor), and a kingpost truss to support the sloped roofing. 32 cross bracings were added here to support the main structure and 8 diagonal struts to support the roof structure. All the bamboo mainframes were built on the ground using a template system and lifted manually into place with a pulley and ropes, very much inspired by traditional barn raising.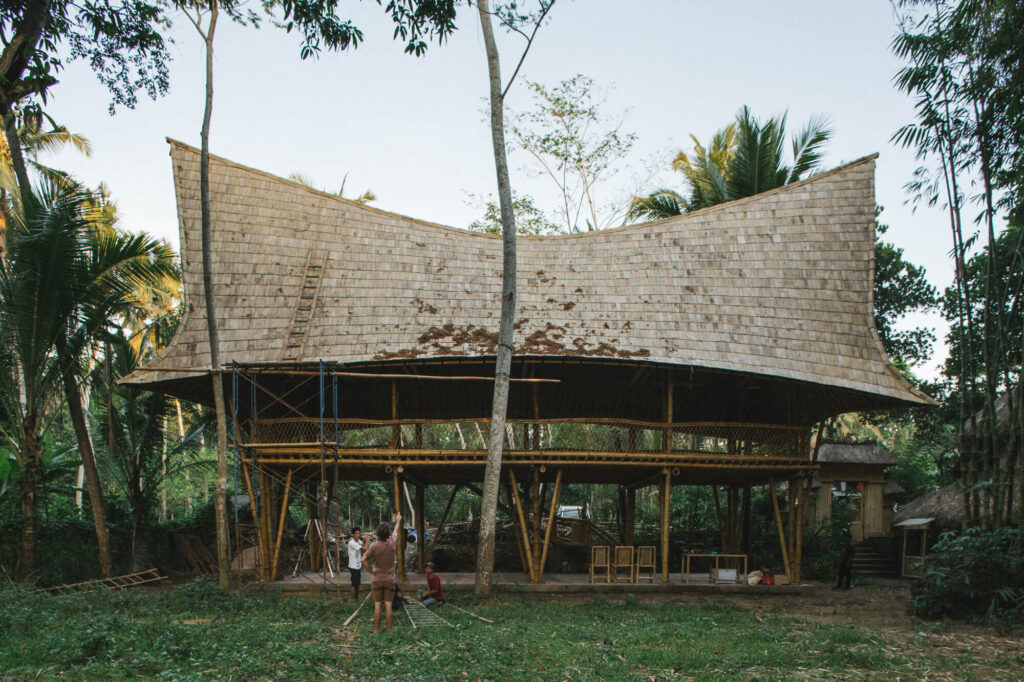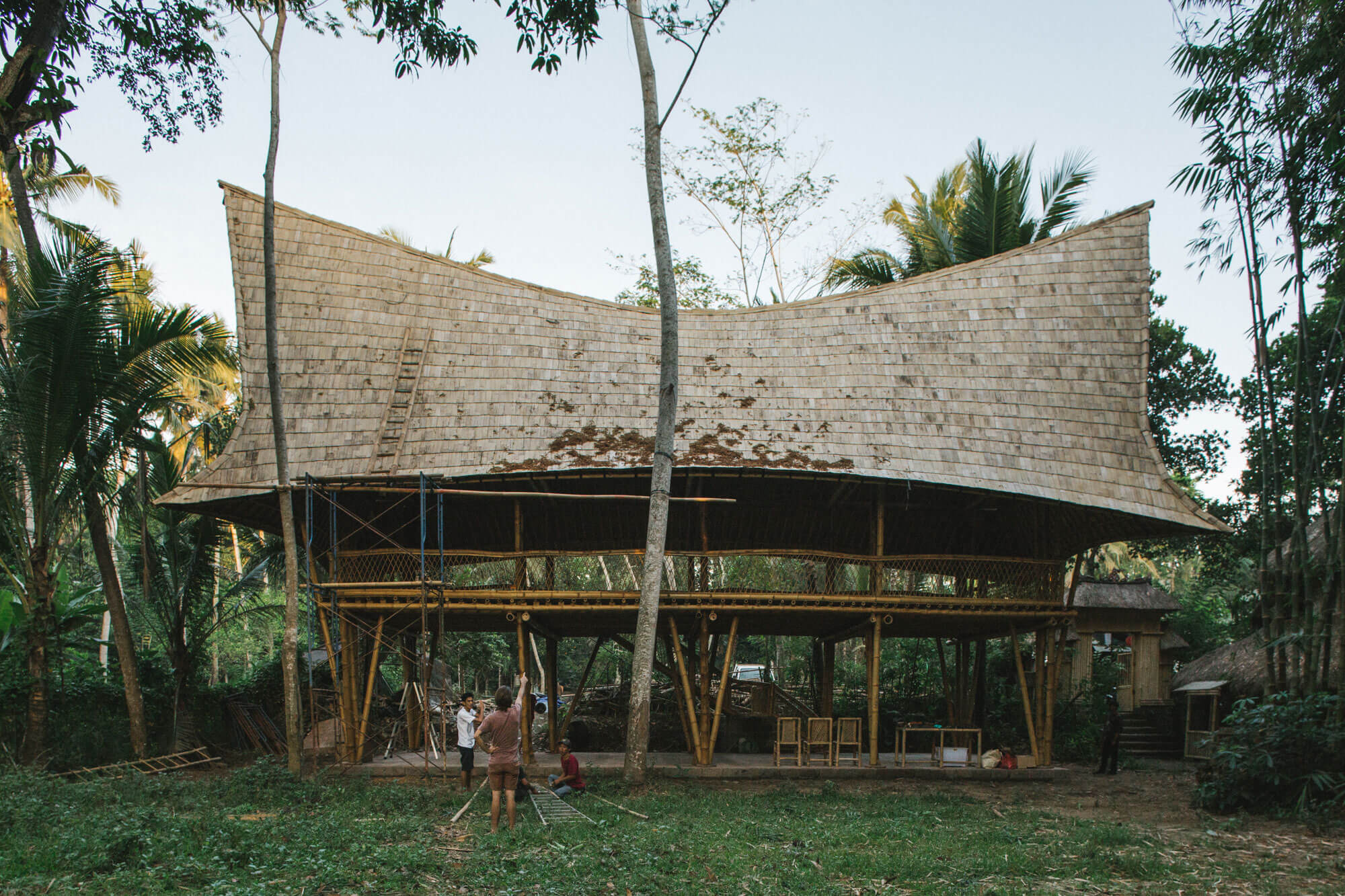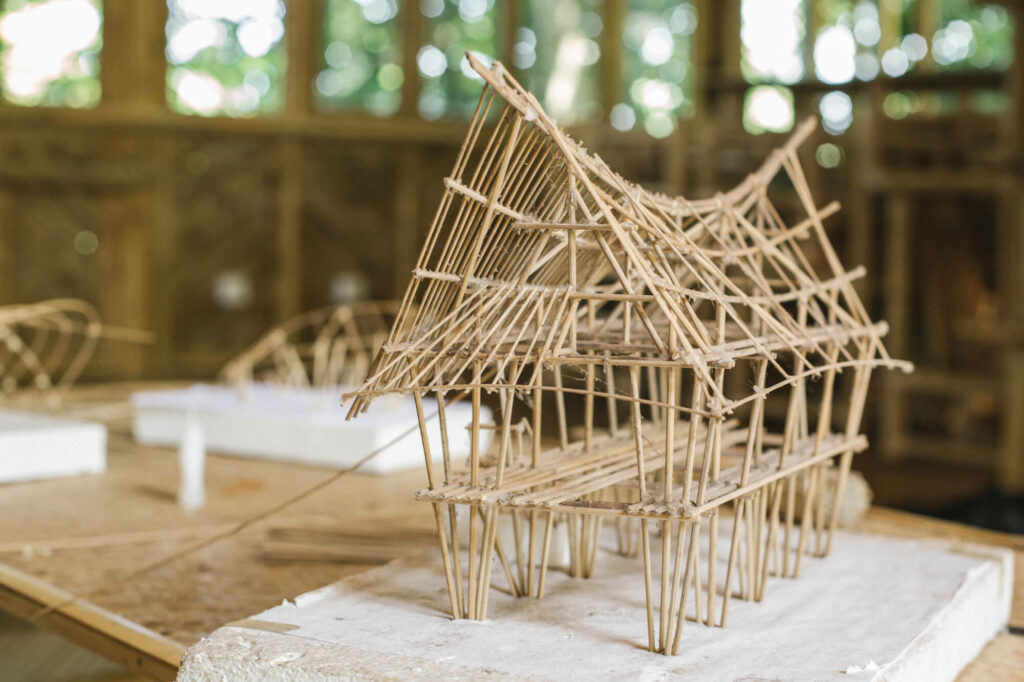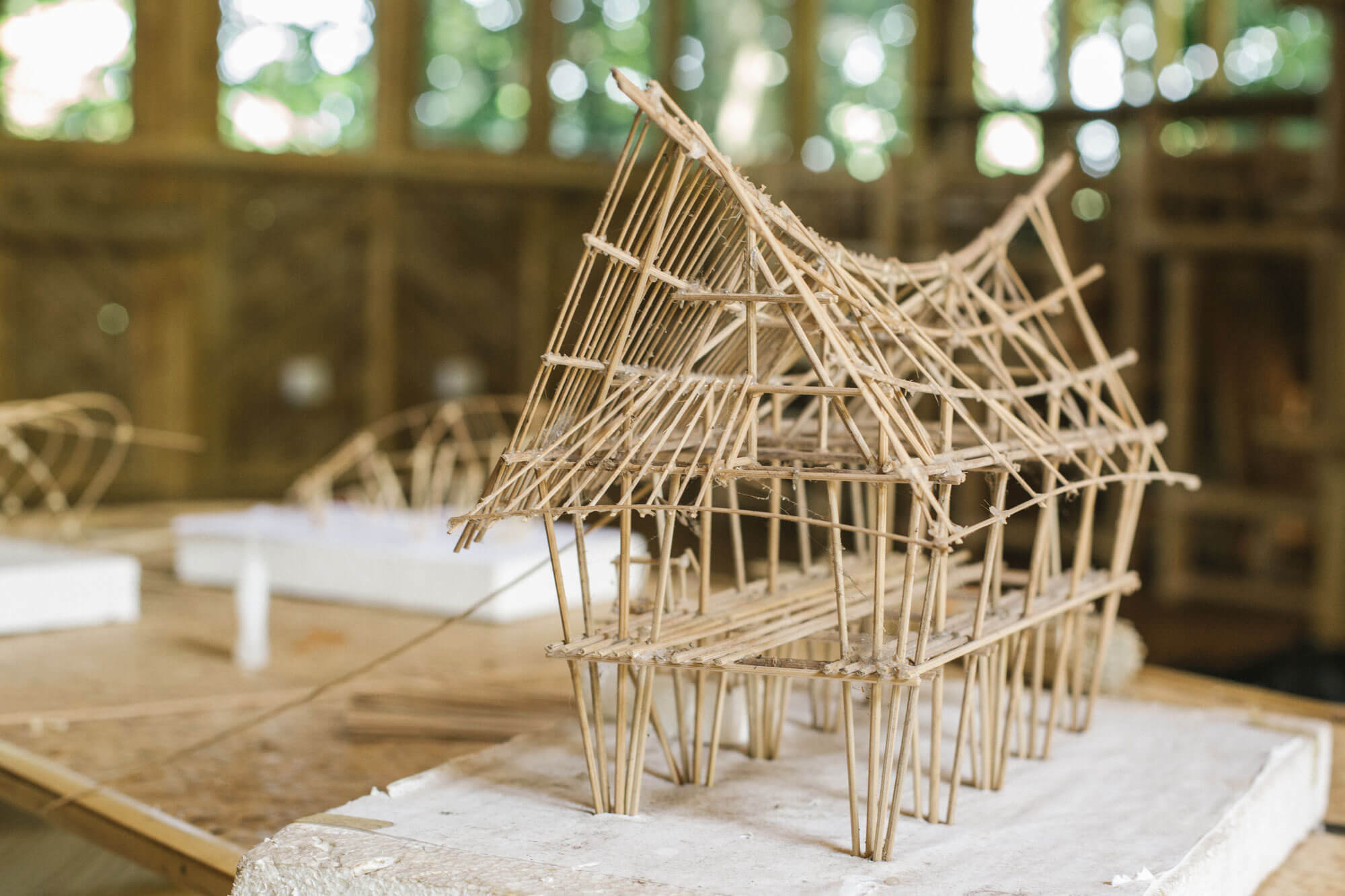 2. Fan / Spray Posts and Curvilinear Beams
This structural technique combines round bamboo poles and processed bamboo elements to create curvilinear, organic-shaped roof structures. In this system the structure is supported by three main elements: inclined posts, curvilinear beams, and cross-bracings to triangulate the structure for stability. Round bamboo poles are used as posts, processed bamboo (splits, lidi, and/or rup rup ) are used as beams, and depending on the design of the building the material used for cross bracing varies. This system is a signature of IBUKU's designs.
Below you can see pictures of different typologies of fan or spray post and curvilinear beams from Sharma springs, Green village (left) and Green Camp's activity space (right).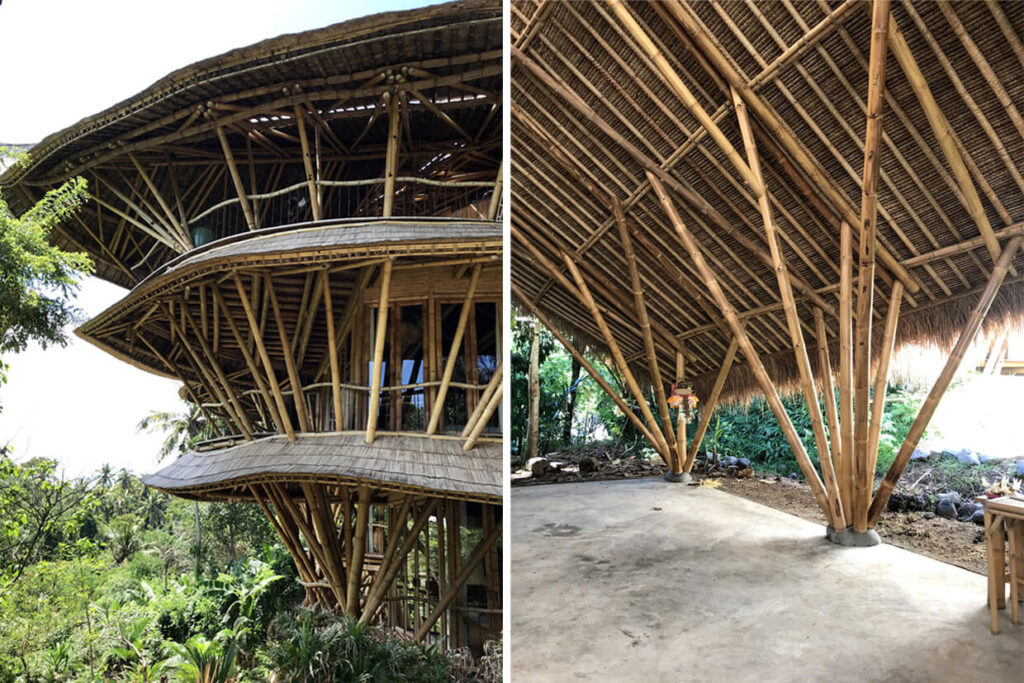 3. Central Tower Posts and Ring Beams
This final iteration of the post and beam structural system often used in bamboo buildings is a system that makes use of a central hyperbolic tower and a bamboo laminated ring to create a helical roof. The tower acts as a post and the ring acts as a beam upon which the rafters are placed. The structure is supported by four main elements: the central tower as the post, the ring that triangulates to stabilize the tower as the main beam, secondary posts on the outer side, and intermediate beams that provide support to hold the roof structure up.
In this post and beam system, round bamboo poles are used as posts and processed bamboo is used as the beam. This architectural system is efficient in creating expansive, large spaces with high ceilings.
Master bamboo builder Jorgg Stamm pioneered this technique with the construction of '3 Mountains' for the John Hardy Jewelry Showroom in Bali, later replicated and modified for the Green School Bali.
The '3 Mountains' building consists of 3 main reciprocal towers built using Dendrocalamus asper poles at the center axis of the building. Ring beams and ridge beams connecting the towers were built using Dendrocalamus asper splits.
The Heart of School and the kindergarten classroom in Green school Bali also use this structural system.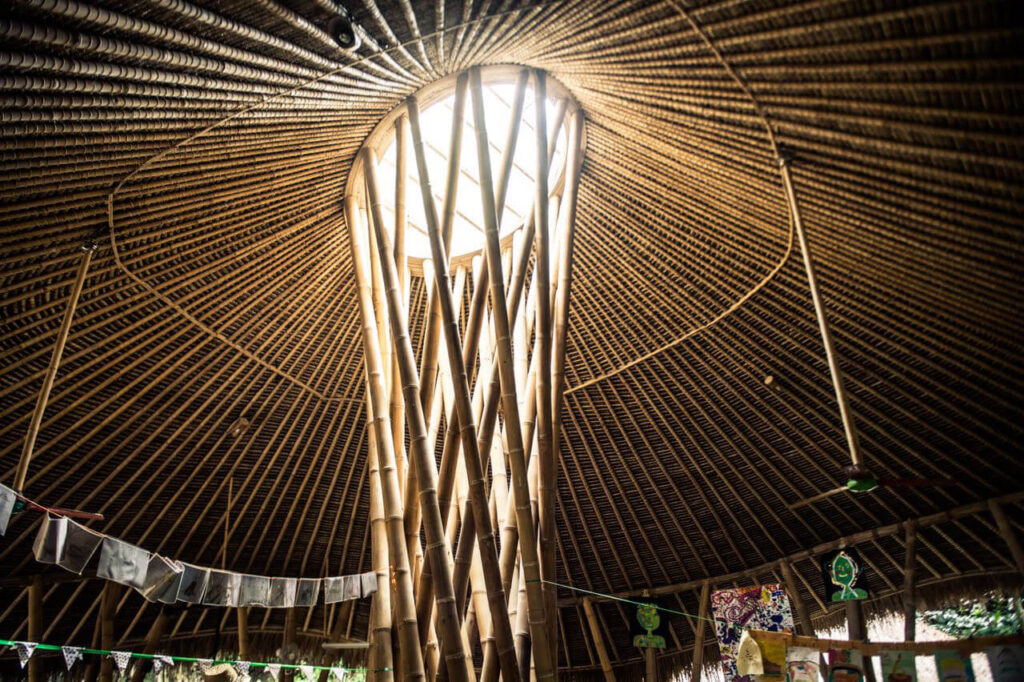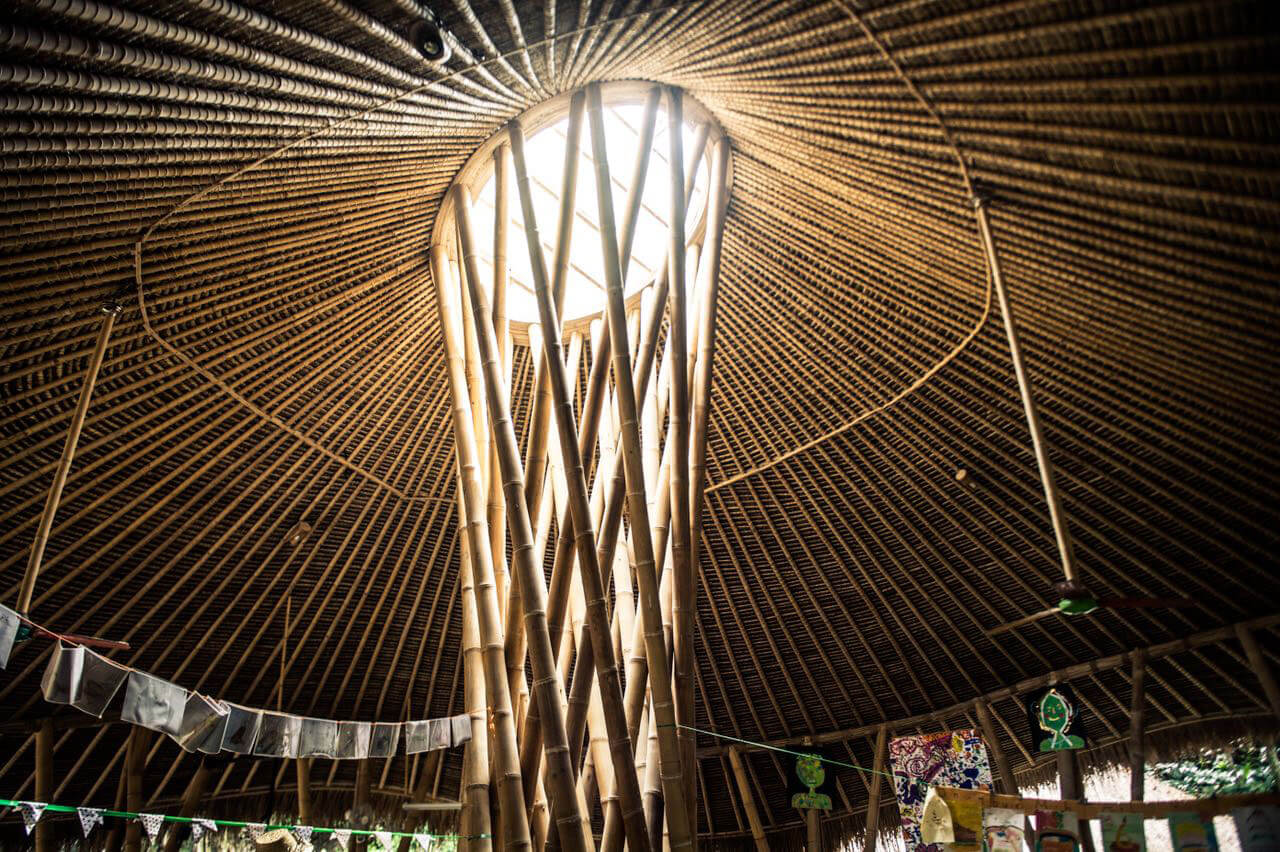 During an 11 Day Build and Design Immersion in Bali together with 30 students, we built a variation of the central tower and ring beam structural system on the Bamboo U Campus. A modification on the central tower with inclined posts and curvilinear beams helped us achieve an anticlastic helical roof.
In this building, we used Dendrocalamus asper poles for the central tower and dendrocalamus asper splits for the ring beam triangulating and stabilizing the tower as the main beam. Dendrocalamus asper niger poles were used for the secondary posts which support the curvilinear lidi bundled intermediate beams.
Bamboo's versatility allows for a variety of interesting and innovative applications of traditional post and beam structures. Stay tuned as we introduce different structural systems used in bamboo architecture in our next Bamboo U articles.
Interested in learning more about designing and building with bamboo? We take a deeper look at different ways of building with bamboo more in our Online Immersion. See our upcoming courses here.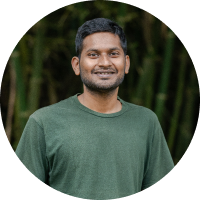 About the author
Sai Goutham
|
Research & Development Manager
Sai joined the Bamboo U team in March 2020 as Research & Development Manager. He is also a natural builder and an architect from India. He has managed many mud and bamboo projects over the years.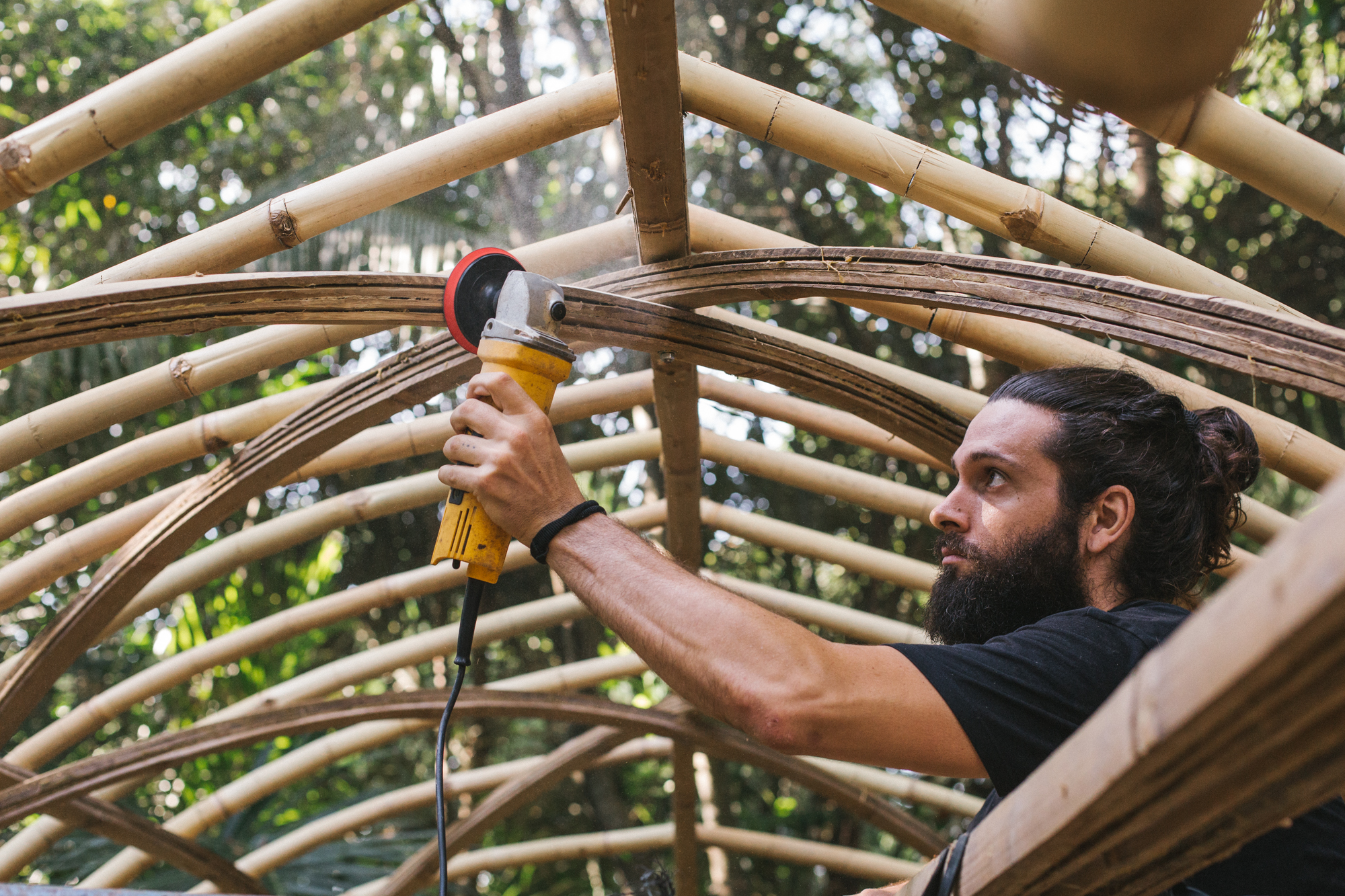 March 22- April 2, 2024
The 11 Day Bamboo Build & Design Course in Bali
In 11 days, we'll show you how to build bamboo structures we'll share all that it takes to build with nature.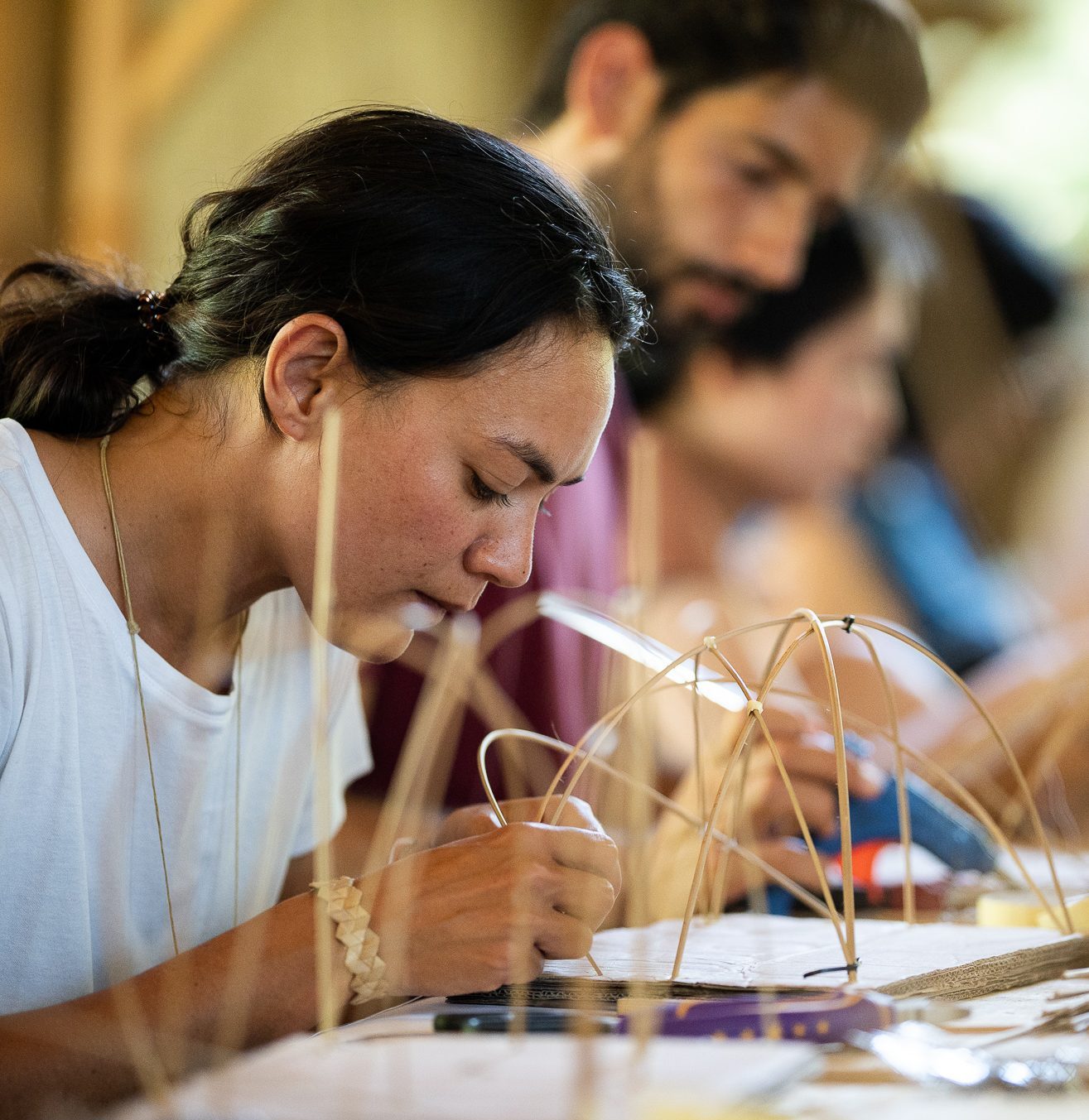 April 26, 2024
The Fundamentals of Building with Bamboo Online Course
All the fundamentals you need to get you started working with bamboo. Deep dive into cinematic videos and step-by-step guides that will provide you with a strong understanding of bamboo as a design and building material.