Student Name: Margarete Hilfinger
Name of Project: Building a Home out of Bamboo
Bamboo U Course Attended: Bamboo U Online Immersion May 2021
Country: Switzerland
Profession: Architect
University: Diploma in Architecture, University of Applied Sciences, Konstanz, 2003
My Name is Maggie and I am an Architect from Switzerland. During our travels and work throughout South East-Asia my Partner and I found a cozy and very friendly environment in Tetebatu, East Lombok where we would like to live.
The Project we worked on during the Bamboo U Online immersion is a concept study about Building a Future Bamboo-Home on Lombok. I joined Bamboo U because I was fascinated by the architecture of IBUKU. I wanted to know more and was curious to know whether it would be possible for us to design our own bamboo house. Bamboo U gave us much more; an entire life story of bamboo, told by the very the best.
The Bamboo Building Concept
The structure is to be a two-storey single family home to include some open space to work, to entertain friends on the ground floor and a private room on the first floor.
It is designed to be a house on stilts to protect from the heavy rain, earthquake-proof, with natural air ventilation. We created 3 concept sketches and 3 concept models to illustrate the different options for this structure.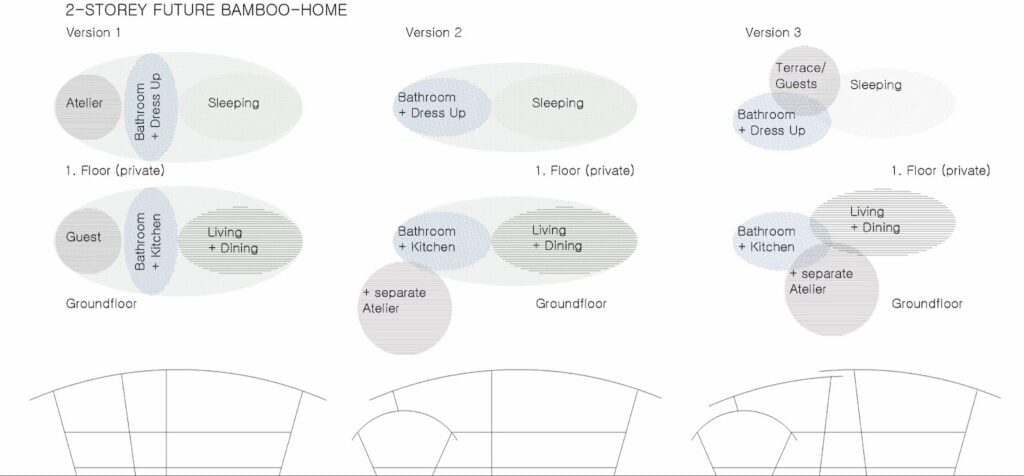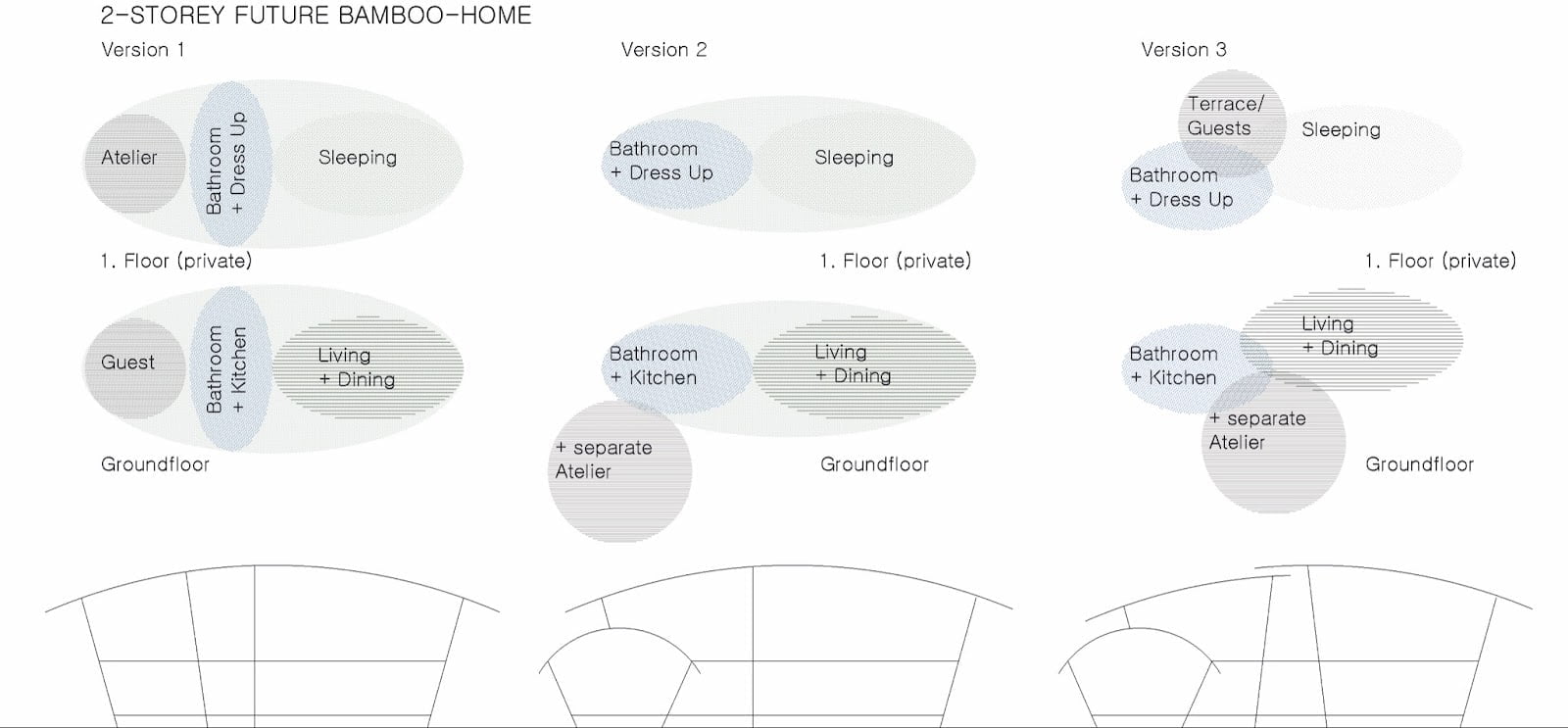 Developing the Concept into a final Structural Model
I selected the third Concept Model to develop further. I liked the Idea of working with curves on the ground floor, as well as in the roof forms, like a structure that is unfolding out of the ground. The core is made of a hyperbolic tower that interfaces the roofs and stabilizes the structure. The different applications of the bamboo structure will be used to create different atmospheres in the different rooms.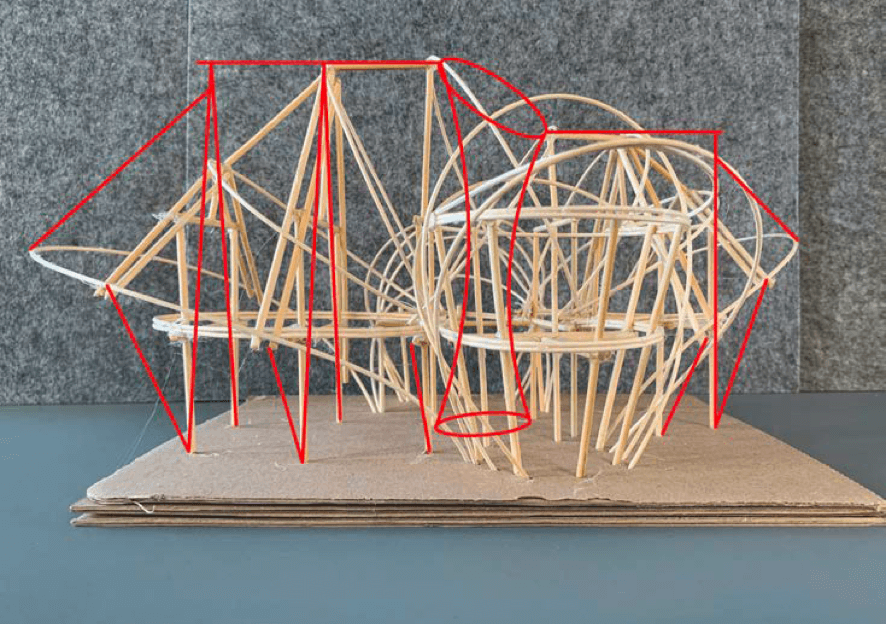 During our weekly Live Q&A sessions the Bamboo U Team had the following valuable feedback for us:
Modify the post and beam structure to make it more simple and fit better to the curved structure,
Give the Ridge-Beams a straight form + additional roofing up until the eaves line
Add some extra bracing to support the roof and eaves line
Add purlins and rafters to the main-roof, and gridshell for the Tree House/Guestroom
Here is the evolution of the structural bamboo model for our bamboo home: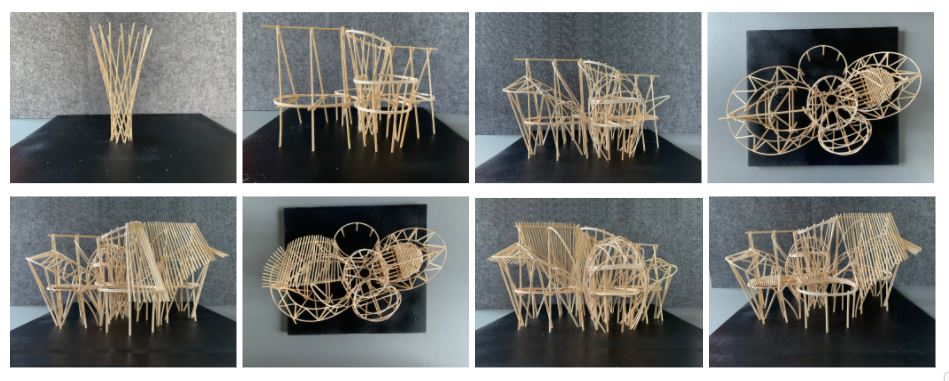 The Final Bamboo Model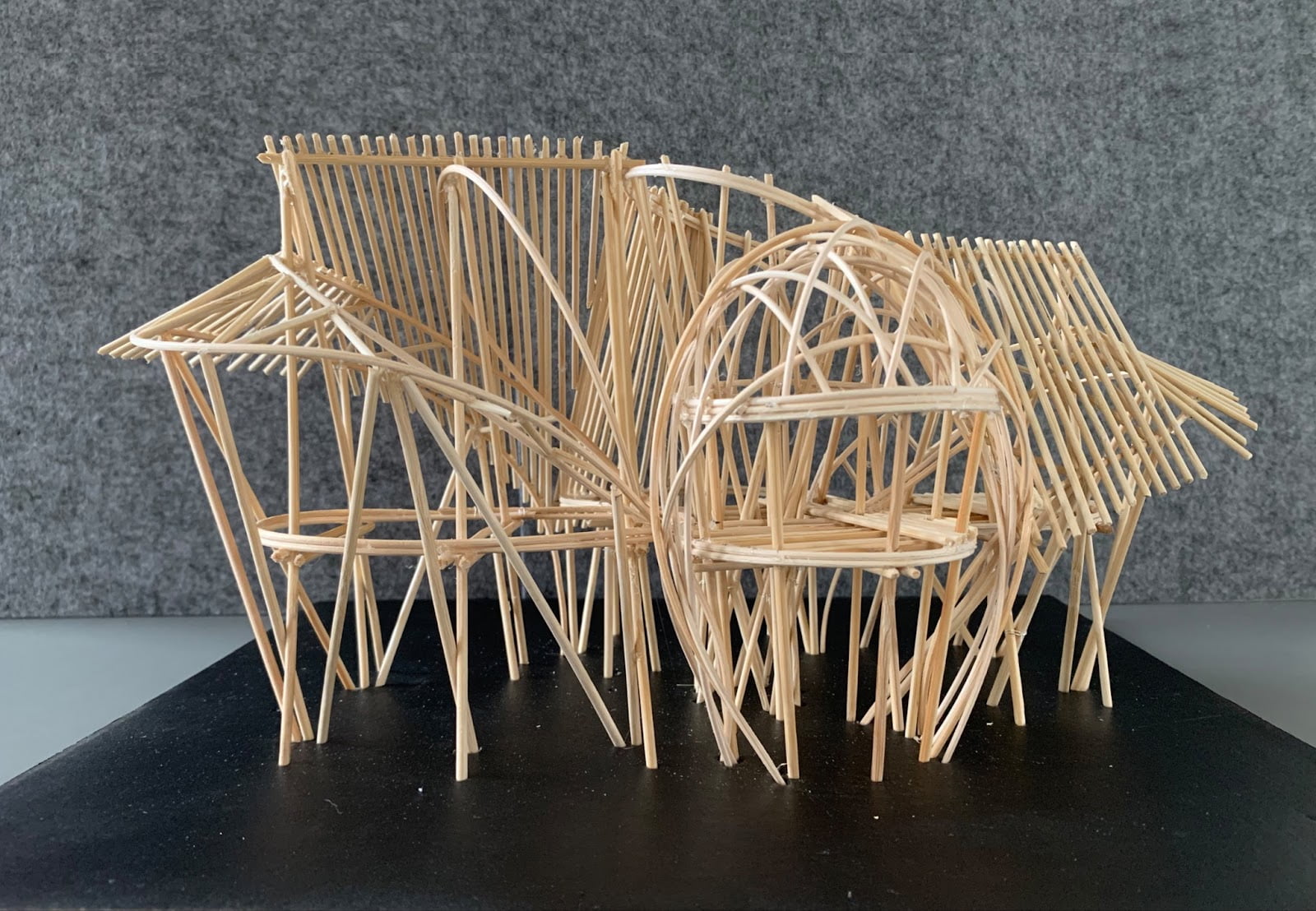 Bringing the bamboo project to life
We plan to use black bamboo Dendrocalamus asper niger/bambu petung hitam for the main construction (+/- 12cm Diameter), Gigantochloa apus niger/bambu tali hitam for the secondary construction, in a "doubled" way or in bundles (+/- 7cm Diameter), if necessary.
To create the arches or curved elements of the building we will use bamboo split bundles of bambu petung in the natural yellow colour. For the gridshell splits and for the outline of the roof we will make use of lidi bundles.
We plan to use woven bamboo walls and indigo curtains for the interior and black fiber for the roofing.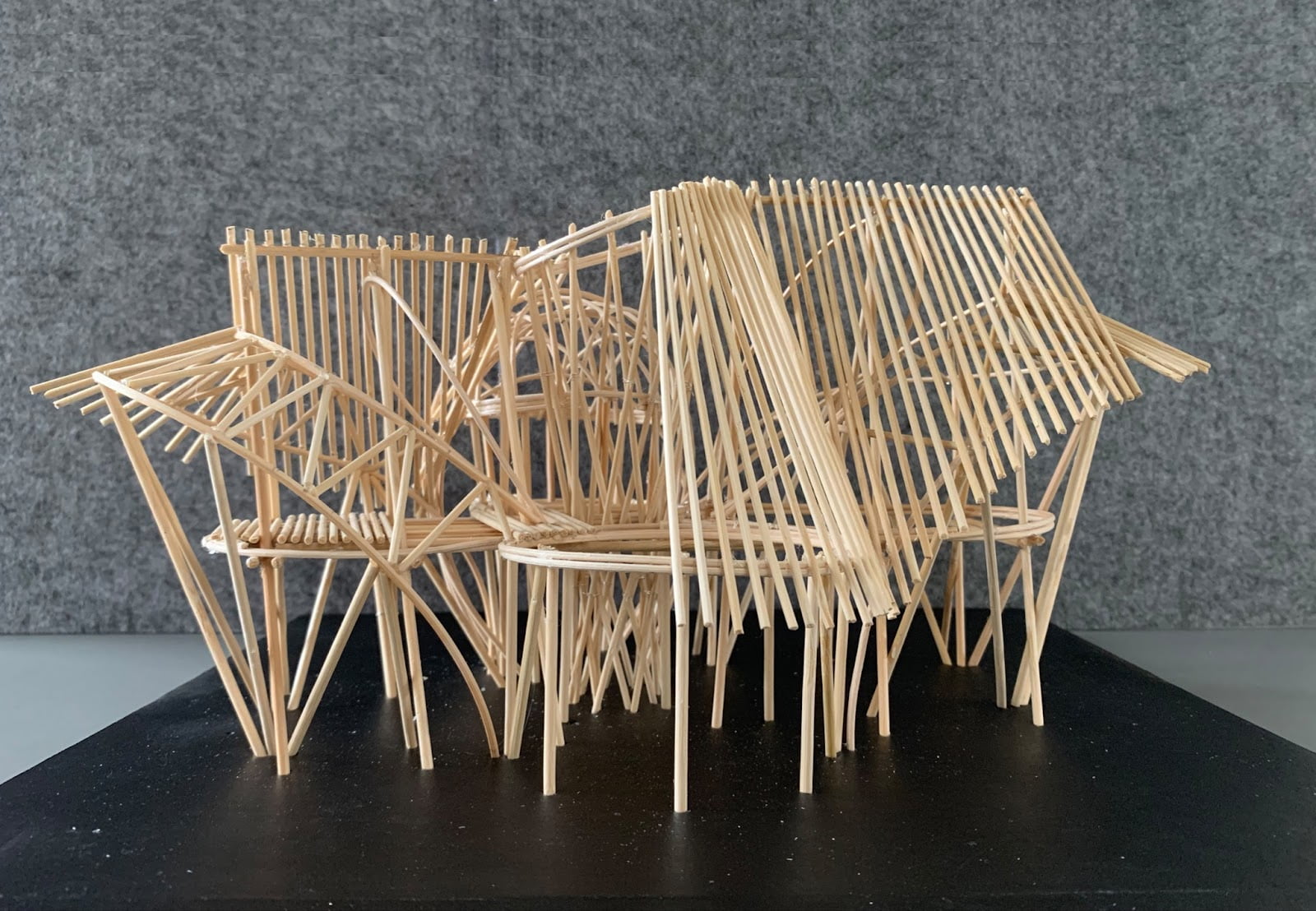 Every Learning Module of the Bamboo U Online Immersion imparted a wealth of information, inspiration and joy. From understanding bamboo as a material, to growing it, harvesting and preserving it. To carpentry, bamboo structural systems and design.
I was wonderfully surprised by the level of quality of this Bamboo U Online Course. I especially loved to follow Arief Rabik's session and to listen to Defit Wijaya of Ibuku talking about the Design Process and to see Moko using his carpentry skills. It has been a pleasure to meet all these bamboo experts and students from around the world interested in bamboo.
I am convinced that bamboo is one of the strongest sustainable materials of the future. And I look forward to continuing this journey and making our dream come true to build a Bamboo House in Lombok. It feels like Bamboo U gave me an excellent foundation to make this dream possible.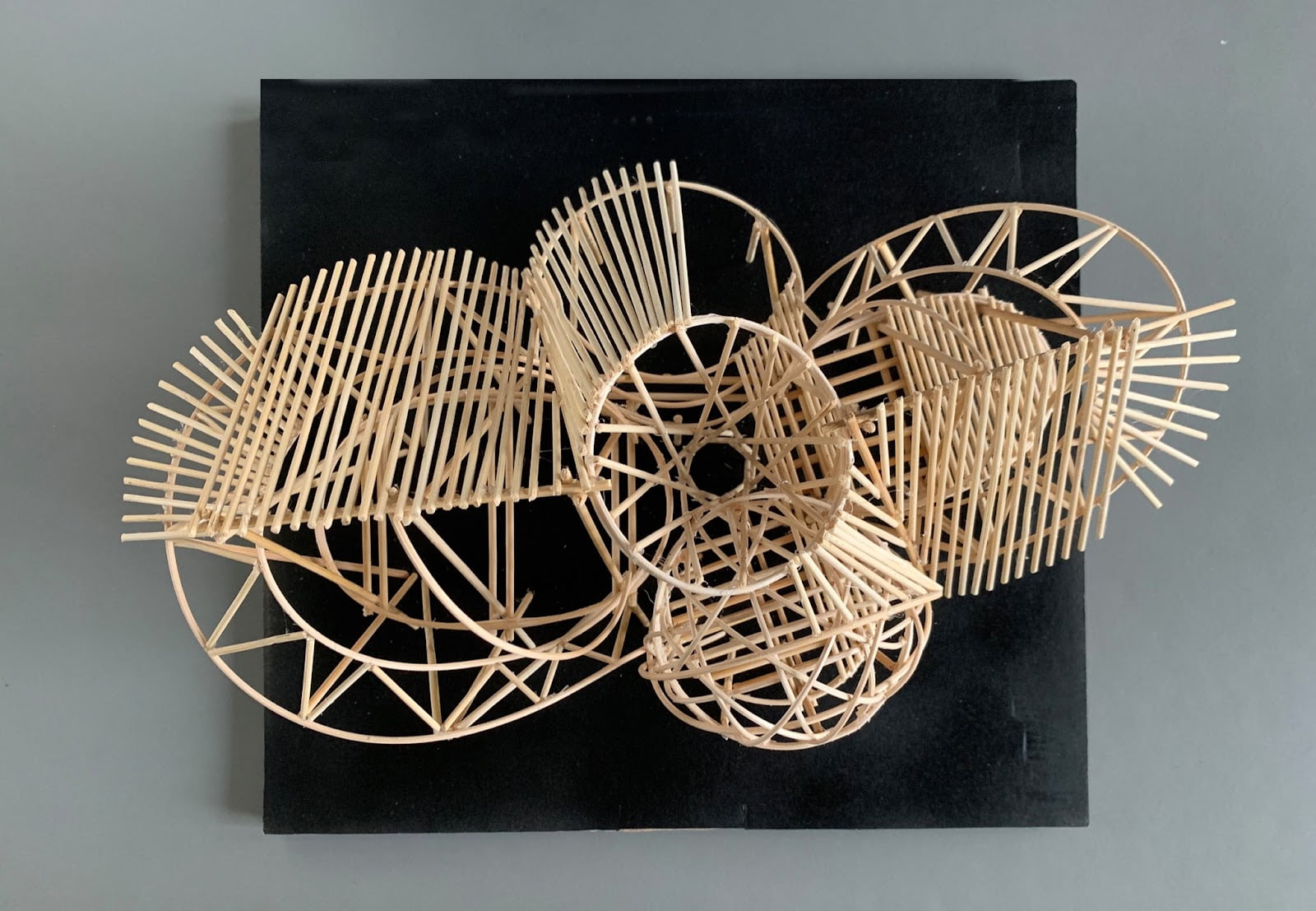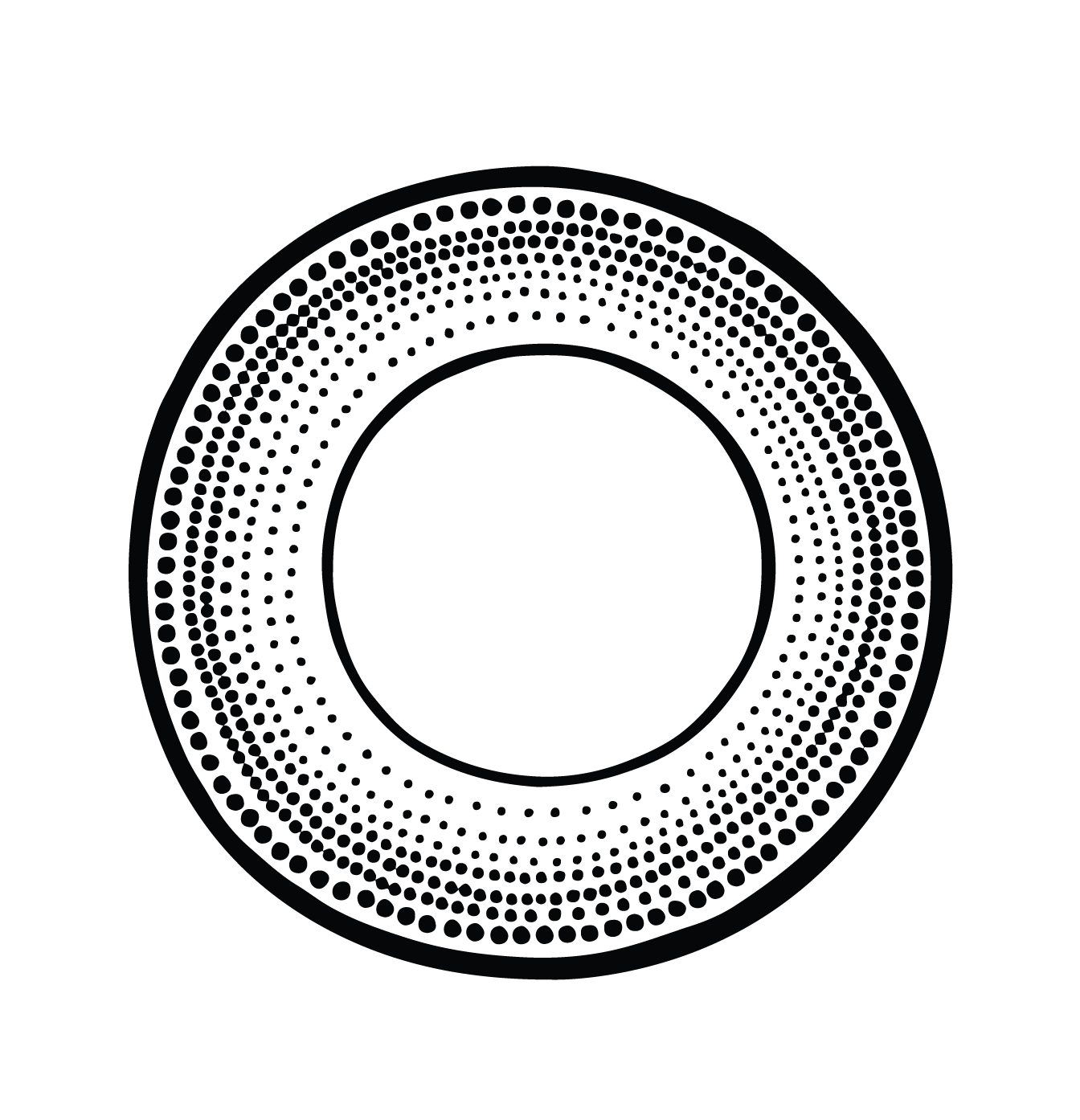 About the author
Margarete Hilfinger
|
Architect
Maggie is an Architect from Switzerland. During her travels and work throughout South East-Asia, she and her partner found a cozy and very friendly environment in Tetebatu, East Lombok, where two of them would like to live and to work on a project on-site.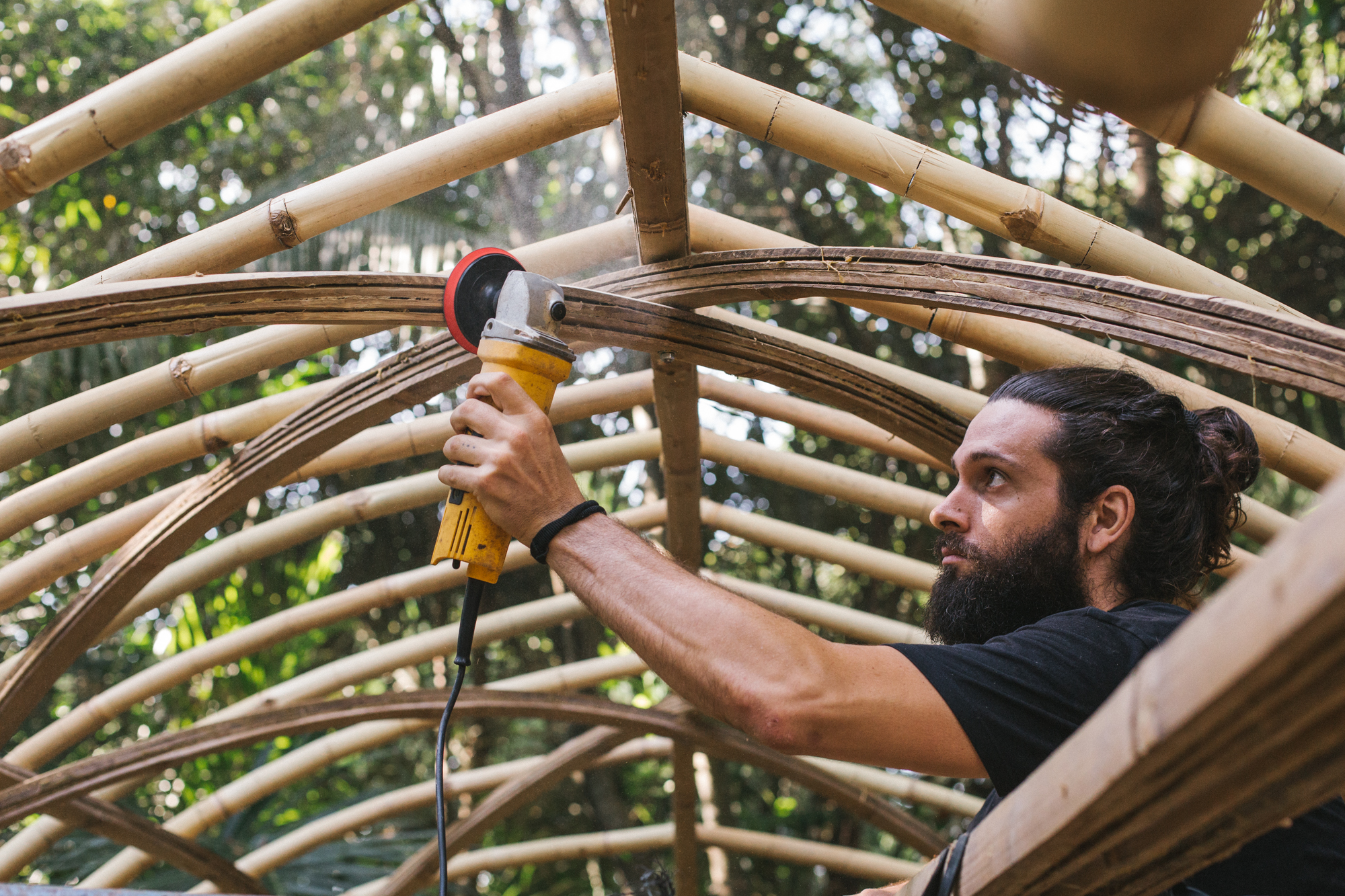 March 22- April 2, 2024
The 11 Day Bamboo Build & Design Course in Bali
In 11 days, we'll show you how to build bamboo structures we'll share all that it takes to build with nature.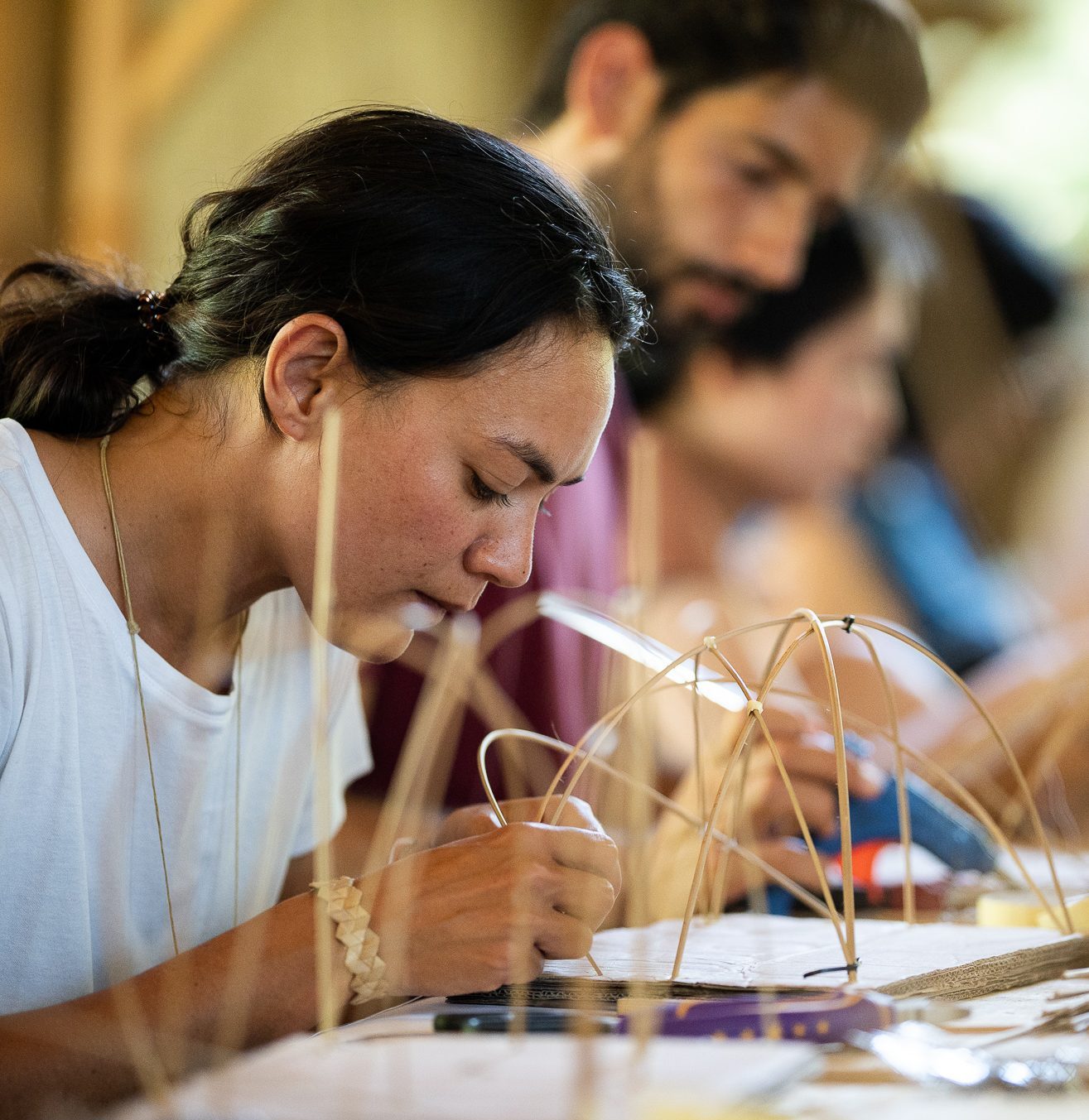 April 26, 2024
The Fundamentals of Building with Bamboo Online Course
All the fundamentals you need to get you started working with bamboo. Deep dive into cinematic videos and step-by-step guides that will provide you with a strong understanding of bamboo as a design and building material.