Building A Bamboo Table Made of Bamboo Bone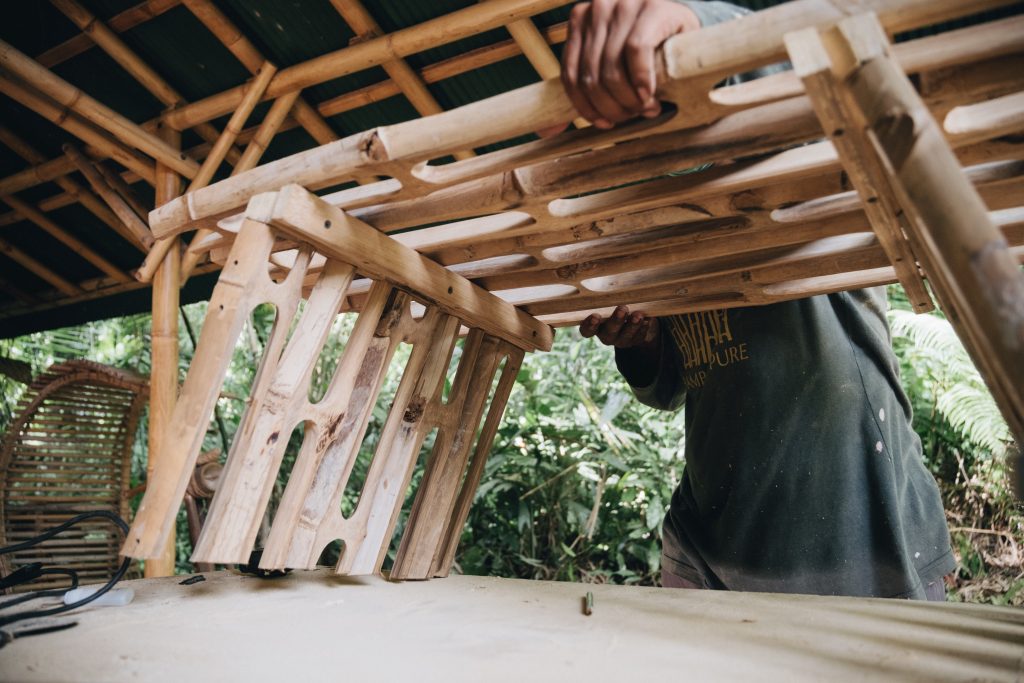 Follow Sabrina's the journey of building a bamboo table entirely made of bamboo bone during the Bamboo U Build and Design Course.
Last March 2023, Sabrina joined us from the States to learn more about sustainable practices and materials in the field of design and architecture. During the 11 Day Bamboo Build and Design Course in Bali, we dedicate the second part of the course for students to either immerse in a full-scale bamboo structure or to work with master carpenters and a resident designer to fulfill a prototype for a small-scale bamboo object or furniture piece. In so doing, it is our aim that working hands-on with bamboo will give students a deeper understanding of bamboo as a building material.
Design Idea, Concept, and Inspiration
As an architect student and an active learner, I am trying to acquire as much knowledge of sustainability, design, and architecture as I can. I'm in the process of getting diverse education around the world on how both sustainability and design are practiced by others in an effort to bring together the best ideas and practices into my career. I came to Bamboo U to learn more about bamboo as a building material, as it stood out to me because the process of growing and harvesting it is non-destructive to the environment and it is incredibly strong. I really wanted to explore this material for both its sustainable aspects and aesthetics, and Bamboo U covers both quite well.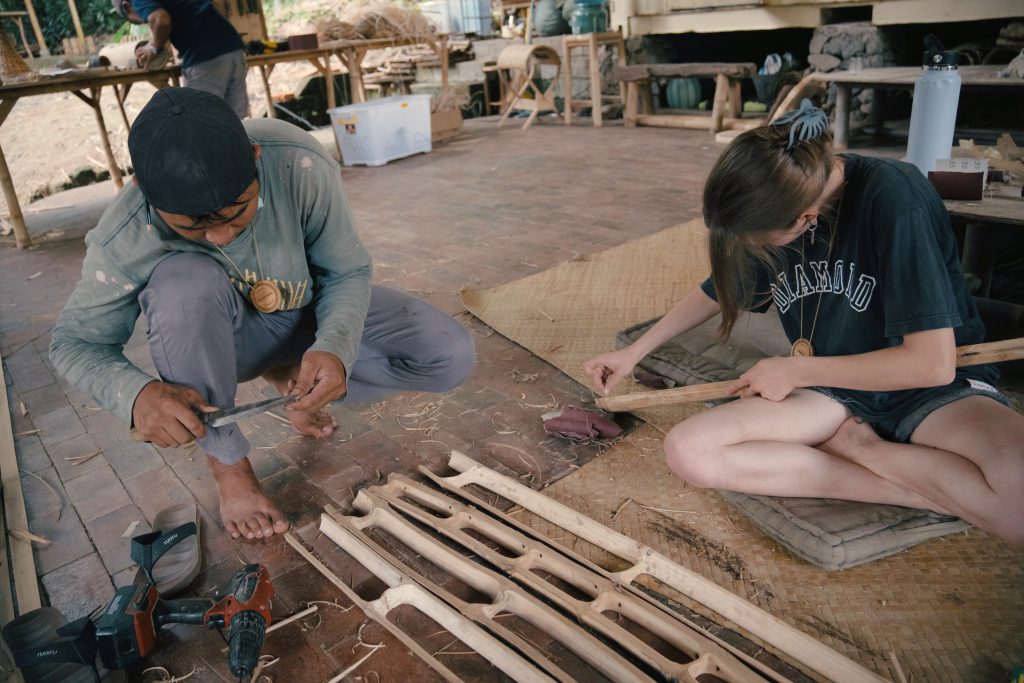 During the course, creating this table is all based on my desire to make a unique statement piece that I could break down and take with me on the plane back to the States. I went through designing multiple break-down chairs and book display designs and ended up on a table. The idea of this table is to be a very charismatic piece in and of itself, but also to be able to be paired with my books by having a see-through aspect to display them.
Building The Table
To make the table I used Bambusa blumeana or locally known as bamboo Duri. I cut my bamboo pieces into long sections to expose the bone and connected the bone in a continuous way with the top as well as the legs. To make the table both able to break down for travel and to make it more secure, I combined bamboo splits and used them at the joinery points of the legs to both tops of the table.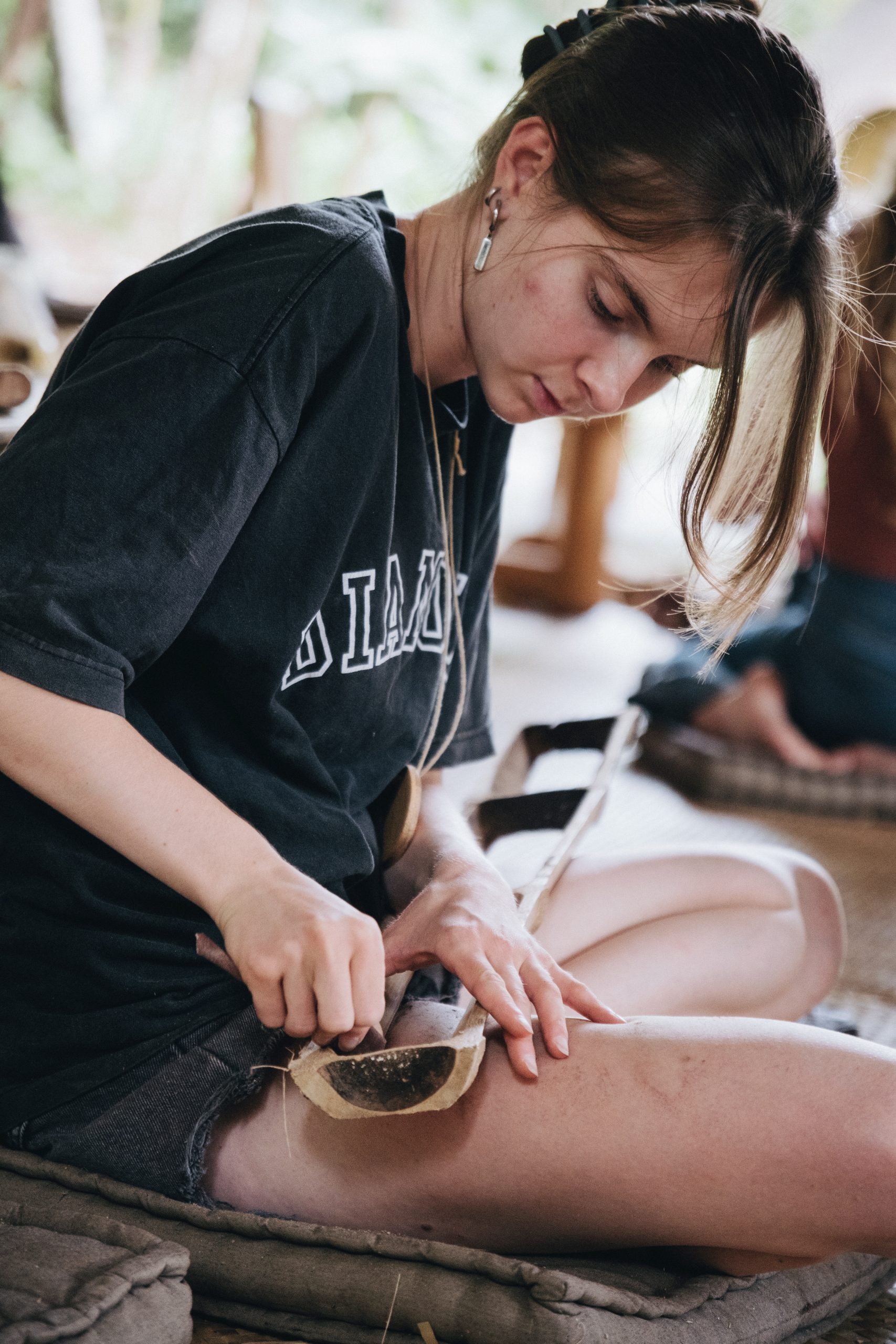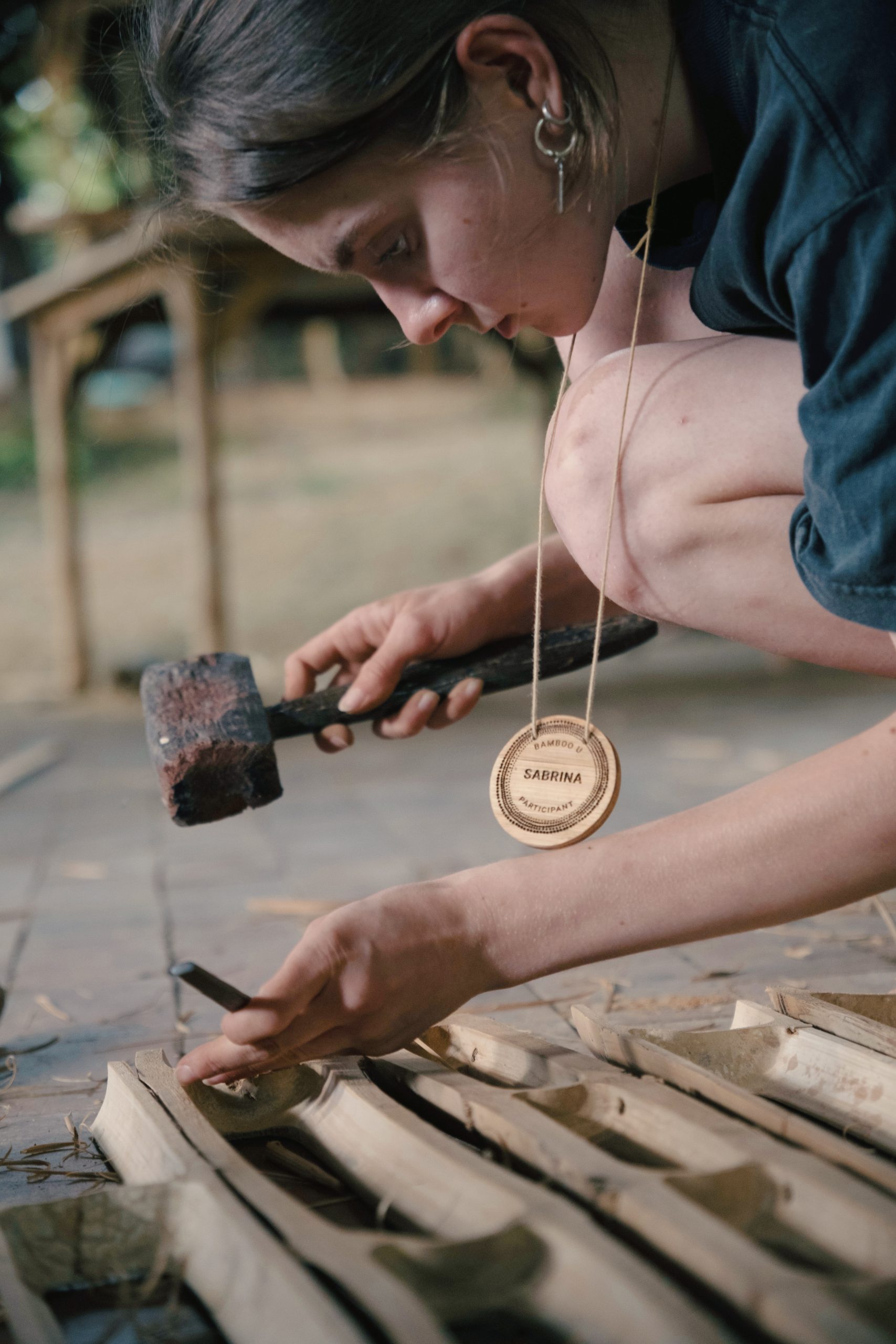 The splits themselves are attached to the bone by use of bamboo pins, but the table is put together with screws for ease of taking it down. I had a hard time deciding whether or not to laminate, since I loved the original color of the bamboo so much, but ultimately decided to laminate and protect it from weathering since I sanded off the skin of the bamboo and it was very exposed to the elements. I used a water-based polyurethane to maintain as much of the original color as possible and only ended up making it a shade or two darker.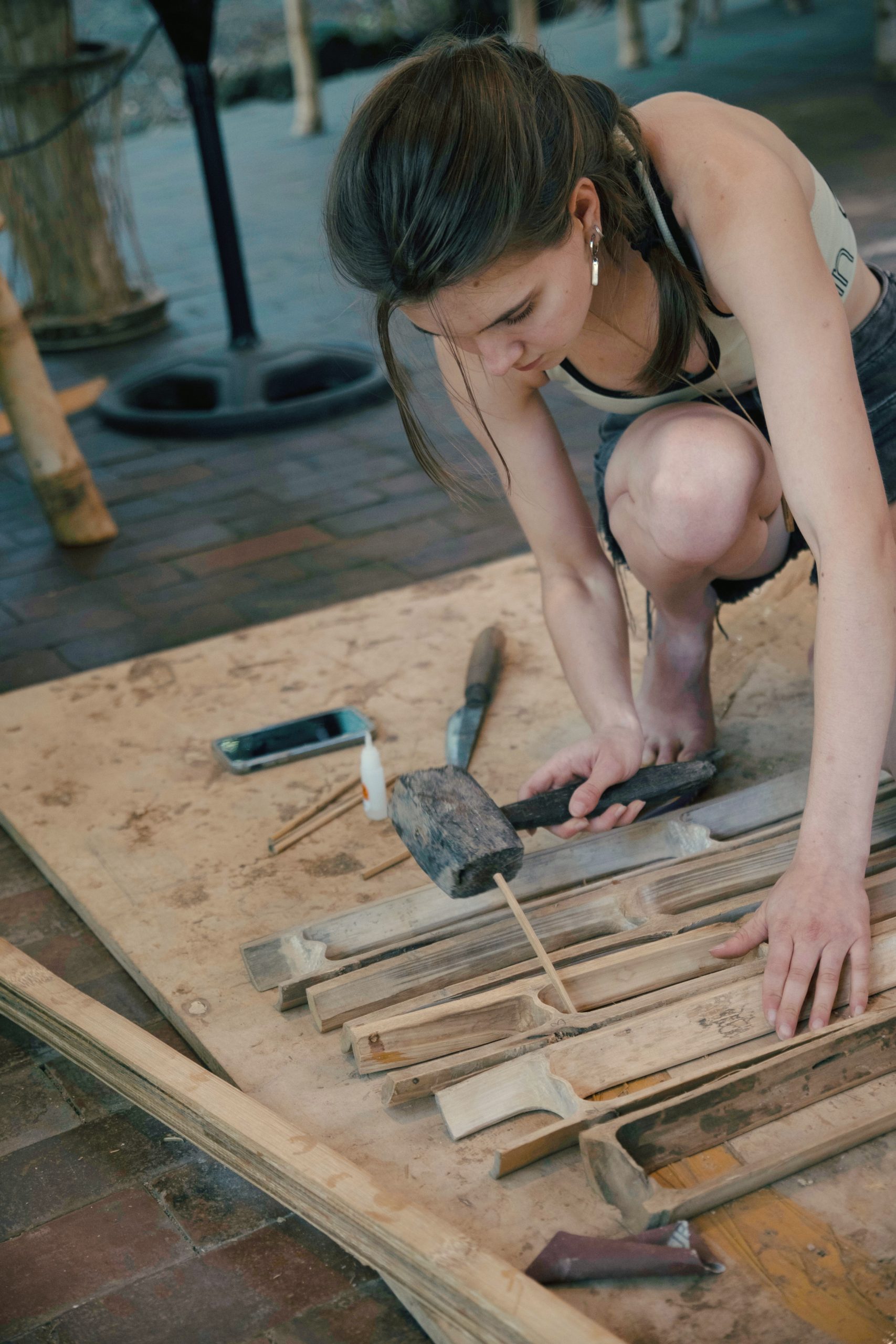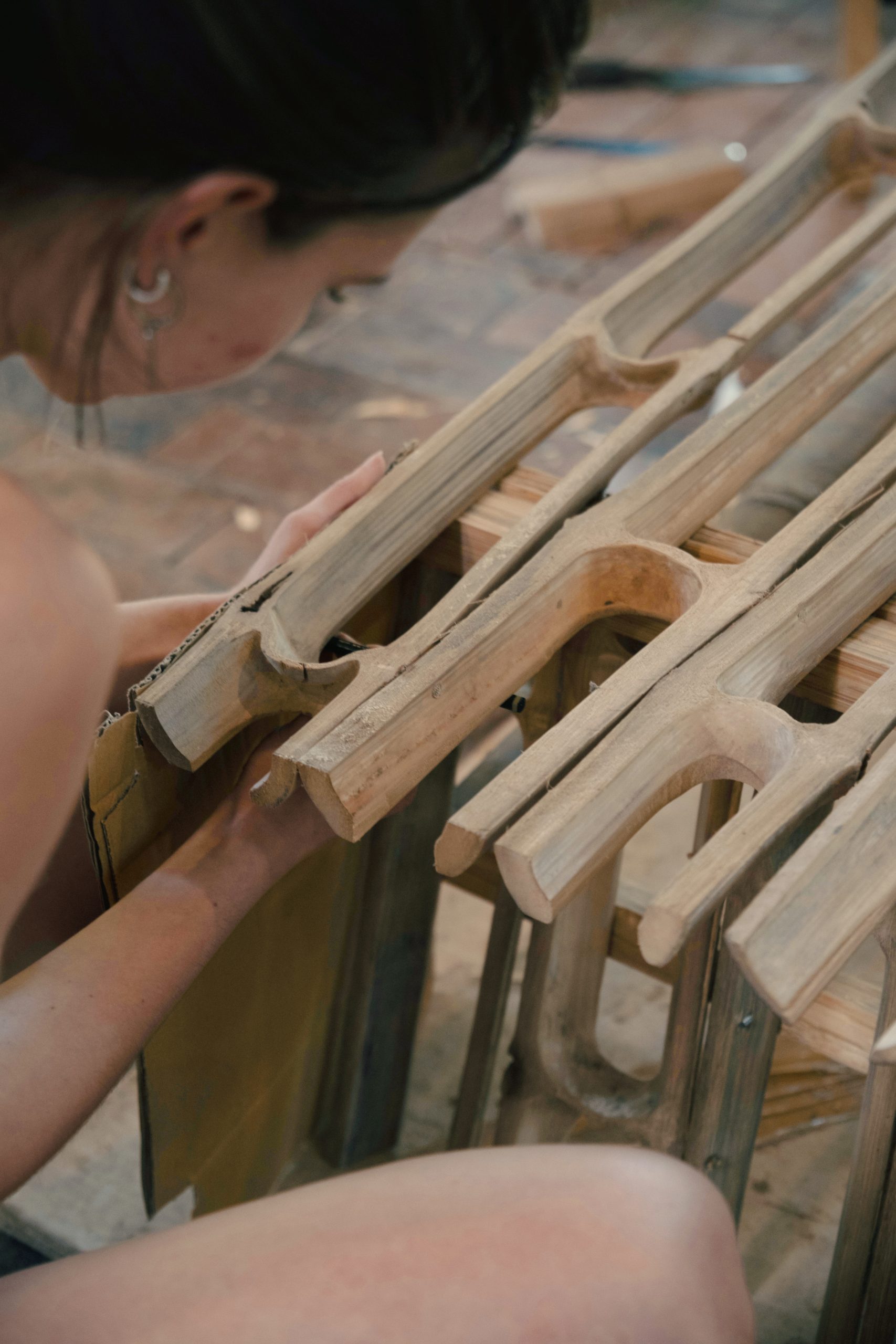 Challenges and Learnings
I spent a good hour, maybe two on arranging the bamboo to make the lineup of the bamboo and its nodes seem natural and random. Since no piece is straight either, it was hard making a table that kept relatively consistent width measurements throughout. I also spent even more time on sanding every little detail of the bamboo to get rid of the outer skin, the fungi that built up on the inner part of the bamboo, and the textures that weren't smooth enough for me. During the treatment of the bamboo, little holes were drilled into the poles for the solution to get inside. These holes were quite noticeable to me, so I had to fill them in with bamboo pins that I glued in and sanded down to make a more seamless look.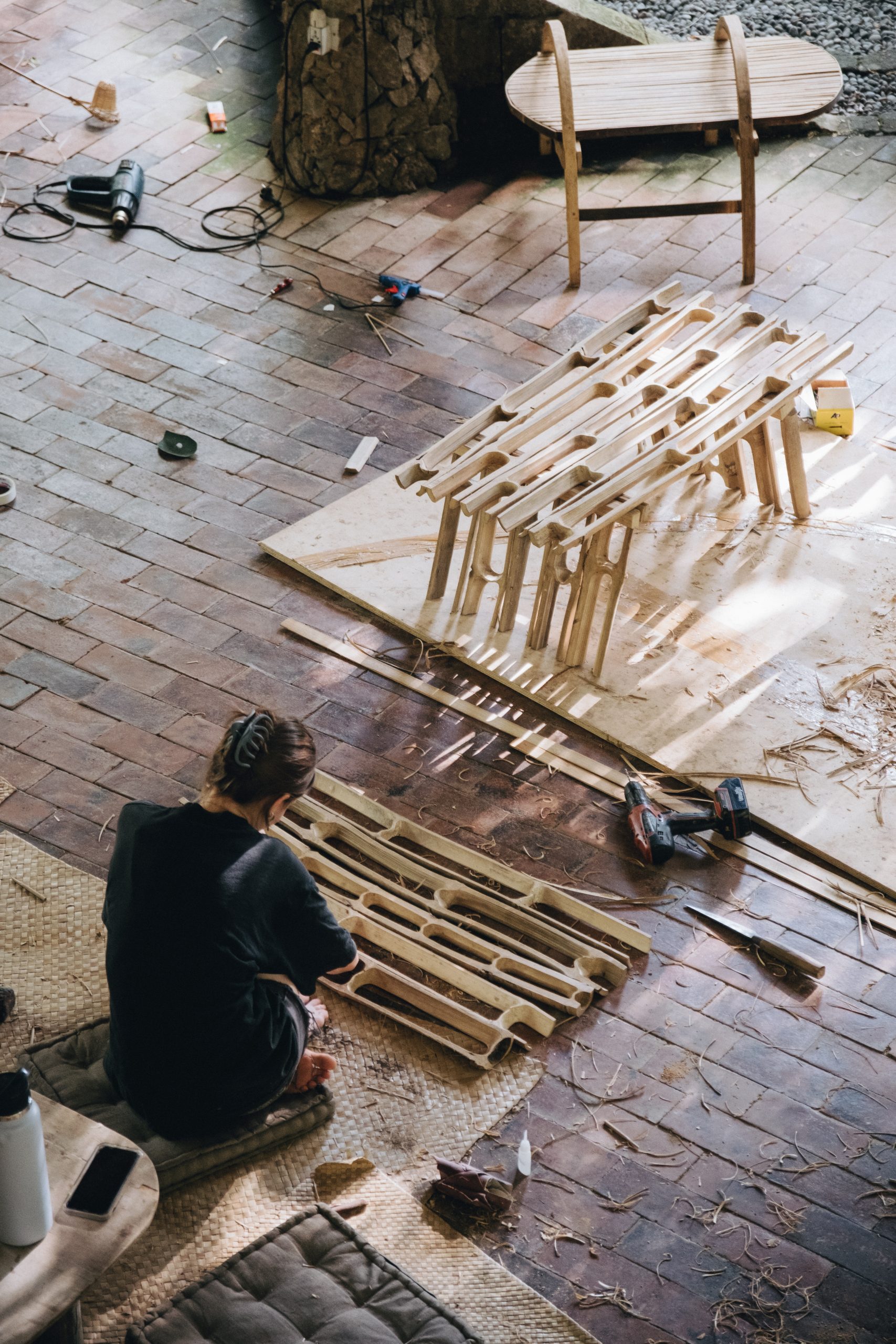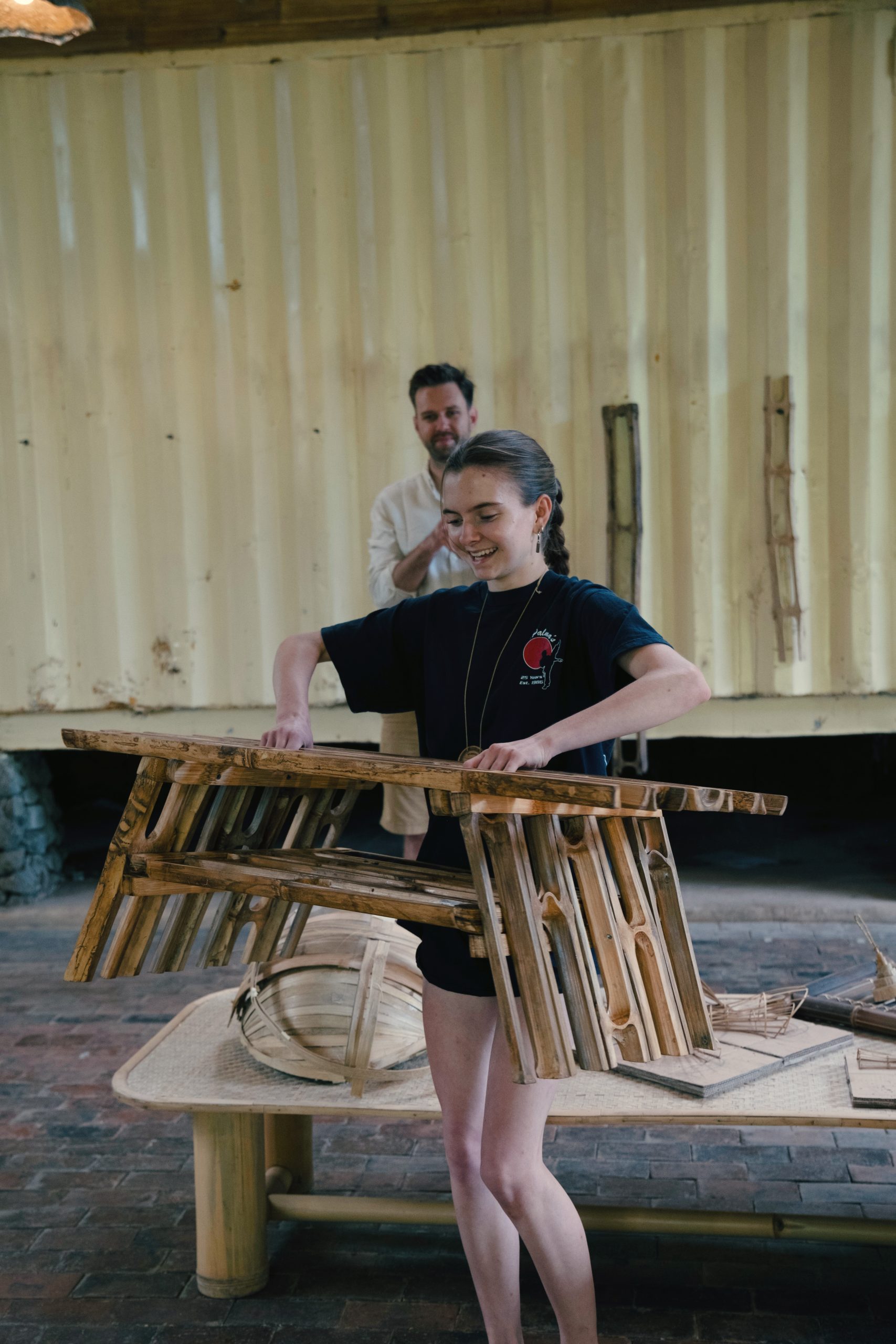 I put in so much effort to make the bamboo look naturally sleek, and I think it really paid off. I got a consistent color and texture in my table that wasn't there to begin with and everything now looks much more clean and cohesive.
________________________________
Interested in building with bamboo and designing your own bamboo product or furniture? Consider joining an 11 Day Bamboo Building And Design Course!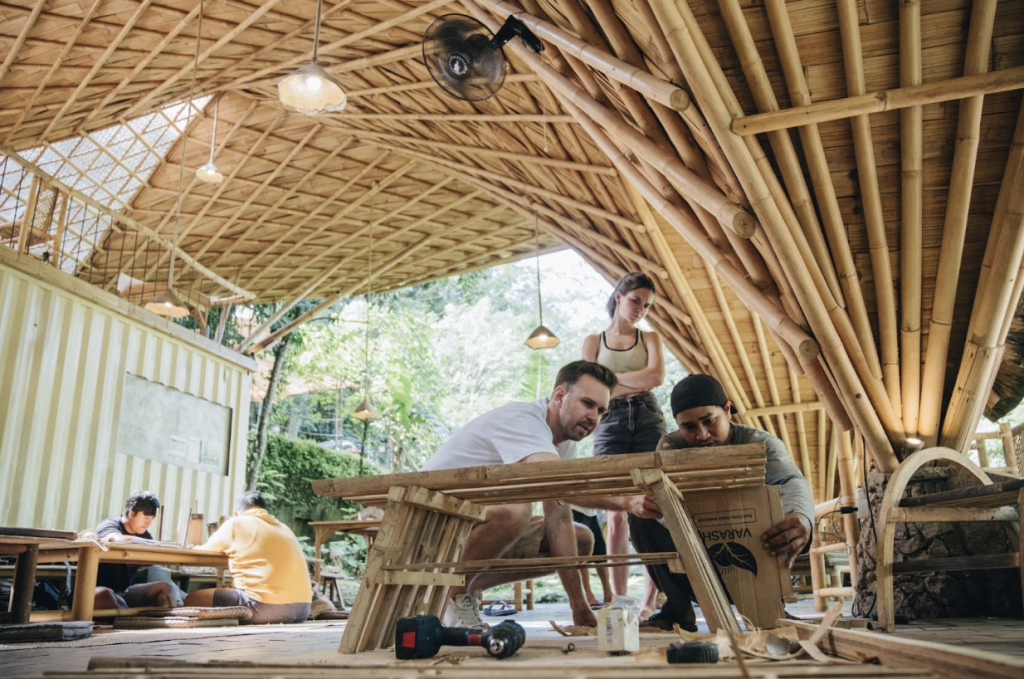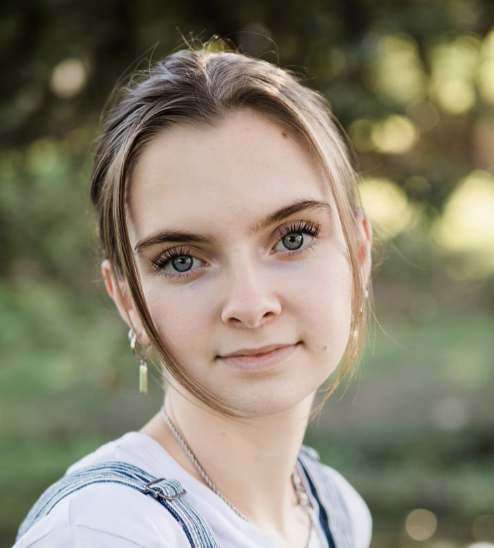 About the author
Sabrina Jade Laney
|
Architecture Student
First year architecture student who is finding solutions for our climate crisis through the use of recycled building materials, non destructive building practices, and permaculture.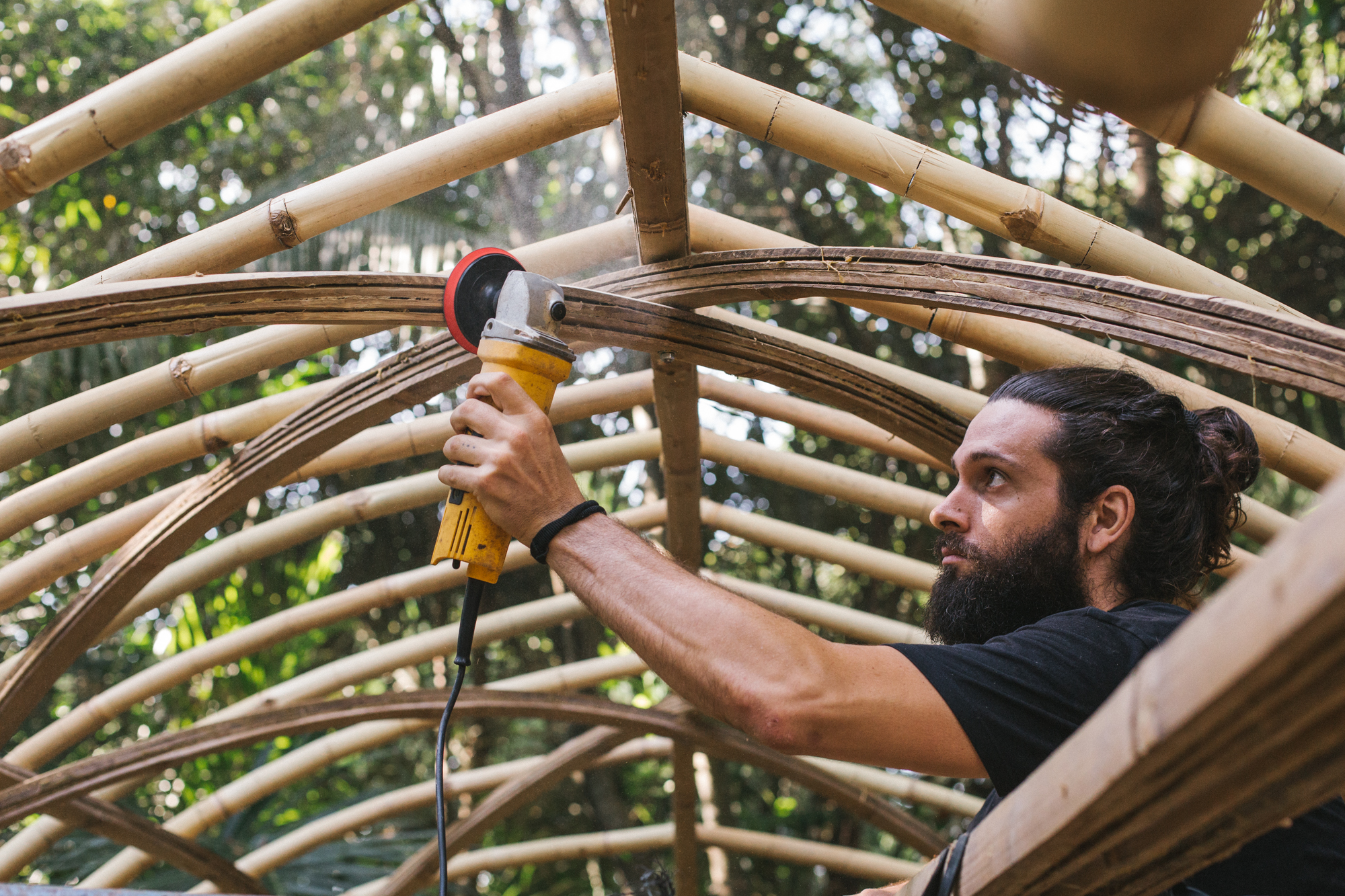 June 10-21, 2023
The 11 Day Bamboo Build & Design Course in Bali
In 11 days, we'll show you how to build bamboo structures we'll share all that it takes to build with nature.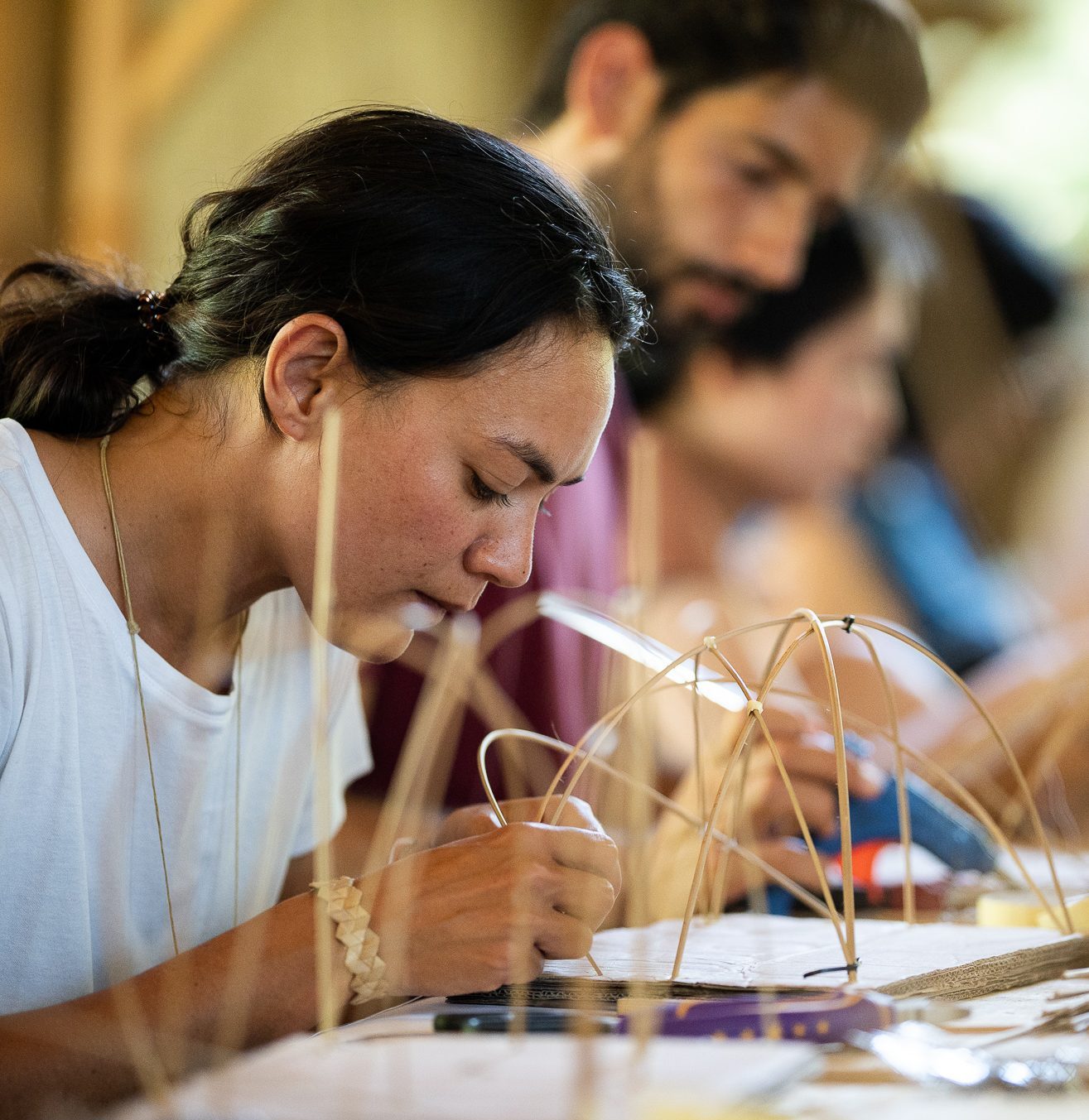 The Fundamentals of Building with Bamboo Online Course
Join the Waitlist
All the fundamentals you need to get you started working with bamboo. Deep dive into cinematic videos and step-by-step guides that will provide you with a strong understanding of bamboo as a design and building material.