Building of the Green Camp Meditation Space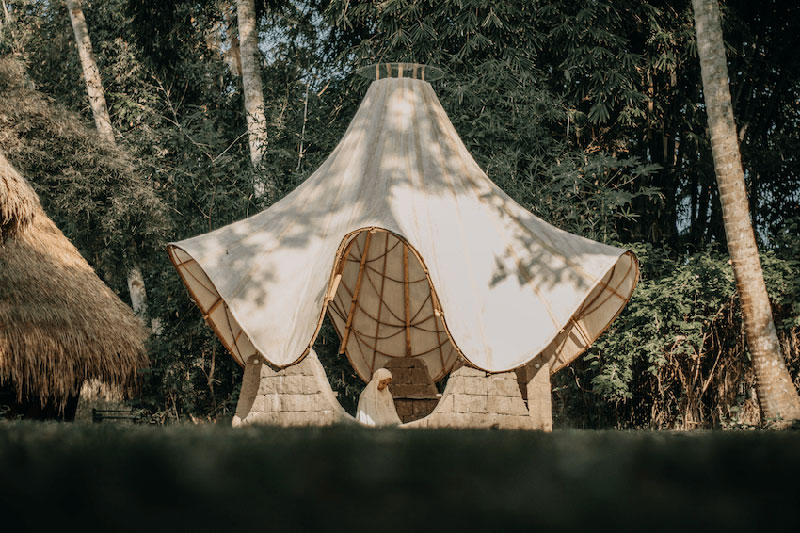 Originally a structural study of the new kitchen at the Bamboo U campus, Green Camp's meditation room explores numerous experimental processes, pushing the limits of bamboo's flexibility and the potential of environmentally friendly composite materials. The structure was first built at the Kul Kul Farm during the August 2018 11 Day Design and Build, as a prototype and was later refined and permanently fixed at Green Camp in September.
Its design mimics the movement of a whirling dervish dress, and is structurally referred to as an anticlastic grid-shell (being simultaneously concave and convex), composed almost entirely of hand whittled thin bamboo rods - called bamboo lidis - 8mm in diameter. By reducing bamboo canes to this form, we enter the double-curvature realm, allowing it to bend in 3 dimensions (bamboo splits, in comparison, only bend in 2 dimensions - single curvature). While bamboo lidis have been used by IBUKU for over 10 years, this is the first time they have been used structurally to create a roofed grid-shell. To fit the dramatic profiles of the curves, the lidis were brought onsite having just been treated at the PT Bamboo Pure factory to allow for maximum bending potential.
At the end of last year we were working closely alongside Sean Steed, CEO and Founder of 'ChangeClimate', in developing alternative solutions in construction. The now commercialized low-VOC, BPA free Bio-Epoxy Resin is a result of waste by-products produced during refining processes.
The most efficient approach to roofing of the meditation room was by using 20 prefabricated panels of cotton canvas, each cut to size. These were then fully coated with 1kg of bio-epoxy each (using 72%  resin and 28% hardener). After being left to cure for over 24 hours the panels were secured into place on the bamboo ribbing of the structure using a staple gun and compressor.
We found the application challenging in areas where the double curvature was extreme. The panel was at times forced into position and as a result bubbled, this necessitated us to patch over the overlaps, ensuring a waterproof finish. This technique was dubbed mâché as it was a very similar process to that of papier-mâché- dry cotton fabric was placed onto the overlap and then sealed closed using bio-epoxy.
The result is both waterproof and translucent, letting a warm and diffused "mystical" light penetrate the space during the day and allowing for a lantern-like lighting effect at night. More importantly IT'S WATERPROOF!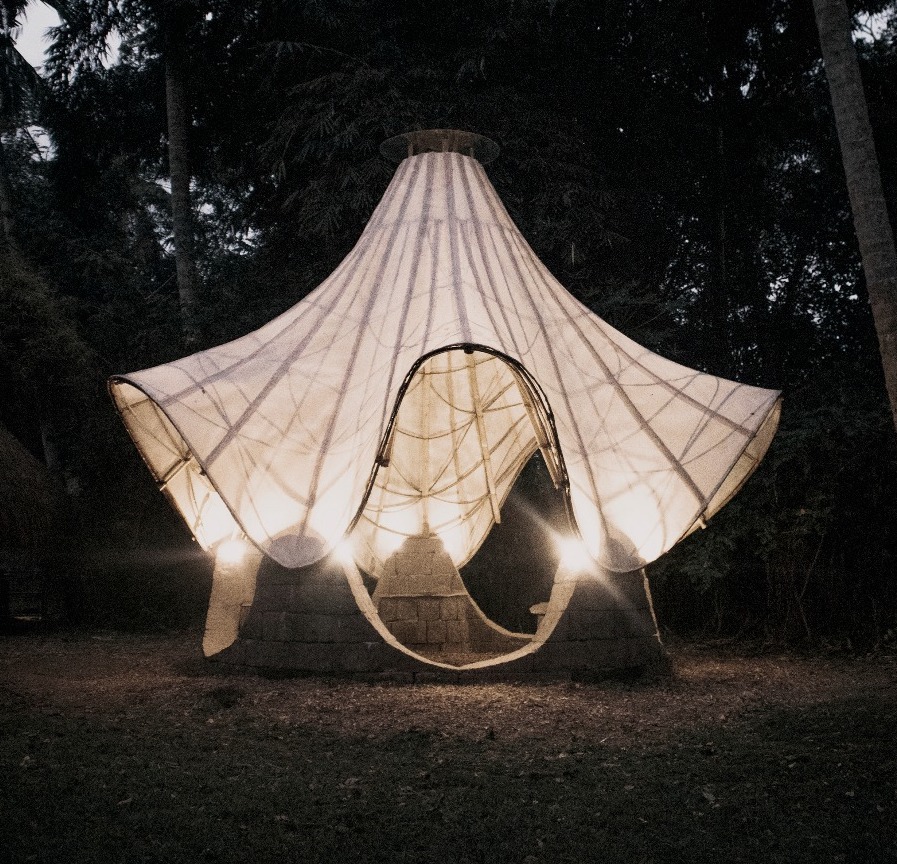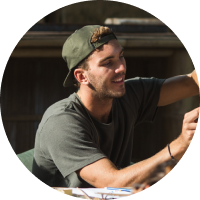 About the author
Kane Macartney
|
Architect
Architect and bamboo enthusiast who joined the Bamboo U team as a facilitator and contributed to several buildings on the Bamboo U campus. He is now a part of our online facilitation team.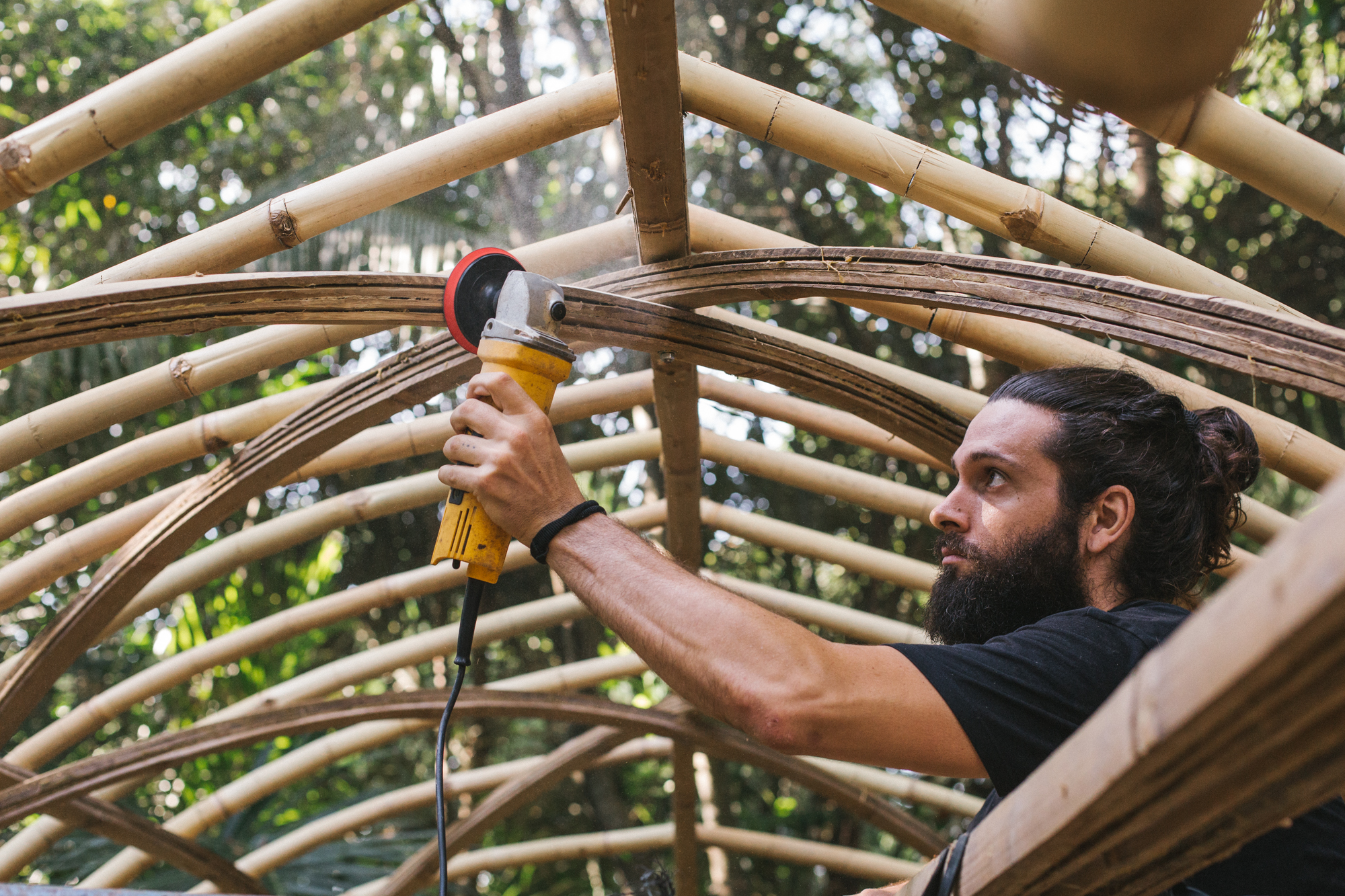 October 20-31, 2023
The 11 Day Bamboo Build & Design Course in Bali
In 11 days, we'll show you how to build bamboo structures we'll share all that it takes to build with nature.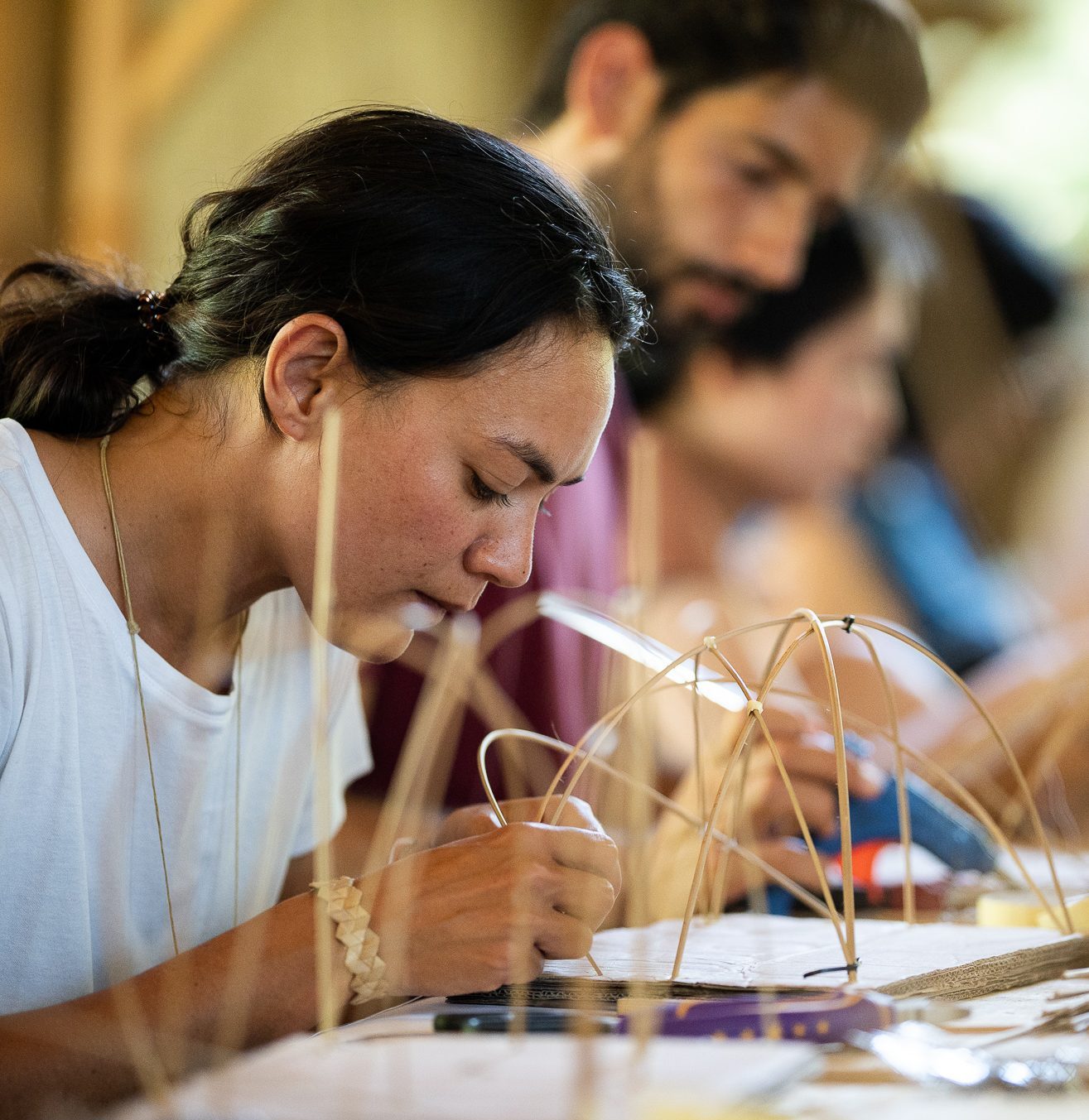 2024
The Fundamentals of Building with Bamboo Online Course
All the fundamentals you need to get you started working with bamboo. Deep dive into cinematic videos and step-by-step guides that will provide you with a strong understanding of bamboo as a design and building material.