Student Name: Mia Straka
Name of Project: Cabin in South Africa
Bamboo U Course Attended: The Online Bamboo Model Making Course
Year, Month attended Bamboo U: June 2021
Country: New Zealand
Hi my name is Mia Straka and I am a 3D artist, primarily in the medium of contemporary jewellery with side steps into sculptural, installation and interactive art projects. I joined Bamboo U Online to gain knowledge about working with bamboo as a material from inspiring and innovative designers, architects, artists and makers.
The Online Bamboo Model Making Course provided excellent instructional videos and a user friendly interface to interact with our knowledgeable course leader. We received individual feedback to help us develop our models including structural and design advice. I also really enjoyed the zoom meetings featuring a variety of industry experts and connecting with others on the course from around the world interested in working with bamboo.
I couldn't have envisaged creating the model I made during the course without the input, knowledge and support offered. The course enabled me to investigate the properties of bamboo, design a structure with these inherent characteristics in mind and realise a construction model bringing my idea to life.
My Bamboo Building Concept
During the course I designed a glamping cabin in South Africa. Each cabin is approximately 5 metres circumference interior floor area on the lower level, 3 metre circumference upper deck x 5.8 metres high.
The idea of the cabin was to create simple strong and replicable structures that can be built on site. It had to be suitable for the challenging climate as well as offer a unique accommodation experience for discerning guests. The curved structure I designed is inspired by the special geological features surrounding the site and traditional local rondavels. The double level is intended to create a cosy haven as well as a soaring experience for viewing the grand natural surrounds.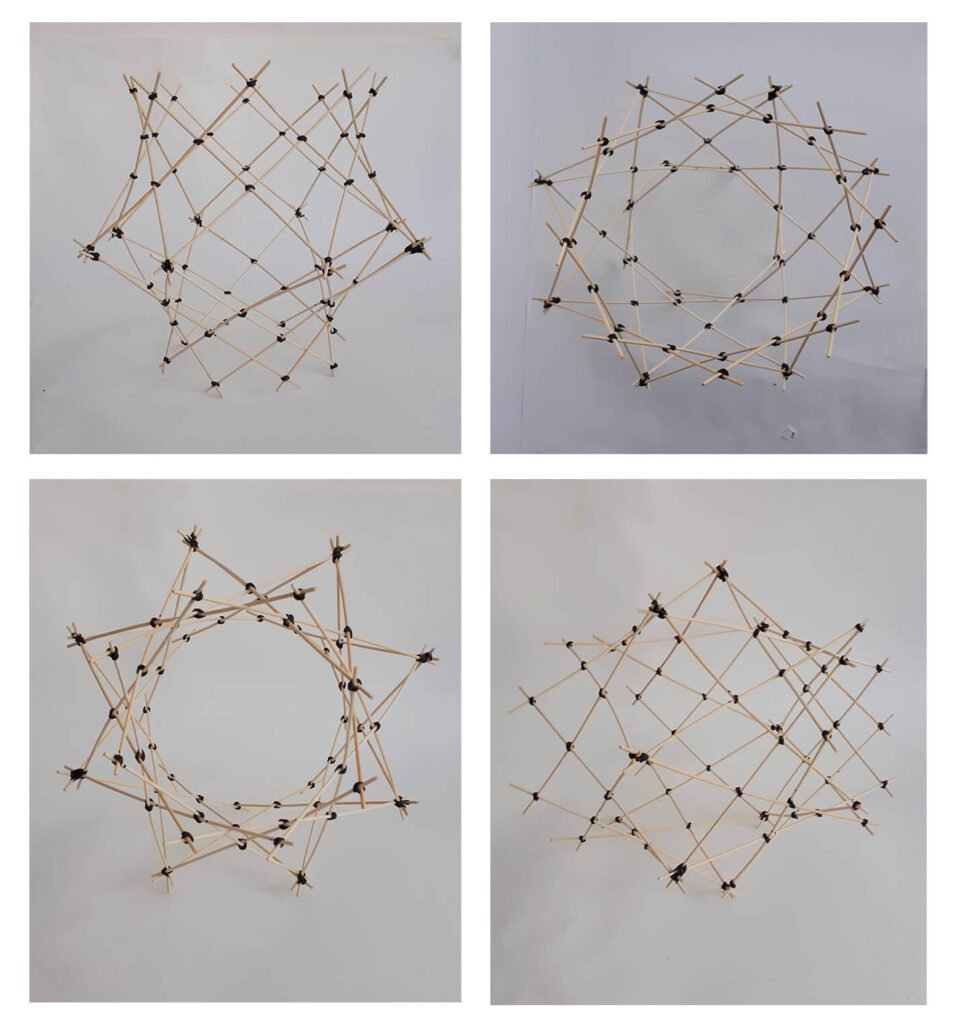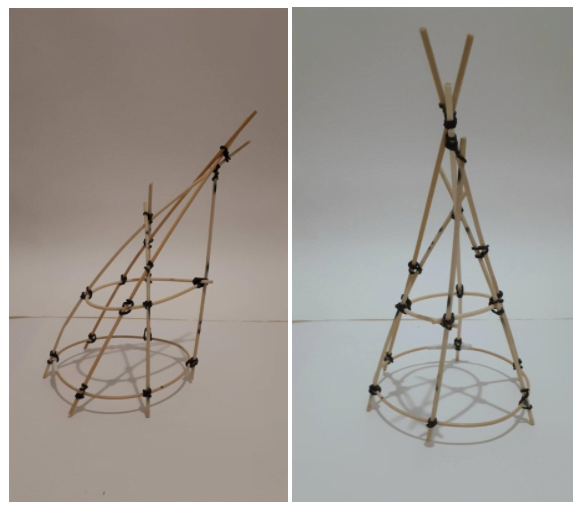 Developing the concept into a final structural model
I started making my final construction model with the two circular floors, bracing them with star shaped floor joists. I then created a 1:25 scale drawing with gridded squares to design the roof and wall braces, making sure the roof pitch was 45 degrees for the heavy local rains to drain off a thatched roof, before constructing these in bamboo and adding the curved backbone of the roof plus additional features.
I predominantly used triangulation to support the pitched curving roof and double level structure.
The final model is more expansive than my original design. I decided to let it grow as I made it, wanting to incorporate the engineering principles for bamboo I learned through the course.
I made the construction model using the engineering and bracing requirements given for Asper Bamboo, although in South Africa the predominant bamboo used for construction seems to be Bambusa balcooa.
As balcooa grows up to 20m tall and is very thick at maturity this seemed to be a conservative methodology, I wasn't able to find the same helpful tips for the locally grown bamboo so more tests would need to be undertaken before constructing this model in Bambusa balcooa.
The course was structured well to build technical, structural and design knowledge appropriate for bamboo structures and develop skills at a realistic pace. Module 3 was my favourite module for going in depth and realising a realistic construction model. Making the Kubu construction model before I embarked on my own design gave me the skills to build my own construction model, learning by doing.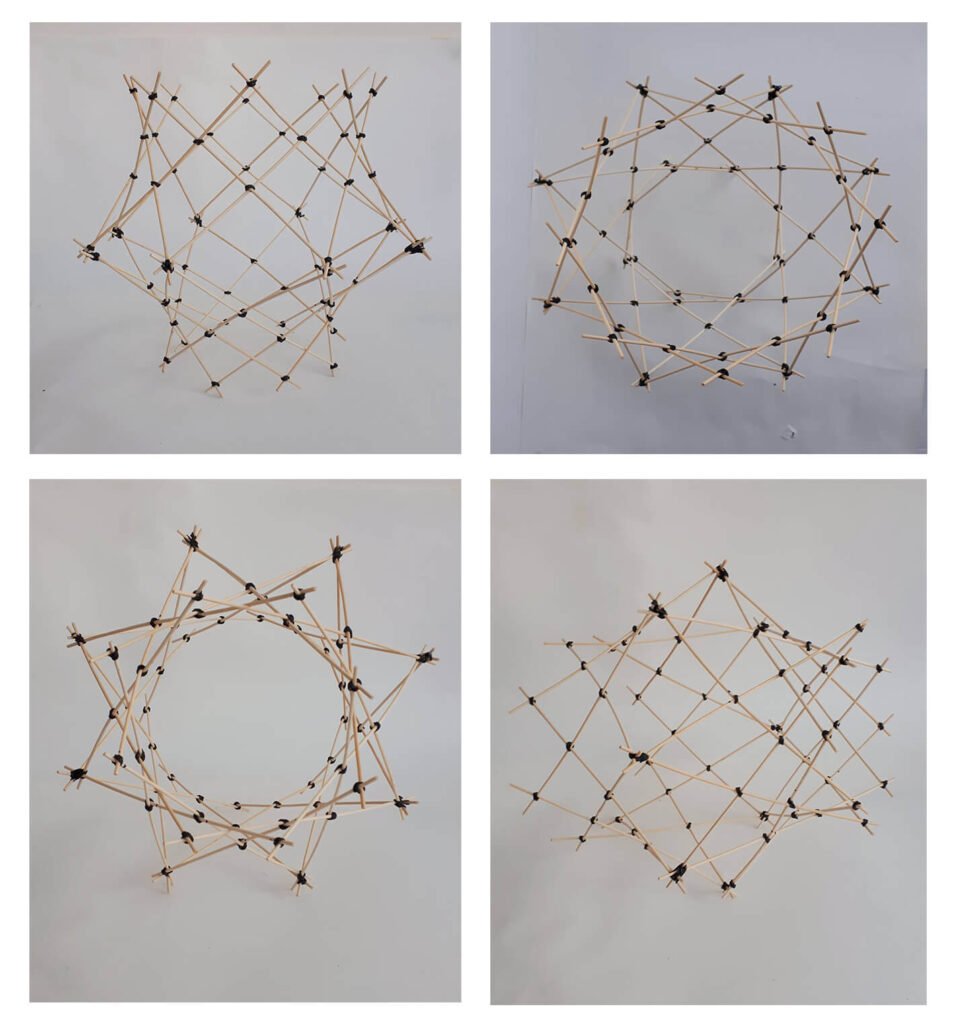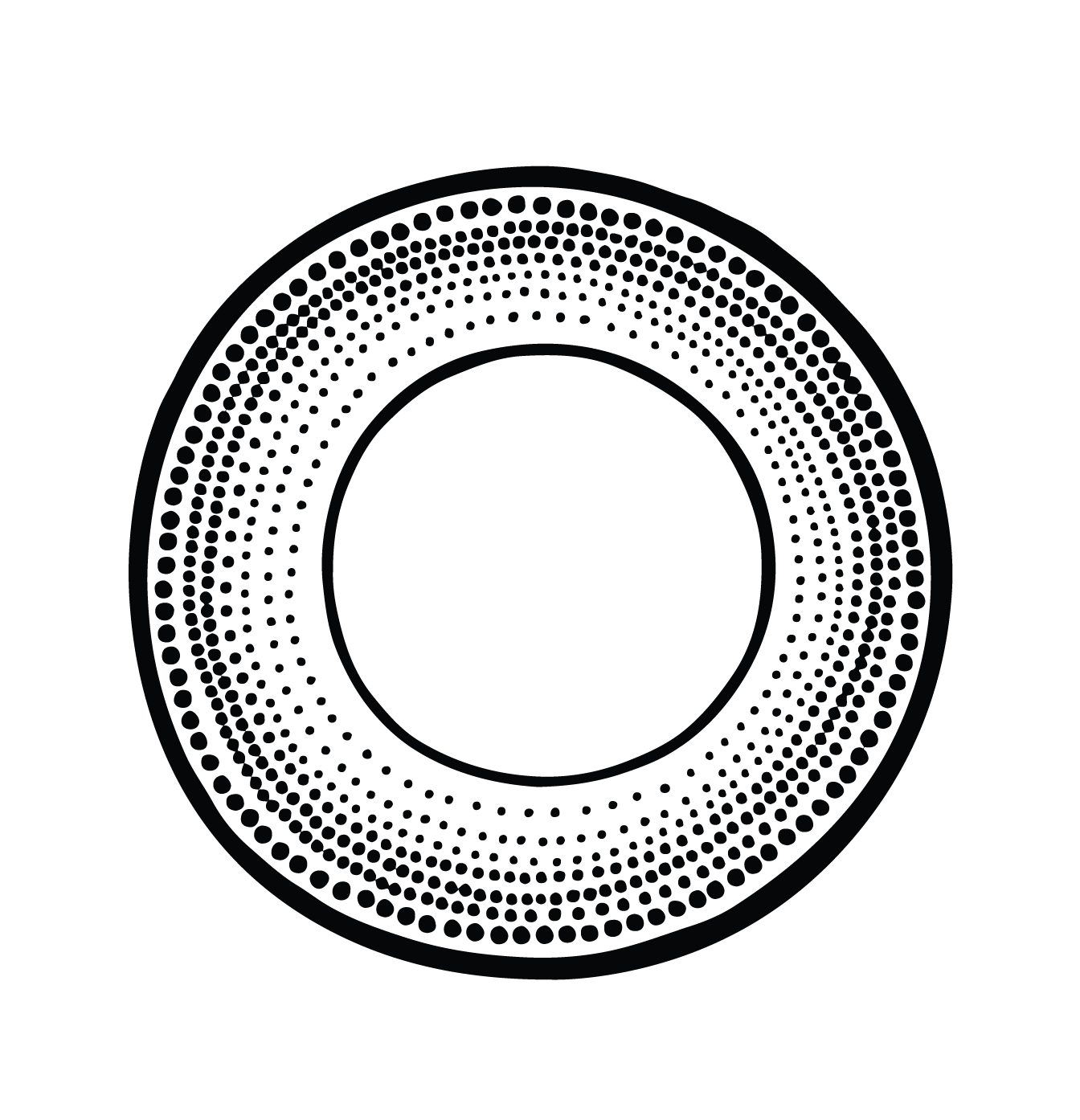 About the author
A 3D artist, primarily in the medium of contemporary jewelry with side steps into sculptural, installation, and interactive art projects.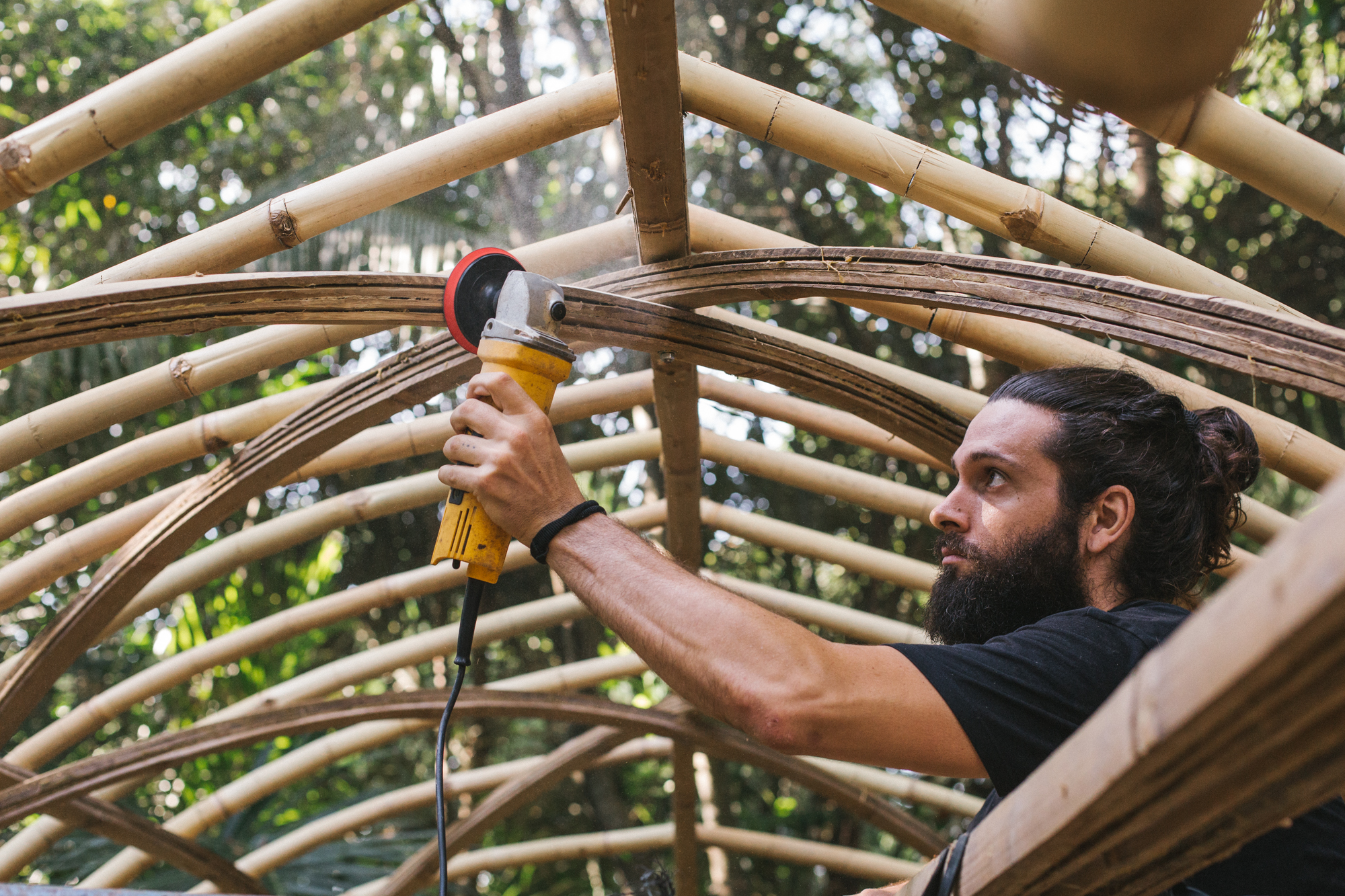 March 22- April 2, 2024
The 11 Day Bamboo Build & Design Course in Bali
In 11 days, we'll show you how to build bamboo structures we'll share all that it takes to build with nature.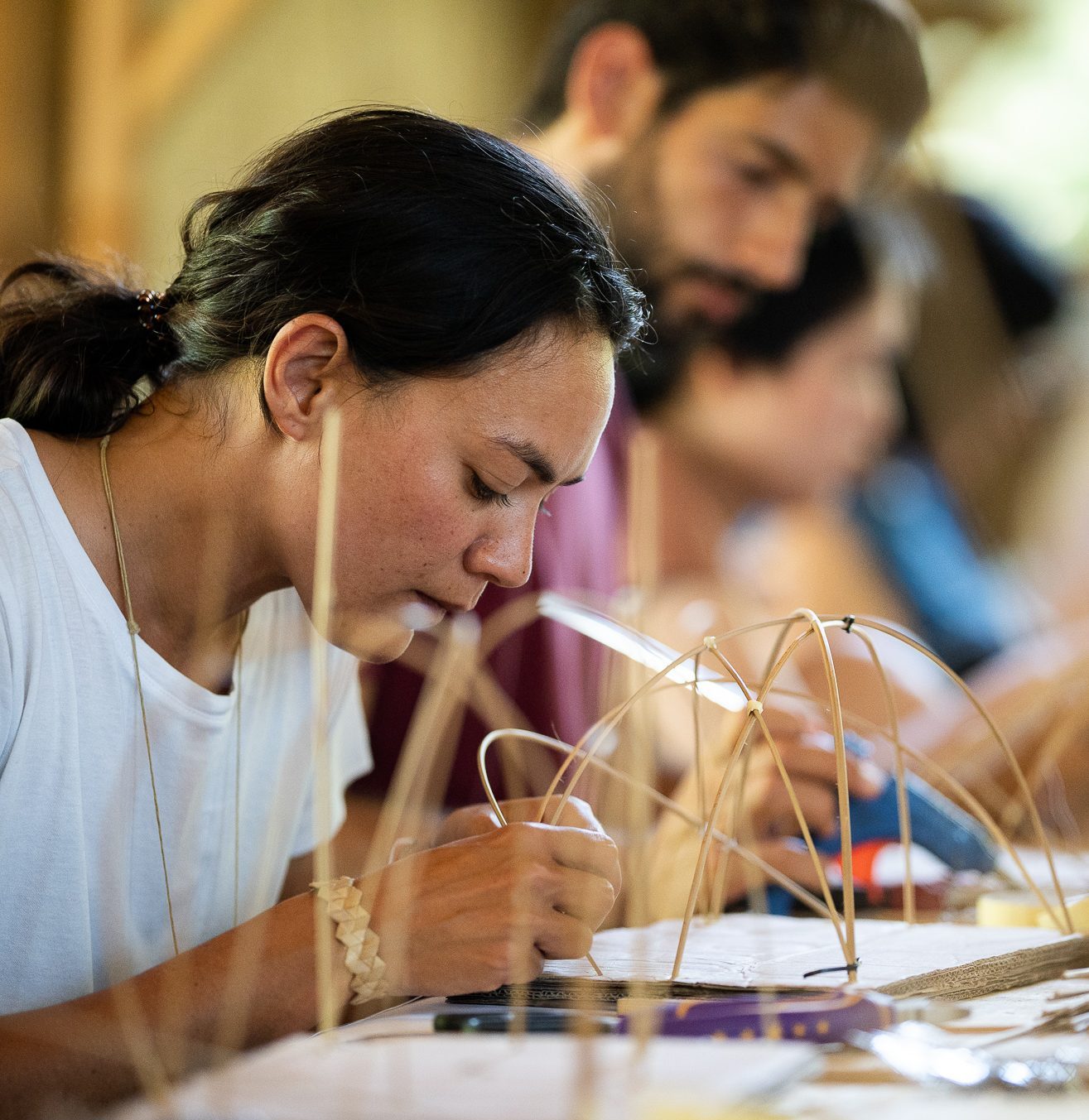 April 26, 2024
The Fundamentals of Building with Bamboo Online Course
All the fundamentals you need to get you started working with bamboo. Deep dive into cinematic videos and step-by-step guides that will provide you with a strong understanding of bamboo as a design and building material.