Bamboo Structural Systems: Arches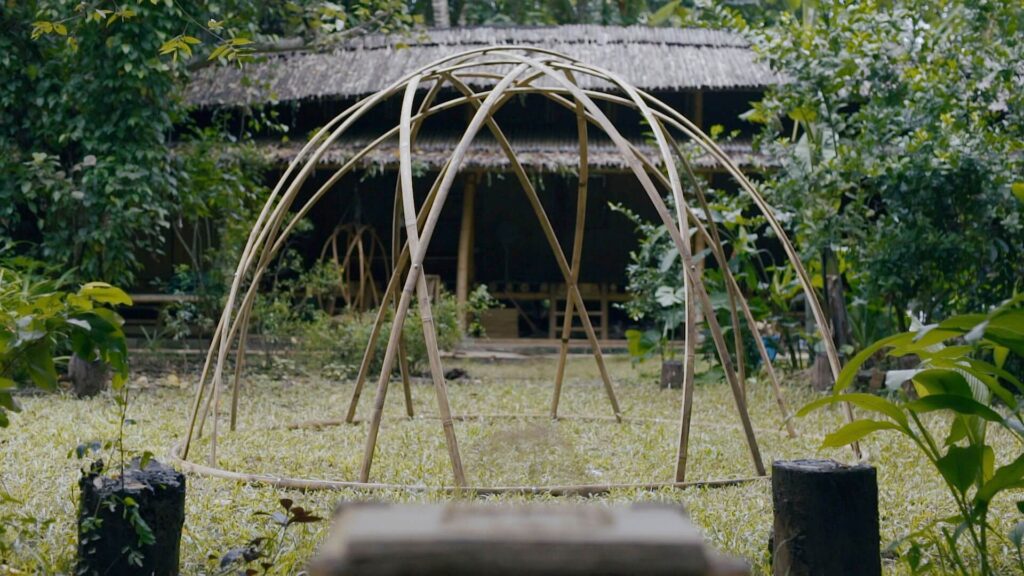 Arches in construction have been used since prehistoric times. Traditionally arches are built with stone, clay bricks and timber. In bamboo architecture, bamboo is bent and joined together using a range of carpentry techniques to achieve a desired curved form.
Arches enable the creation of expansive spans whilst supporting greater loads compared to post and beam structural systems. They are stabilized by the force of gravity acting on their weight to hold them in compression making them self-supporting.
In bamboo design there are two ways in which the arch is utilized;
Different parameters of arches are combined to create and add to a design aesthetic and
The design of a bamboo building is centered around the concept of the arch, and the structure's integrity relies on it.
In this article, we share 3 structural arching systems used in bamboo buildings:
Parabolic Arch Structures
Arched Dome Structures
Arched Truss Structures
1. Parabolic Arch Structures
Parabolic arch structures have developed out of the concept of a parabolic curve. A parabolic arch is created when a uniformly applied load from above results in internal compression. This creates a parabolic arch.
Conventionally parabolic arches are used in bridge designs and expansive large-scale structures because of their spanning ability. Some examples of structures that use the parabolic arch include the Eiffel tower in France,  Calatrava Agora in Spain, and the Victoria falls bridge over the Zambezi river in Africa.
Master bamboo builder, Jorgg Stamm, has translated the concept of the parabolic arch to bamboo bridges and buildings around the world.
This structural arching system is efficient to use in bamboo buildings where large spaces are required without the need for intermediate supports that would interrupt space. The advantage of this arching system is its ability to span long distances compared to other arching systems. Parabolic arches can be easily constructed on the ground using templates and lifted into place to get the arch geometry right in the building.
Based on the parabolic arch concept, IBUKU has designed and built the Green school Gymnasium- The Arc, which is the largest arched structure out of bamboo of its kind in the world.
This building is composed of 18 parabolic arches built on the ground using the rup-rup technique and lifted into place with a crane. The arches in this building span 19 meters wide and 14 meters high at the highest point. In order to achieve structural integrity, each arch is made of 6 bundled Dendrocalamus asper bamboo poles.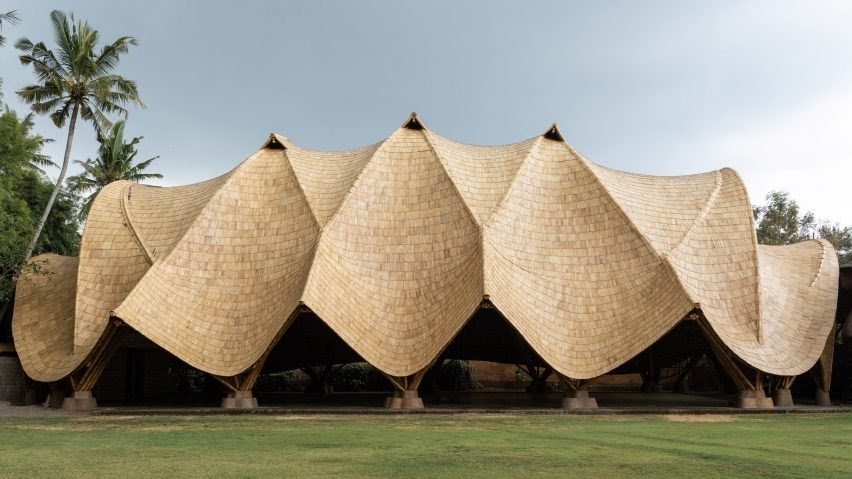 The Arc at Green School Bali designed by IBUKU. Photo: Tommaso Riva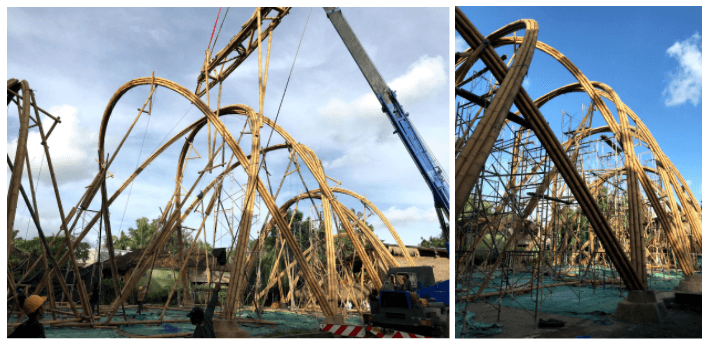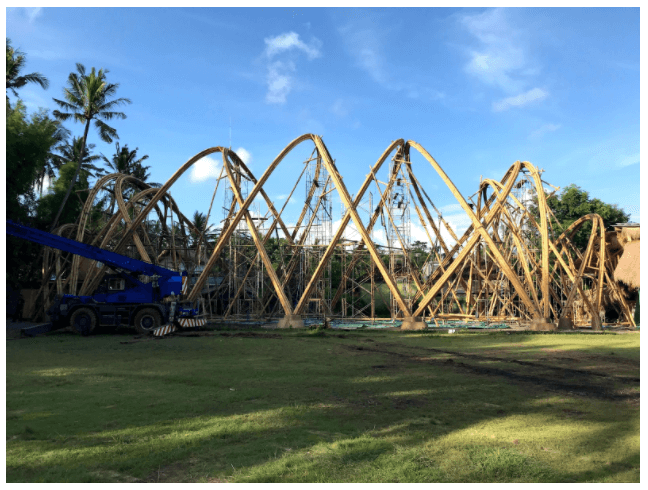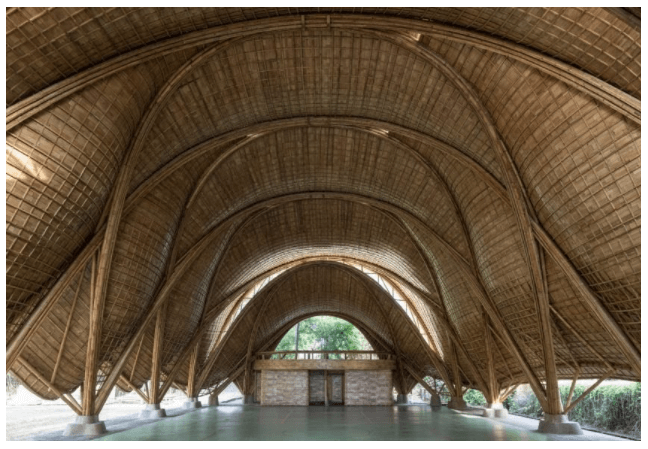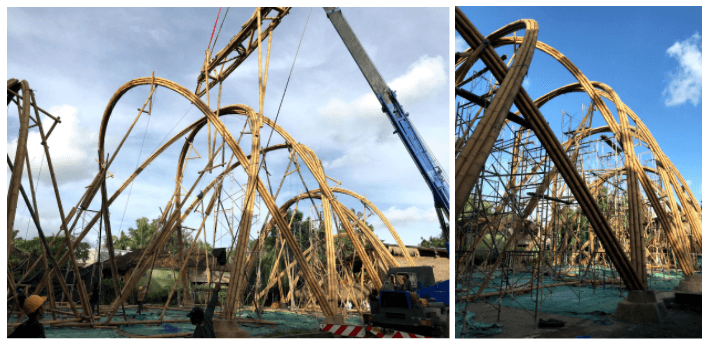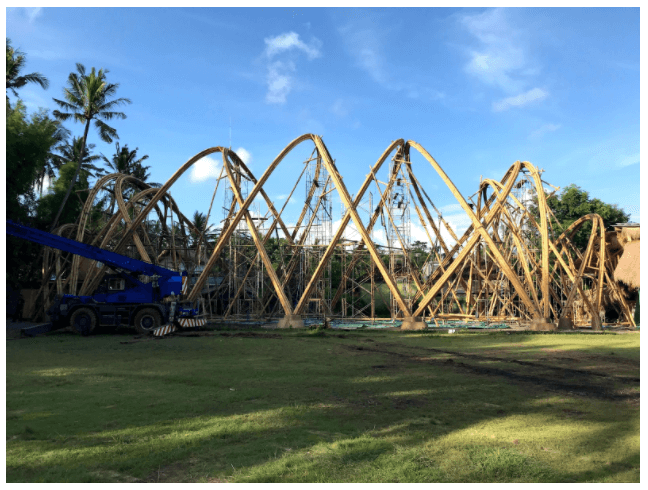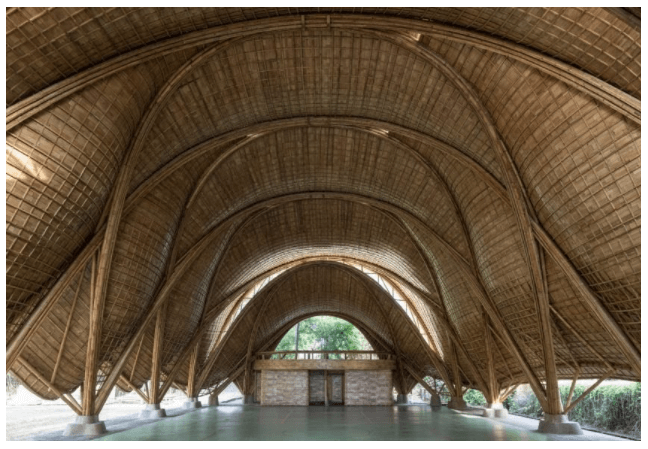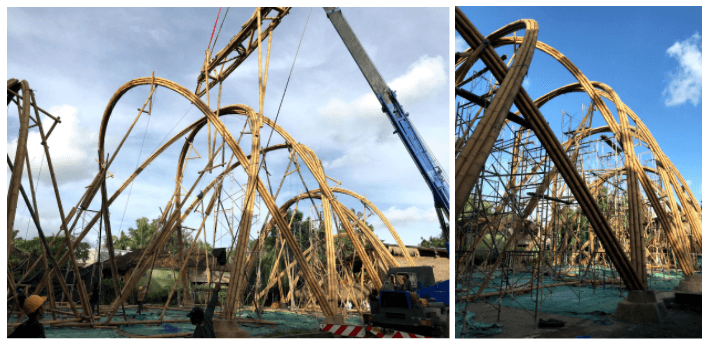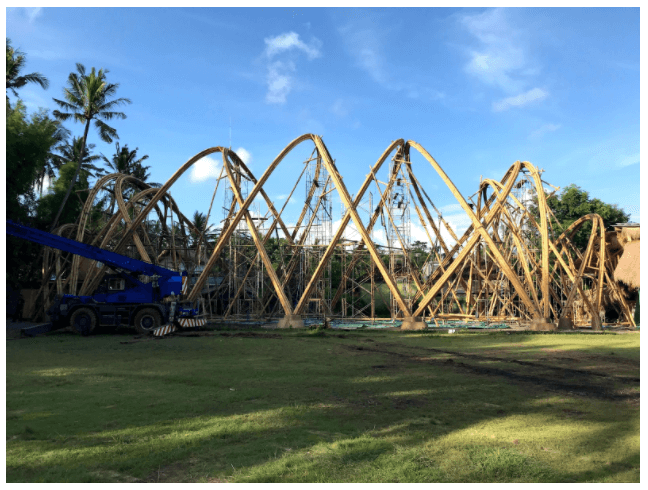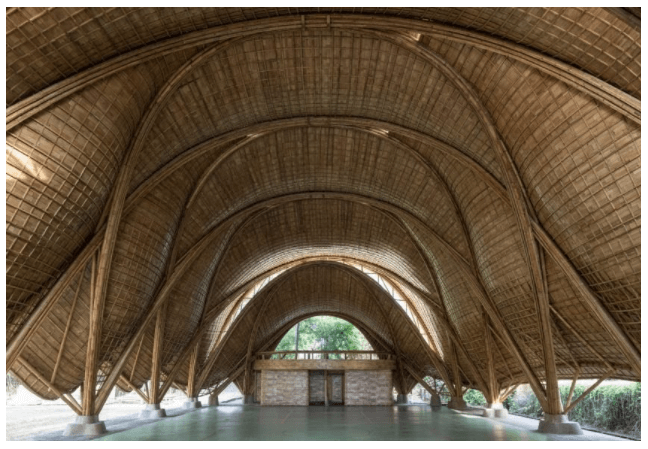 Another example of a bamboo structure that makes use of the parabolic arch is the Millenium Bridge at Green School in Bali which spans 23 meters over the Ayung River. The arches were built on the ground by using the rup-rup technique and lifted into place. Have a look at this short video of the curves being built in this structure over 10 years ago: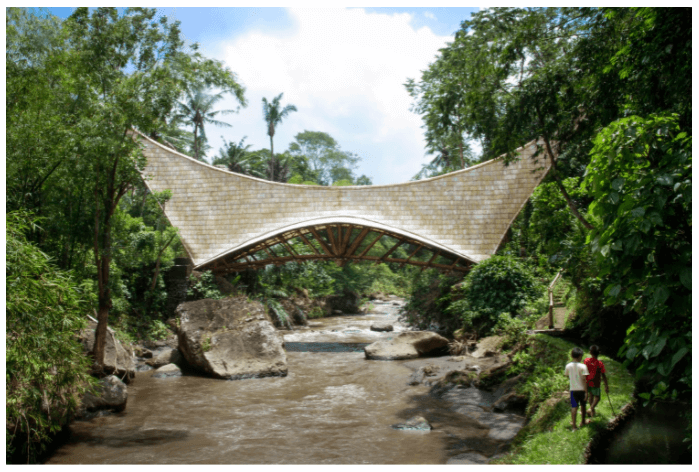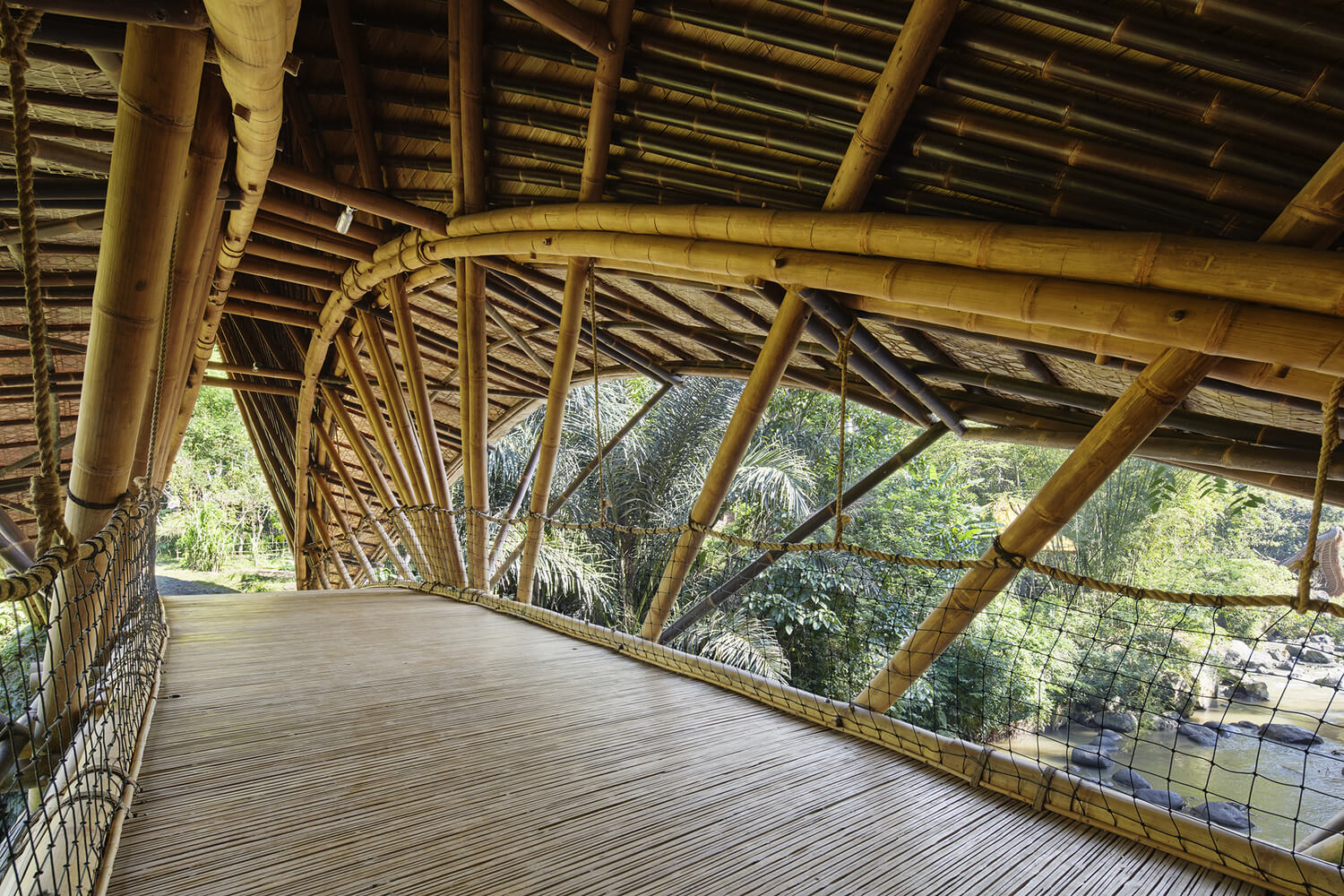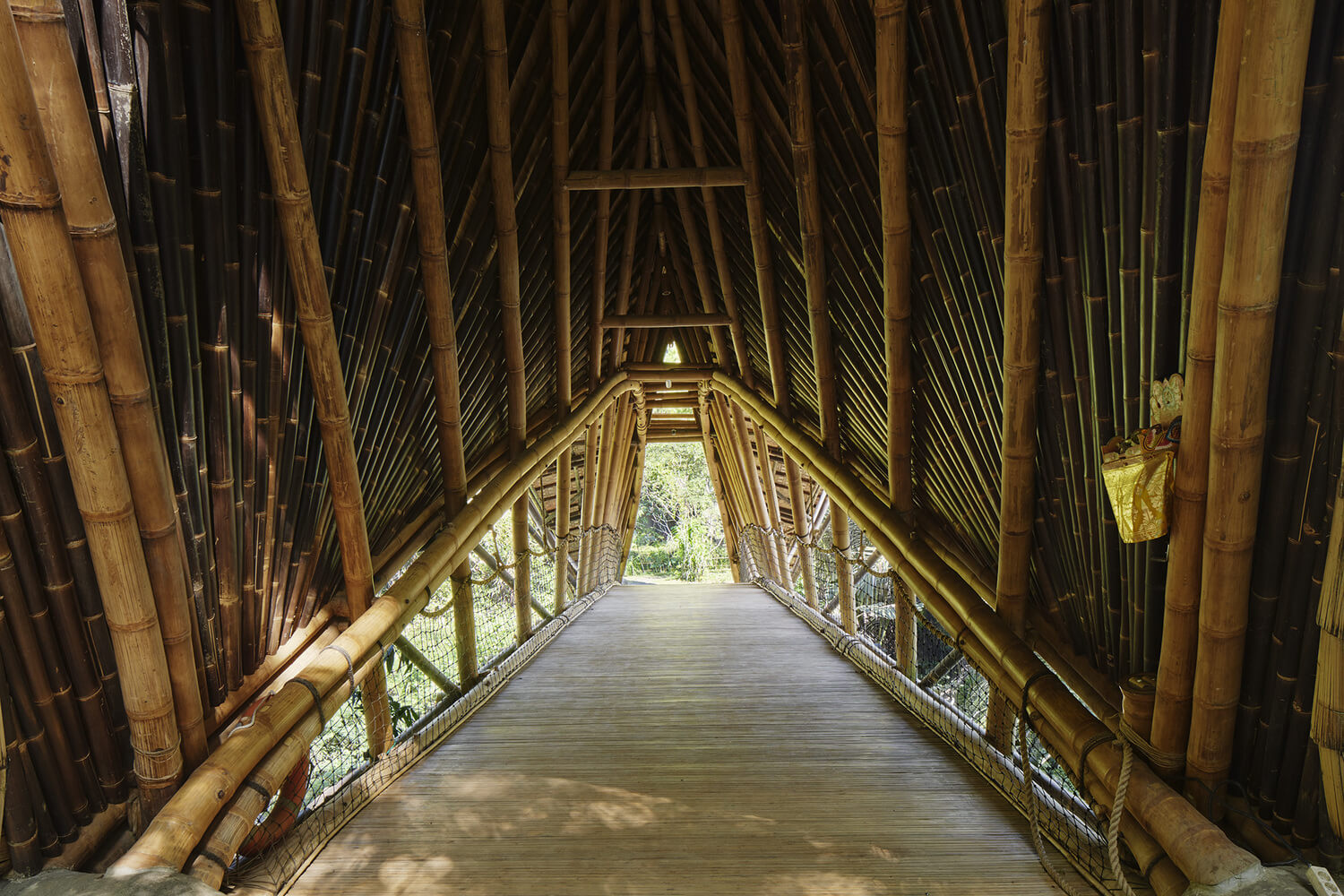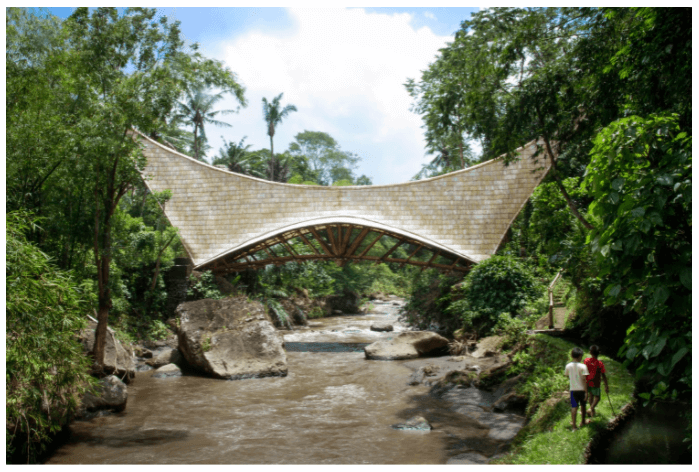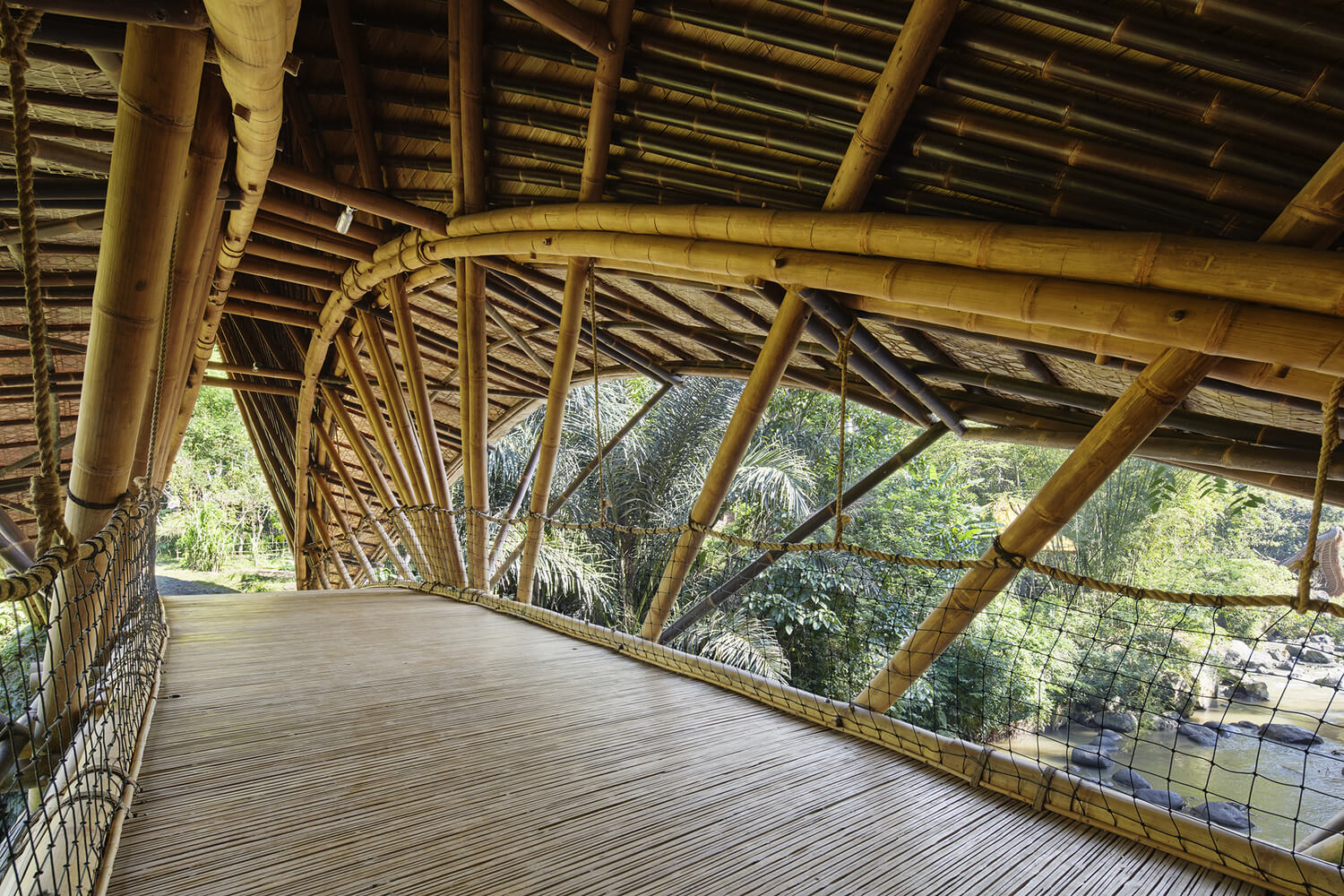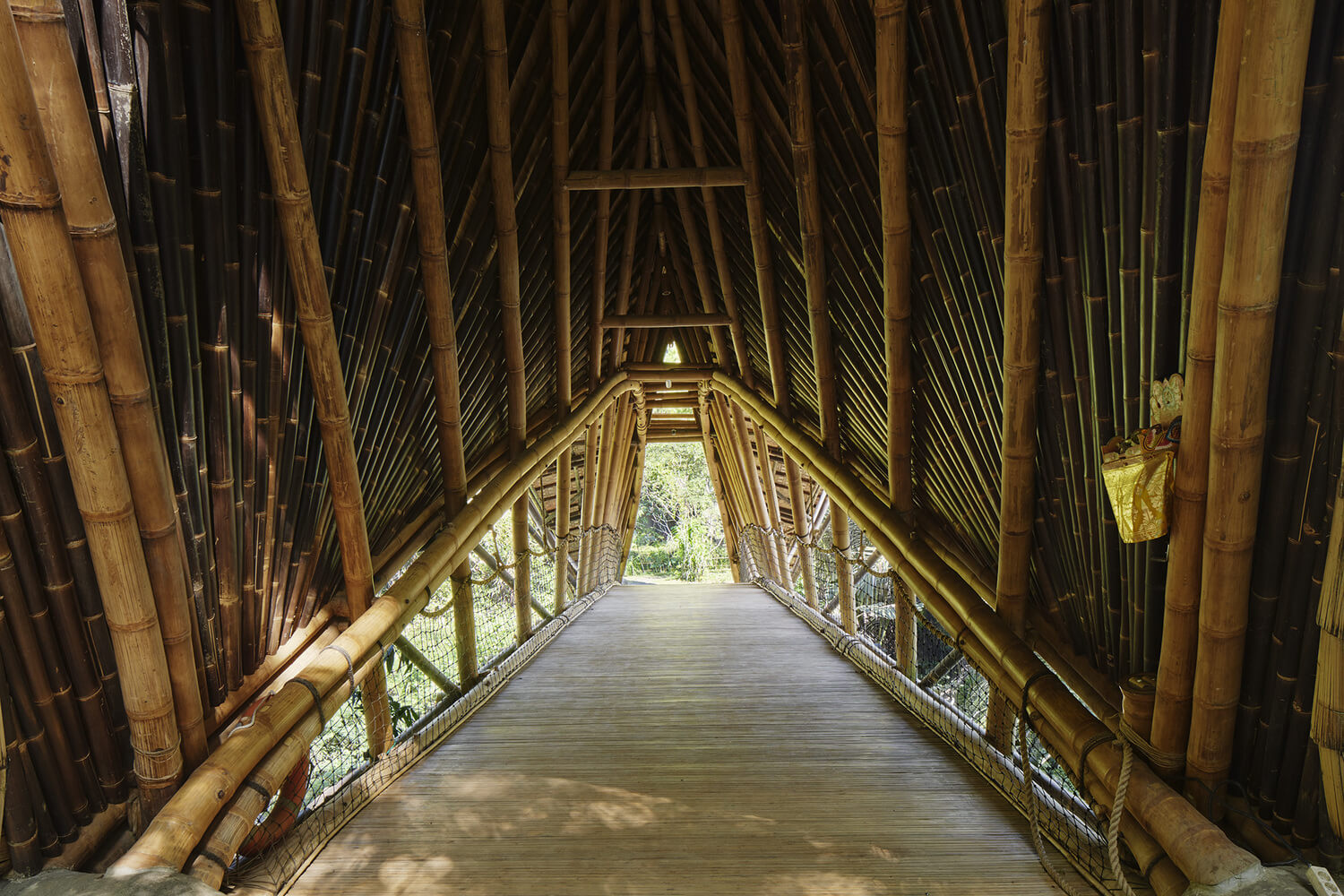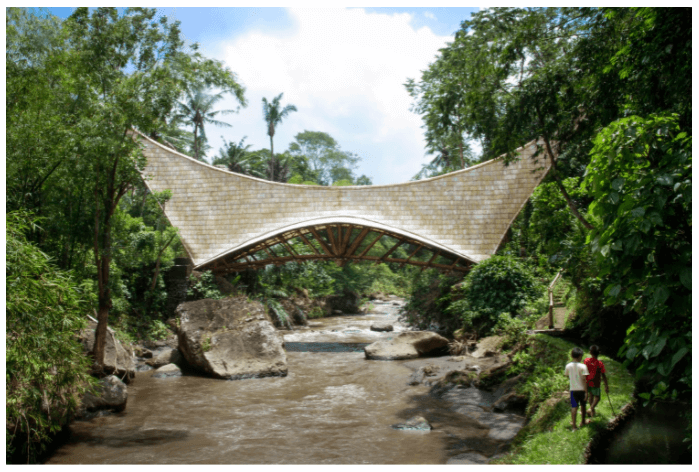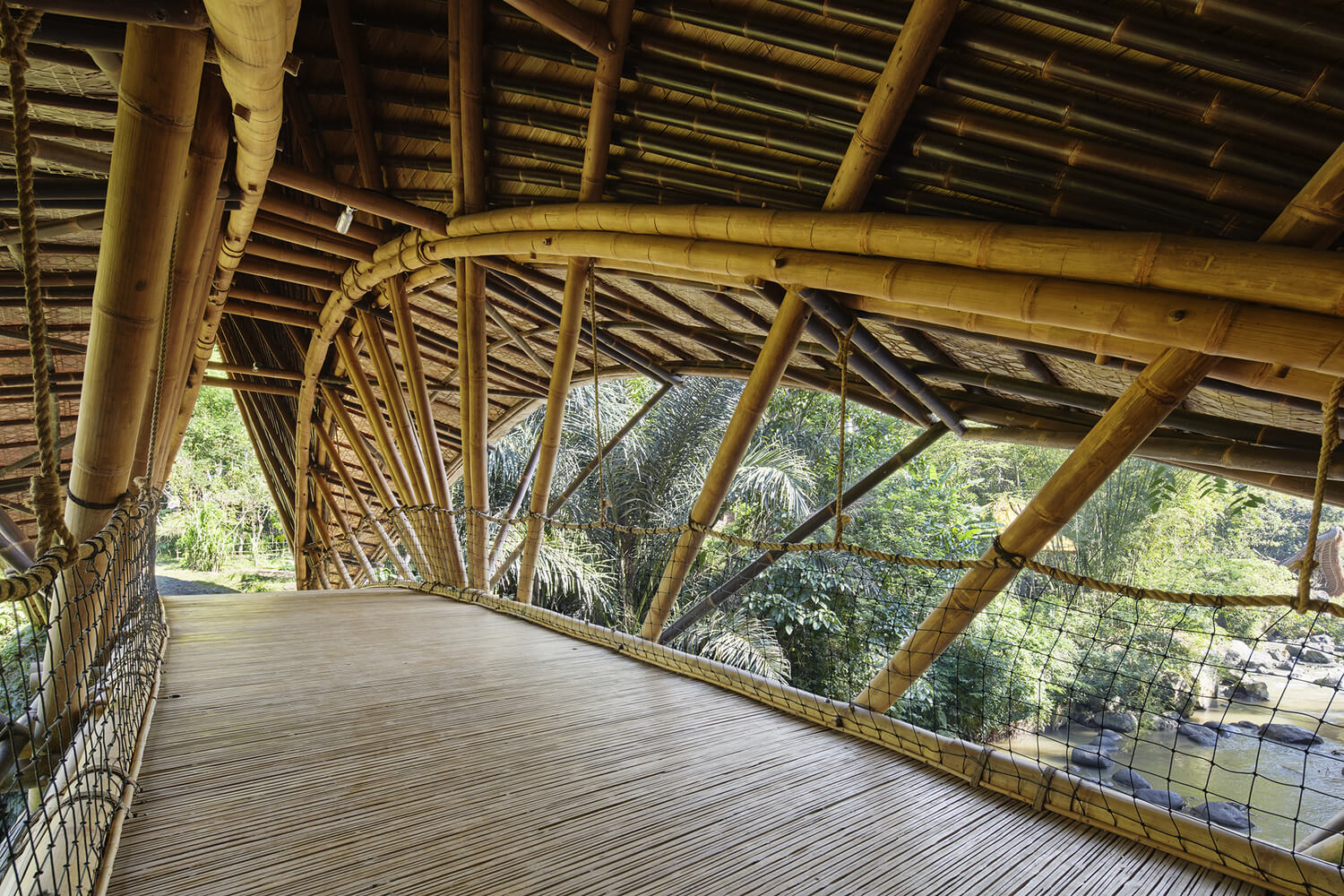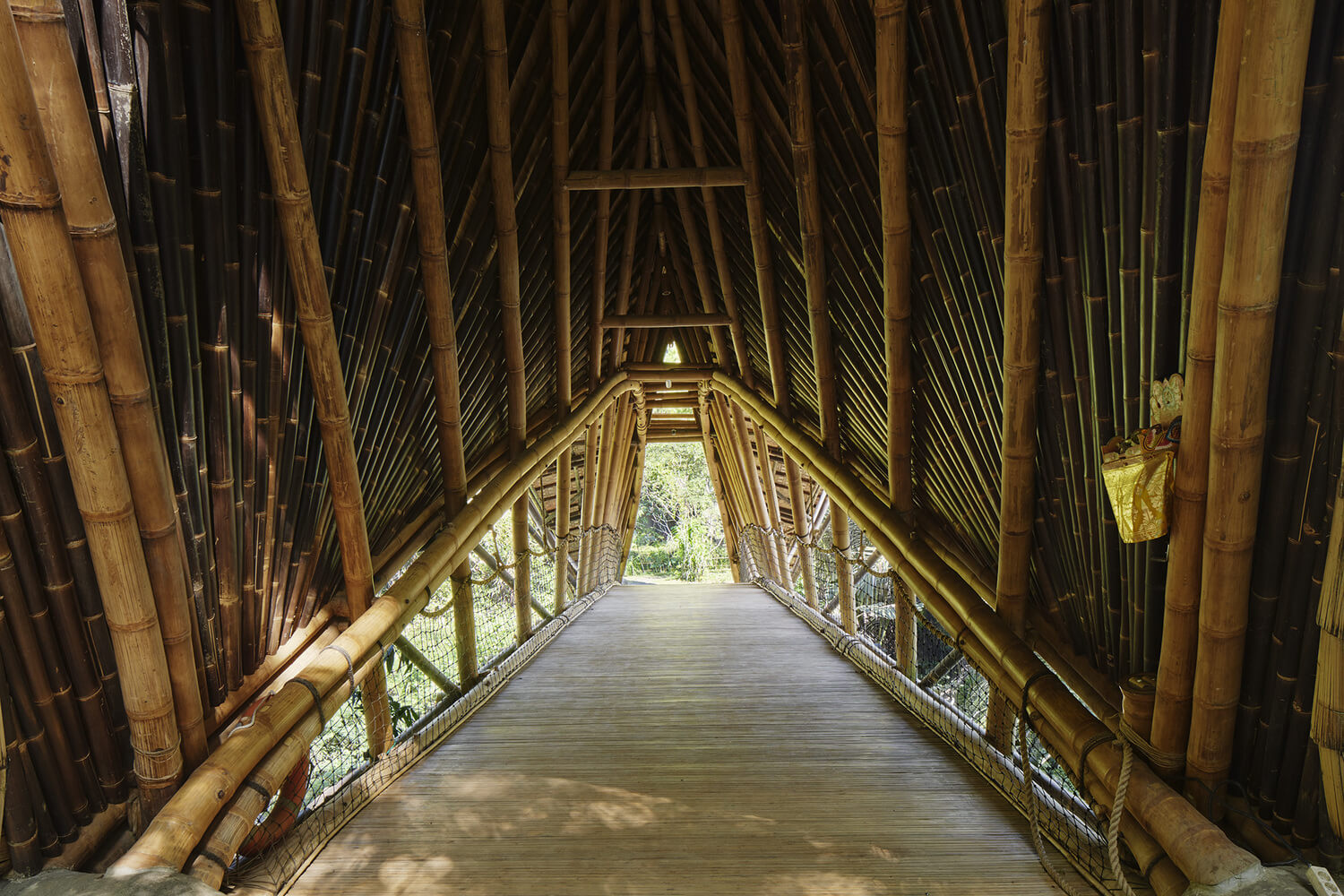 Arched Dome Structures
Domes are hemispherical structures that also evolved from the arch. They are very stable structures and similar to the parabolic arch they create expansive spaces without the need for intermediate supports. Domes have been used in architecture for 100s of years and have been a key element in the history of monumental architecture. The Taj Mahal in India and the Pantheon in Rome are monumental domed structures. Geometry is key to the design of these domes.
A dome typology that has been adapted well with bamboo has been the 'crossed-arch dome'. Crossed-arch domes in bamboo create beautiful patterns which are not only aesthetically pleasing but create stiffness. In this arching system, arches overlap and intersect, which is an advantage over other arching systems in creating structurally efficient structures.
Small scale domes of different geometrical forms can be easily constructed using bamboo splits and do not require very skilled craftsmanship.
The Pool Hangout Pods on the Bamboo U campus, which were built during the June 2019 Bamboo U Immersion in Bali in collaboration with Arquitectura Mixta and workshop participants, is an example of a bamboo structure utilising the crossed-arch dome system.
This building is composed of two domes; one is circular and the other is elliptical. Bamboo splits are used to form this structure. Every arch is overlapped by the next layer of arches creating an abstract pattern dome. If you would like to know more about this project follow this link.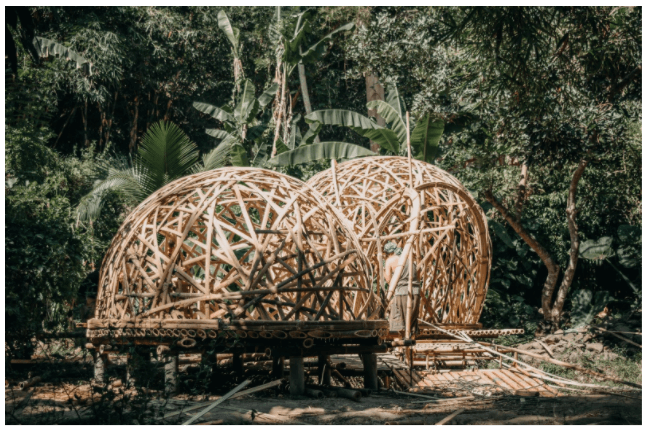 An Arched Truss system is a combination of an arch and a truss. By combining these two efficient structural systems we can build stronger and lighter structures. This structural system is astonishing due to its material to stiffness ratio, using bamboo's strongest property of tension and a basic truss triangulation system.
An arched truss system is a very efficient structural system however aesthetically structures tend to look more rigid and engineered and we have found that the challenge with this system is making the building look aesthetically pleasing. This arching system has the advantage of creating lighter and stronger structures that can be prefabricated very easily compared to other arching systems.
The ARS building, a prototype for disaster relief structures at the Bamboo U campus, was built during the December 2018 Bamboo U Immersion in Bali in collaboration with the Environmental Bamboo Foundation(EBF) and workshop participants. It is an example of the arched truss structure. This whole structure was easy to build in just 5 days of the workshop.
The arched truss frames were built on the ground using a template system. This building is composed of seven arched truss members built using Dendrocalamus asper bamboo splits and Indo Bamboo splits. Gigantochloa apus (bamboo tali) poles were used as tie-beams connecting all the arches and a grid-shell using Dendrocalamus asper splits connected by metal brackets bracing in a spiral and overlapping above the structure to make it more stable.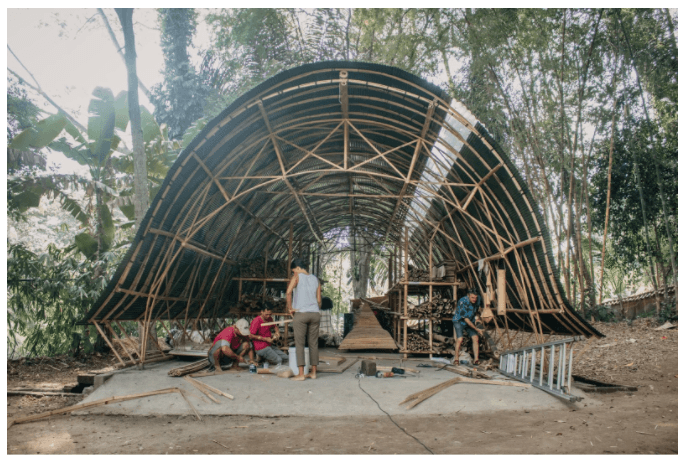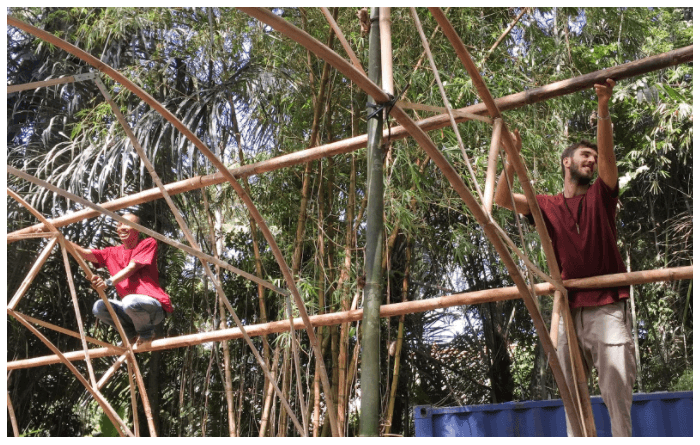 Using arching systems in bamboo building designs with good knowledge of craftsmanship can create extremely beautiful and structurally stable structures.
If you are interested in knowing more about creating curved bamboo structures have a look at our article on creating curves with bamboo here.
Article by Sai Goutham and Maria Farrugia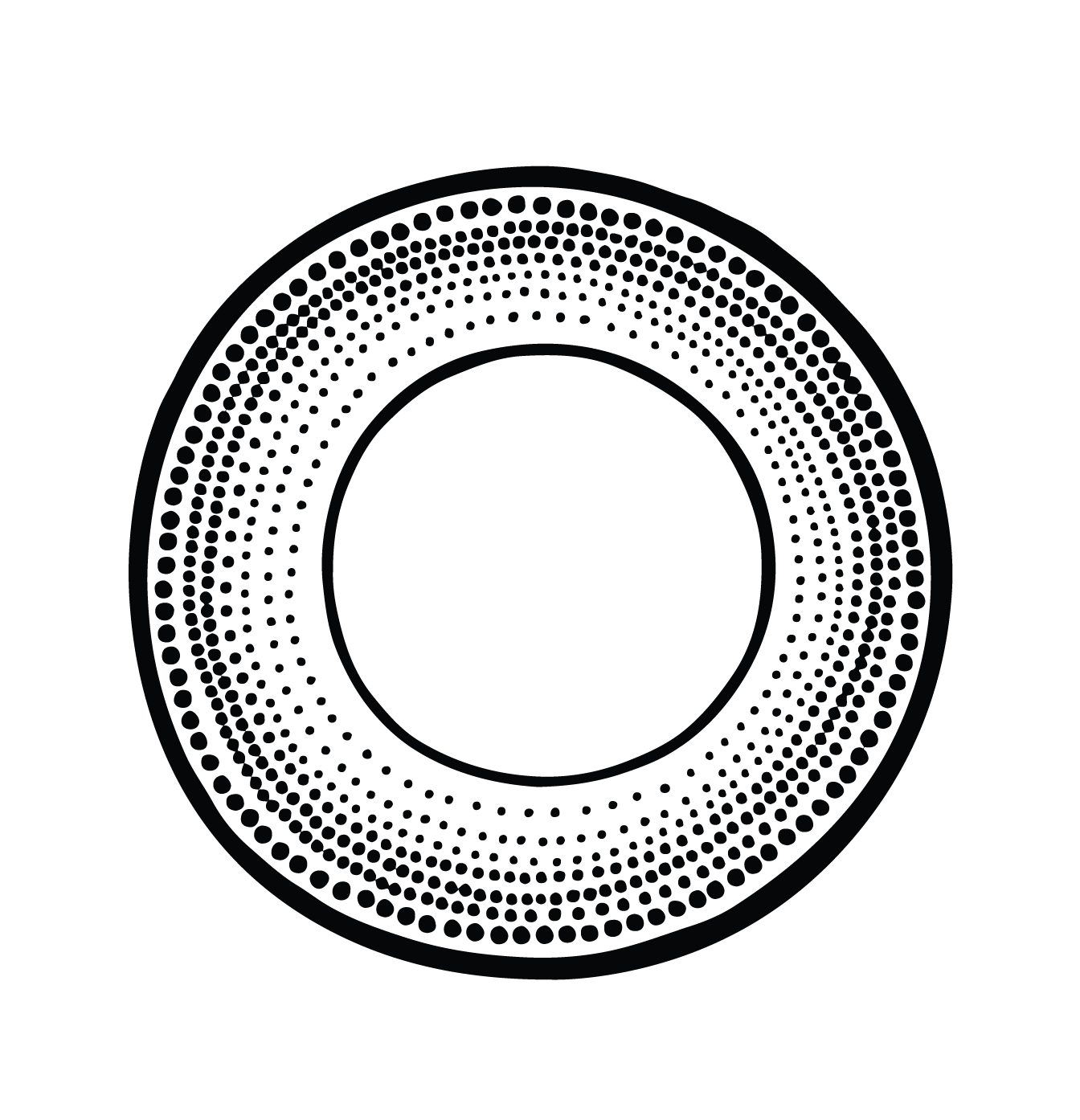 About the author
Maria Farrugia & Sai Goutham
|
Director & Research & Development Manager
Maria is the Bamboo U Director and Sai Goutham is the Research & Development Manager. Together they formulate ideas, write content and create illustrations to share knowledge of bamboo architecture and design.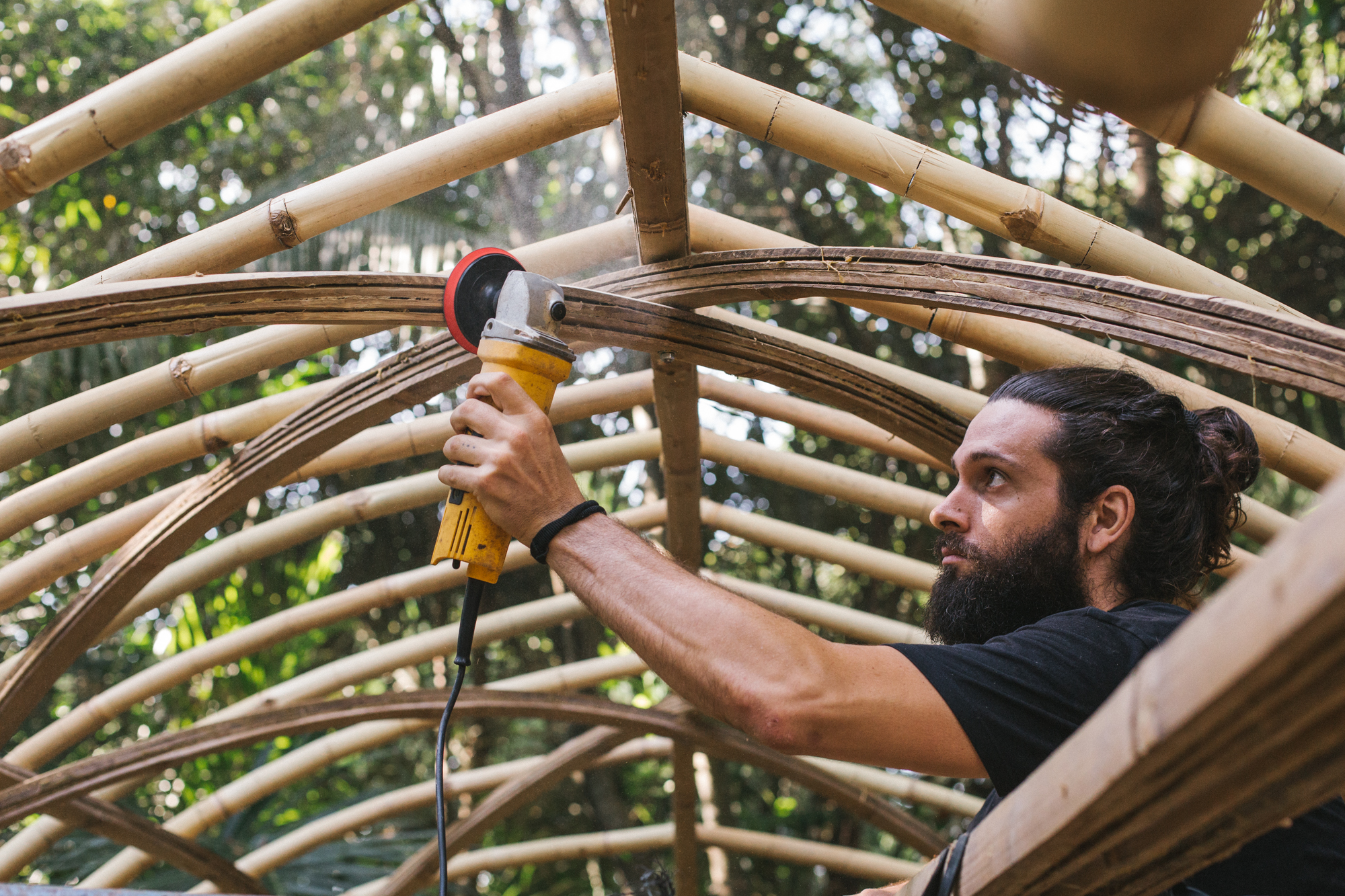 March 22- April 2, 2024
The 11 Day Bamboo Build & Design Course in Bali
In 11 days, we'll show you how to build bamboo structures we'll share all that it takes to build with nature.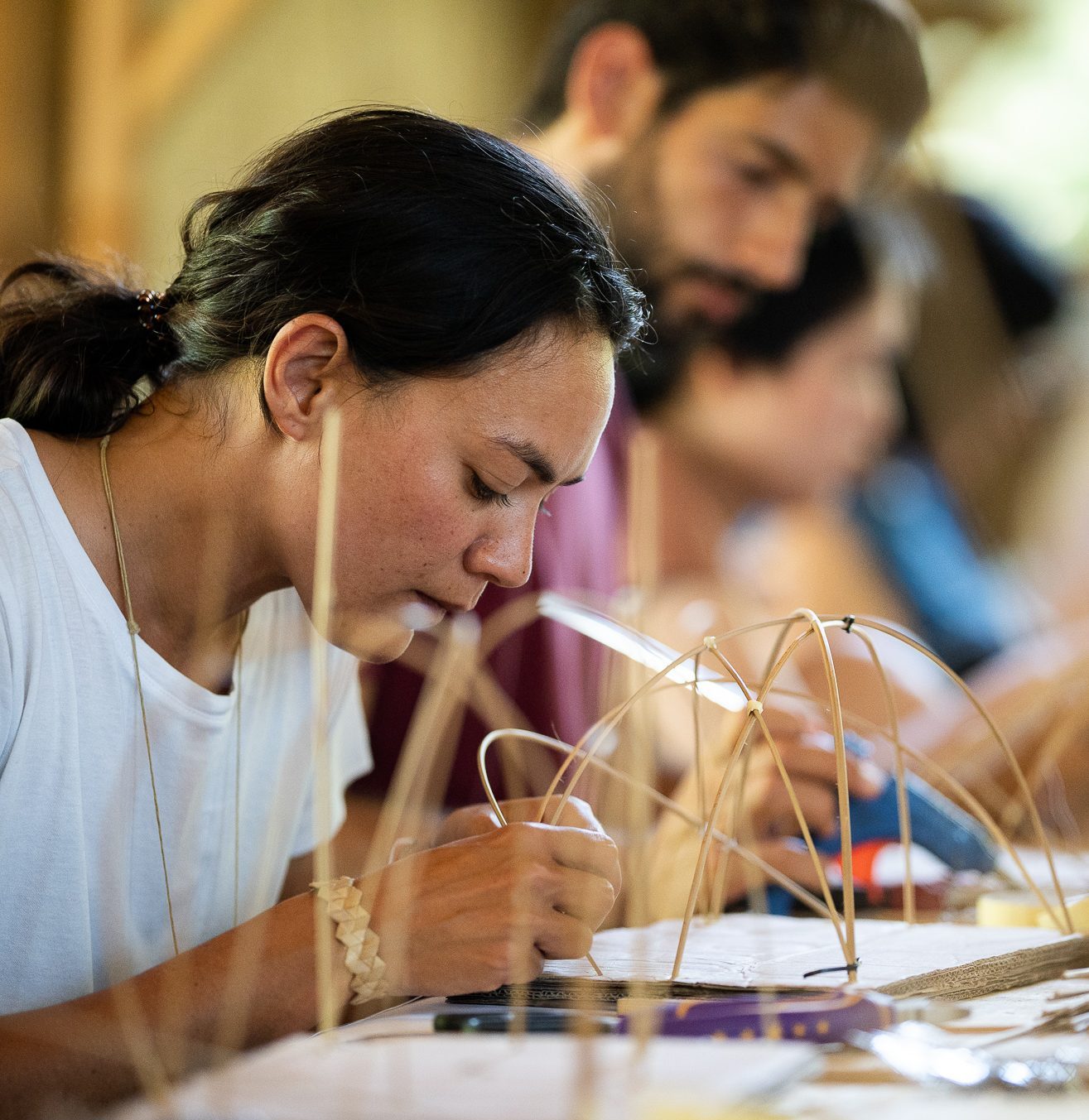 April 26, 2024
The Fundamentals of Building with Bamboo Online Course
All the fundamentals you need to get you started working with bamboo. Deep dive into cinematic videos and step-by-step guides that will provide you with a strong understanding of bamboo as a design and building material.