Student Name: I Yao Chuang
Name of Project: The Leaf Classroom
Year/ Month attended Bamboo U Online: February 2021
Country: Taiwan
Introduction
My name is I Yao Chuang and I am a natural building designer/builder from Taiwan dedicated to providing experiences with natural materials like bamboo, wood and earth for people as a means of environmental education. For the past several years we have built an earthen playhouse, an earthbench, an earthen oven with a bamboo roof and pavilions on campus with students, teachers and volunteers. We have found that people of all ages find joy working with and being in spaces made from natural materials.
I live on an island that has many bamboo species and bamboo is embedded in everyday life and is a big part of the culture of Taiwan. After using bamboo in several projects, I grew to love this sustainable material and had a strong desire to learn everything about bamboo as a building material and further explore the possibilities of it. This is why I joined Bamboo U's online immersion.
The online course provided us detailed materials and impressive live speeches of top experts ranging from bamboo forestry to construction, but in addition to this, I think it is the willingness of sharing, the rigorous attitude of researching, the courage to experiment and the openness of all the Bamboo U team and the participants that have left me feeling highly motivated to engage myself in working with bamboo.
The Bamboo Building Concept:
The most exciting part of the course was the model making project. I was in the early design stage of a classroom for an urban community farm in Taichung City operated by the Food and Farming Education Society. This outdoor classroom will accommodate 20-30 people for permaculture courses and demonstrate the possibility of bamboo building that is both environment-friendly and beneficial to people. It will also serve as a multi-purpose space for people to interact with each other or have quiet time after work.
The concept is a leaf fallen on the ground which symbolizes the nutrient cycle of the ecological system that is behind the vigorous growth of plants on the farm. This concept then turned into a large earthbench with an arch roof above. The arch roof represents the leaf and the earthbench represents the soil. So I gave it the name - The Leaf Classroom. The size of the building is 1000cm in length, 800cm in width, and 360cm in height. The big earthbench allows people to sit, lie down or lean on in a relaxed way. The idea is to create opportunities for people to connect with nature.
Concept Sketches: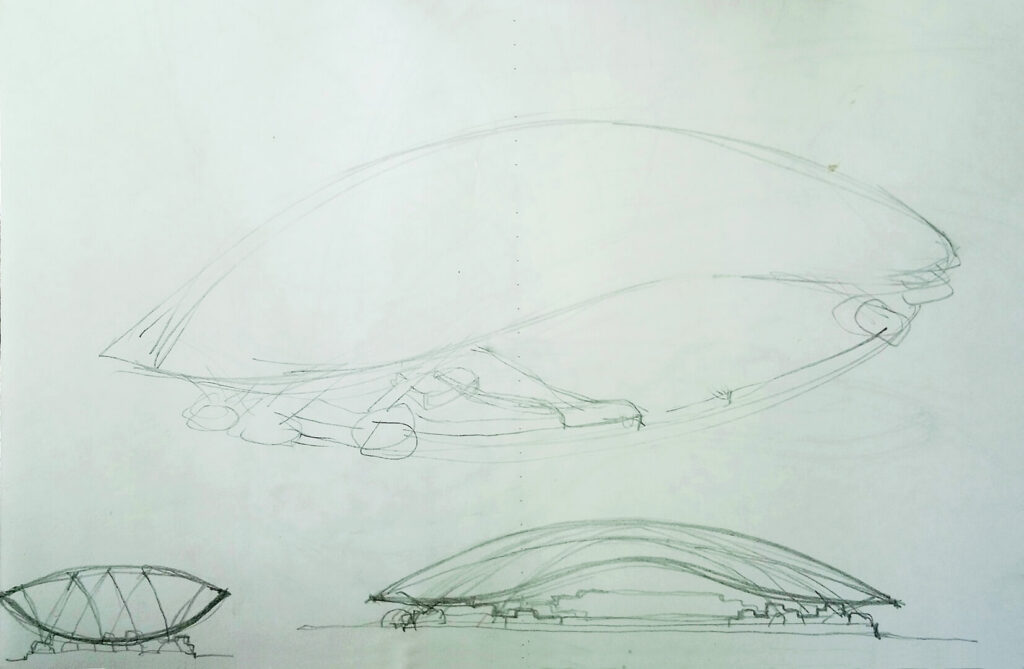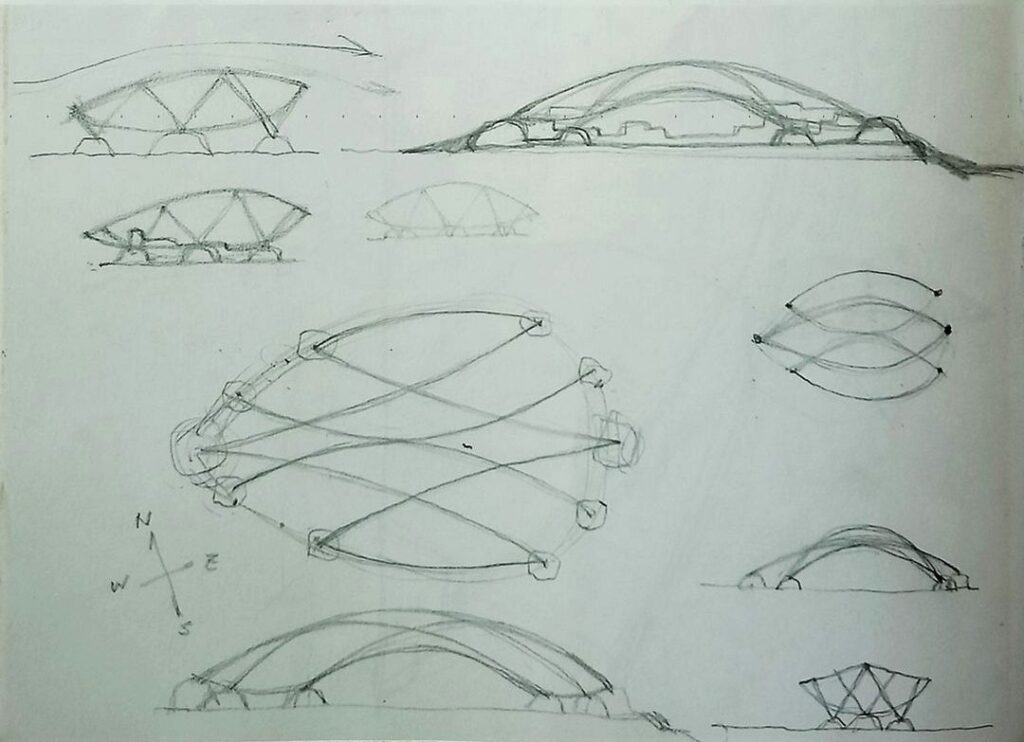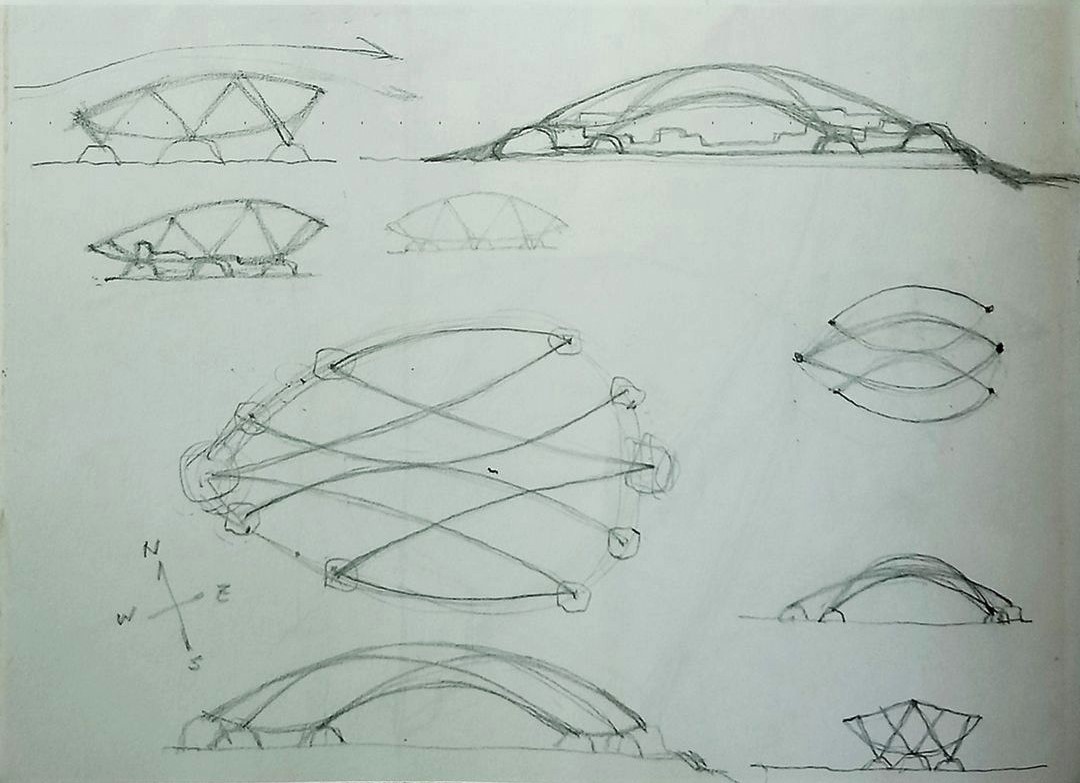 Concept Model: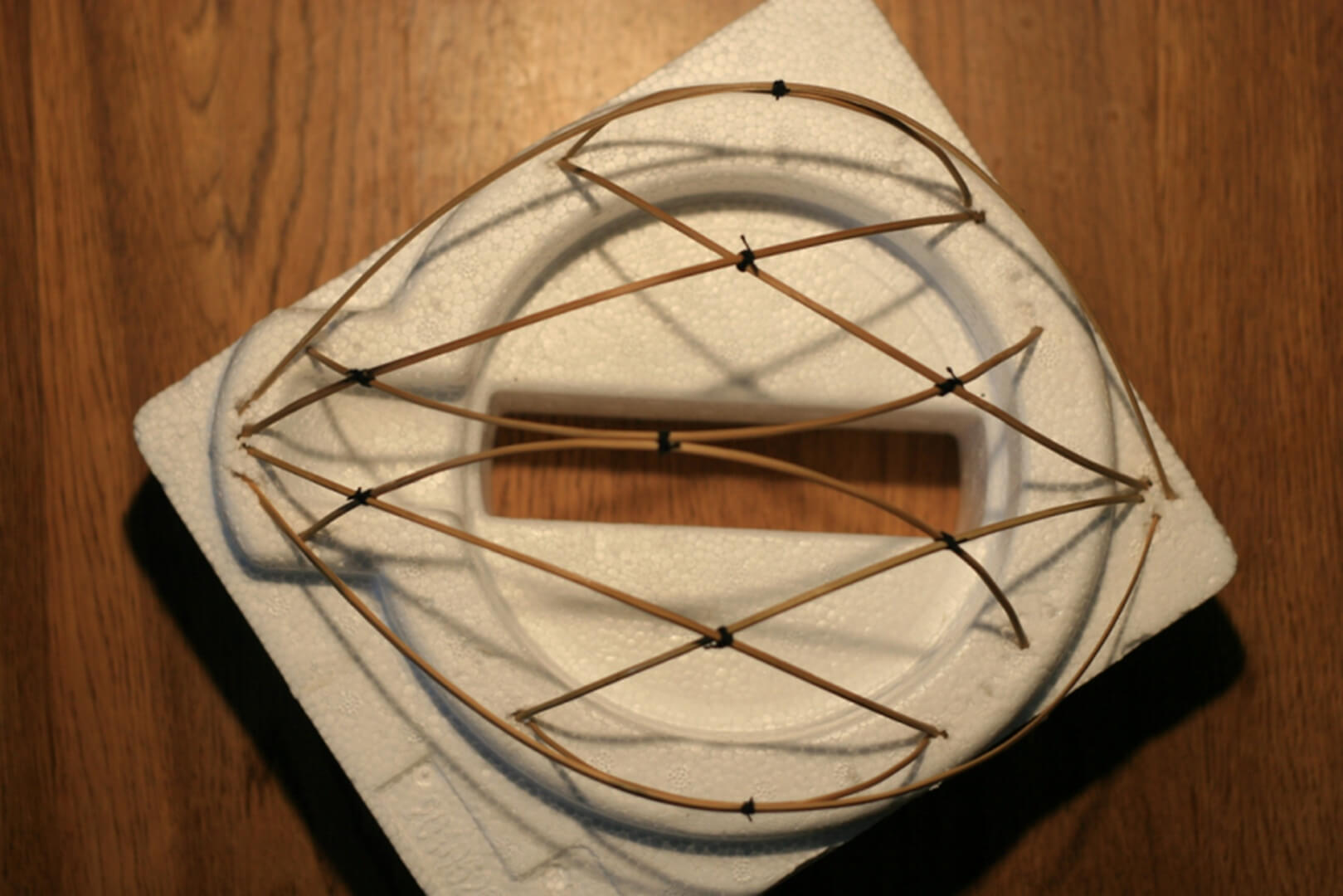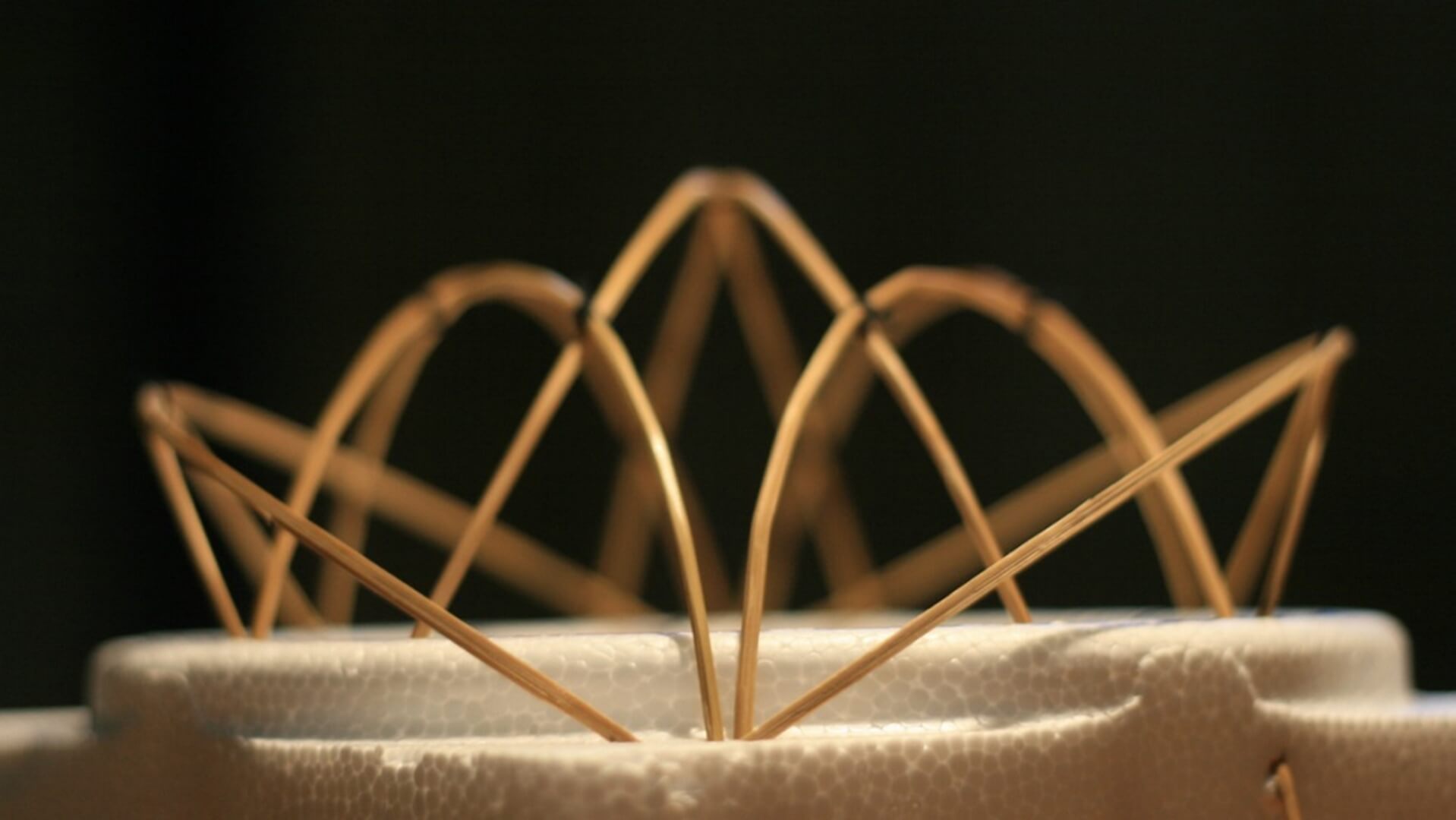 Developing the Concept into a Final Structural Model:
The site is located at the north east corner of the farm surrounded by acacia woods on the north and east side and facing the garden on the south and west side. The winter wind is not very strong because the surrounding trees serve as a windbreak. During summer, the afternoon sunlight remains strong until 3-4pm. With these in mind, I first modified the roof eave to avoid sunlight and added more bracings to make it stable. Then I added two sets of arches near the top of the structure, which divides the roof surface into three different parts. The gaps between the top roof and the side roofs form two openings for stack ventilation and allow the hot air to escape. Skylight will be installed on the top roof for more natural light.
During the course, I learnt several ways to build bamboo arches: 1) split bundle, 2) lidi bundle and 3) 'rup-rup- using whole bamboo'. I have used the heat bending method to make arch structures before, and these new approaches encouraged me to further explore the arch structure that I'm interested in. I also learnt that bamboo has very good tensile strength, so I used bamboo rafters between arches to best benefit from this tensile property.
In the final model, I added the earthen bench. The increased bench depth at both ends and the sloping roof formed the space into a nest or cave where people can sit or lie and feel embraced by the earth and bamboo. The inner shape of the earthbench is a circle so that when people have meetings or classes in the classroom, they can sit in a circle to create a good atmosphere for communication. The earthen floor is suitable for yoga, meditation and other physical activity.
The Bamboo:
Locally harvested Thorny Bamboo (Bumbusa stenostachia Hackel) that has naturally curved culms will be curved further using heat, Moso Bamboo (Phyllostachys edulis) will be used to make the split bundles for the rest of the arches and flattened bamboo panels will be used for the interior ceilings and roof shingles. Makino Bamboo (Phyllostachys makinoi) that has smaller diameter but better strength will be used for rafters.
I found that the emphasis on the importance of model making for each design stage helped a lot. I spent more time on the concept model playing with the curves and trying to keep the original concept before I went to the structural model. Among all the modules, "Design with Bamboo" is my favorite one since Elora Hardy's sharing was so inspiring, and "Bamboo Preservation" also helped me to start using the VSD method for bamboo treatment in a recent project.
Final Structural Models: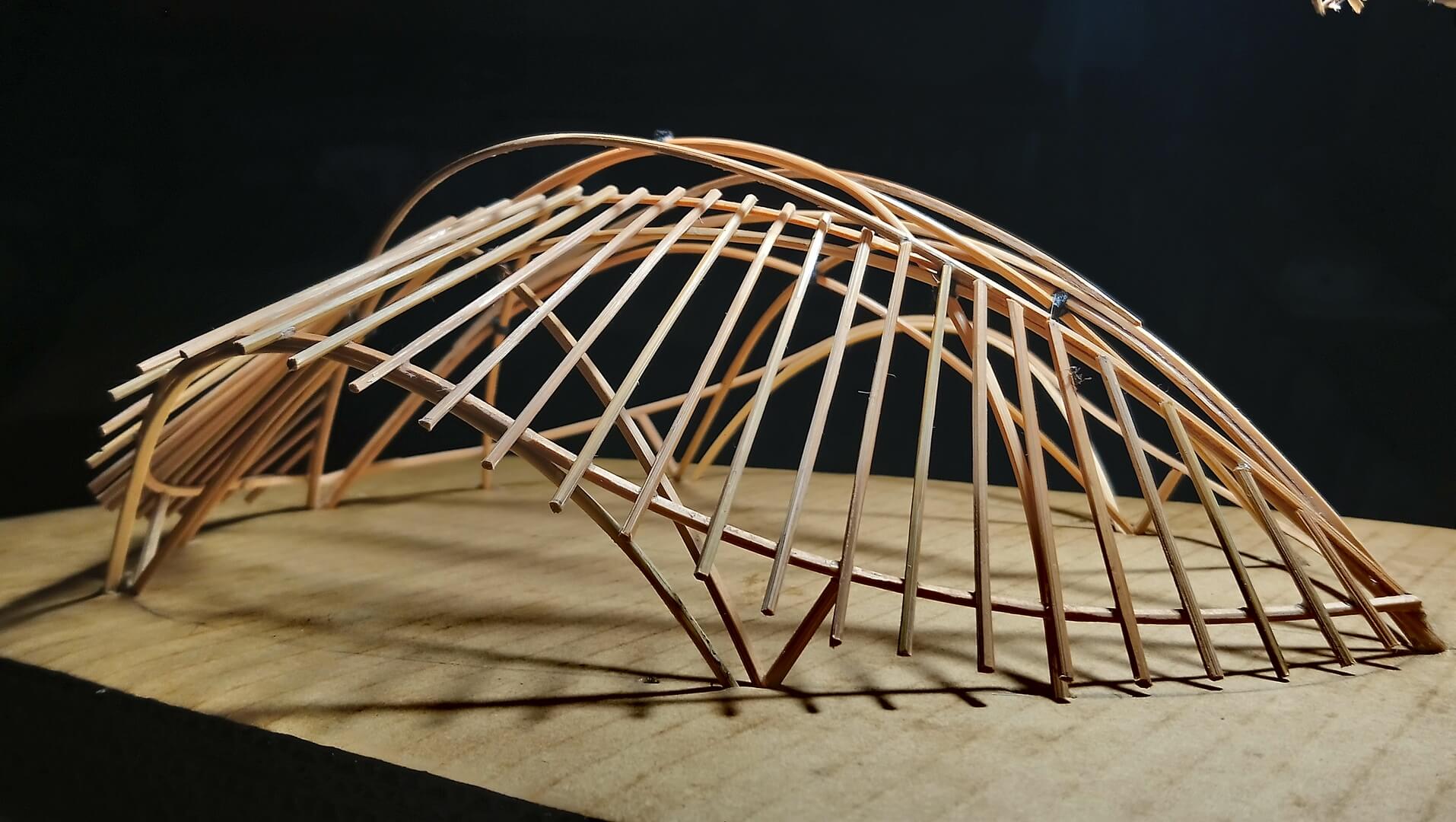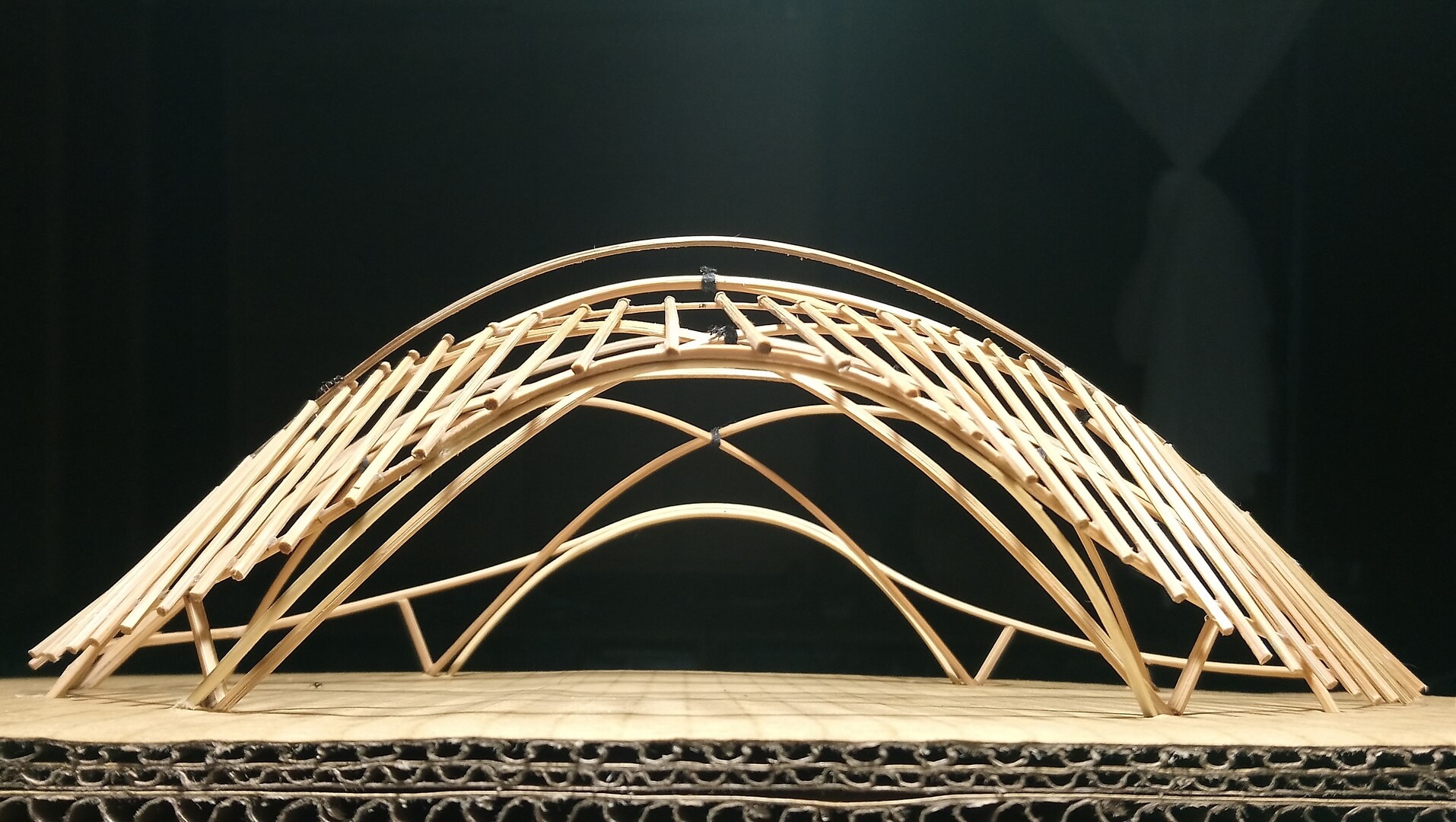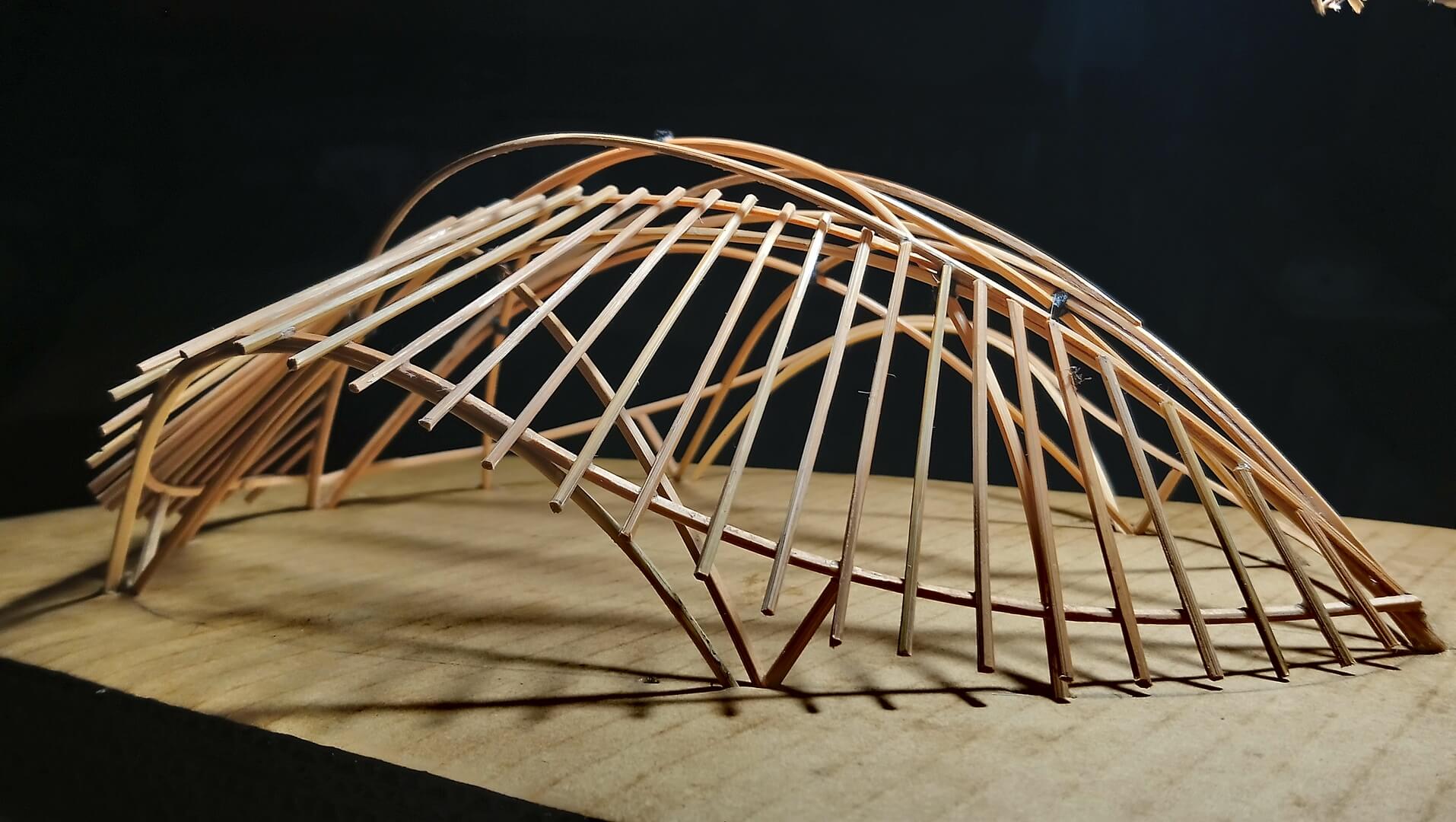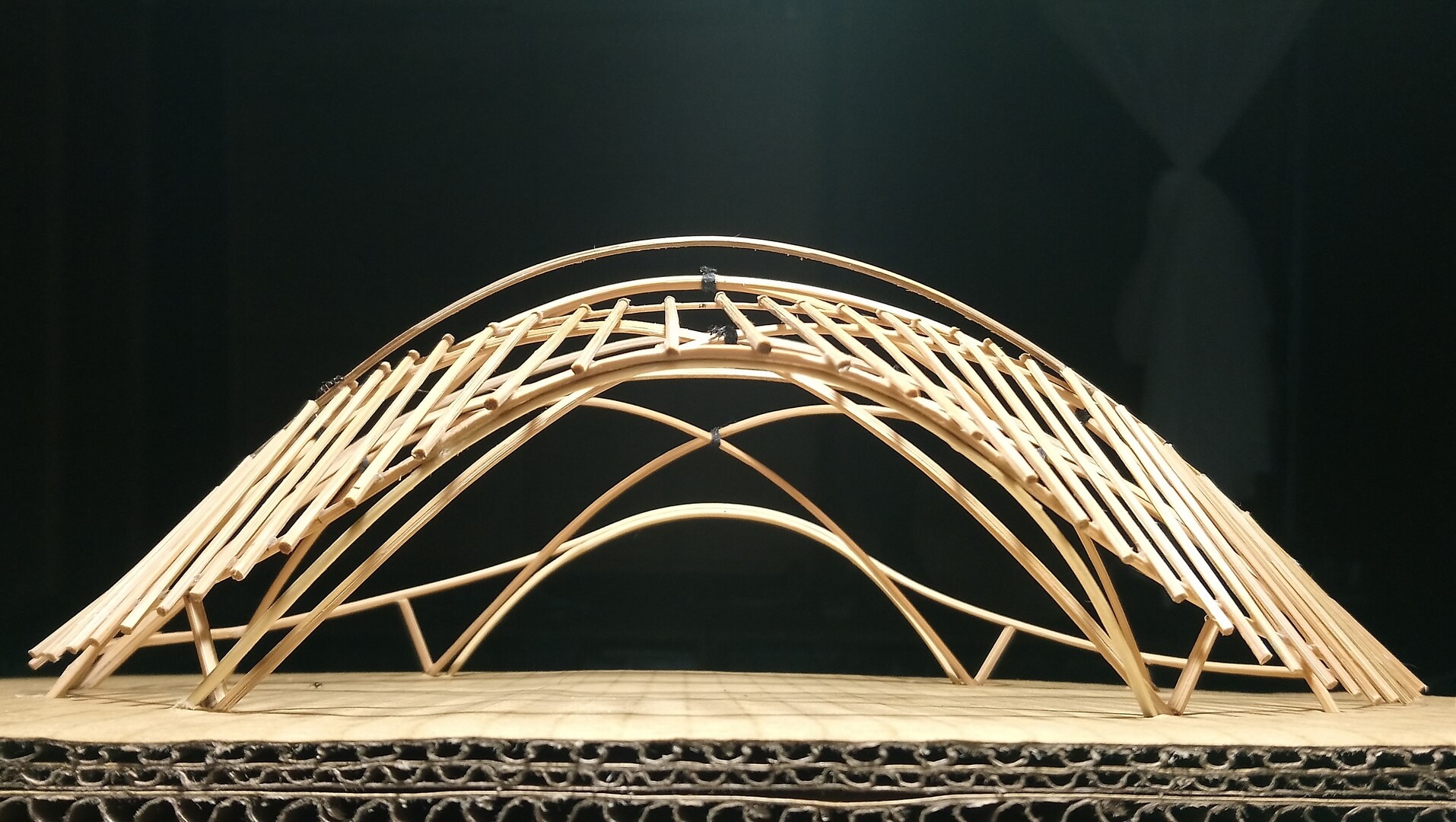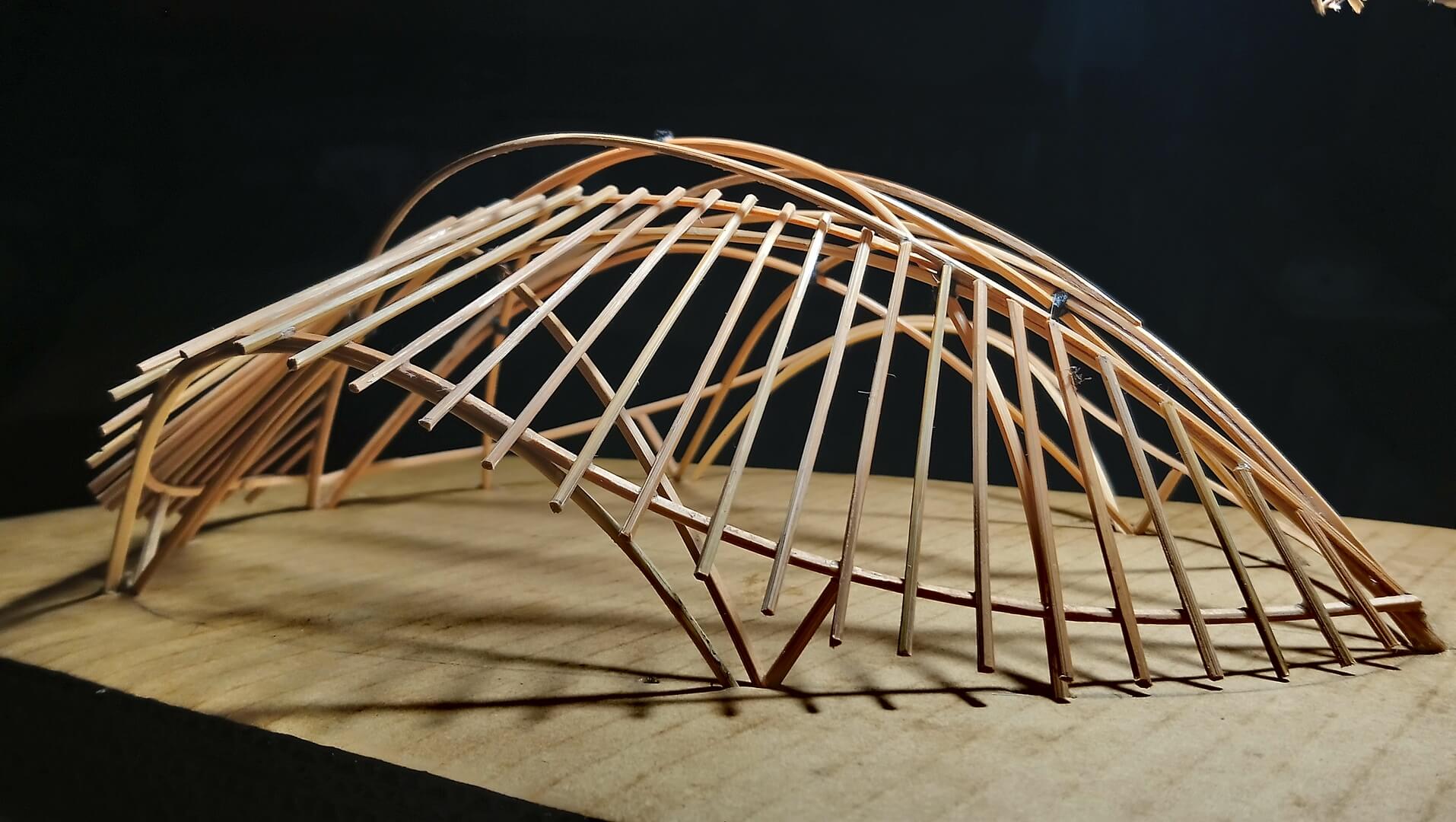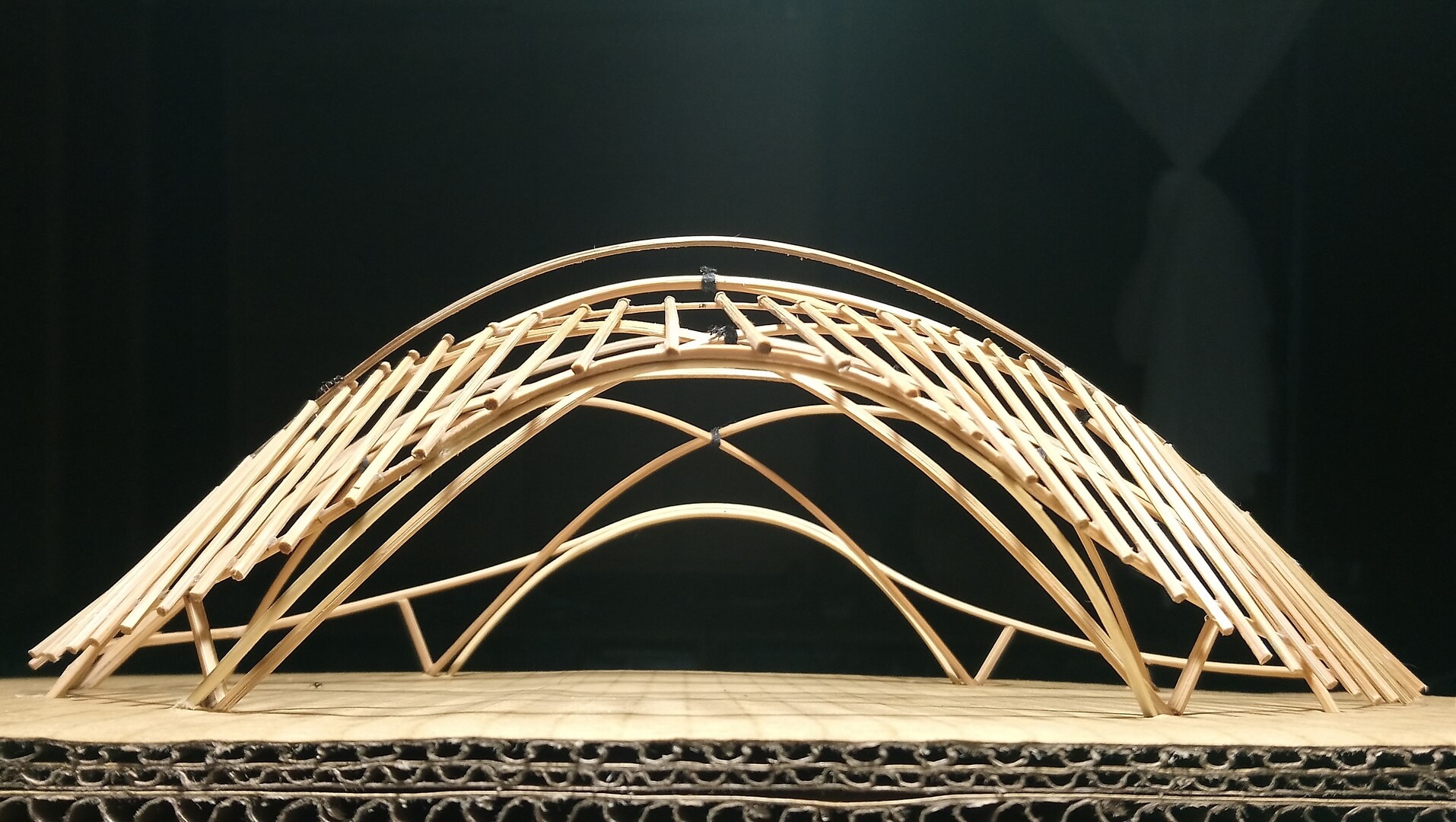 Many of us choose bamboo and other natural materials to build because we believe that it is a way to live a life in harmony with nature. This belief has been further strengthened after joining Bamboo U's community of bamboo enthusiasts. Not only because of the great passion of these pioneers but also because I see so many like minded people believing in the same thing. That truely empowers everyone.
This course is really a panorama of bamboo that widened my perspective on building with bamboo through new knowledge, guided design process, precious experiences, numerous inspiring projects as well as the sharing of ideas among participants and facilitators. It's a new beginning for me and now I have more confidence in bamboo and I know that there are so many possibilities awaiting people to explore.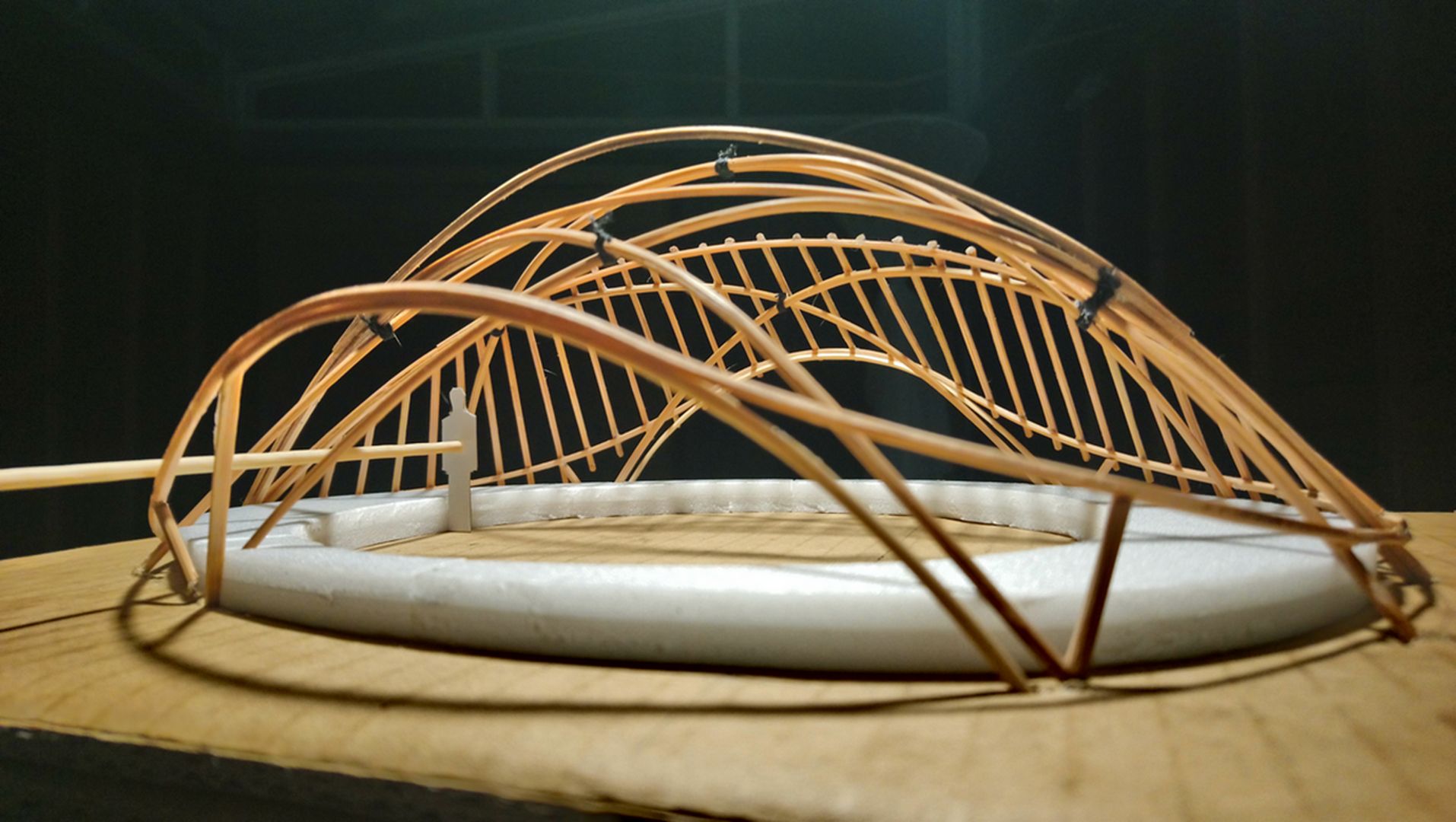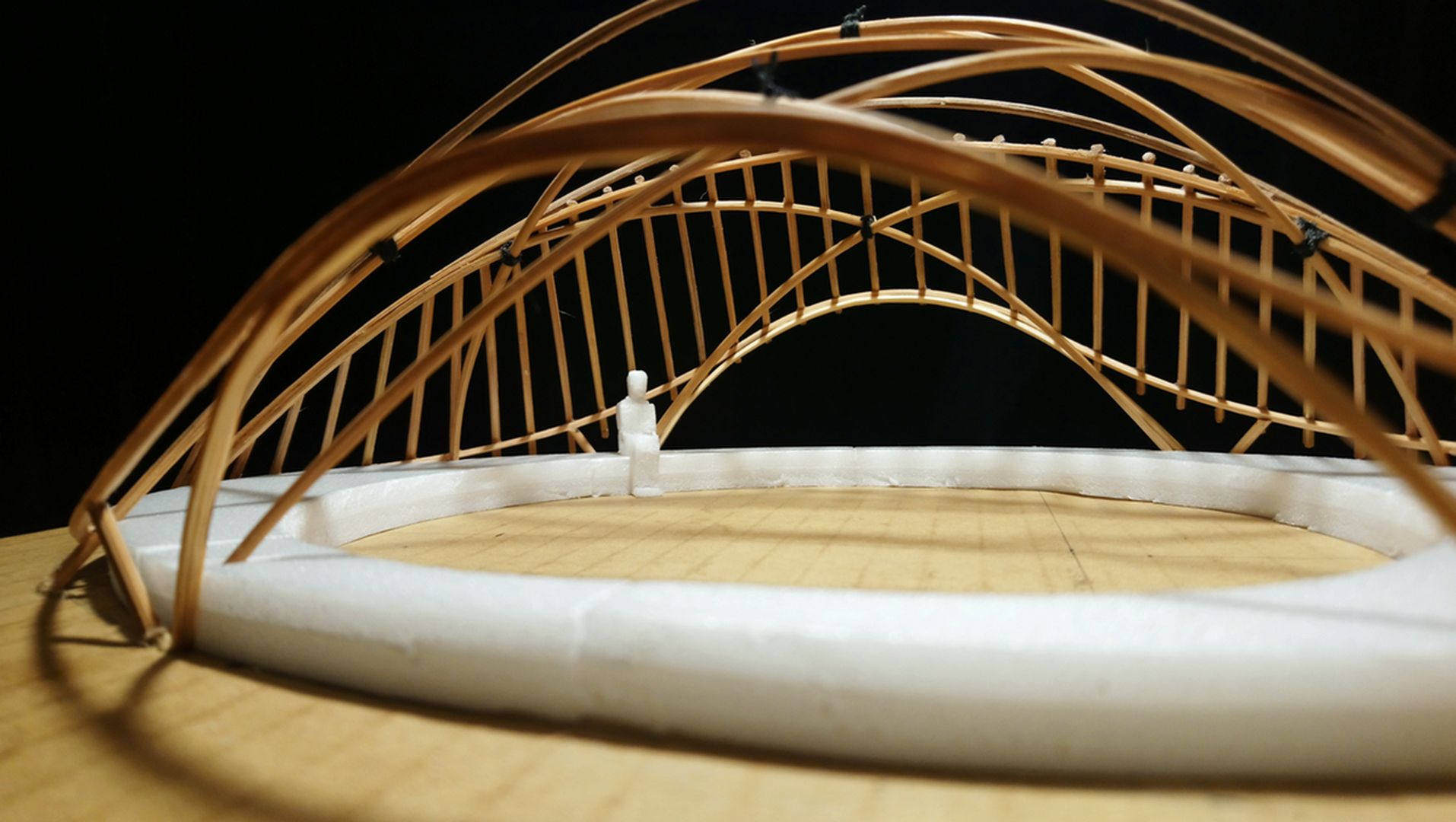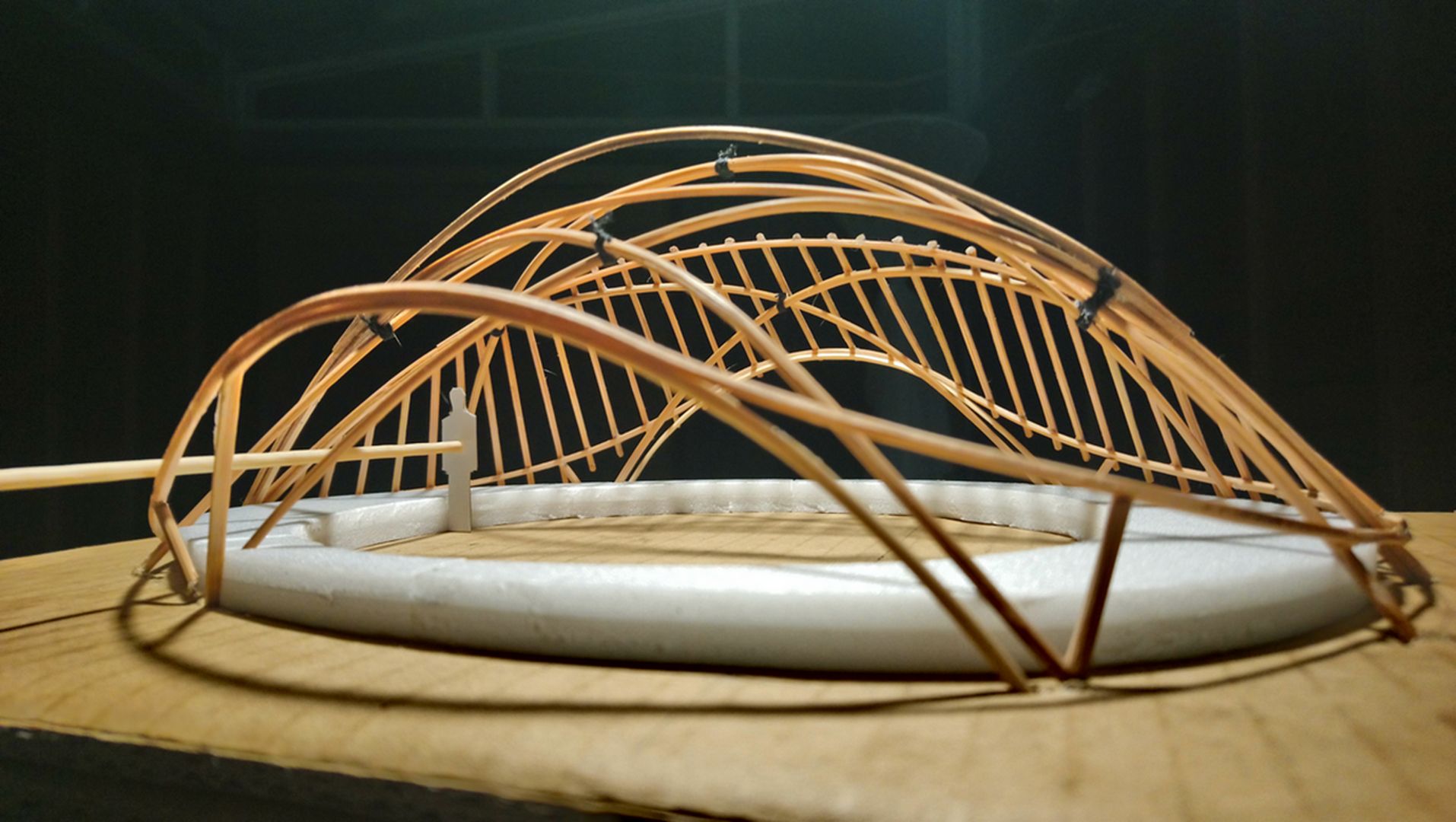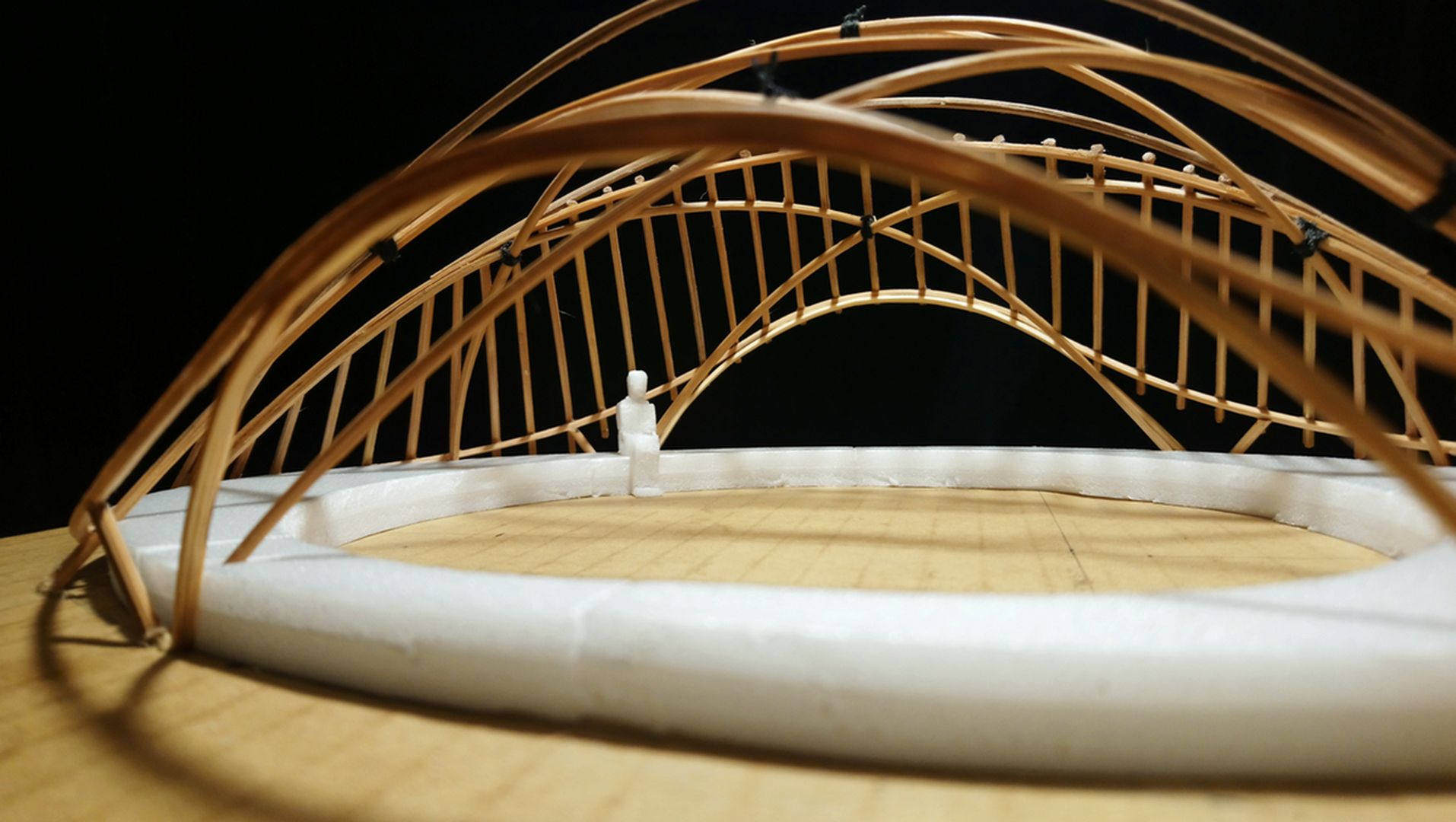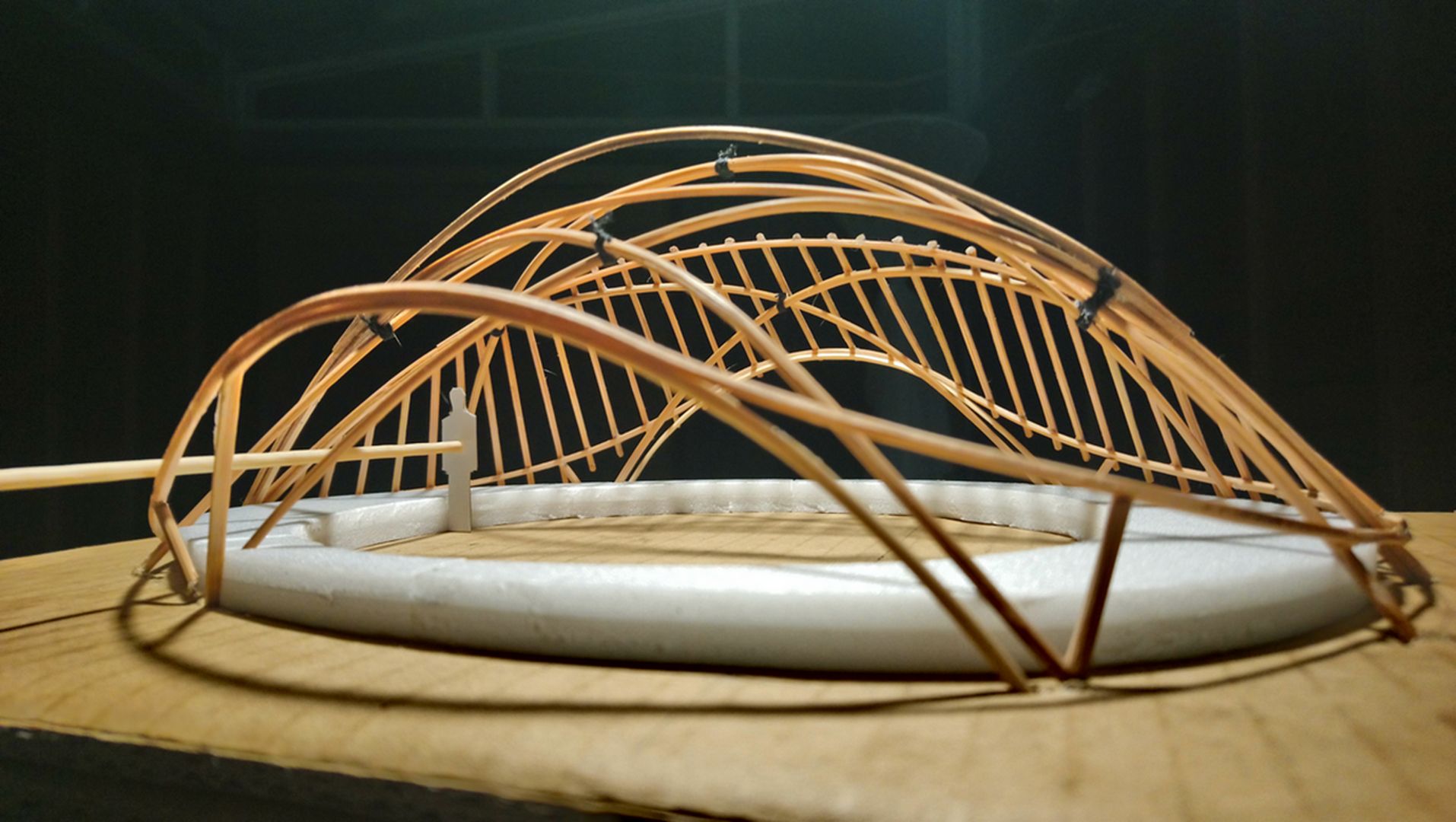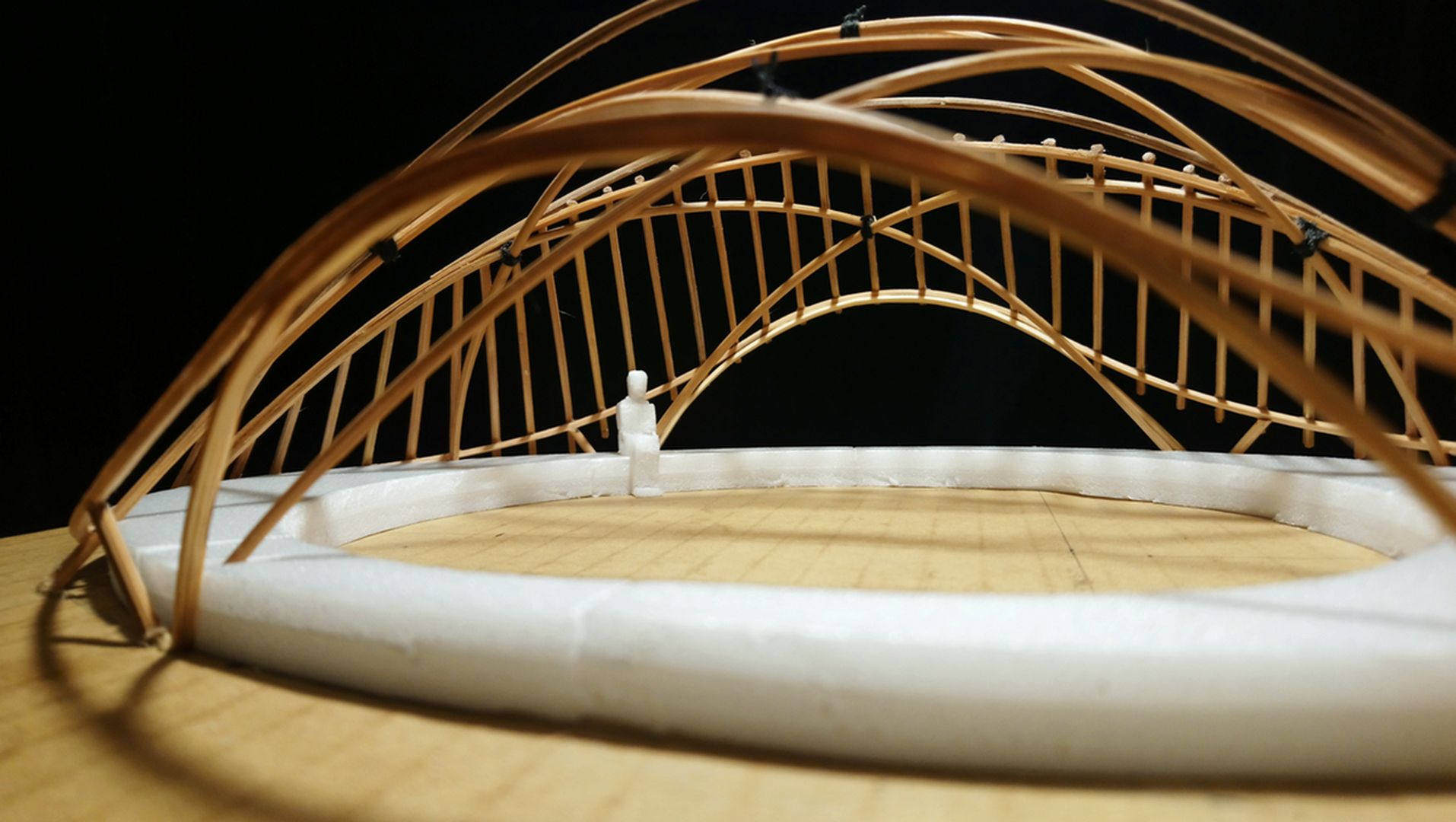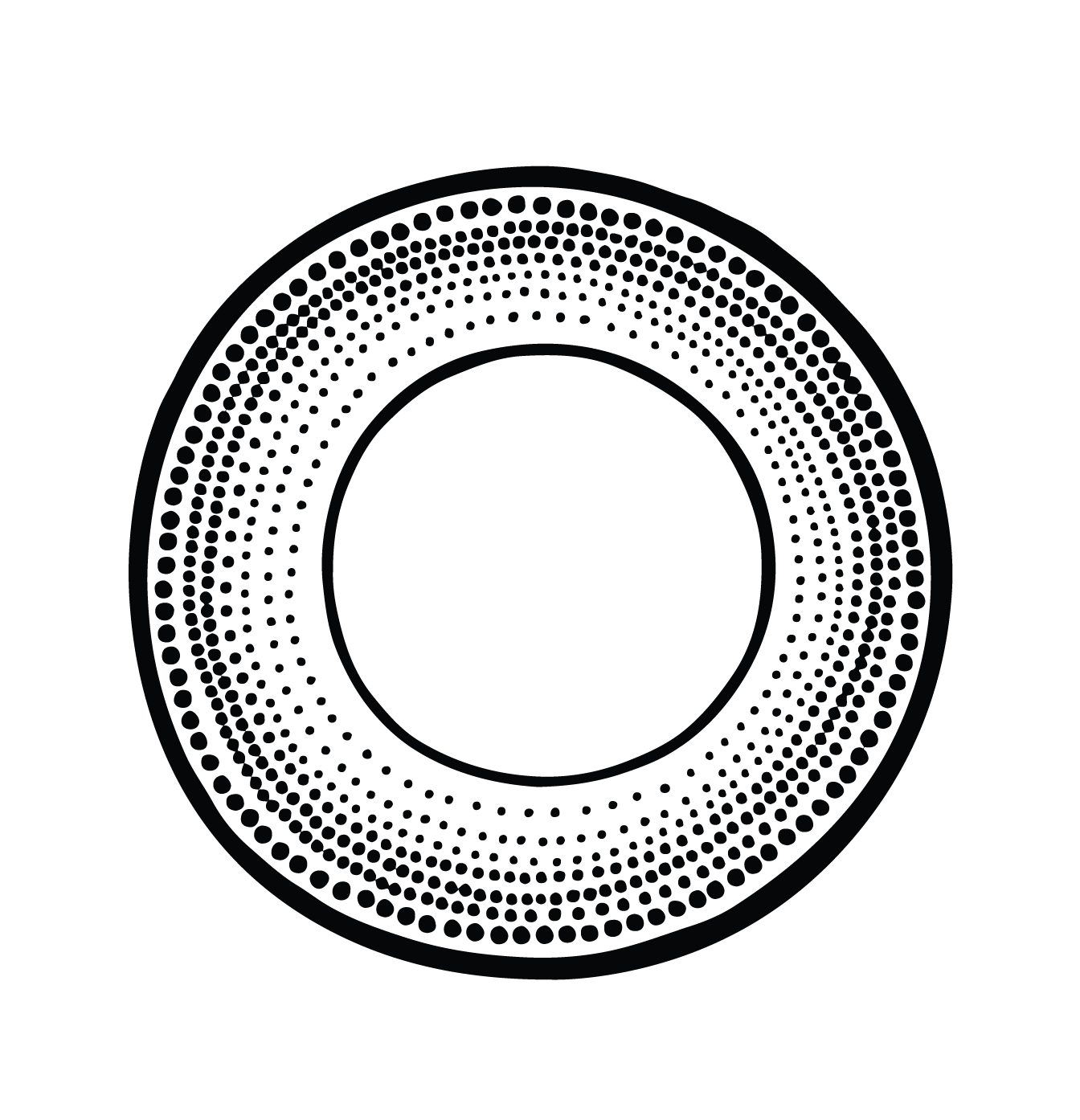 About the author
I Yao Chuang
|
Natural Building Designer and Builder
I Yao Chuang is a natural building designer/builder from Taiwan. He dedicates to providing experiences with natural materials like bamboo, wood, and earth for people as a means of environmental education.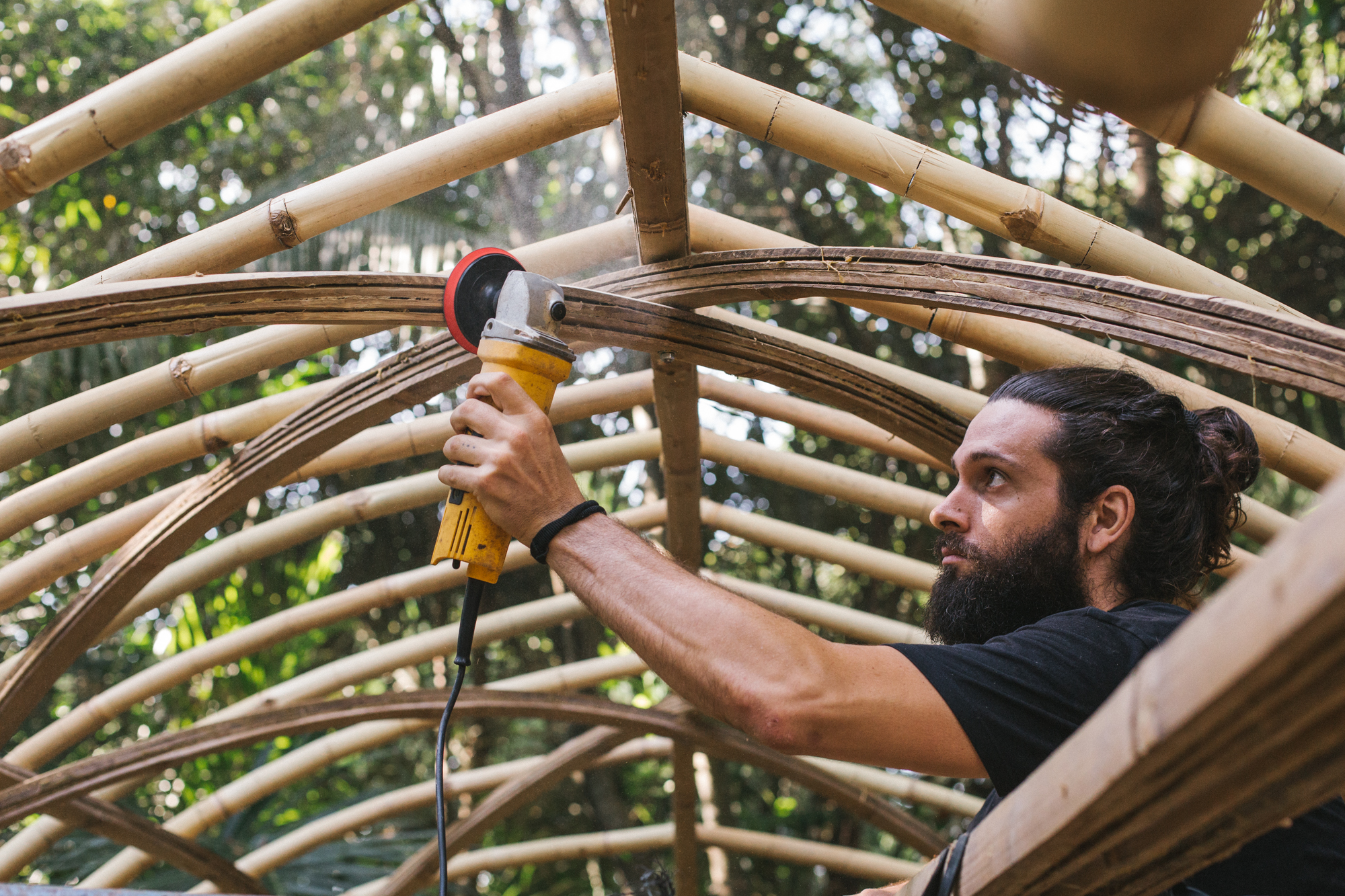 March 22- April 2, 2024
The 11 Day Bamboo Build & Design Course in Bali
In 11 days, we'll show you how to build bamboo structures we'll share all that it takes to build with nature.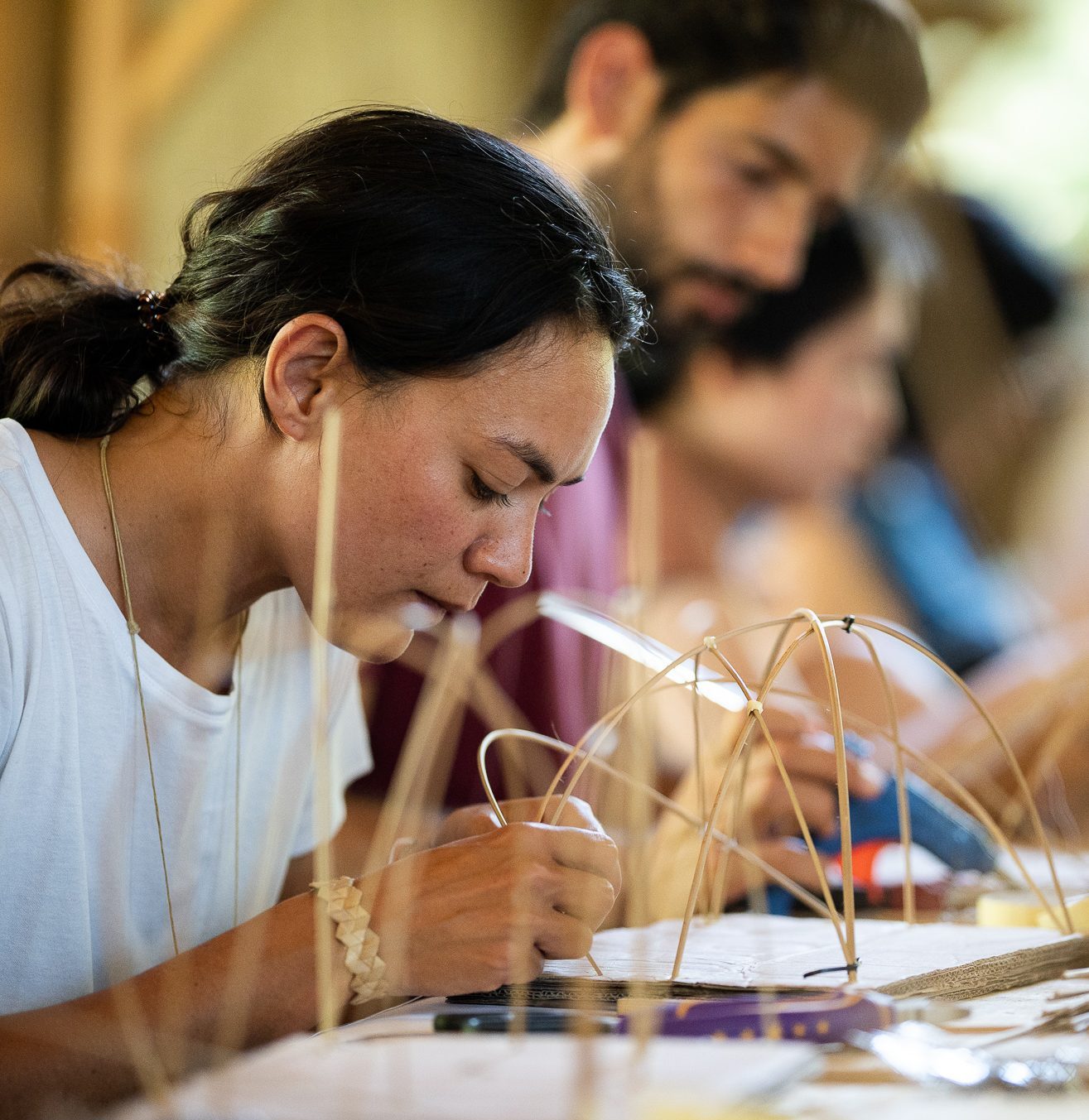 April 26, 2024
The Fundamentals of Building with Bamboo Online Course
All the fundamentals you need to get you started working with bamboo. Deep dive into cinematic videos and step-by-step guides that will provide you with a strong understanding of bamboo as a design and building material.