Bamboo Carpentry Projects Part 2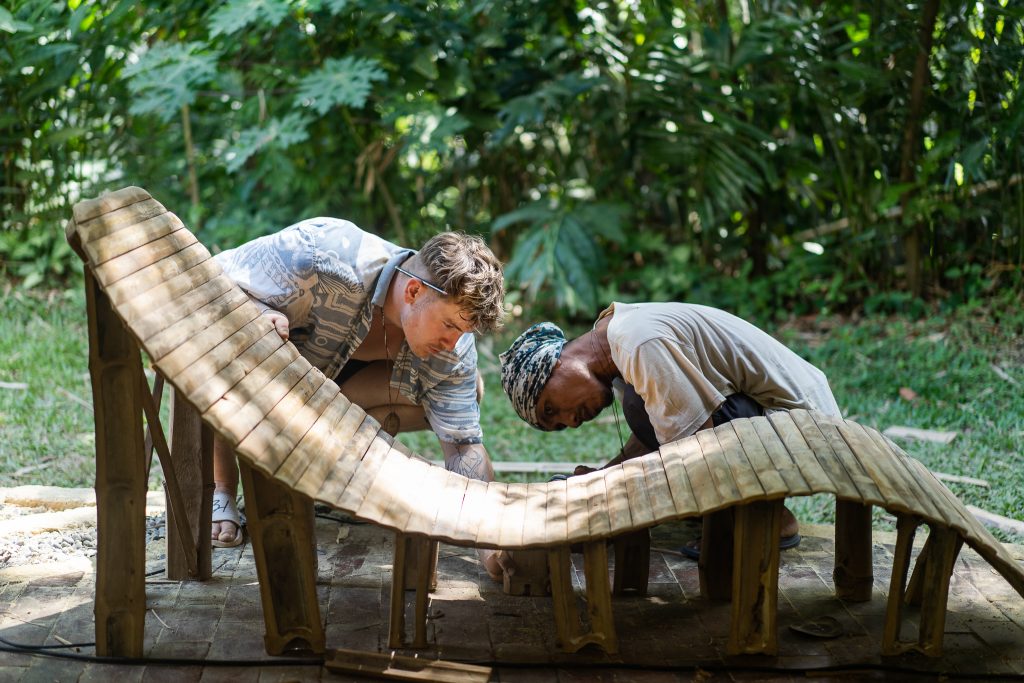 A review of some of the bamboo furniture and bamboo fixtures built by students during Bamboo U.
During the 11 Day Bamboo Build and Design Immersion in Bali we dedicate 5 full days for students to either immerse in a full scale bamboo structure or they have the opportunity to work with our master carpenters and a resident designer to fulfill a prototype for a small scale bamboo object or bamboo furniture piece.
Last April, 2022 we invited Dennis Plummer from Santai Furniture, to be the guest designer and facilitator to work with students and assist them in fulfilling their designs, together with a team of bamboo carpenters.
This course saw an interesting range of bamboo furniture and other projects come to life including:
A sun lounger
An ornamental umbrella
A coffee table and book stand
A stool
1. Sun Lounger by Levi Sibthorpe
Levi is a stage designer from the UK, currently living in Amsterdam. He joined Bamboo U to learn the form capabilities and structural potential of bamboo. He joined us for the online course in January and then came to Bali to experience bamboo building in person on campus.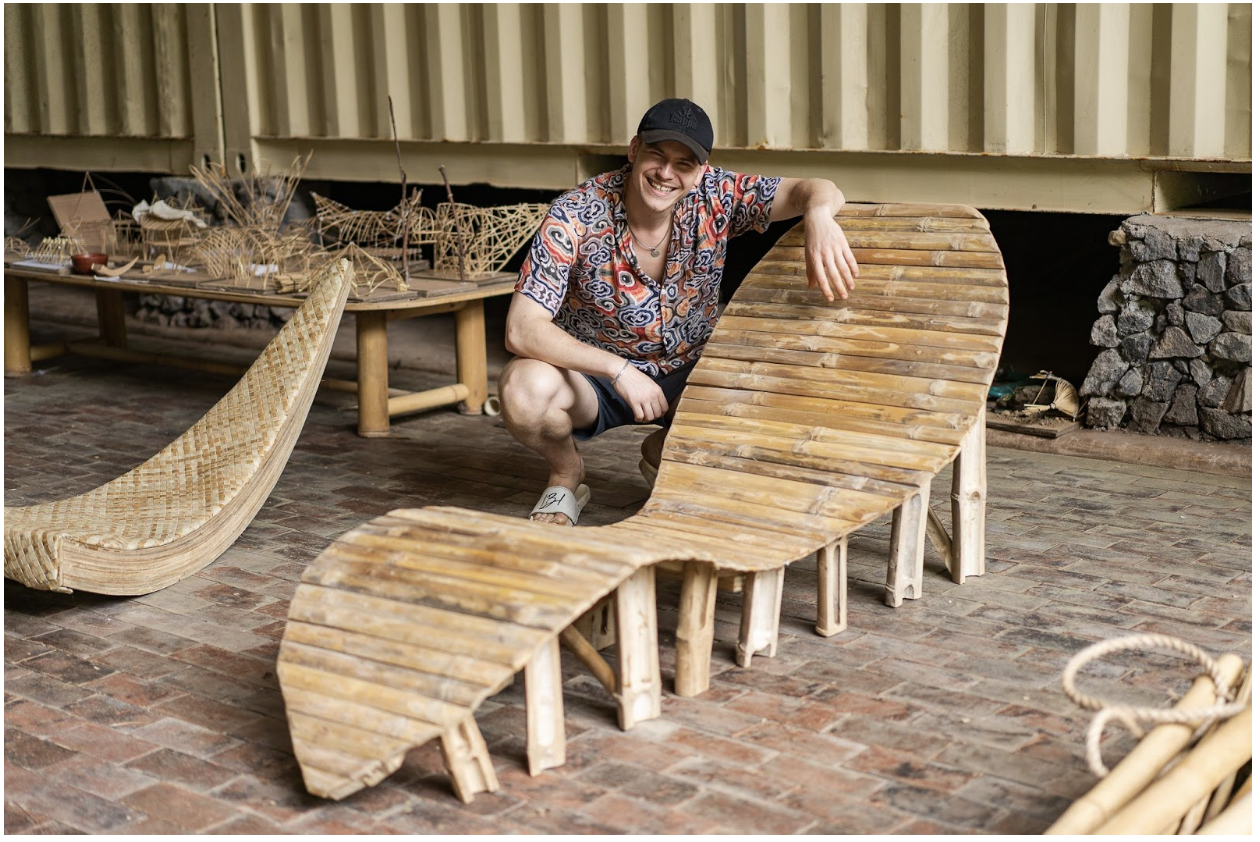 During the second part of the course Levi wanted to build a piece of furniture that incorporated multimedia bamboo construction techniques. The inspiration for the design was precisely this; wanting to experiment with the very many different forms of bamboo; exposing the silica of the bamboo and utilizing the bones and chambers of the cross-section of a bamboo pole.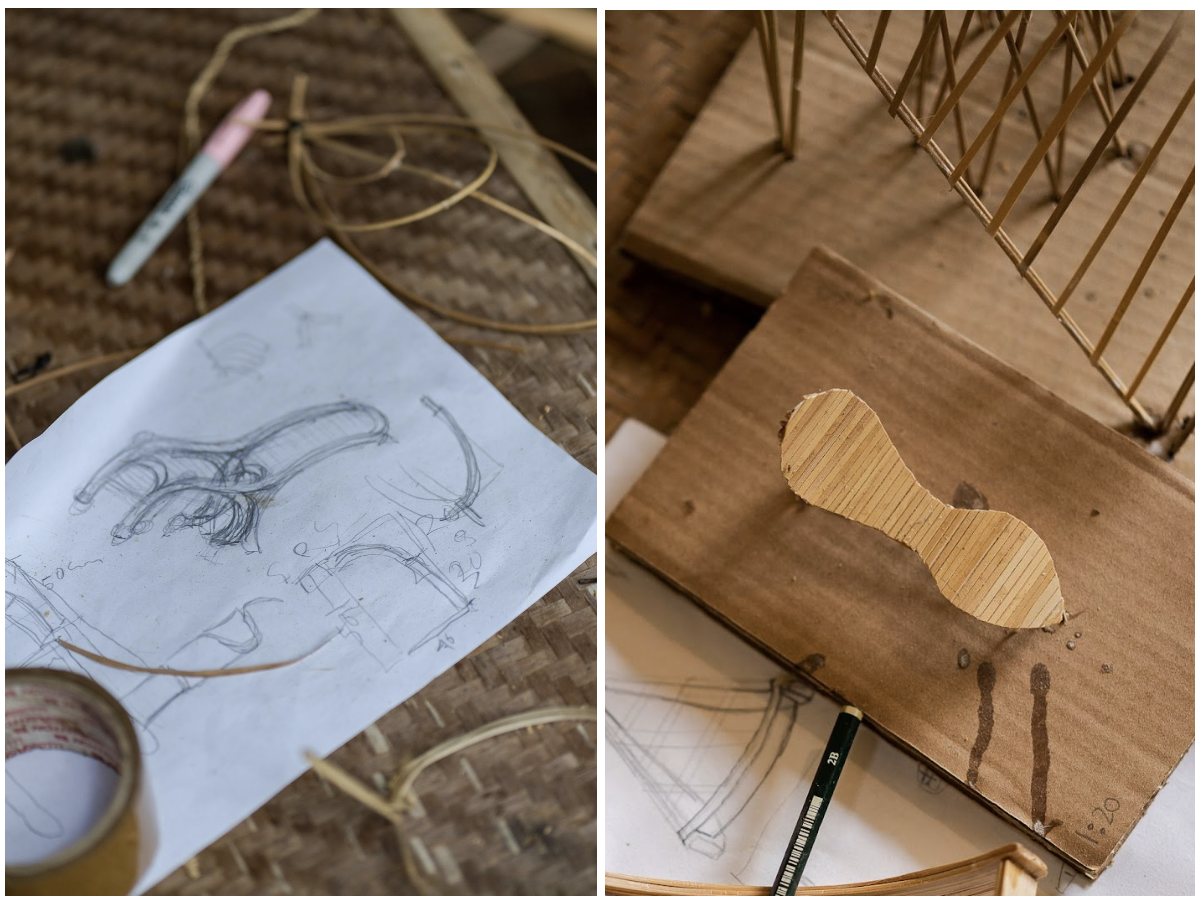 Levi began by creating a bamboo model of the sun lounger, this played a big part in bringing this bamboo project to life. After doing some tests in 2D on a 1:10 scale, drafting out the curve in 2D and making some adjustments to test the anthropometrics of the seat, he then began the 2D lamination process for two main ribs, layering 7 bamboo splits and laminating them with a curved form to create the shape of the structure.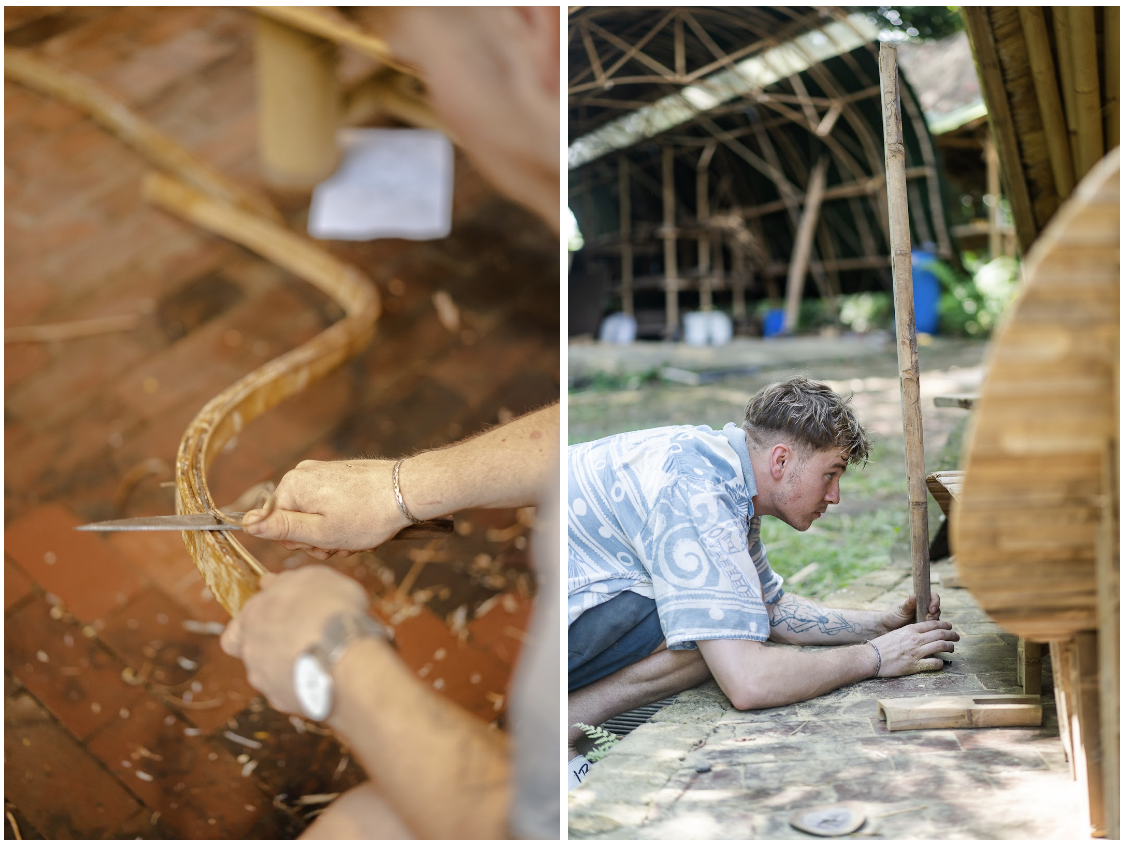 He then built a reinforcement structure with some cross bracing. Bamboo pins were used to fix each of the bamboo splits to the form of the body and once that was in place some final smoothing and curving was done to ensure a nice and elegant shape.
Levi says: "It was a mindblowing course and incredible to see the versatility of bamboo and that a big input, I wanted to use the bamboo bones, the chambers. Lamination techniques, splits, bamboo pins, kind of an amalgamation of everything we learnt in the week and had been exposed to."

It was a mindblowing course and incredible to see the versatility of bamboo and that a big input, I wanted to use the bamboo bones, the chamber. Lamination techniques, splits, bamboo pins, kind of an amalgamation of everything we learnt in the week and had been exposed to.
Ornamental Umbrella by Denny John
Denny is a retired computer programmer from the UK, currently living in India. He joined Bamboo U to learn about bamboo processing and overall design techniques for structural integrity and longevity. He is also interested in the growth of the bamboo industry to cater to the mass market and technologies that can assist in making this happen.
He joined the Carpentry and Design Station with the idea of making an umbrella. Denny says:
I wanted to make something small and useful. Something practical that I could actually make myself, even at home. Totally from bamboo which would have satisfied my attempts at trying to live a sustainable life. Initially, I got the idea for an umbrella stick from seeing the bamboo cross-sections lying around which by taking out some sections naturally formed a stick with a handle. Then I envisioned bamboo rods emanating from the top which could be covered by some kind of thatch or maybe something like the straw rice field hats. It is while thinking about how I could dismantle the shade on demand that I thought about capturing it with two discs pressed together which can then be separated to remove the shade when not in use. This then led to a more minimalist version of the stem with rods, inspired by the lidi bundles that were all around me.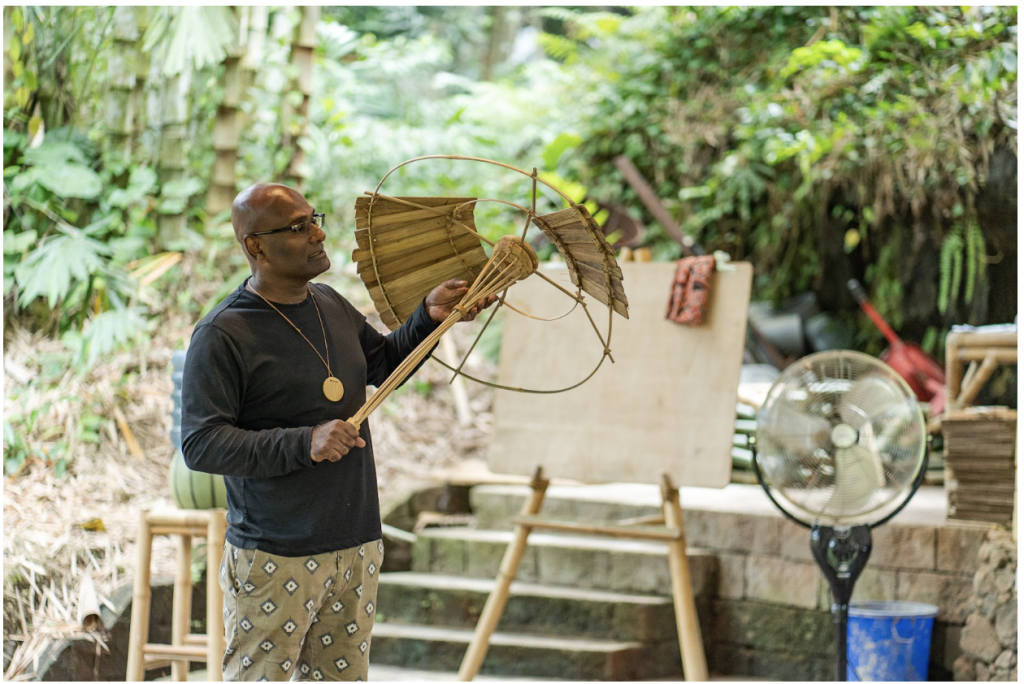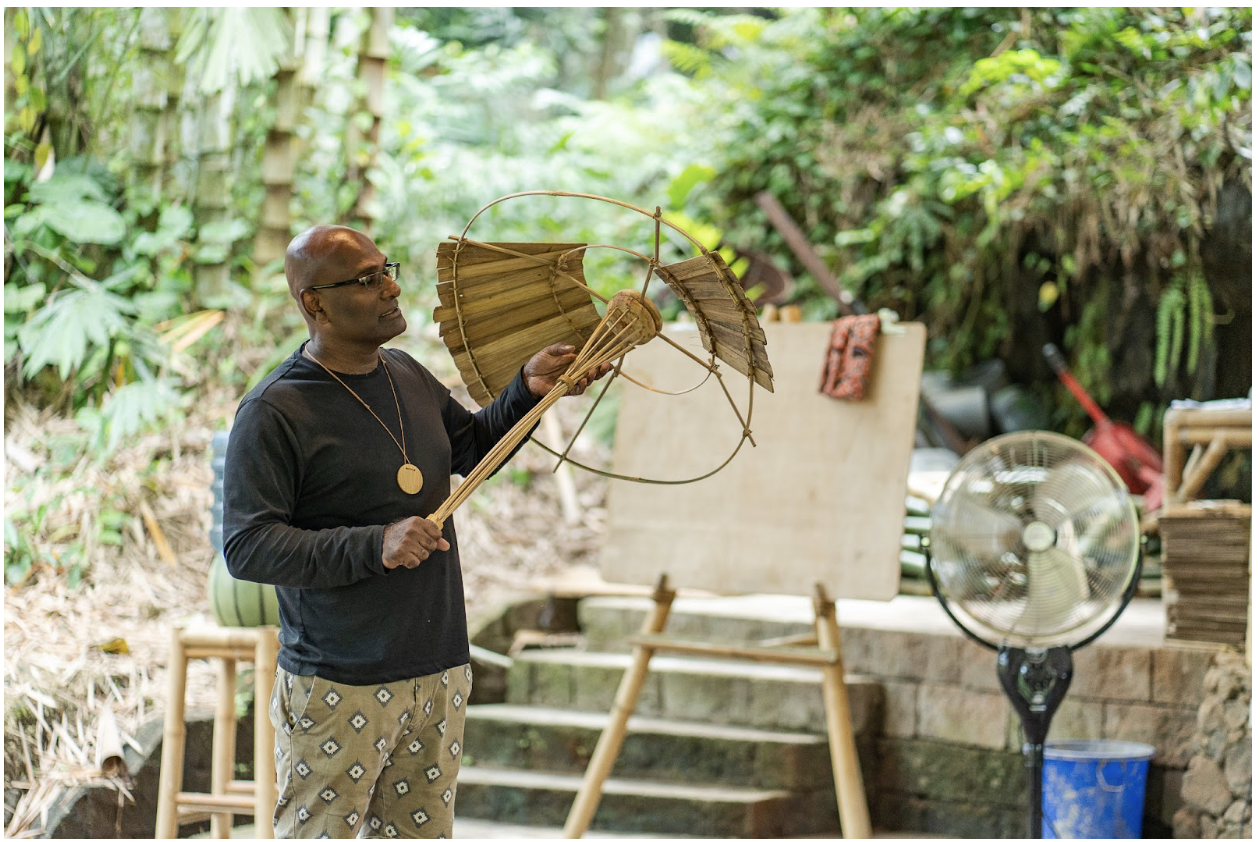 Realizing the vision which seemed straightforward enough proved to be too ambitious to complete in just 5 days. With the help of a Bamboo U carpenter Denny quickly saw his umbrella idea come to life, with just a bamboo carving knife.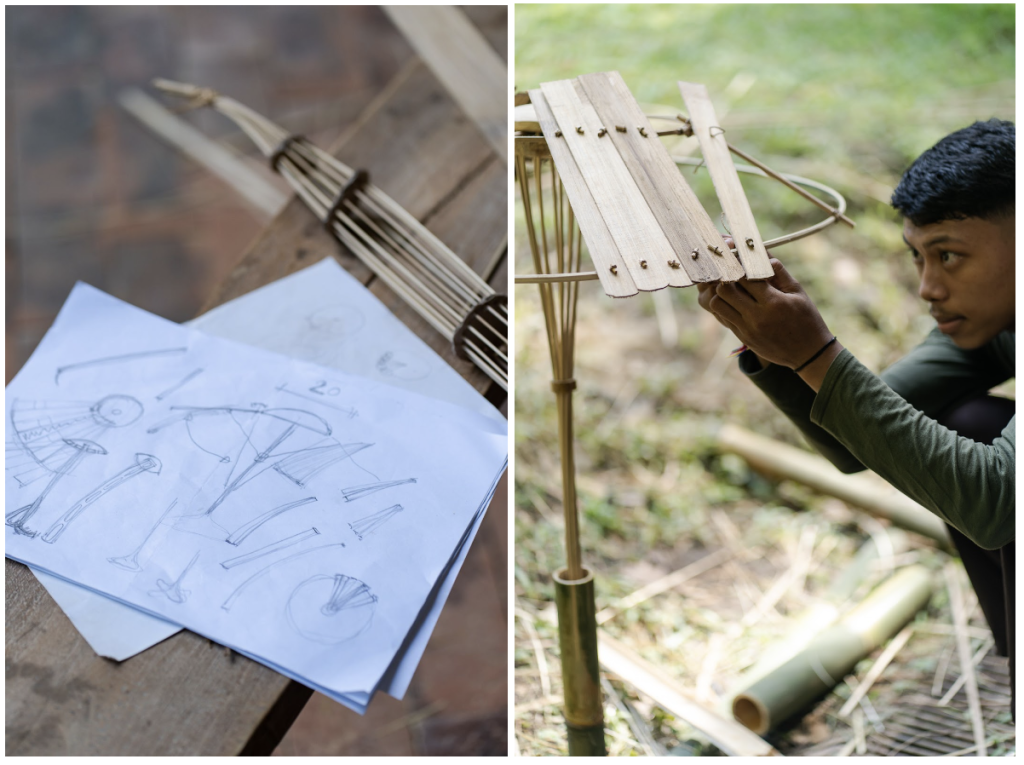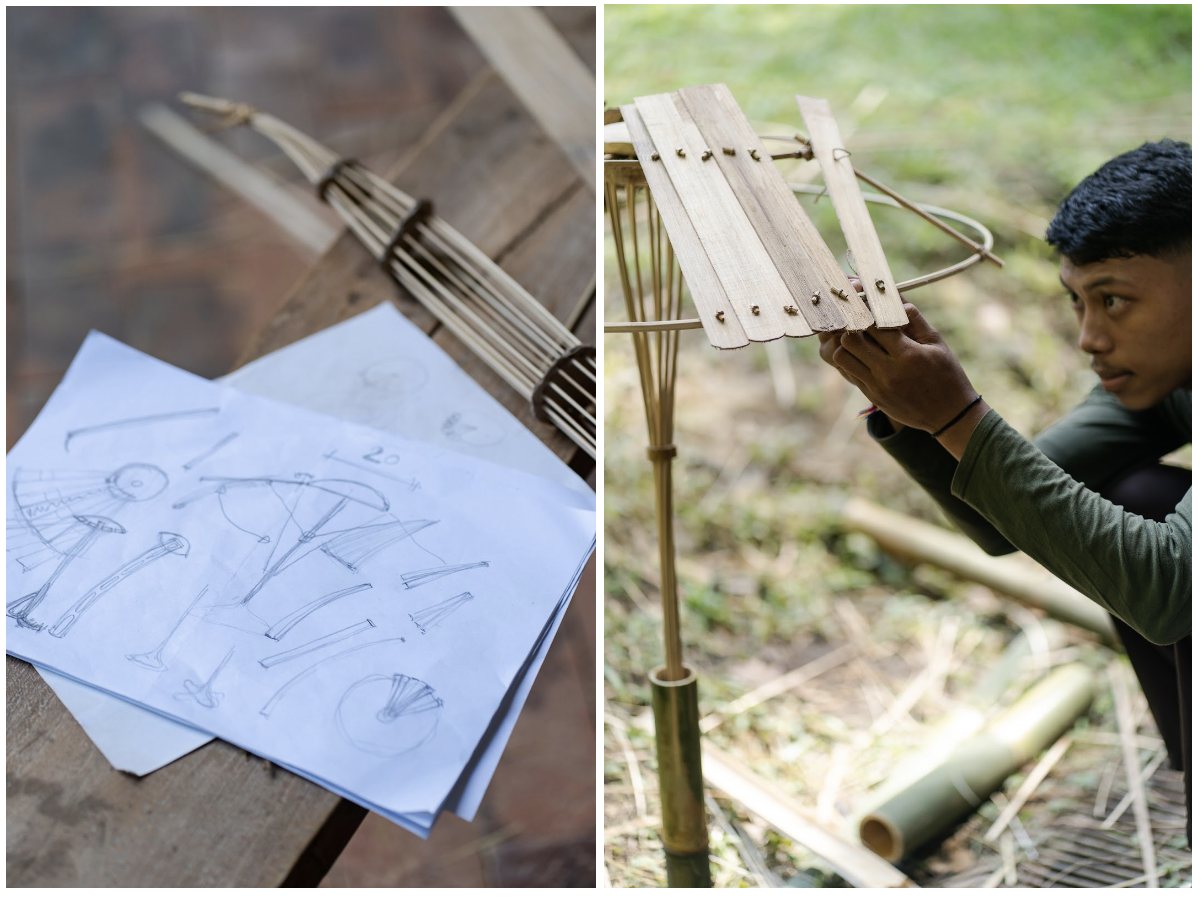 Denny shared: "Overall I was happy with what I achieved, as it allowed me to understand the properties of bamboo as a wood, which is something I am very interested in."
3. Coffee Table and Book Stand by Santa Krieva
Santa is studying Architecture and Engineering at Aalborg University in Denmark, like Levi she also first joined the Bamboo U online course and then decided to join us on campus in Bali to learn about hands on bamboo construction and carpentry.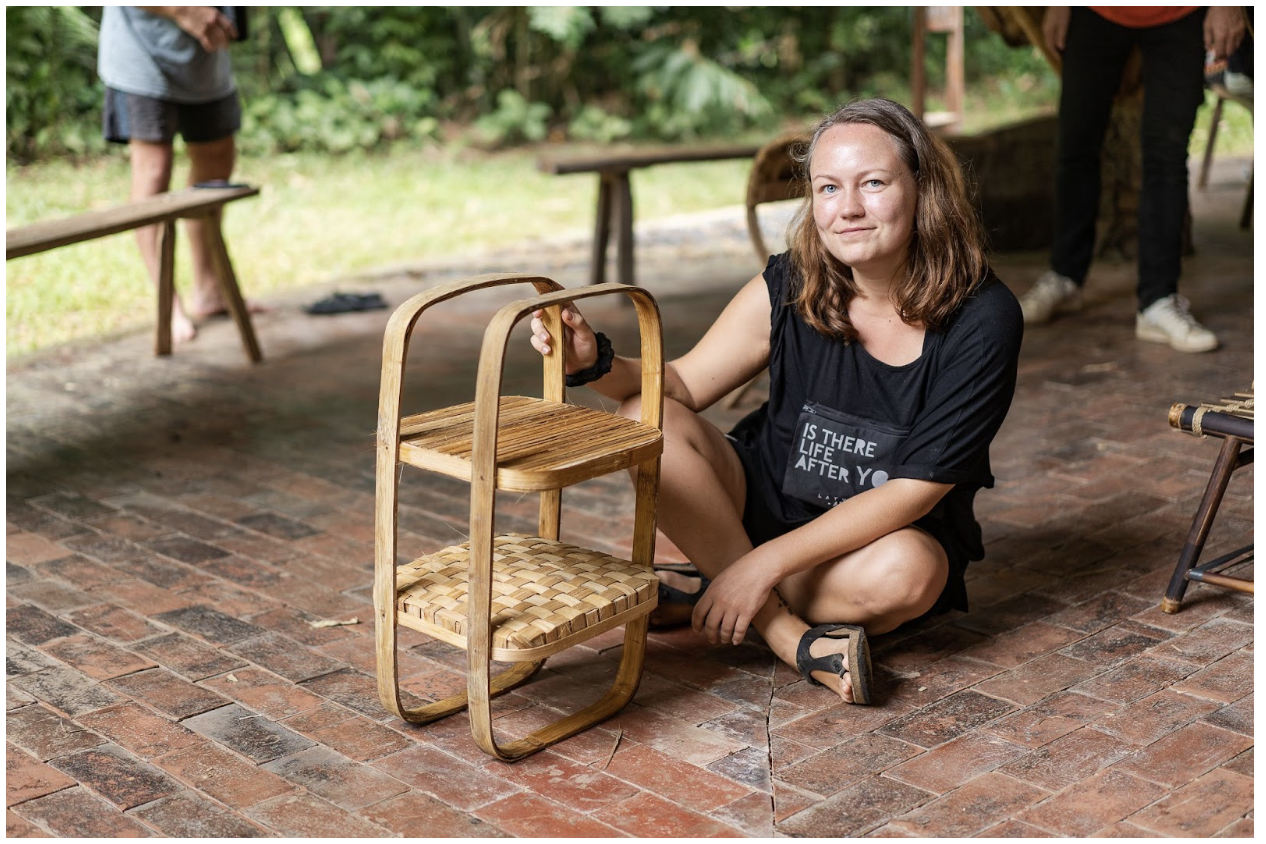 At the Design and Carpentry Station what started as a kids' bookshelf idea, eventually transformed into a coffee table and book stand. The main idea came from Scandinavian simplicity and a keen interest in the building techniques and possibilities of using bamboo for building furniture. Neat lines and angles, bent and laminated bamboo splits and weavings were the main design drives and explorations for this project.
Santa shares: "The simple but challenging design allowed me to work with multiple tools and techniques. The most exciting was to experience how much bamboo as a material feeds back to design, dimensions and possibilities, and limitations. After a few days of using a heat gun, bending bamboo, laminating, using bamboo dust, sanding, sewing, weaving, and fixing with a nail gun, with the great help of bamboo craftsmen and Bamboo U facilitators, I gained insights into bamboo as a material and made this idea to come to life."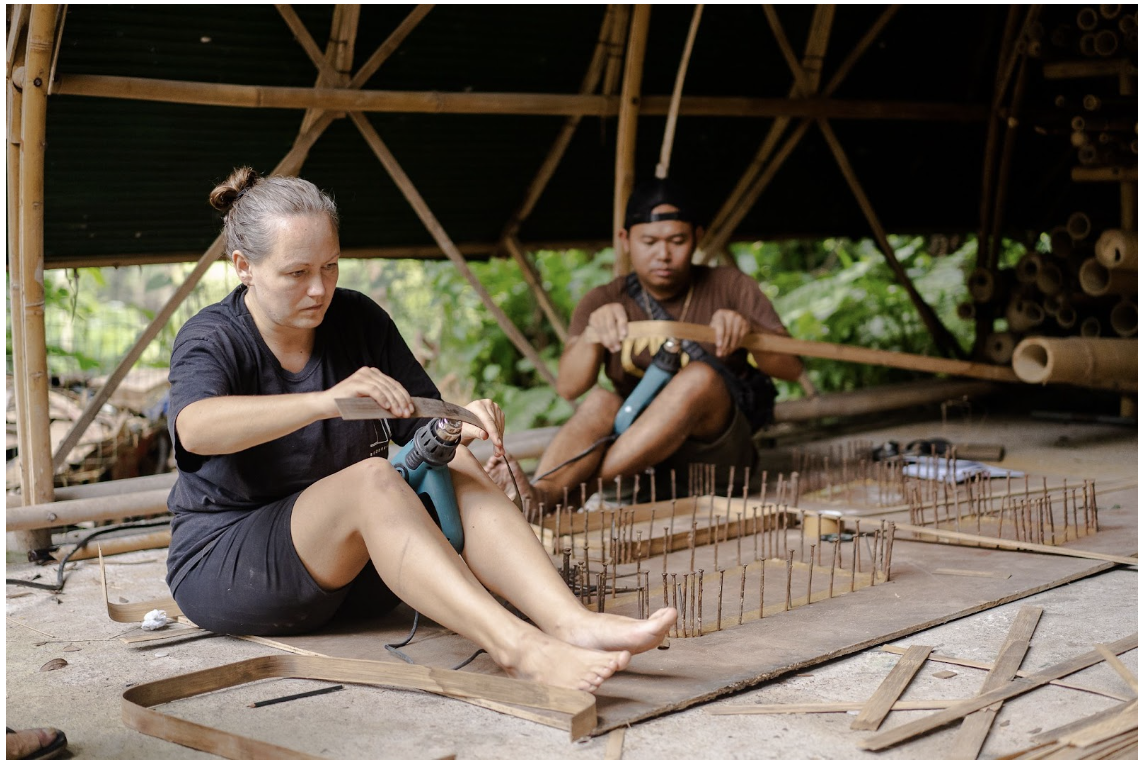 She adds: "The design process with Dennis Pluemer founder of Santai Furniture combined with the collaboration of skilled local bamboo carpenters was just a perfect addition to the intense, rich and information-packed bamboo world we had a chance to look into during 11-Day Build & Design Immersion with Bamboo U"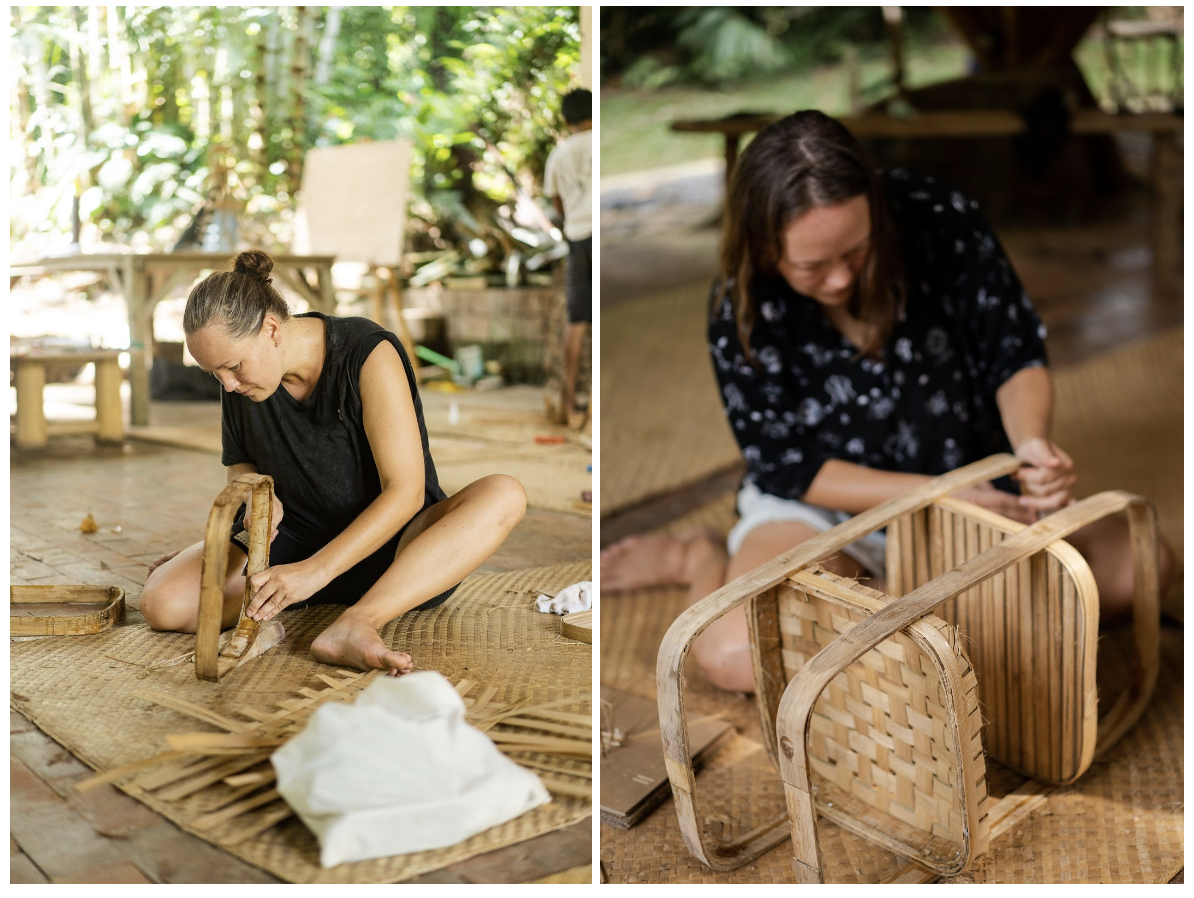 4. Stool by Veronica Velasquez
Veronica is an architect from New York City and she joined Bamboo U to learn all about bamboo building and design and more specifically to understand the feasibility of building with bamboo across different geographical regions around the world.
For her final project of the course, Veronica chose to dedicate the last few days to building a low stool that she could pack and take home with her to the US.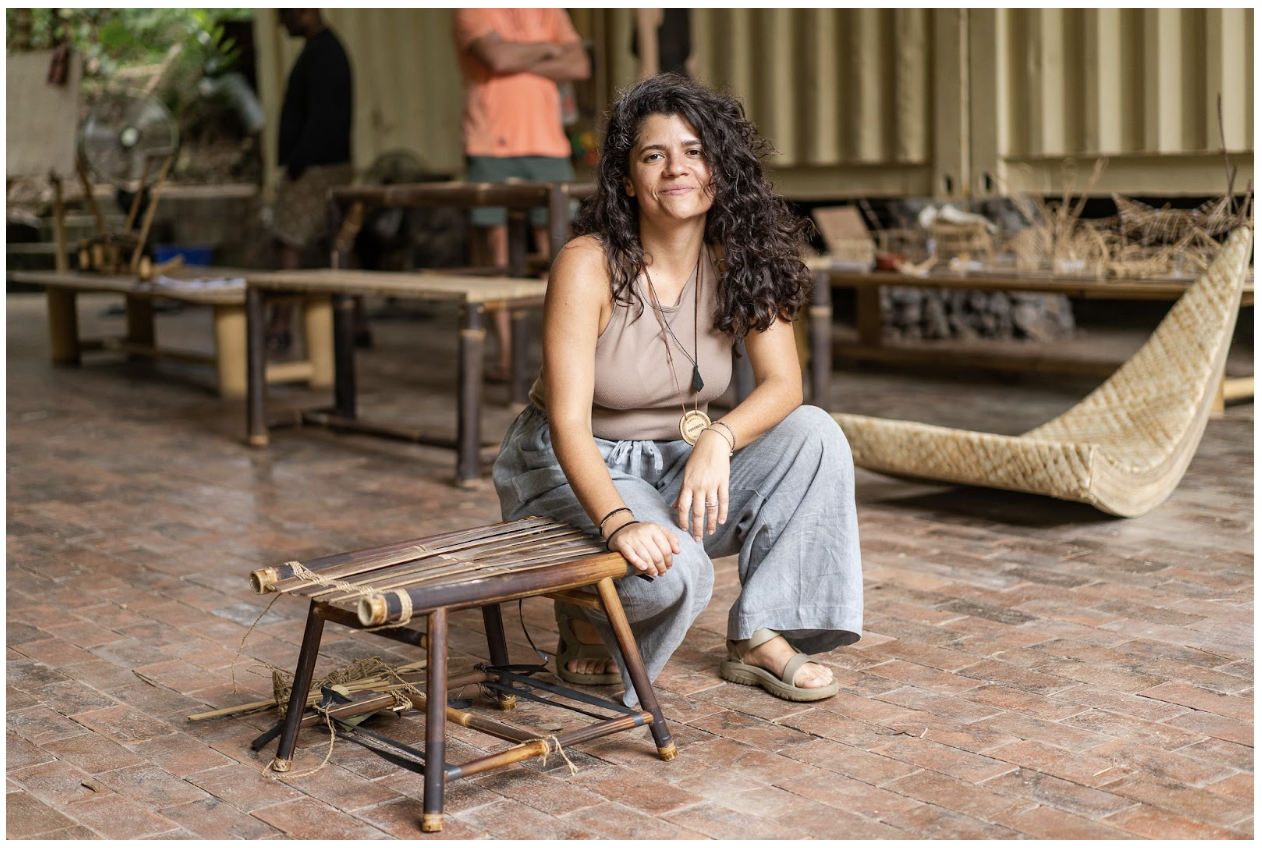 Veronica shares: "I was inspired by the weaving technique that guest lecturer Dennis Pluemer uses in his Santai stool, as well as the idea of using the slats as a structural component. I originally planned for the stool to be smaller in size but as I selected the bamboo poles I realized highlighting the nodes was really important to me so I increased the overall width of the piece in order to allow for nodes at each end."
A chisel and bamboo carving knife (known locally as a mutik) was used to create the slots, as well as the fish mouth joints at the bottom brace. Veronica also developed a detail where the bamboo dowel is used as a place to tie the two perpendicular members. She used some palm fiber rope for the weaving of the top slats and the bottom brace ties.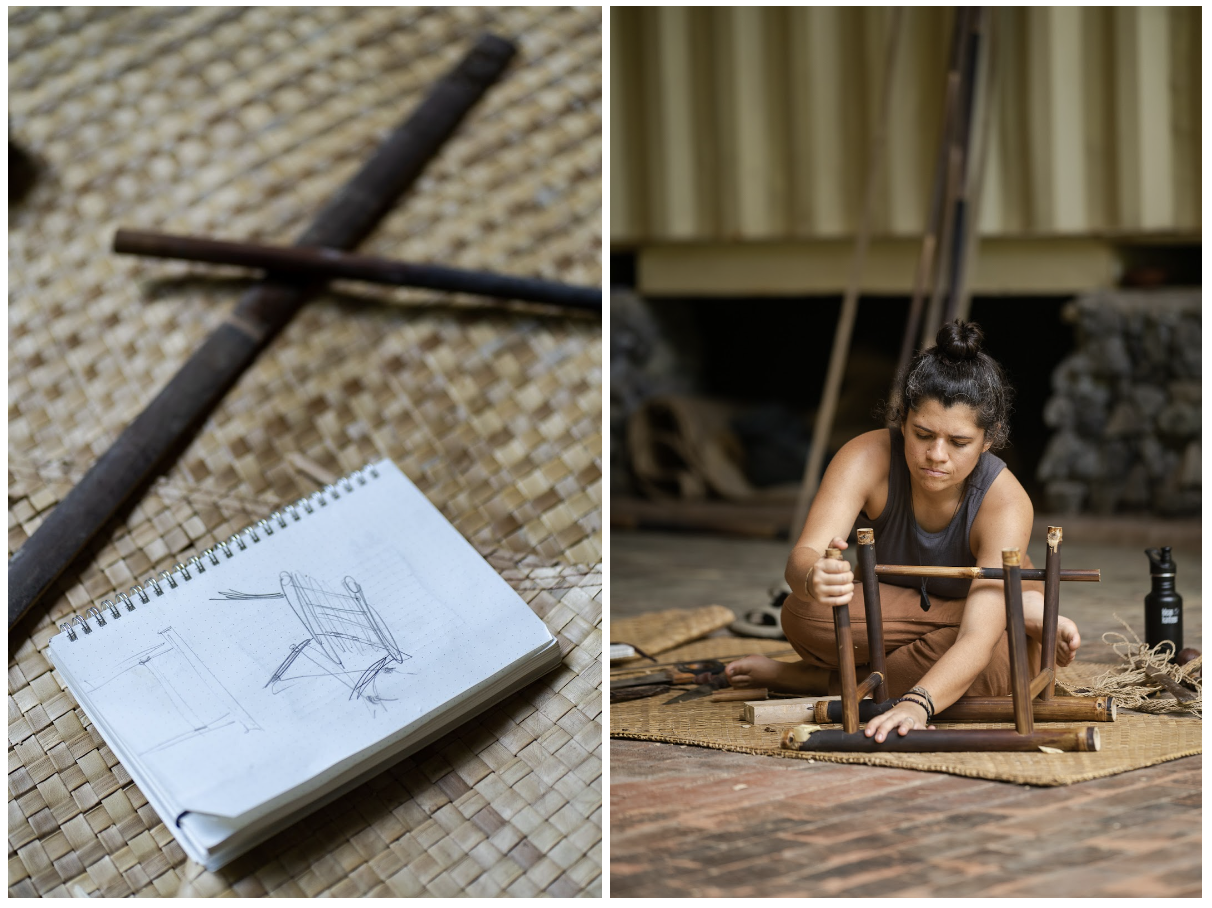 The stool is in progress as it had to be disassembled in order to fit in luggage, and dowels will have to be added in order to make the stool structurally sound.
About her experience, Veronica says: "I was able to apply the skills we learned during the carpentry lesson into the production of this stool, as well as the knowledge of the composition of the bamboo, its strongest parts or how it can split if not handled correctly."
I enjoyed the process of selecting each bamboo pole and was very intentional regarding which section would be used for each member of the stool, paying attention to the variation in the diameter, angle of the pole, striations in the skin, variations in the color, and accentuating the nodes."
Since we started having a Design & Carpentry Station during our Bamboo 11-Day Build and Design Immersion, it has been a hub of innovation and creativity in bamboo furniture and product design. The bamboo projects mentioned above are only a handful of examples amongst the many dozens that have been designed during the course.
We are really looking forward to hosting more creative people to see designs like these flourish whether online or in-person.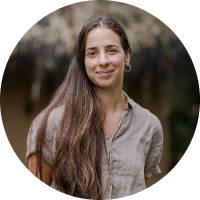 About the author
Maria Farrugia
|
Director
Bamboo U Co-Founder passionate about bamboo, sustainability, content creation and storytelling.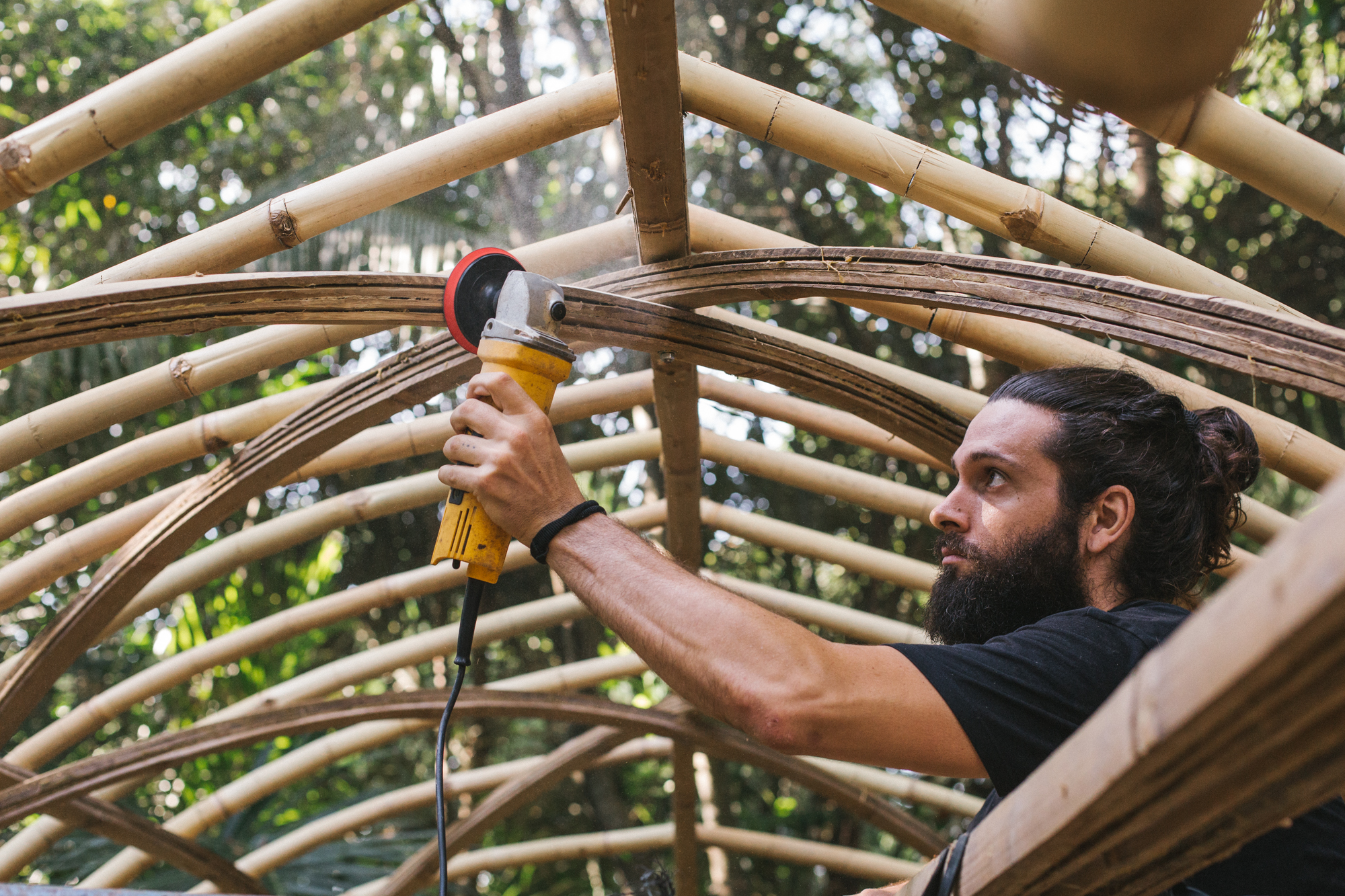 March 22- April 2, 2024
The 11 Day Bamboo Build & Design Course in Bali
In 11 days, we'll show you how to build bamboo structures we'll share all that it takes to build with nature.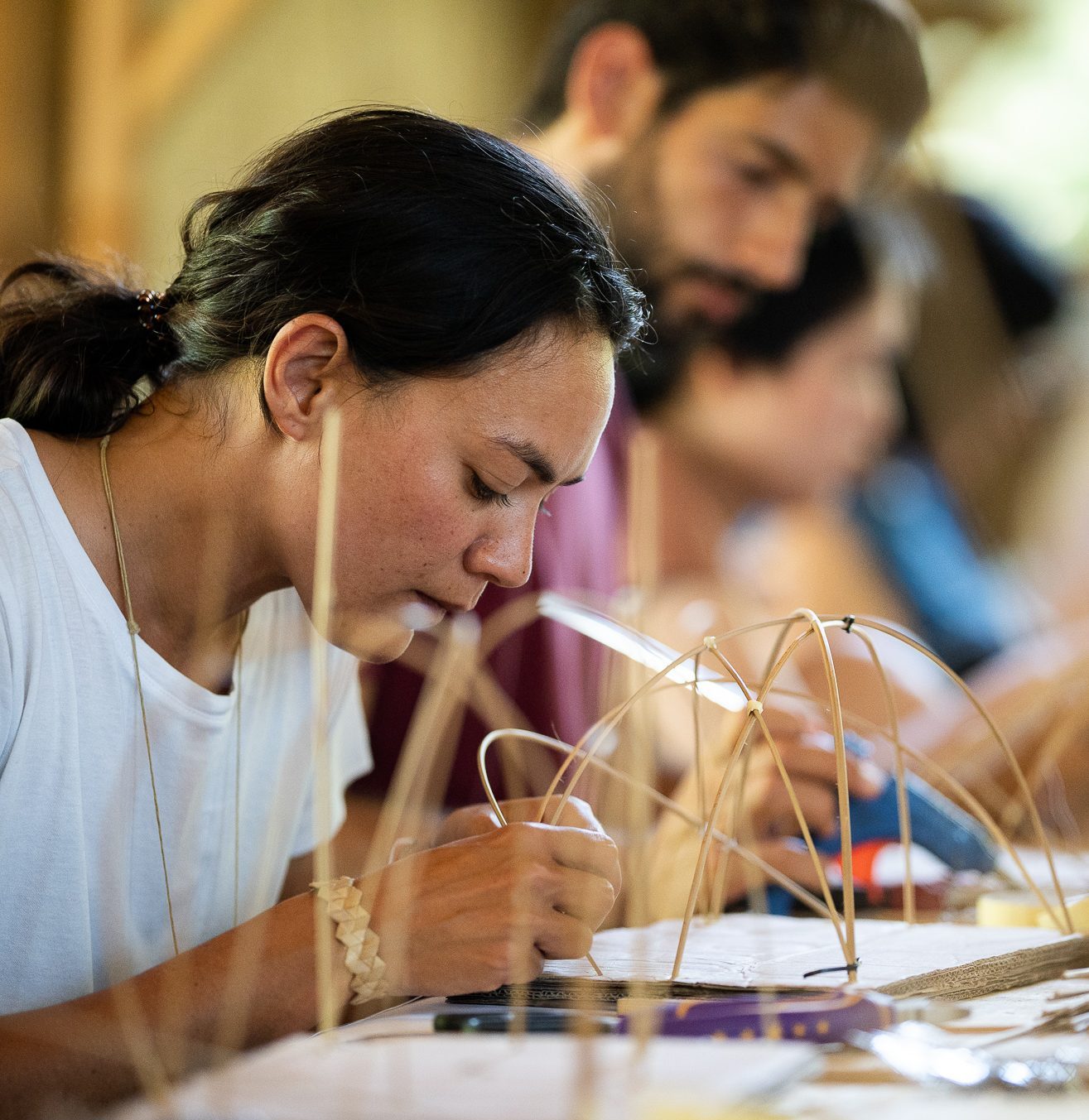 April 26, 2024
The Fundamentals of Building with Bamboo Online Course
All the fundamentals you need to get you started working with bamboo. Deep dive into cinematic videos and step-by-step guides that will provide you with a strong understanding of bamboo as a design and building material.