Bamboo Carpentry Projects Part 1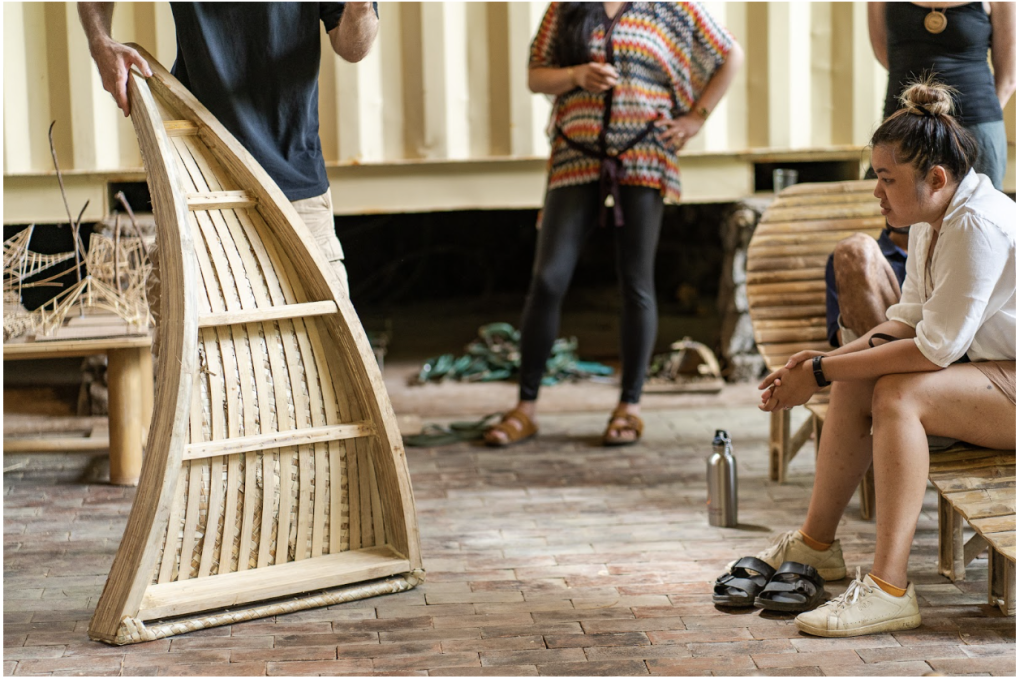 Bamboo furniture and bamboo fixtures built by students during Bamboo U.
During the 11 Day Bamboo Build and Design Immersion in Bali we dedicate 5 full days for students to either immerse in a full-scale bamboo structure or they have the opportunity to work with our master carpenters and a resident designer to fulfill a prototype for a small scale bamboo object or bamboo furniture piece. In so doing, it is our aim that working hands-on with bamboo will give our students a deeper understanding of bamboo as a building material.
Last April 2022 we invited Dennis Pluemer from Santai Furniture, to be the guest designer and facilitator to work with students and assist them in fulfilling their designs, together with a team of bamboo carpenters.
This course saw an interesting range of bamboo furniture and other projects come to life including:
A lighting fixture that incoporates kinetic movement,
A lounge chair inspired by a rocking chair
A curvilinear stool using laminated bamboo
A working desk inspired by the picnic bench
1. O-HANA: Lighting Fixture by Djehovan Dhira
Djehovan is an architect and designer from Indonesia. He joined Bamboo U on a scholarship granted by Kenzo Parfums as part of our collaboration with them for the Kenzo Parfums campaign featuring Bamboo U Co Founder, Orin Hardy called: "For A Beautiful World" (you can watch the mini-documentary here).
Djehovan runs a design studio with his wife in Jakarta, Indonesia. His goal with joining Bamboo U was to develop a prototype for a bamboo lamp that takes the shape and concept of a blooming flower. The flower petals are made of bamboo which can be moved to mimic a real flower in bloom.
Djehovan tells us: "O-HANA is a transformable pendant lamp that incorporates kinetic movement. The light emitted can be adjusted according to the user's needs."
Djehovan conceptualized this idea in 2018 and during the 11 Day Bamboo Build and Design Course in Bali in 2022 he developed the idea further by working with the material on a 1:1 scale. At the end of this year he plans to submit this project for the 'Salone Del Milano' with the hopes of exhibiting next year.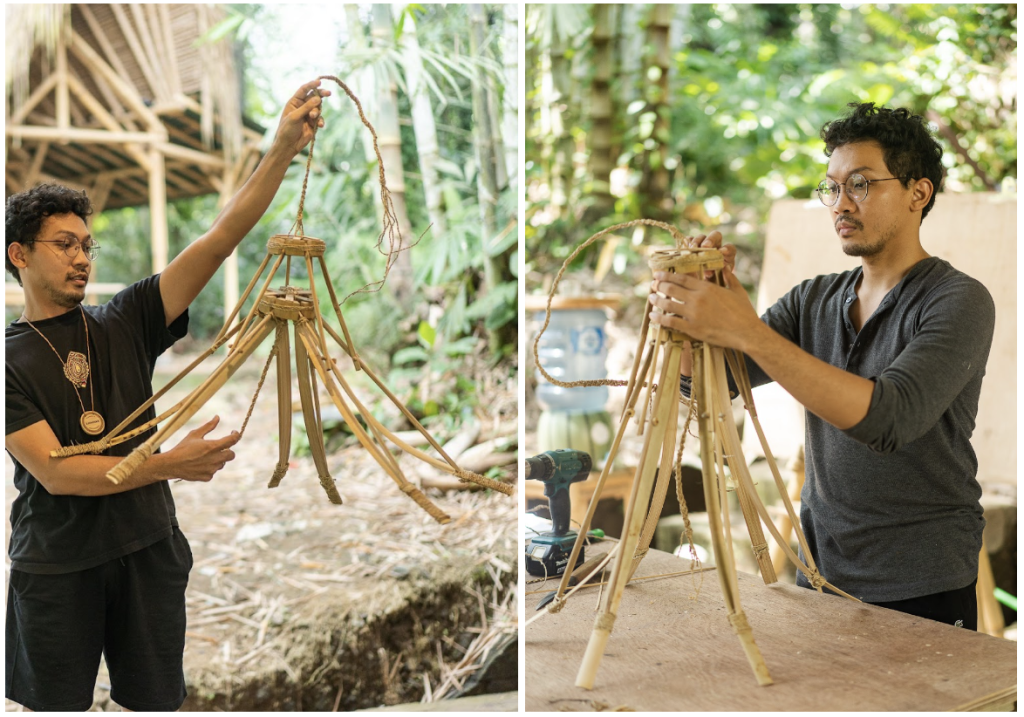 2. Rocking Chair By Marisol Olivieri
Marisol is an artist from the Philippines, currently based in Norway. She joined the 11 Day Course with her daughter with the aim of learning as much as possible about bamboo with the hopes of building in the Philippines.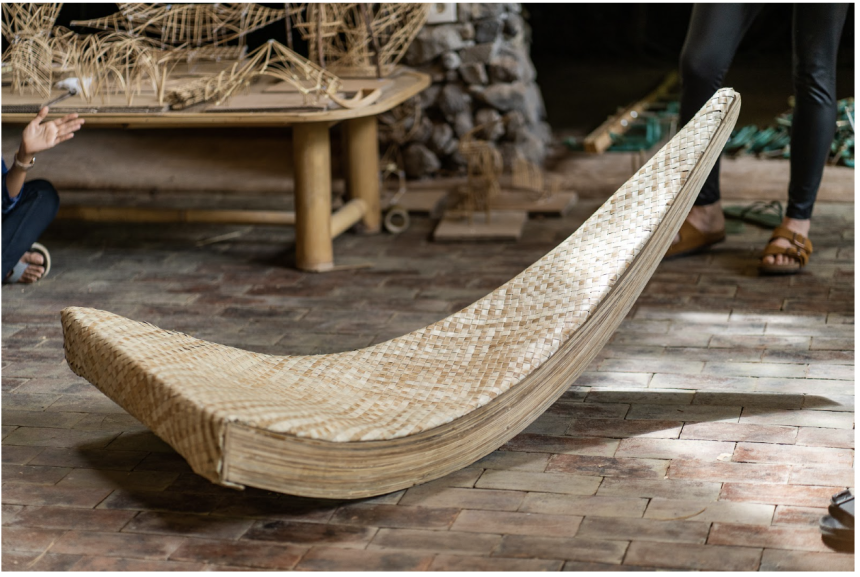 During the last 5 days of the course, Mairsol joined the Design and Carpentry Station, to build a prototype for a small bamboo furniture piece. After coming across some bean bags on the Bamboo U campus she decided to create a lounge chair out of bamboo that would have the same function as the bean bags, with an added rocking chair-like feature.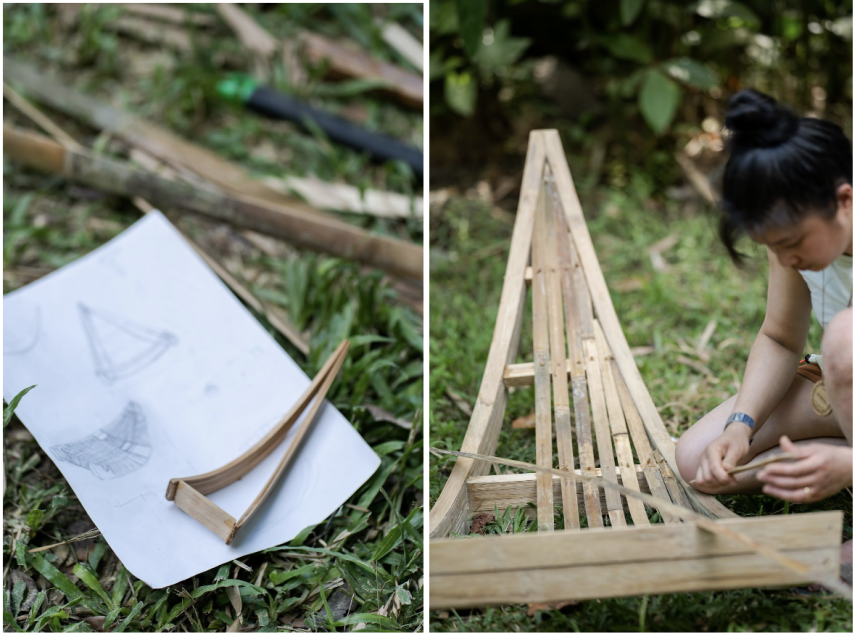 Marisol says: "The construction process was quite challenging because it was my first time working with bamboo lamination and only had 5 days to finish our prototypes. I come up with a minimalistic design which I always prefer. It consists of 3 major parts that are made of laminated bamboo. The laminated parts serve as the frame of the chair."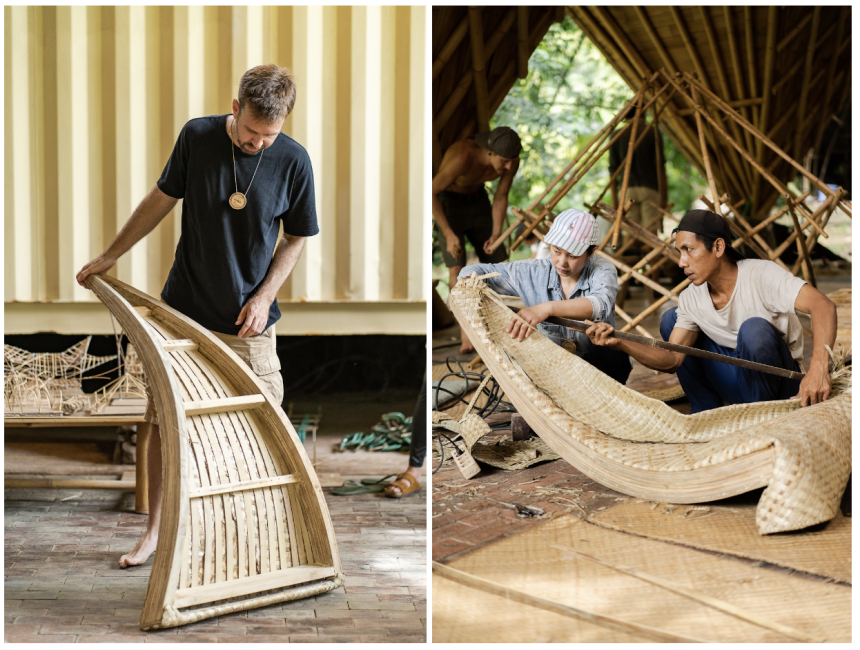 During the construction process, Marisol was assisted by Bamboo U carpenters and Dennis Pluemer both in bringing the form to life and also in crafting the chair. Together with Dennis, she brainstormed on how thick the 3 main supports of the chair should be. The initial idea was to use rattan for the backrest and the seat. Since rattan wasn't available Dennis suggested that a woven pandan mat for the backrest be used which was available on site. We stapled the pandan mat onto bamboo pegs and it turned out beautiful.
3. Laminated Stool by Glyn Jones
Glyn is a builder from Australia who joined Bamboo U to learn bamboo building and design techniques. During the last 5 days of the course he decided to build a bamboo stool using laminated bamboo strips, slats and matting.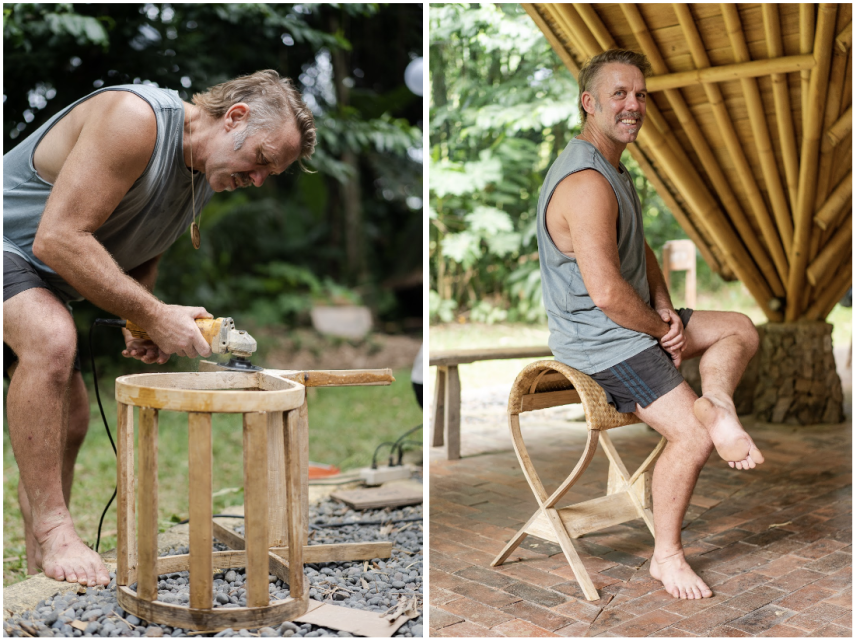 His inspiration came from watching the bamboo carpenters setting out laminated frames for use as main supports on the hanging treehouse project that was also being built with students during that same course. He was impressed with the curves that can be achieved by using bamboo splits and decided he would like to try this technique out on a smaller scale to build a piece of bamboo furniture.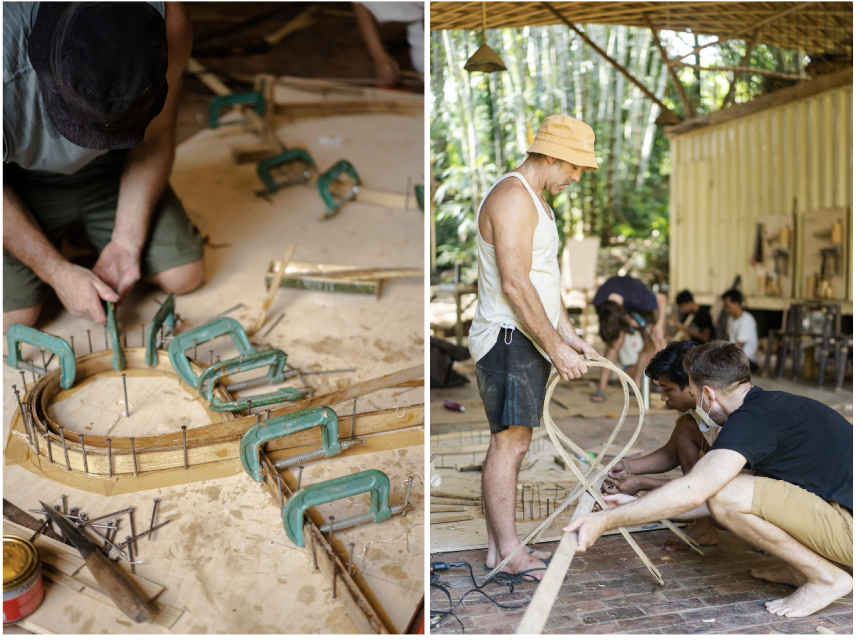 To construct the bamboo stool he drew out the stool's curved bow shape on plyboard then marked the shape using nails to mark the shape. The splits of bamboo were then curved around the nails and glued together till dry. The 2 frames then had bamboo slats dowelled and glued between them. The stool was then sanded and a section of pandan matting was used as cushioning for the seat.
Glyn says: "I learnt on the course how flexible bamboo can be as a building product and was amazed at the organic/curved designs that we were taken to see that have been achieved and wanted to put some curves into my design".
3. The School Desk by Ashleigh Nicholas
Ashleigh Nicholas is a 12th-grade student at the Green School Bali with an interest in leadership and designing. For her final year project at school (referred to as the Greenstone), she is hoping to build a leadership hub for students to help develop their leadership skills and work collaboratively as a team.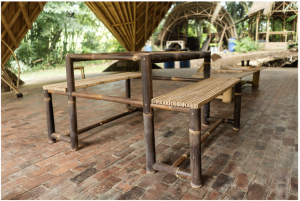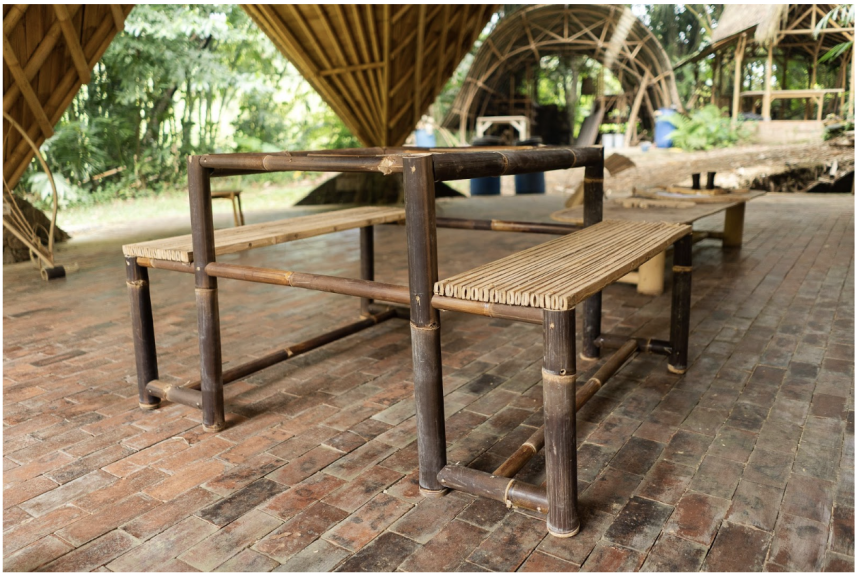 Ashleigh says: "I know that spaces are built for a purpose, and I am hoping to gain some new insight into the design and building process that could help me with my project!"
During the last 5 days of the 11 Day Build and Design Course Ashleigh wanted to design something similar to a picnic bench where 4 people can sit together and collaborate, rather than sitting individually.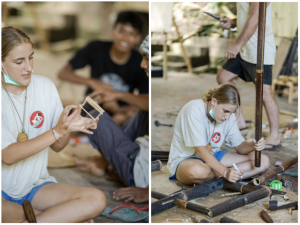 She shares: "Over the process of creating the table I had to carve a lot of joints, which was difficult but luckily the carpenters helped me a lot and I got it done. I chose black bamboo because I never really see it used that much and I think it's a beautiful material."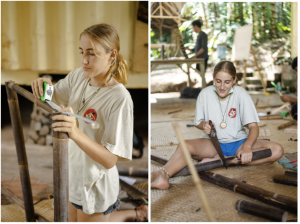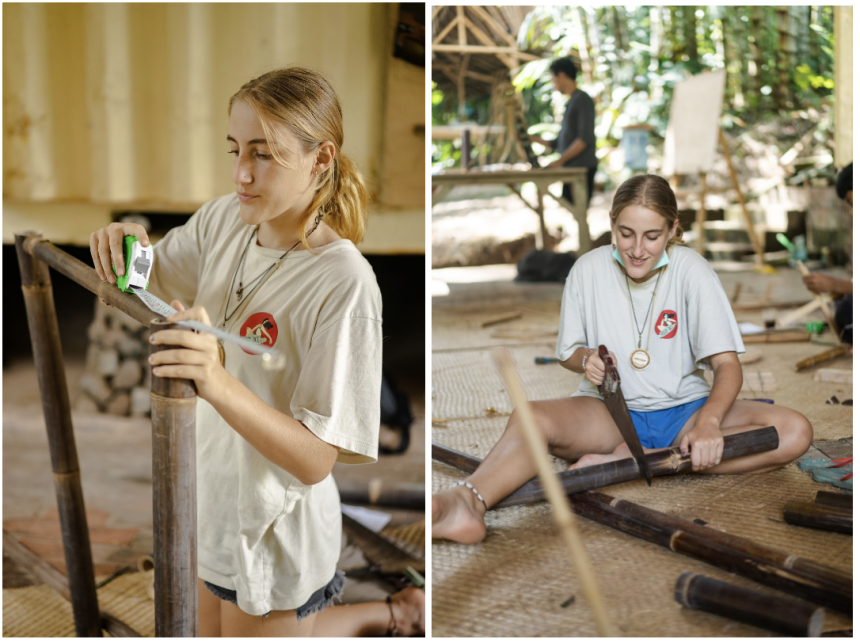 This was honestly one of the best experiences of my life. I am so glad I said yes to this opportunity! I am so thankful for the things I learnt and the new connections I built. I hope to come back again in the future
Since we started having a Design & Carpentry Station during our 11 Day Bamboo Build and Design Immersion, it has been a hub of innovation and creativity in bamboo furniture and product design. The bamboo projects mentioned above are only a handful of examples amongst the many dozens that have been designed during the course.
We look forward to hosting more creative people to see designs like these flourish whether online or in-person.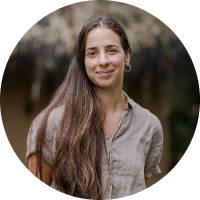 About the author
Maria Farrugia
|
Director
Bamboo U Co-Founder passionate about bamboo, sustainability, content creation and storytelling.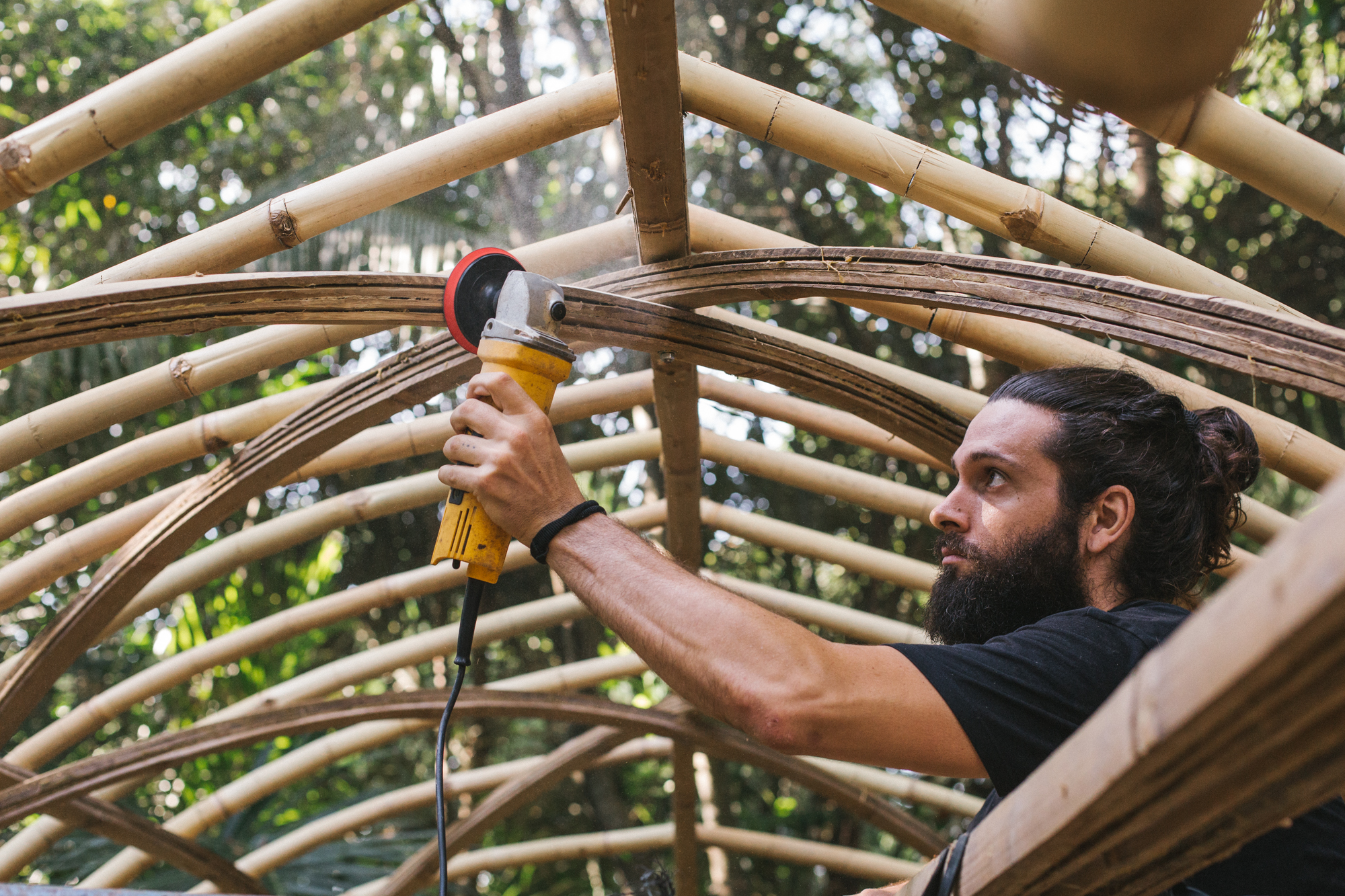 March 22- April 2, 2024
The 11 Day Bamboo Build & Design Course in Bali
In 11 days, we'll show you how to build bamboo structures we'll share all that it takes to build with nature.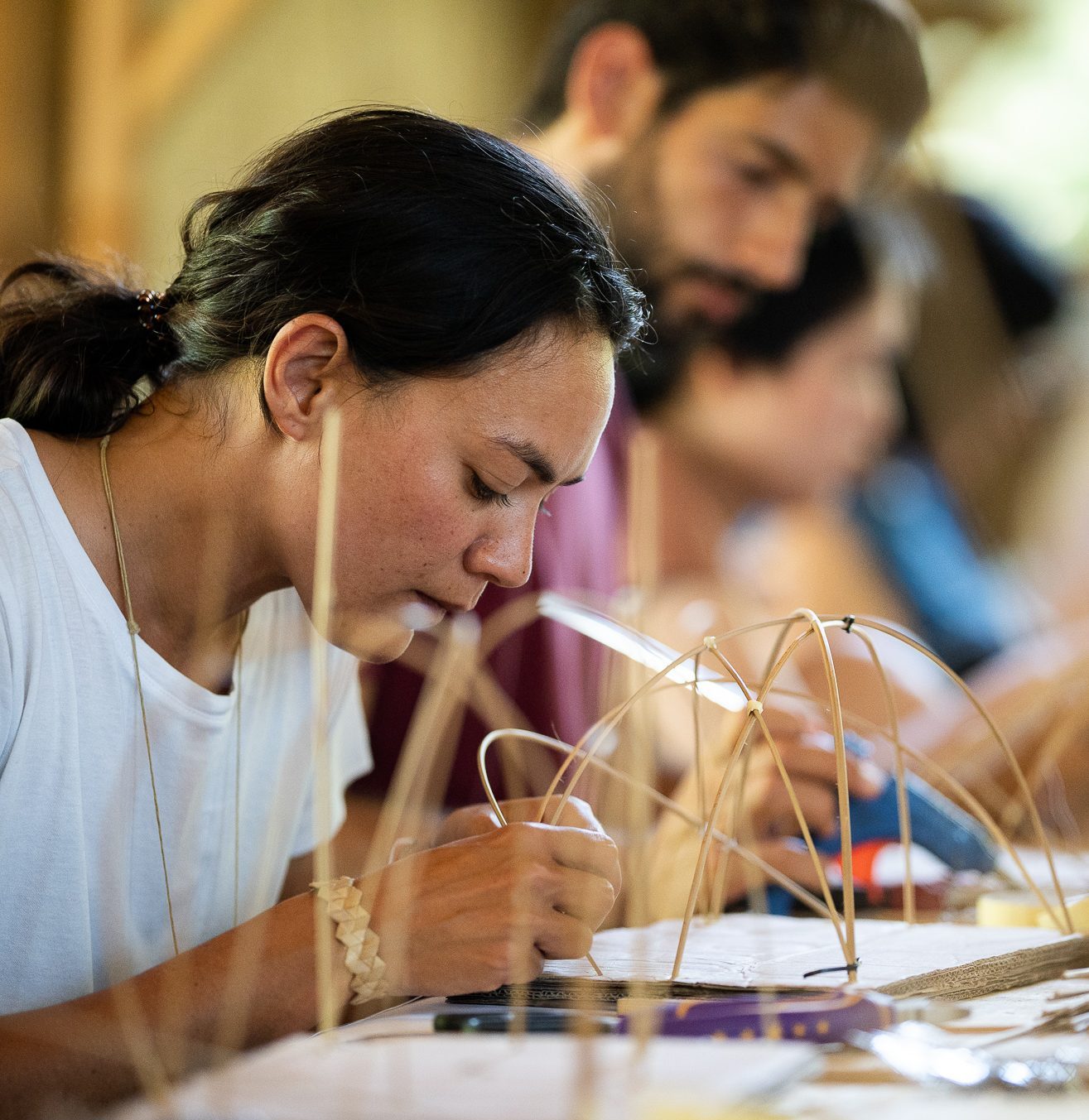 April 26, 2024
The Fundamentals of Building with Bamboo Online Course
All the fundamentals you need to get you started working with bamboo. Deep dive into cinematic videos and step-by-step guides that will provide you with a strong understanding of bamboo as a design and building material.