Building a Bamboo Seesaw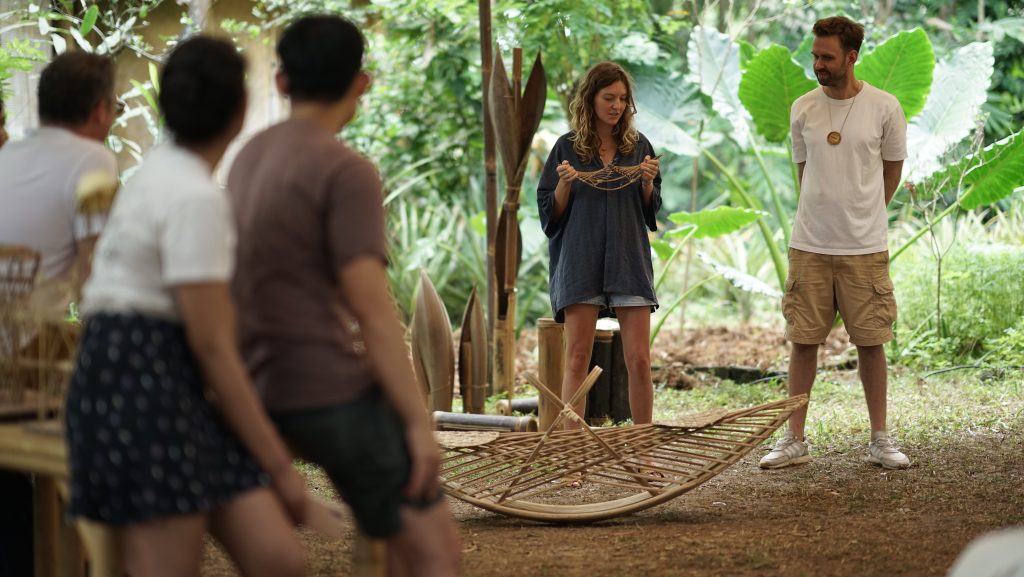 Follow Marie's journey of designing and building her very own seesaw out of bamboo.
During the 11 Day Bamboo Build and Design Course in Bali we dedicate the second part of the course for students to either immerse in a full-scale bamboo structure or to work with master carpenters and a resident designer to fulfill a prototype for a small-scale bamboo object or furniture piece. In so doing, it is our aim that working hands-on with bamboo will give students a deeper understanding of bamboo as a building material
Last August 2022, Marie, a French-based interior designer, joined us from France to learn and discover the different possibilities of bamboo and how she can utilize them. In the second part of the 11 day course, she worked on designing and prototyping a seesaw which she called a twin rocking horse.
Design Idea, Concept, and Inspiration
The idea came when I visited Green School and saw the hyper paraboloid system used in the Arc; Green School gym. I wanted to apply the system on a smaller scale by creating a twin rocking chair, which could be a ludic game for kids.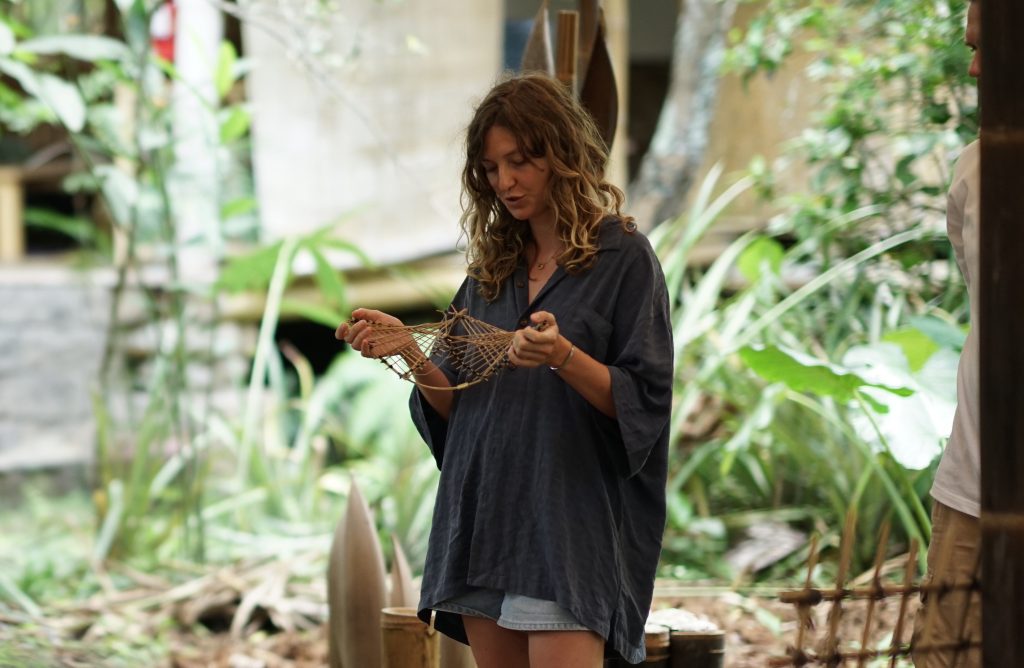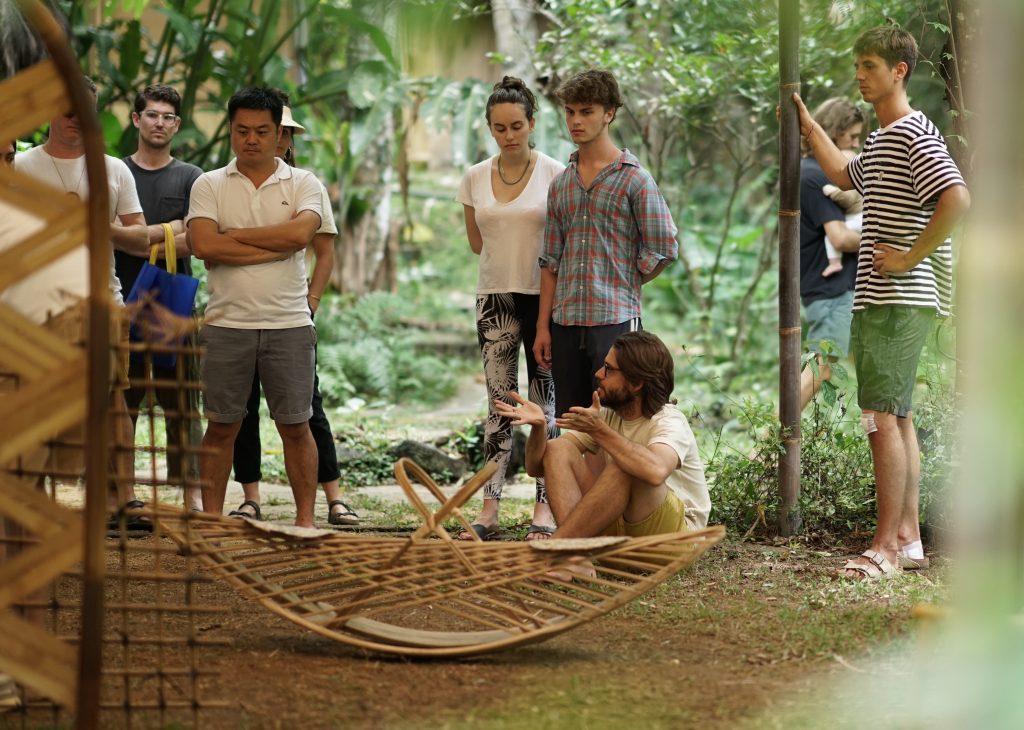 Prototyping The Seesaw
The species Dendrocalamus asper known locally in Indonesia as Bambu Petung was used to build the prototype. The process was started by creating a small-scale model and making a plan to construct the seesaw into 3 phases; the base, body, and handles. I used a lamination technique with epoxy glue to create the curve at the base so it could actually rock back and forth.
A hyperbolic paraboloid system was applied to the body. I used splits of Bambu Tali, known locally as Gigantochloa apus to create the criss-cross of the body. The intersections were pinned with 3 mm-sized bamboo pins. As for the handles, they were made of banded lidi sticks (Bambu tali strips cut into smaller sticks) and tied together with rattan.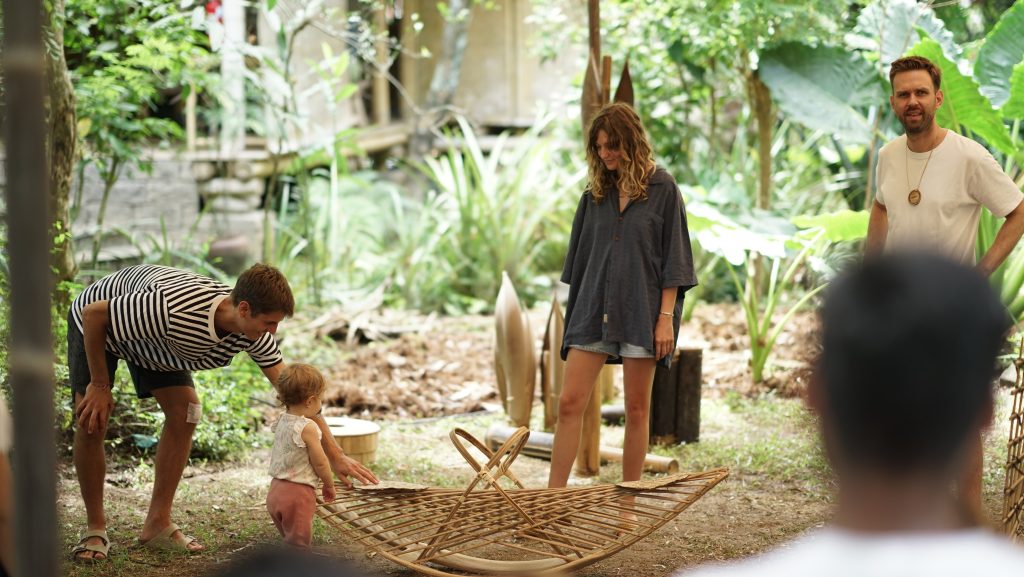 Challenges And Learnings
The structure of the seesaw/rocking horse was the most challenging part to create because it needed to support the weight of two people. During the building process, the time constraint was also a challenge; I only had 4 days to complete this project.
In the end, I learned a lot of different techniques and how to connect them together into one design. It was wonderful to see the evolution of my design, from the model to the prototype.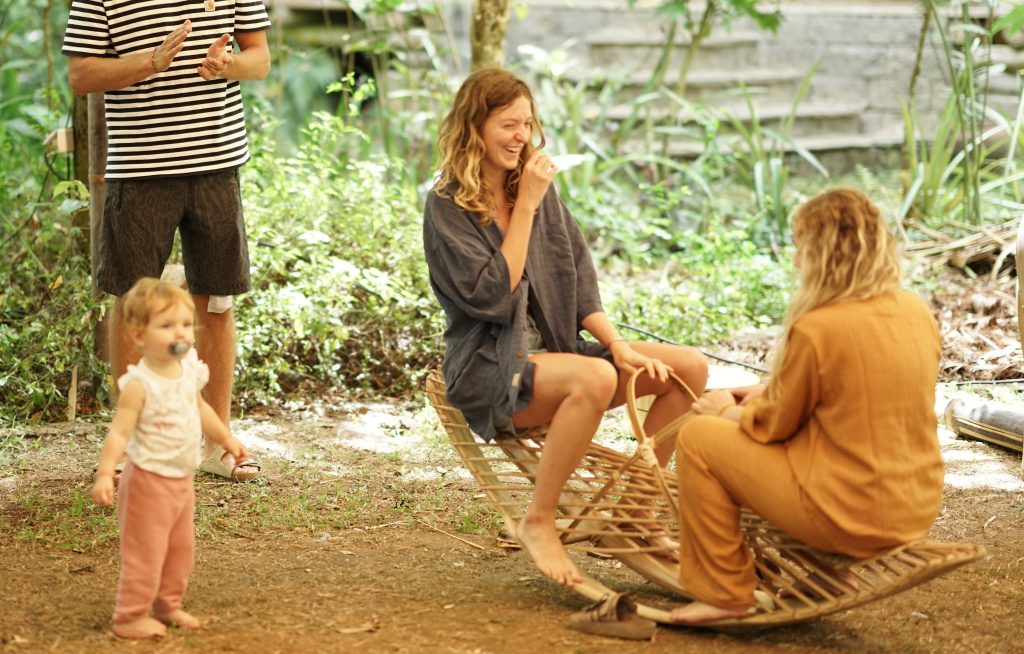 Since we started having a Design & Carpentry Station during our Bamboo 11-Day Build and Design Course, it has been a hub of innovation and creativity in bamboo furniture and product design. The bamboo projects mentioned above are only a handful of examples amongst the many dozens that have been designed during the course.
We are really looking forward to hosting more creative people to see designs like these flourish in-person. The new 11-day course starts in March 2023, find out more about the course here.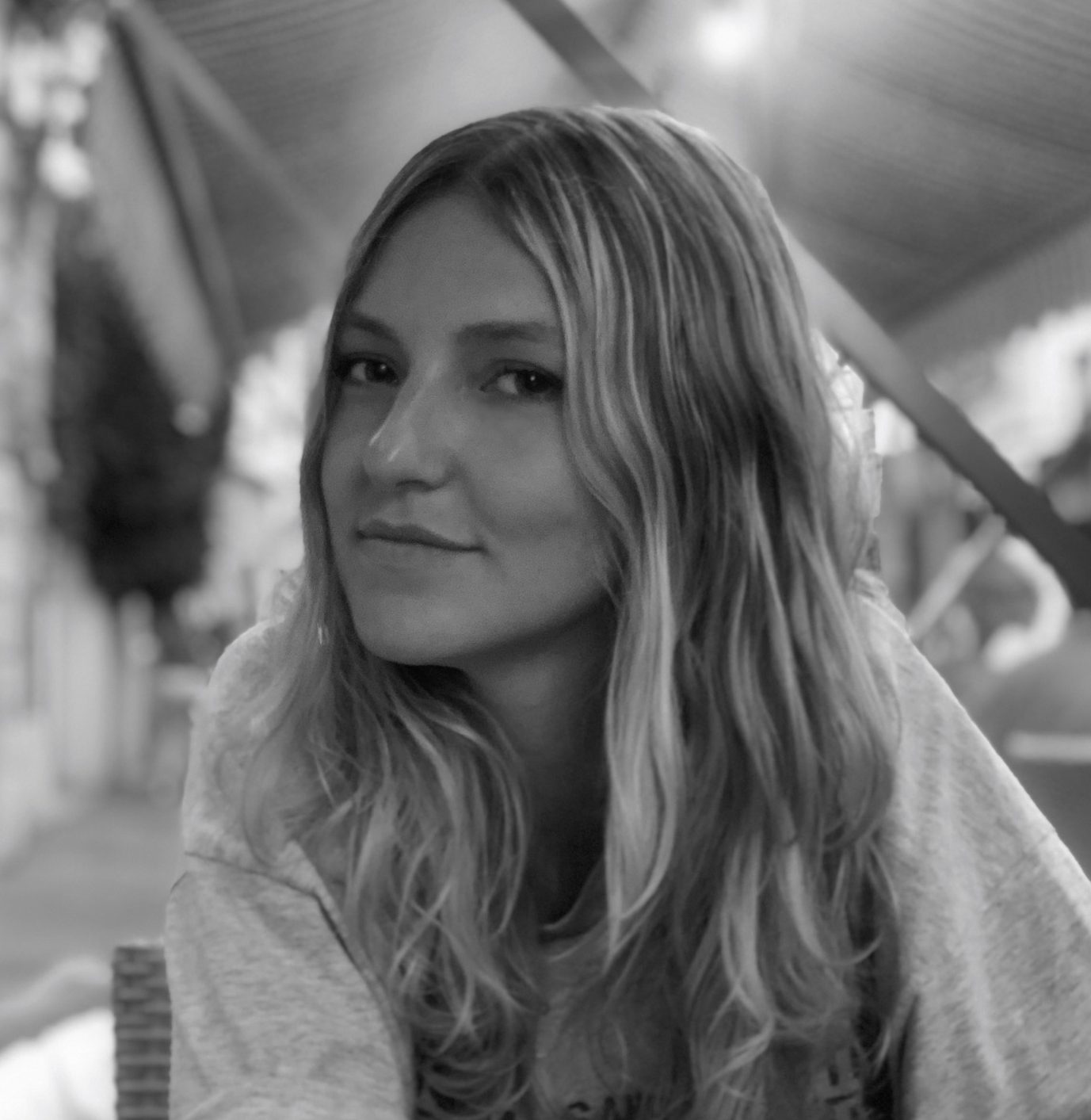 About the author
Marie Damesme
|
Interior Designer
My name is Marie Damesme, I am doing design and interior design in Paris. The bamboo seesaw is the first product I've done on my own. But I am on. my way to create new things.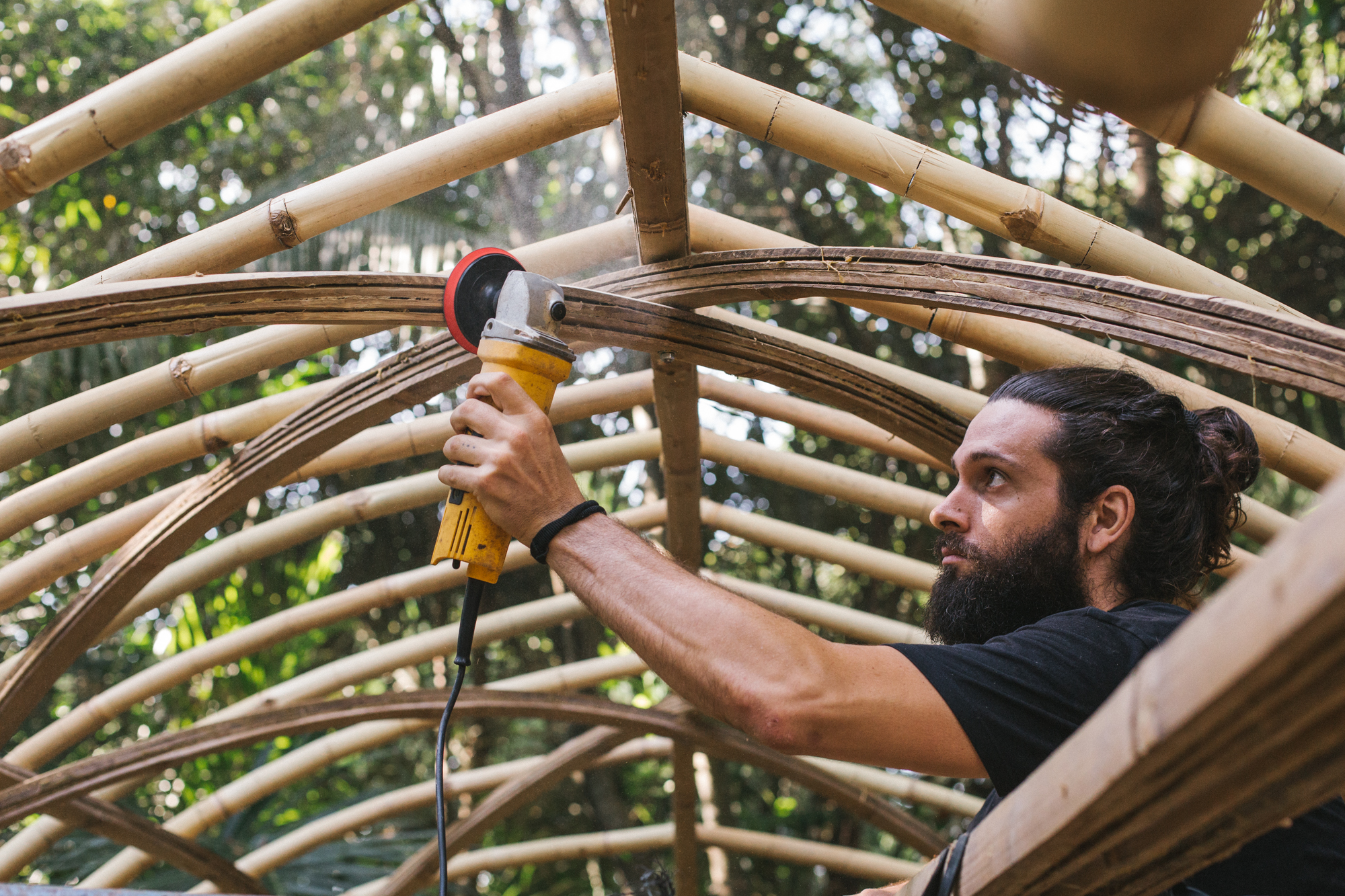 March 22- April 2, 2024
The 11 Day Bamboo Build & Design Course in Bali
In 11 days, we'll show you how to build bamboo structures we'll share all that it takes to build with nature.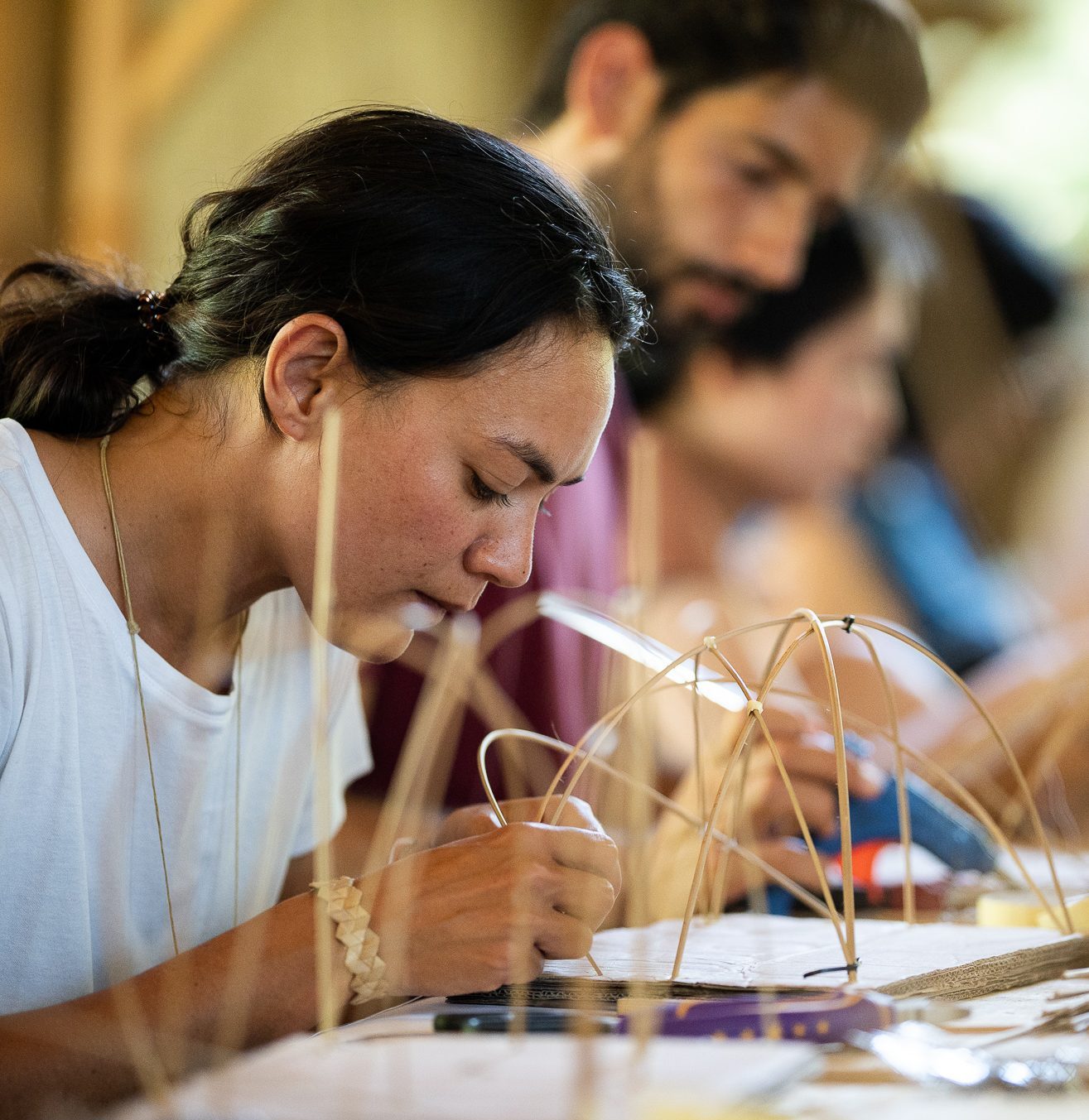 April 26, 2024
The Fundamentals of Building with Bamboo Online Course
All the fundamentals you need to get you started working with bamboo. Deep dive into cinematic videos and step-by-step guides that will provide you with a strong understanding of bamboo as a design and building material.