Building a Bamboo Yurt in Ecuador
By Mateo Sáenz | June 30, 2022 | Alumni -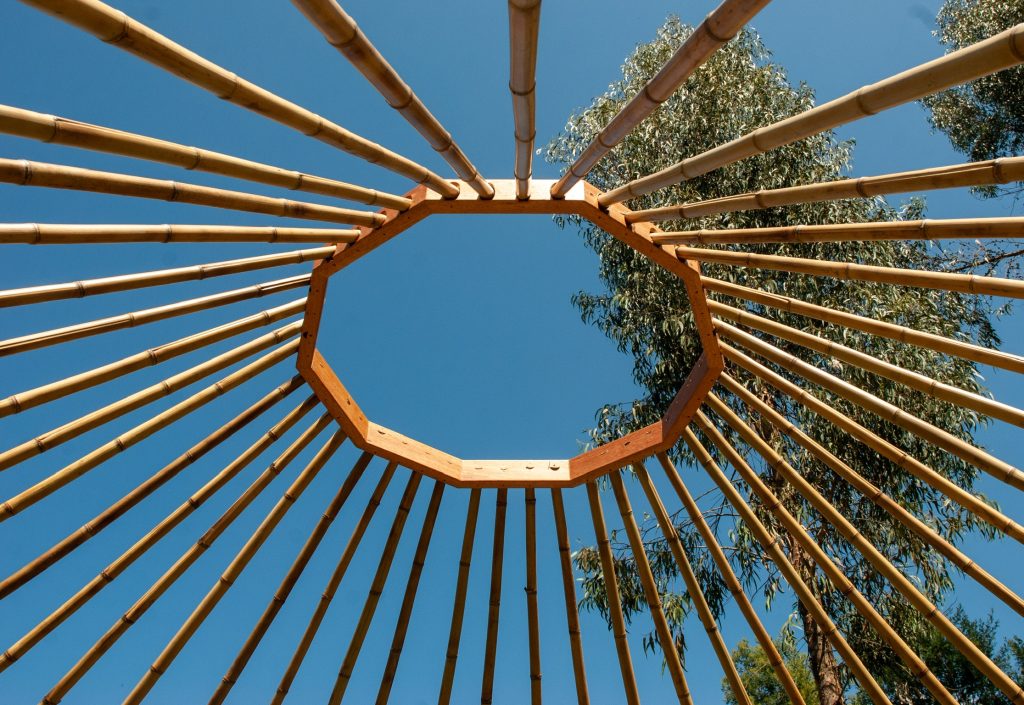 Follow Mateo Sáenz's journey as he builds a bamboo yurt inspired by a traditional Kyrgyzstan yurt in Ecuador, during his participation of the Bamboo U Online Course.
Student Name: Mateo Sáenz
Name of Project: Kyrgyzs-Andean Bamboo Yurt
Year/ Month attended Bamboo U Online: 2021/February
Country: United States and Ecuador
Profession/ University: Student/Cell and Molecular Biology at John Jay College, City University of New York
Growing up in New York City I was surrounded by concrete, steel, fast trains, and dull colors. Living in this man-made environment helped me to appreciate nature for its open spaces and vast greenery. I always envisioned myself living in a forest or a jungle, somewhere that would make me feel like I was back at home in Ecuador— where I was born. In Ecuador, I was surrounded by nature. From a young age and up to now I have studied in New York, primarily focused on the sciences, with the hope of one day becoming a medical doctor. My interests have always been diverse and I've always been looking to learn new things. This curiosity is what led me to Elora Hardy's TED talk on IBUKU in 2015. This was the first time I saw bamboo as a viable and beautiful construction material. Where I am from, houses made of bamboo are synonymous with a part of society that is marginalized, underserved, and forgotten. The way Elora talked about and presented the luxurious, grandiose, and amazing bamboo houses in her talk changed my mind completely. Suddenly, I envisioned a way for me to get back in touch with nature; living in a bamboo house. I began to imagine how I could walk on and feel the bamboo floors and walls, how I could look out into the deep green spaces from any part of my house, and how it would be made of an incredible, reliable, ecologically-friendly material.
Shortly after, in April of 2016 an earthquake hit the coast of Ecuador. I lost contact with my family for 3 days and was unsure if they were okay. From New York, I felt helpless and wanted to go there and do something. Instead, I took a different approach to try and help people impacted by natural disasters. At my university, I was told that I could help by innovating and creating solutions that would prevent the loss of more lives in future disasters. I applied my knowledge of science to find new ways of solving social problems. I traveled around the Americas under a National Science Foundation I-Corps grant to interview responders and survivors of disasters and to learn about ways to help them. I spent over two years doing this and saw the devastation in California during the 2018 wildfires, the loss of homes in Puerto Rico after Hurricane Maria, and finally, at the end of my trip, I visited the epicenter of the earthquake in Pedernales, Ecuador. This left an impression on me. I started to look for ways to help communities that are marginalized and underserved. I put IBUKU's goal for sustainable design together with my newfound mission and thought of using bamboo as a renewable material that can be transformed into emergency deployable houses that allow survivors to have a home after losing it to a devastating event.
Watching that TED talk several years ago led me down the bamboo shoot to learn about Green School, the Kul Kul Farm, and other natural and environmental programs. Every year since, I had planned to go and visit Bali to take the 11 Day Bamboo Build and Design Immersion course, but had been unable to make it happen. Then the pandemic hit. This crisis brought about another opportunity— the first Bamboo U Online Course. I joined it as soon as I could. During the online course, I learned that bamboo is globally available, that it acts as a carbon sink and that it can also be a water reservoir, making bamboo a powerful yet ecological solution to global deforestation and drought. I had to present a final project for the course, and with the knowledge and confidence gained from my online training, I decided to bring this project to life and make a large-scale model in Ecuador in the summer of 2021.
The Bamboo Building Concept
The concept idea of the project I wanted to build during the Bamboo U Online Course was what I called a 'Kyrgyz-Andean Bamboo Yurt. With a living space of 25 meters squared and with the goal of having it act as emergency housing, long-term retractable housing and shelter.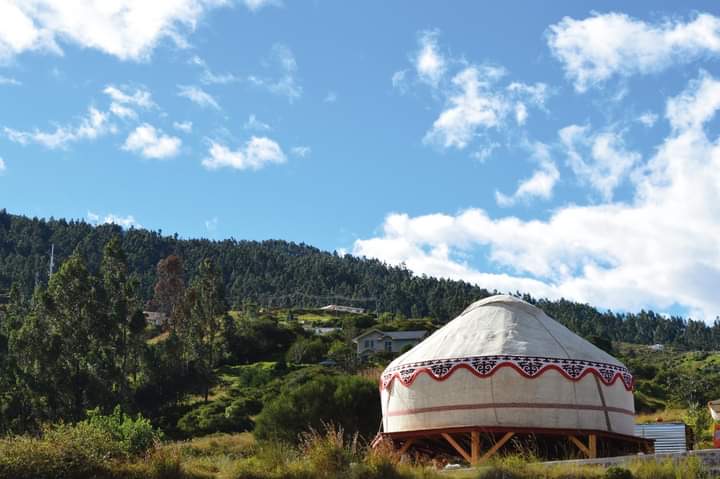 Developing The Concept Into A Final Structural 1:1 Model
The idea for the final model came after two very enlightening conversations. The first occurred during a lecture from Cécile Durand in The Bamboo U Online Course. We learned about a retractable nursery stand for showing the projects of The Kul Kul Farm to the students at Green School. I was intrigued to learn that this nursery was made out of bamboo, easily transportable and foldable. I asked more questions about it and then I proposed the idea of making a retractable bamboo house as an emergency deployable shelter during disasters. My instructor mentioned the challenges that would be ahead— bamboo in its round pole form can be heavy, difficult to transport and complex to work with if inexperienced. I saw this as a challenge and as an opportunity to find a new way to solve this issue.
After that night's lecture I spent time researching and speaking with people in my life about the topic. A friend, Silvia Díaz, sustainable energy engineer, offered the idea of the yurt. I had never heard of a yurt or anything like it. Silvia told me that she had been inside of one, in Ecuador, a few years ago. I asked for the information and she got back to me a few days later with the contact of the person who owned it. This sparked the beginning of the development of this project.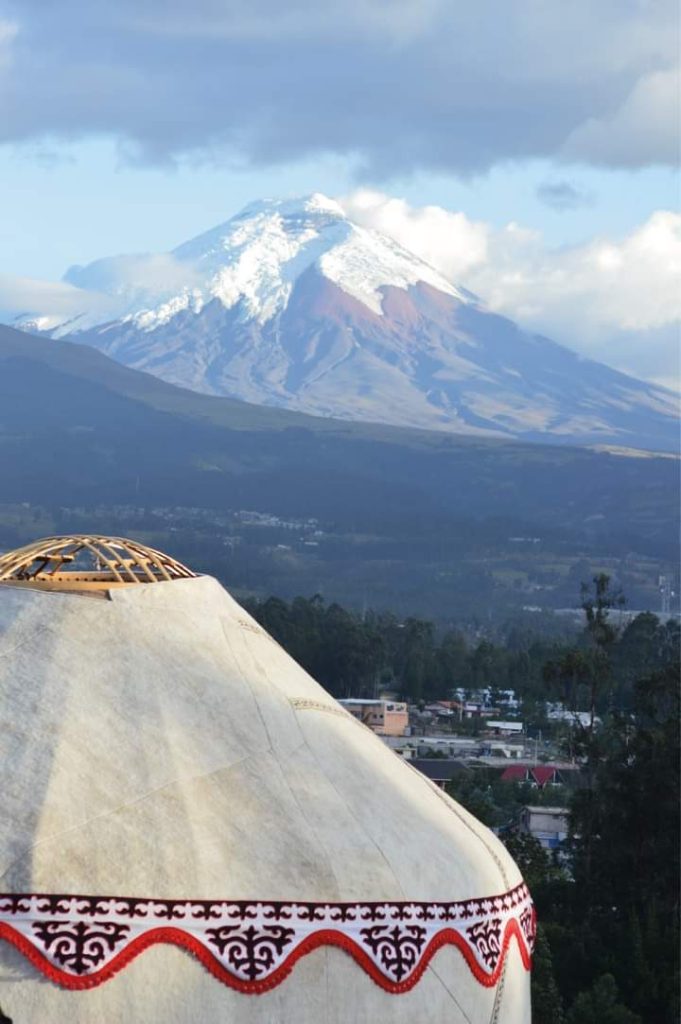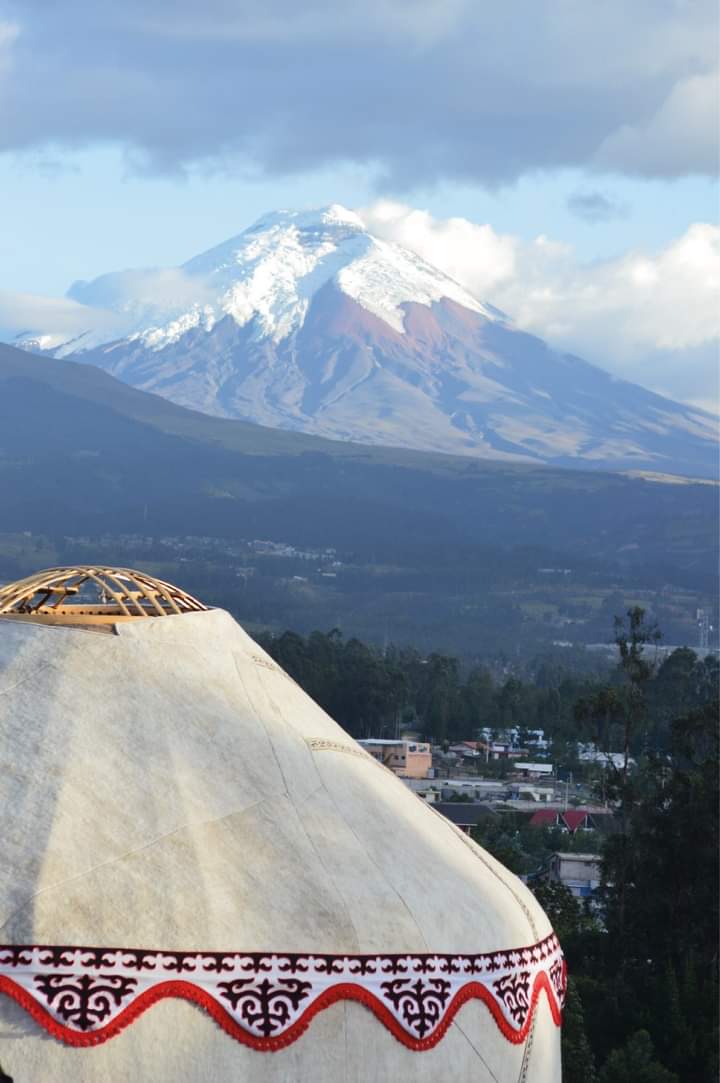 The Online Course was instrumental in the launching of the project in Ecuador. With a lot of gumption, confidence and knowledge from the course, I set out to find experts in the field and came across Felipe Jácome and his mother Annie Rosenfeld. Felipe is the technical secretary of the International Bamboo and Rattan Organization (INBAR) in Ecuador, inheriting the title from his mother, and he gave me a contact for sourcing the material.
The first modules of the course introduced me to bamboo sourcing, sustainable harvesting, and taxonomy which came into play when I traveled to Santo Domingo de Los Colorados, a mid-altitude tropical region of the Andes with optimal conditions for bamboo growing. Here I met with Nancy Concha, owner of a plantation complete with a bamboo forest. This was my first time up close and personal with bamboo (pictured left). Here everything began to make sense.
After visiting the site and inspecting for Bent, Small, Broken, Old and Diseased (B.S.B.O.D.) bamboo, I determined the forest was healthy and suitable for sourcing material. The task of determining how much bamboo was required was only possible after making a small-scale bamboo model. This skill was taught toward the middle of the online immersion modules and again I was applying what I learned to a real-life project. The next step was to figure out prices, and logistics and to bring this awesome material to the construction site for processing. Nancy Concha was kind enough to listen to my story and understood that by helping us she would be helping the community and humanity as a whole. She welcomed us into her home, to her bamboo wonderland, and gave us a generous amount of bamboo for the price we could pay. We could not have completed this project without Nancy's kindness, expertise, and blessing.
The bamboo was harvested, loaded up on a small truck, and sent to Quito. Once we had the material onsite, the bamboo was cleaned and processed to bring out its natural shine and to ensure its longevity. Together with my family and friends, we got to work on this task. Once the bamboo was sparkling it was time for the next challenge: getting the bamboo to bend.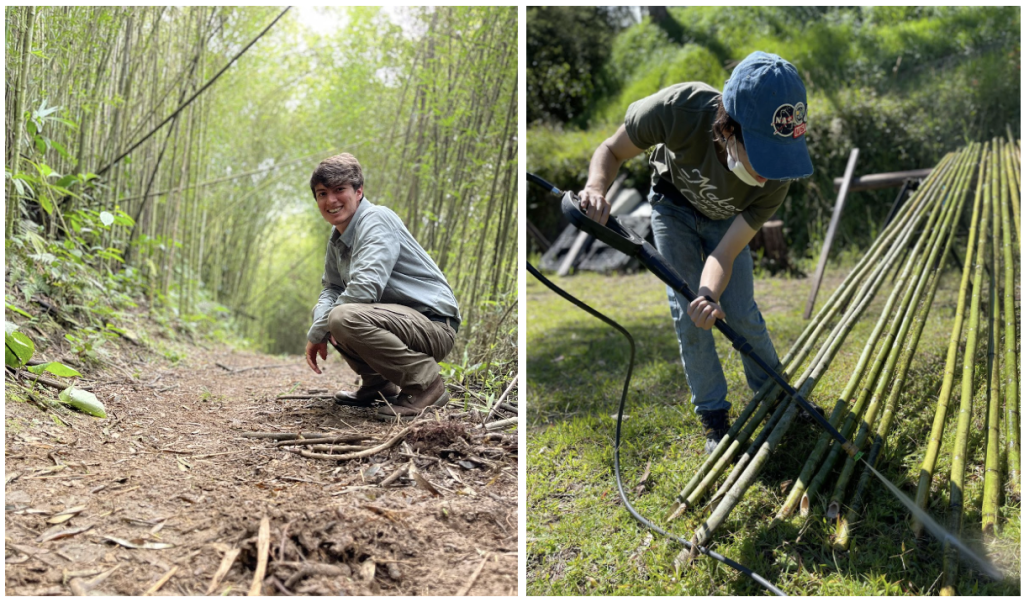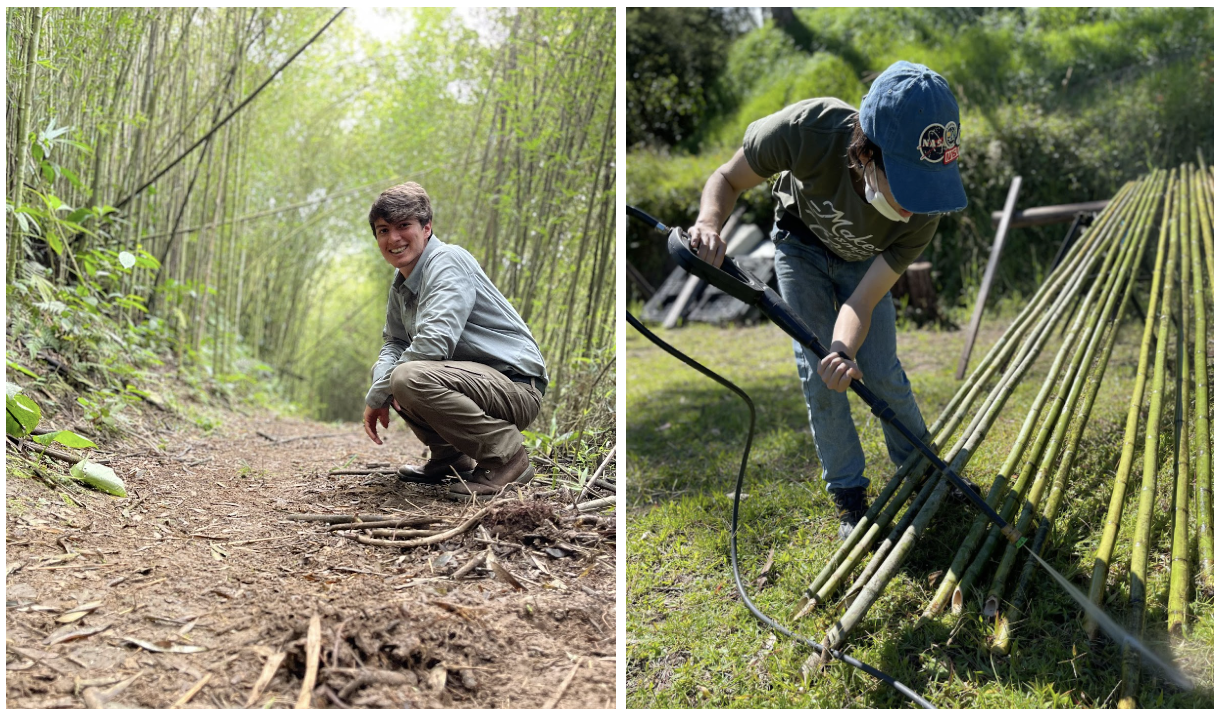 The Final Prototype / 1:1 Model
The real strength and uniqueness of the Kyrgyz yurt comes in at the middle of the structure, where it bends at a specific angle to form the roof. This angle sets the original yurt design from Kyrgyzstan apart from the other yurts out there (Turkish, Mongolian, etc.). This yurt has a wide open space inside without any pillars or support beams. This information came from Edwin Usca Santillán, who studied yurt construction with masters in Kyrgyzstan. Today he directs a workshop for building yurts in Ilalo, La Merced, Quito, Ecuador. This was the contact that Silvia sent me, she had visited Edwin's yurt many years ago after her father had met him at a permaculture workshop. He told her then and repeated the story to me about how he had brought the yurt from Kyrgyzstan by ship to Ecuador in 2015.
Edwin's dream was always to marry the cultures of the Kyrgyzstan people with that of the Andean people. When I reached out to see if Edwin was still in Ecuador, he invited me to visit and to learn from him about the construction of this type of home. My only condition for working together was that it had to be built entirely using bamboo. Edwin agreed right away, stating, "I've never worked with bamboo, in fact I used to hate it. But now that you tell me about its powers I want to learn more about it and incorporate it in my constructions. Let's learn together and exchange our knowledge." Thanks to Edwin and his family and friends in Kyrgyzstan we asked for permission to use this design, which is their cultural heritage, for our humanitarian goals with bamboo. The moment I brought Edwin to Nancy's plantation, he looked up and out into the bamboo forest in awe. He turned to me and said, "Mateo, today you have changed my life." From that day on Edwin welcomed the project into his workshop and we have been working diligently to create our first bamboo model and prototype.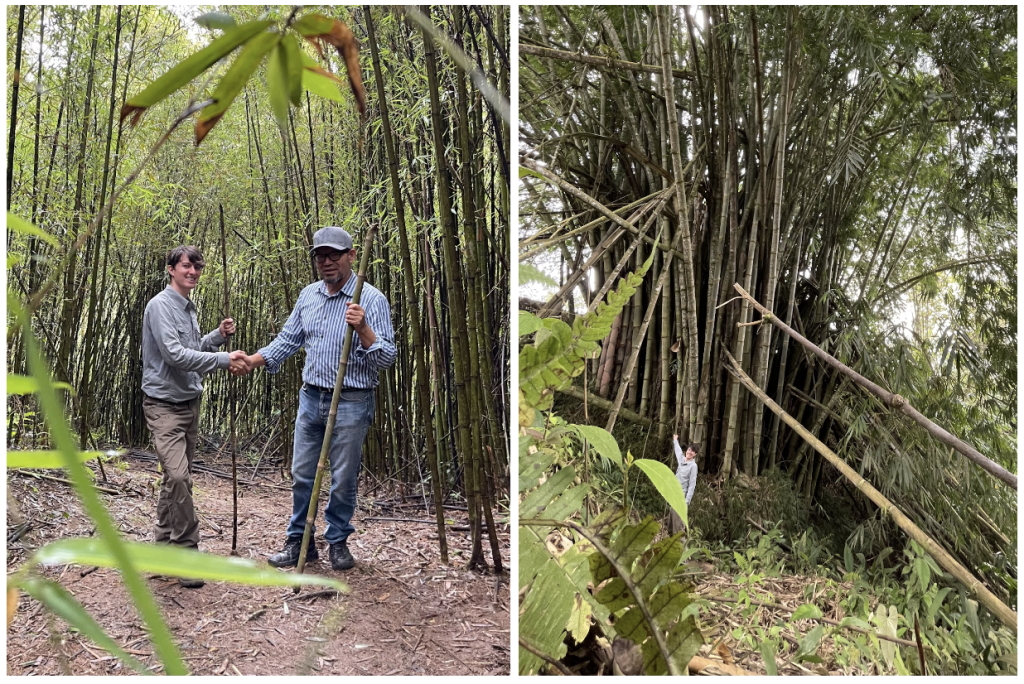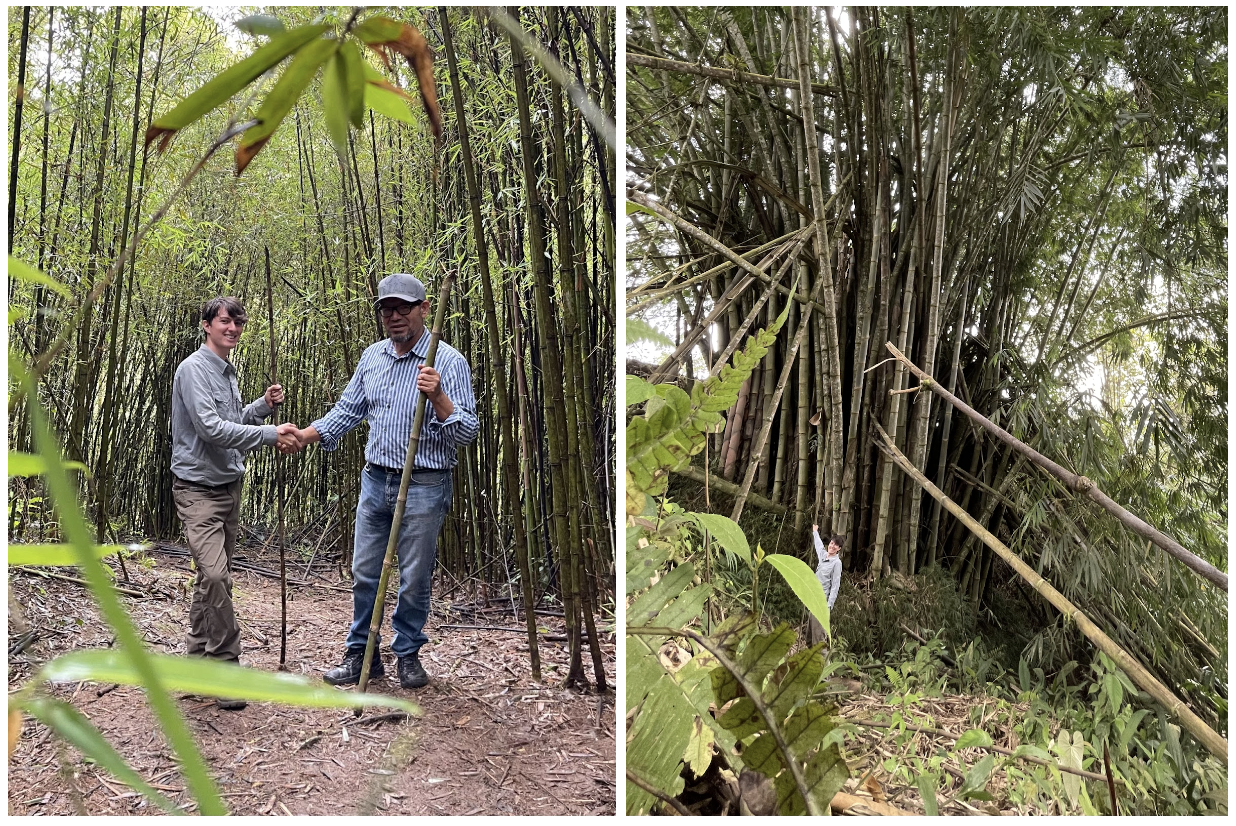 Building The Bamboo Structure
The bamboo species we selected for our construction is Phyllostachys aurea, or golden bamboo. It received this name after it was discovered that with a proper cleaning and thermal treatment, a beautiful, golden shine appeared on its surface. We decided that this bamboo species was abundant enough, strong enough, and yet malleable enough for our construction. To preserve its strength and round pole elegance, we decided to use it in its natural form. The yurt will be outfitted with traditional and ancestral Andean fabrics from Ecuador, Peru, and Bolivia. These elements will make up the textiles and embroidery for both the interiors and outside facade.
The entire process has been a learning experience with many ups and downs. We learned how to carry out the bamboo business in Ecuador by properly inspecting and ordering it. We established a clear and efficient process where we can make a call from New York and have the bamboo from Santo Domingo cut, cleaned, and delivered to our construction site in 3-4 days. The project even attracted the attention of an engineer from Bolivia, who came to work with us in developing a process for bending bamboo to the angle we needed.
That engineer is Esteban Quispe Churata who is talented and dedicated to solving social problems. It was with his ingenuity and tenacity that we now have a streamlined process of bending bamboo to the desired angle. Esteban uses heat, cold, and movement to get the bamboo to the desired shape until the angle is achieved.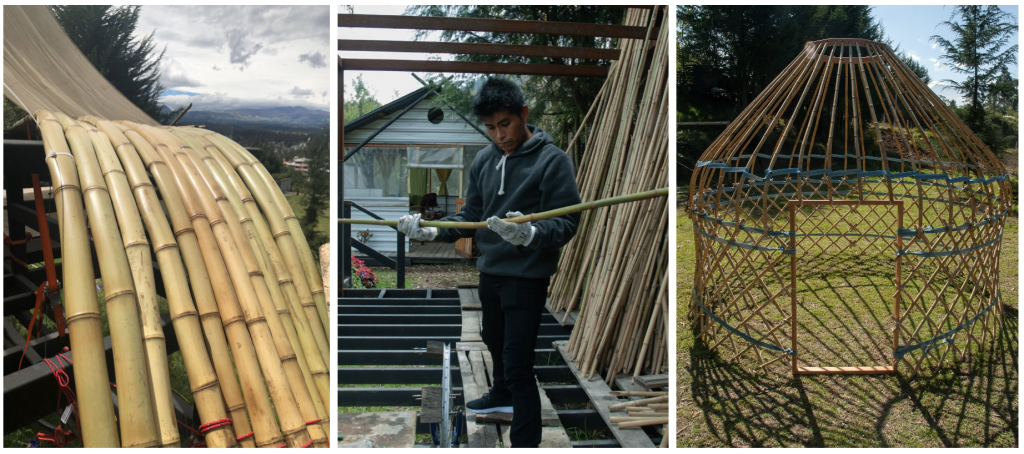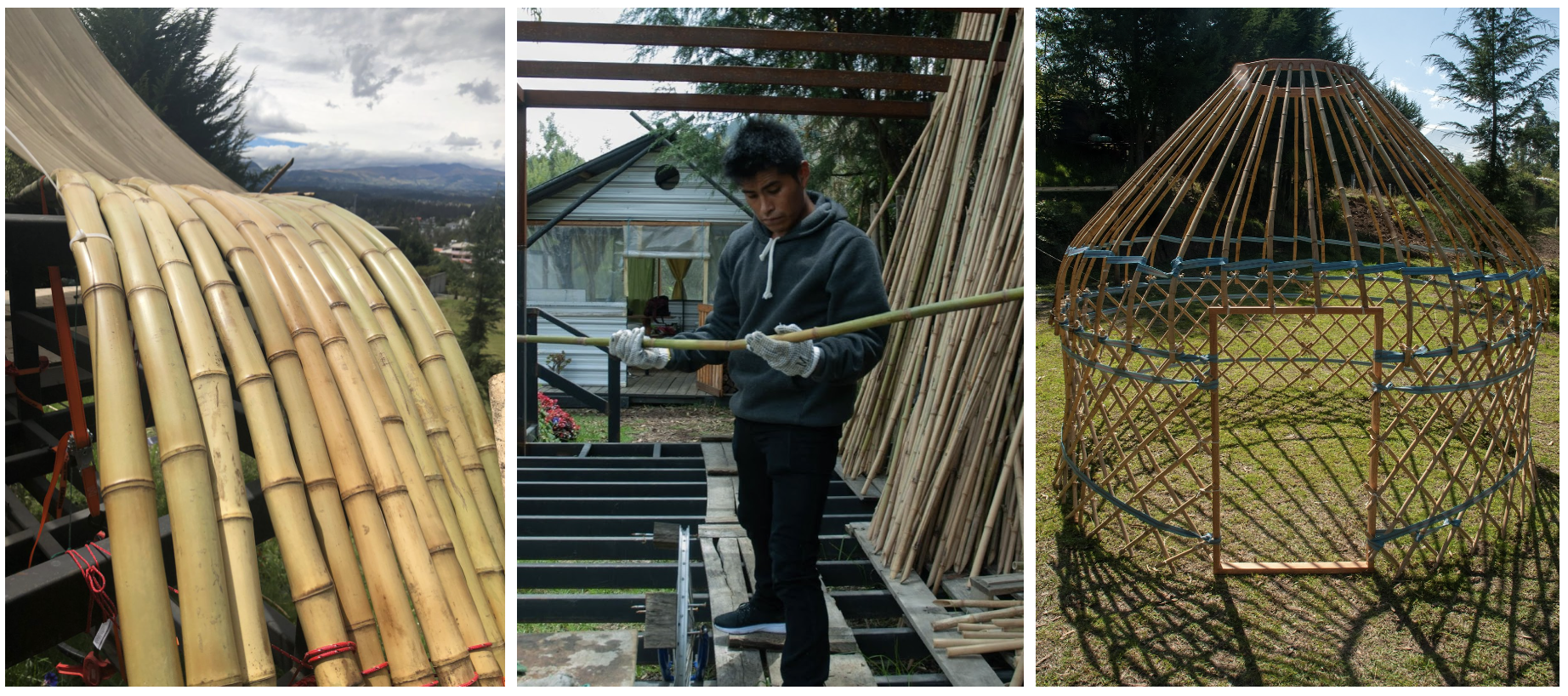 Although we made it this far with the knowledge of the online course plus the friends and instructors we met along the way, we knew it was time to bring our abilities and intelligence of bamboo construction to the next level. Over the summer of 2021 a scholarship was announced— 10 lucky winners would be selected to join the 11 Day Bamboo Build and Design Immersion course in Bali, Indonesia. With this announcement, I asked my team to help me prepare the application and we waited eagerly at every stage to hear if we had been selected. Thanks to everyone who helped us get to where we are today, the application was accepted and it was a success! Makheni Jean-Pierre, Silvia Díaz and I went and represented our team in Bali in April 2022 during the live in-person Bamboo U Build and Design Course.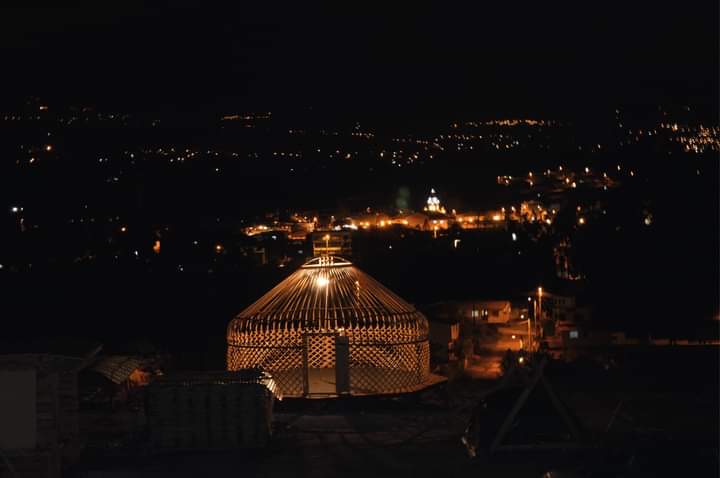 The project began with a small thought, with a vision and inspiration from conversations with enthusiasts of making the world a better place. Serendipitously a multi-national team was formed composed of students, mentors and family; and we are each contributing in our own ways to making this real. Our dream is to unite people with each other and to nature. We are starting with the continents of Asia and the Americas by bringing our collective talents together. The first yurt will encompass elements from Kyrgyzstan, Ecuador, Bolivia, Peru and Indonesia. Thanks to the Bamboo U X KENZO Parfums Scholarship, we had the ability to learn from the bamboo master carpenters in Bali and are incorporating elements from their workshops as well. We are thankful to everyone who has supported us this far and we look forward to hearing your thoughts and ideas. Matur suksma!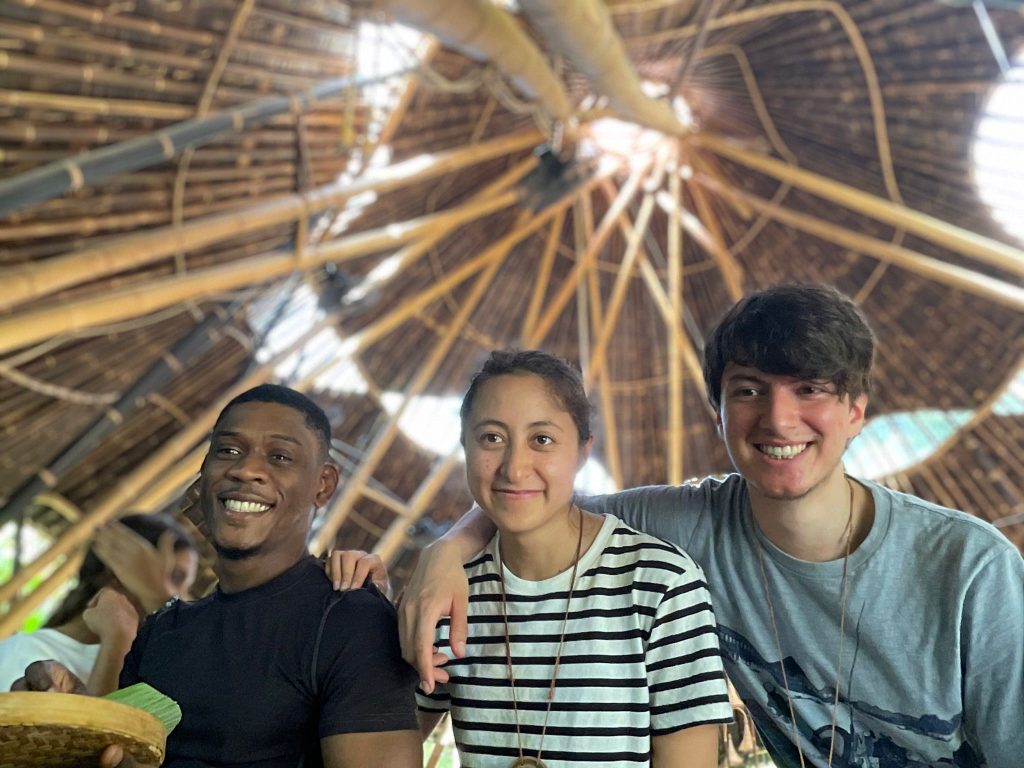 If you would like to learn more about Mateo's project you can do so by reaching out to him on Instagram, Youtube, LinkedIn or via Email.
Photo credit: Joaquin Sáenz Mancheno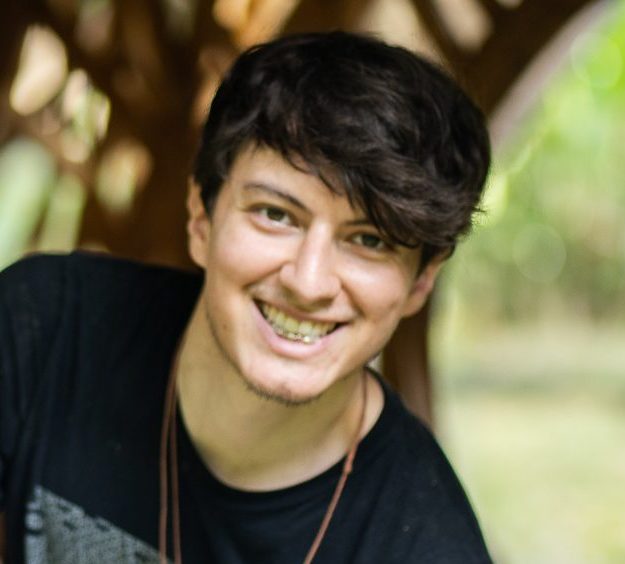 About the author
Mateo Sáenz
|
Entrepreneur, Paramedic, Medical Student
Mateo is a professional emergency medicine provider and an entrepreneur with project design and management experience. His passion is to bring medicine to the underserved parts of the world and to create deployable & ecological buildings that connect people to nature and the outdoors.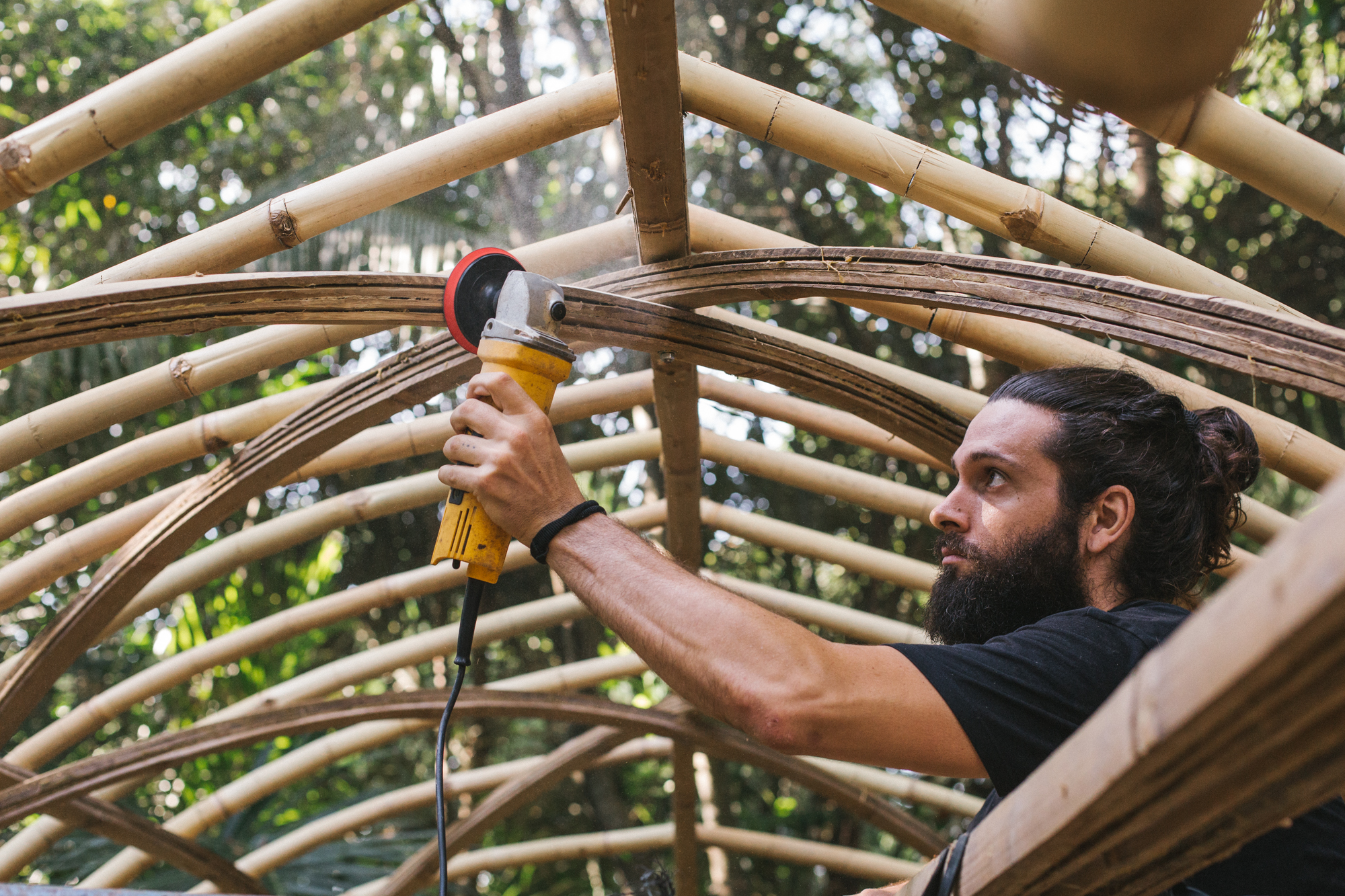 October 20-31, 2023
The 11 Day Bamboo Build & Design Course in Bali
In 11 days, we'll show you how to build bamboo structures we'll share all that it takes to build with nature.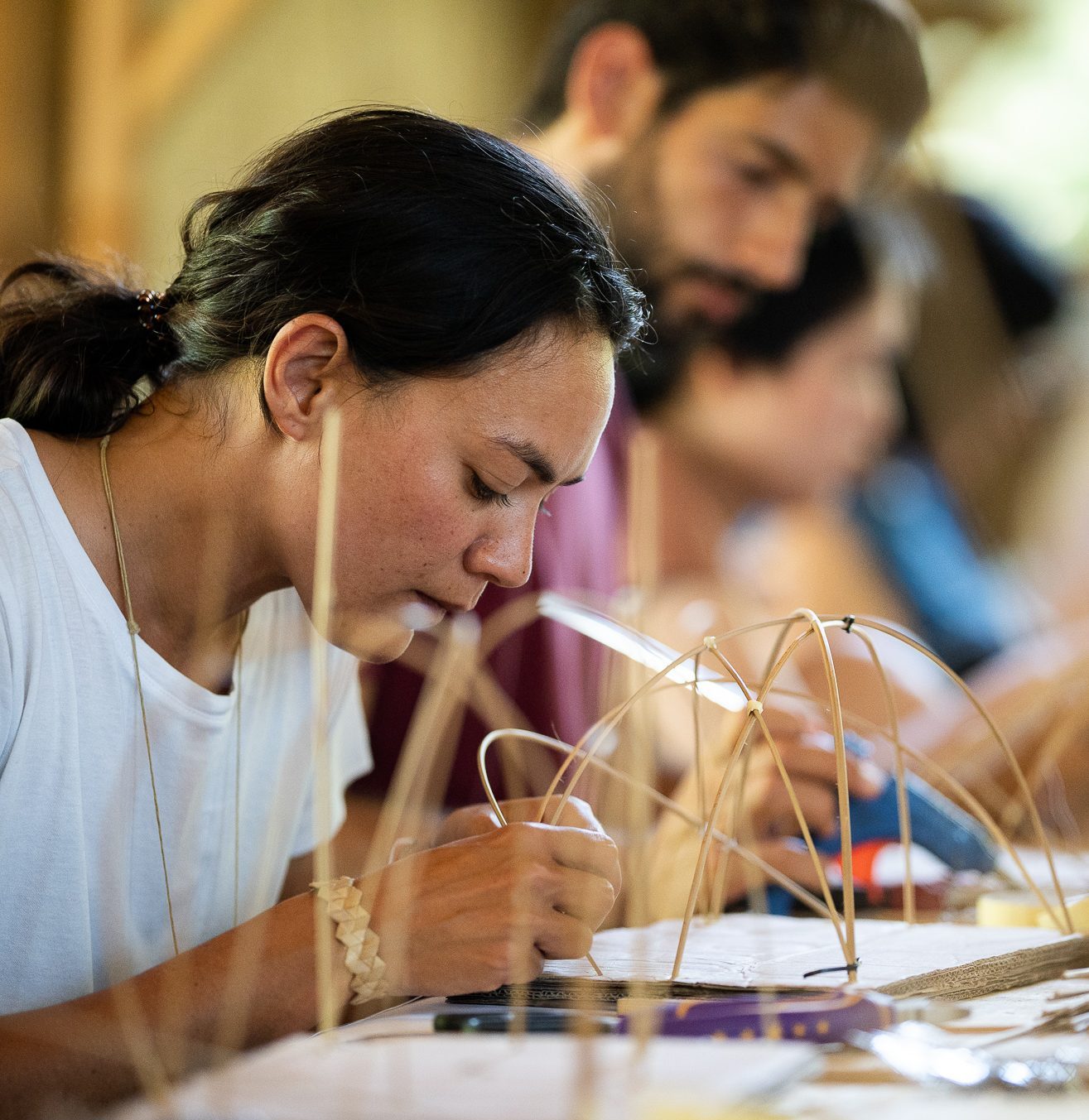 2024
The Fundamentals of Building with Bamboo Online Course
All the fundamentals you need to get you started working with bamboo. Deep dive into cinematic videos and step-by-step guides that will provide you with a strong understanding of bamboo as a design and building material.