Designing a Bamboo & Brass Table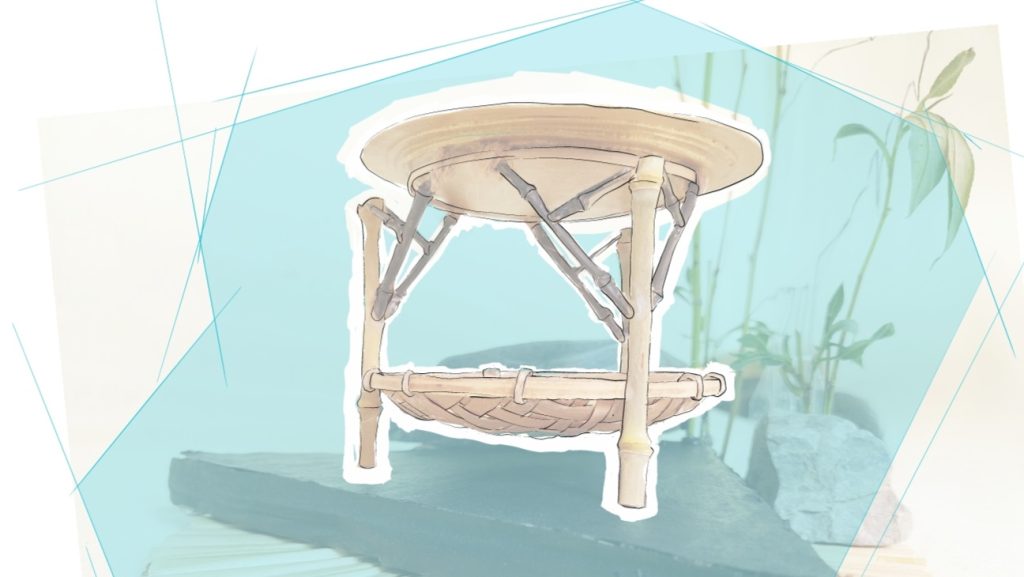 Read about Paul's journey designing and crafting a bamboo side table combining local bamboo, brass, and woven elements during the 11-week Bamboo U Online Course.
Nature is an inspiration. Time is a luxury. Yet if we sometimes take it, we give nature the chance to reward us with its beauty and may soon realize that it even can hide everywhere, humble yet incredibly powerful.
How not to be engaged everyday, when one dot millions of kilometers away brings enough light and warmth for all living forms, while birds get to freely cross borders without even having to think about it?
Associating bamboo with brass isn't just visually pleasing, it's a symbol of freedom and unity for all cultures. The idea of associating centuries-old traditions of craftsmen with a single object.
Attempting to capture the essence of what's possible with bamboo into a contained object so that even featured in a modern city room, it can bring exotism and dreams back into our daily lives and inspire us to create a brighter future.
I joined Bamboo U to explore and connect with the bamboo world. The course was deeply inspiring. The facilitators on the course were amazing human beings to start with, full of knowledge and of a very communicative passion that made me feel in the right place. They were great at guiding, and advising but also sometimes left us the freedom and autonomy to explore and discover what suited best our personal project. That was very precious also.
Bamboo Project
My bamboo project for the course was a side table of 40cm in height based around a brass plate that's roughly 50cm in diameter, which I named The Heron Table.
Besides the excitement of the design and engineering process, there was also a high symbolic engagement for me since I inherited the plate from my grandpa earlier this year. The plate itself is actually a tea platter he had brought back from a trip to Morocco, where there is an old tradition of craftsmanship hammering details on brass objects such as bowls, tea platters, or lanterns.
It was used over there for tea ceremonies which is a common tradition found in various forms in the world (Tibet, India, China, Japan, or even The United Kingdom, just to name a few, are other places where people traditionally gather around tea). So initially I wanted to showcase the platter using bamboo where the plate can serve as the tabletop.
Then the online course came around and proved to be very inspirational! After building and whittling my bamboo sticks and completing the first three conceptual models, I started to feel confident about the material. That's when the real fun began: I could trust my instincts, play with the material and let the inspiration flow.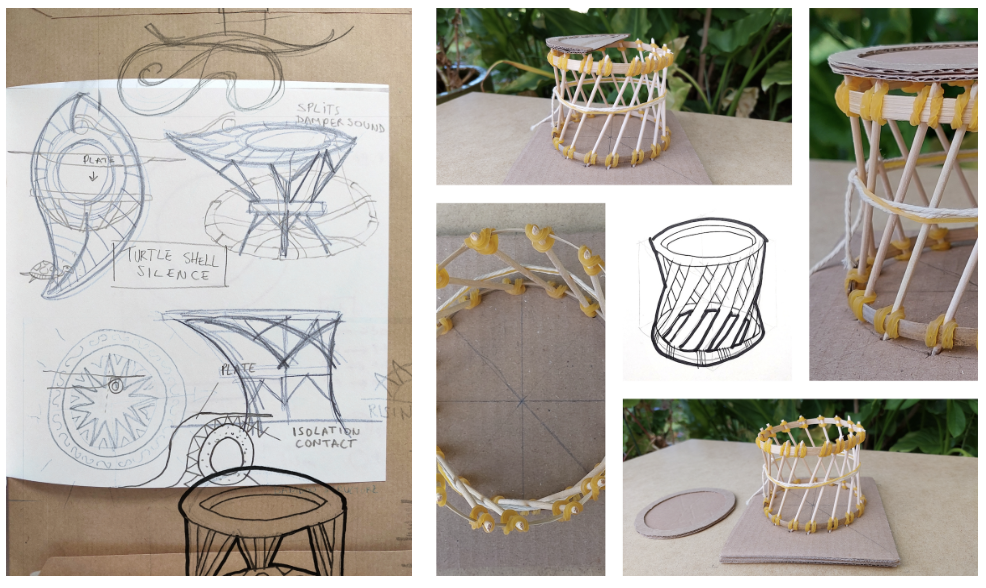 First, looking at the details of the plate I noticed the central star and the rays (as often found in oriental culture) like a glowing sun. There are also the curvy lines surrounding the plate which felt very floral or like a warm breeze of wind. Definitely something airy, light, and natural.
The image of birds flying in the golden light of dawn seemed to be capturing this very well. This brought me to this final heron concept.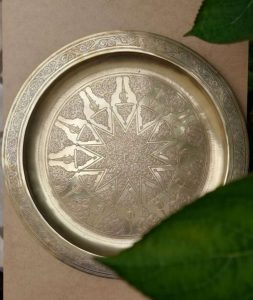 Until the end of the project, I found it fascinating how many connections could be made between that bird and the table. From the similarities in the geometric shapes of the legs, beak, or wings to the very organic textures and colors present in both. That magnificent animal was a big inspiration that continues to amaze me today. It feels proud yet humble.
Developing the Concept Into a Final Structural Model
Soon I connected with the idea of associating different bamboo varieties with different craftsmanship. With over 1500 bamboo species existing, I was inclined to enrich the project with a mix of varieties to show just how beautiful and versatile bamboo can be in its various shapes and applications.
I thought the shiny brass of the platter would marry very well with the texture of bamboo culms, splits, and other raw materials such as hemp rope for lashing and holding the plate snugly or bamboo sheaths for the basket waving.
At this point, I also discovered that black bamboo was a thing and recognized it would be a great design addition, contrasting with the overall light table (plate included). I'm especially happy with how the plate looks disconnected from the three big light bamboo legs. The game with light and dark bamboo hides the dark structure at certain angles and therefore is giving the impression that the plate is floating.
It captures the essence of the theme and does a great job of presenting the plate while also securely connecting it to the structure and ensuring minimum rumbling against the bamboo. Finally, you can still easily remove the plate if needed!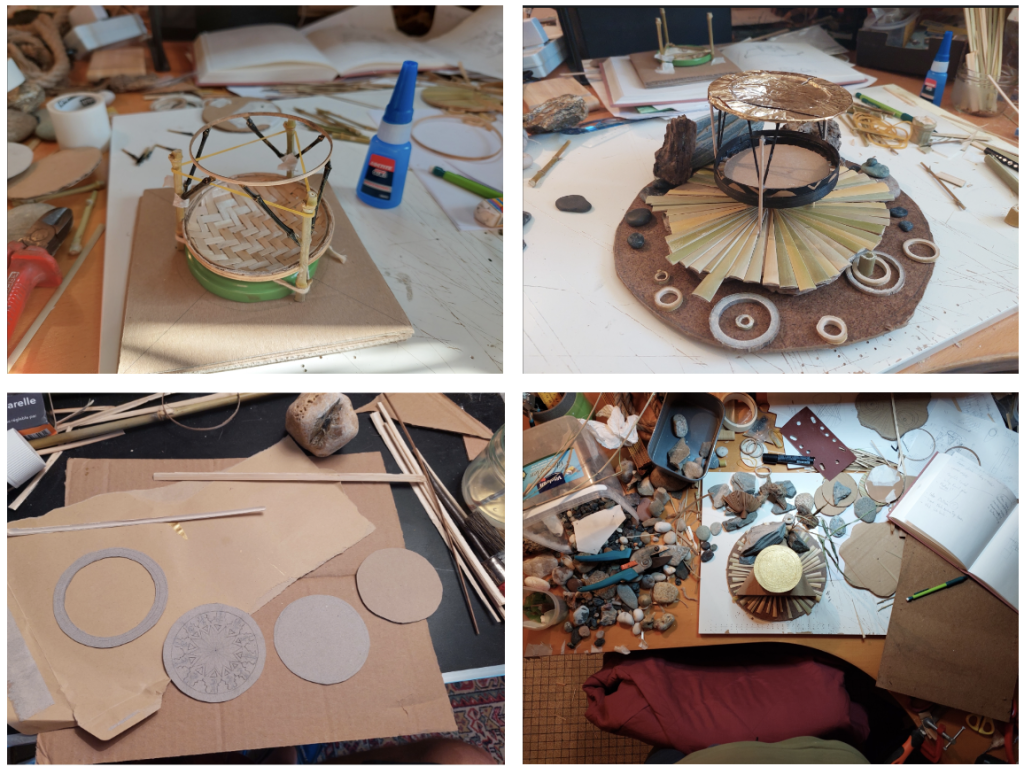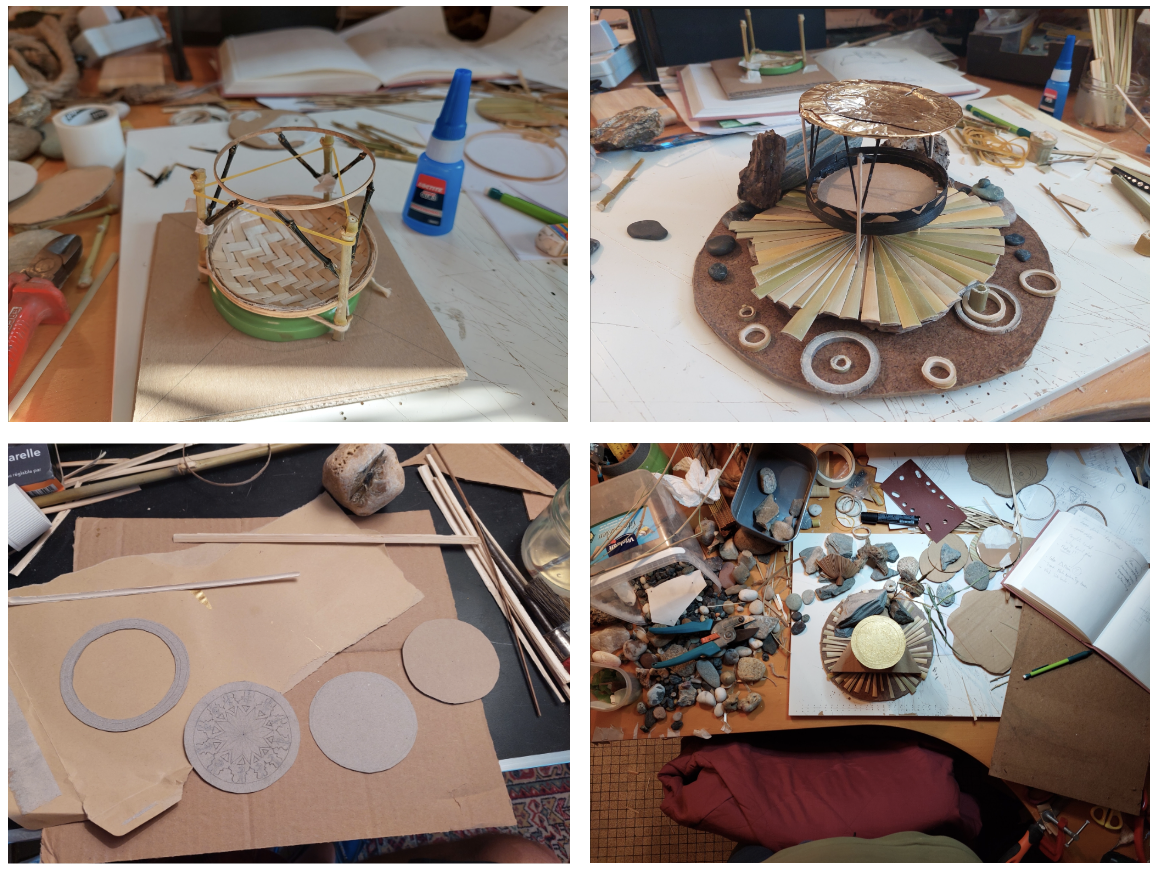 Building The Table
A good thing about designing a furniture piece (as opposed to a whole building), is that theoretically it can be built more easily in one's garage with limited space, resources, tools, etc. Treating the bamboo isn't strictly as necessary either since the table will be used indoors. One downside of my situation though, which is located in northern Europe, is the limitation of locally grown bamboo! The overall diameter of the culms here rarely exceeds a few centimeters which requires a lot of out-of-the-box thinking and experimenting to find solutions. Of course, you could always order culms from Asia or South America but in the process, you would also lose the whole ecological point of bamboo!
So I started experimenting, carefully splitting smaller bamboo, practicing small but sturdy fish mouth joints, or using the rup rup technique also to get a full 360° culm which I need 3 of to complete the table despite the small internode sections. It is still in progress, but since I only need rather small diameter culms anyway for this design, as I'm getting closer every day I realize how the whole process, even beyond the course, is quite thrilling and worth it in itself already. Today, we are still exchanging with the team and other alumni of the Bamboo U community which has really extended the benefit of the course for me and I'm also connecting with new bamboo people locally, who are growing Moso for instance.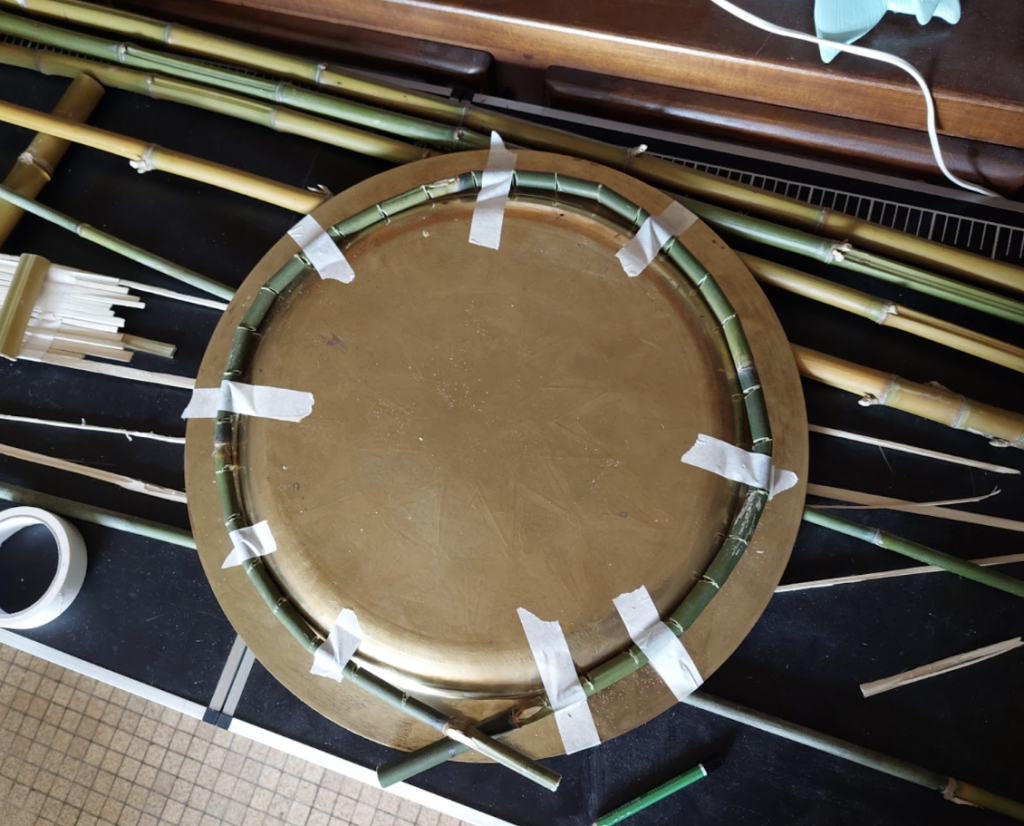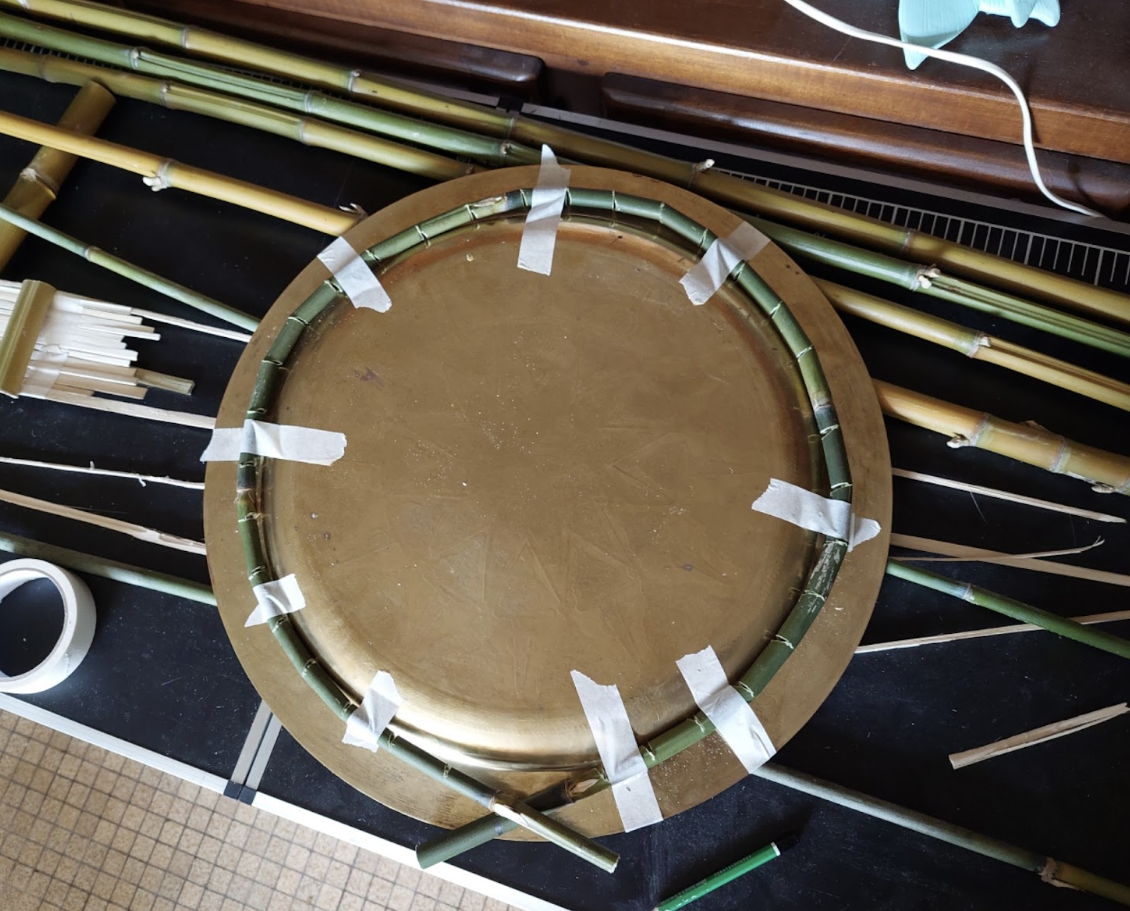 On the side, I started working on other lower-scale items that better fit the bamboo scales that are available to me (for now) so while building on my experience from the course and getting organized, I started working on a collection of bamboo lamps and miniatures figurines. I also started growing tropical bamboo from seeds in miniature bamboo glasshouses I built for the occasion. Given the conditions, I would say so far it started great, a promising start! Luckily bamboo grows fast so I can always use those to complete the table in due time! After all, don't we say time is of the essence and patience a virtue?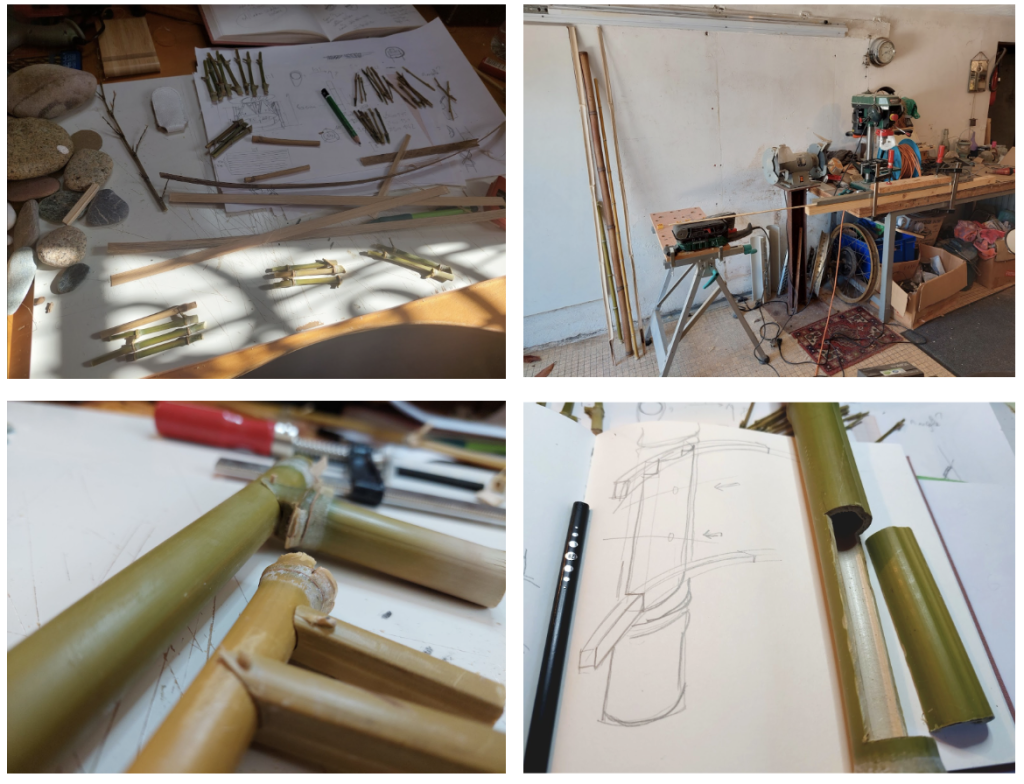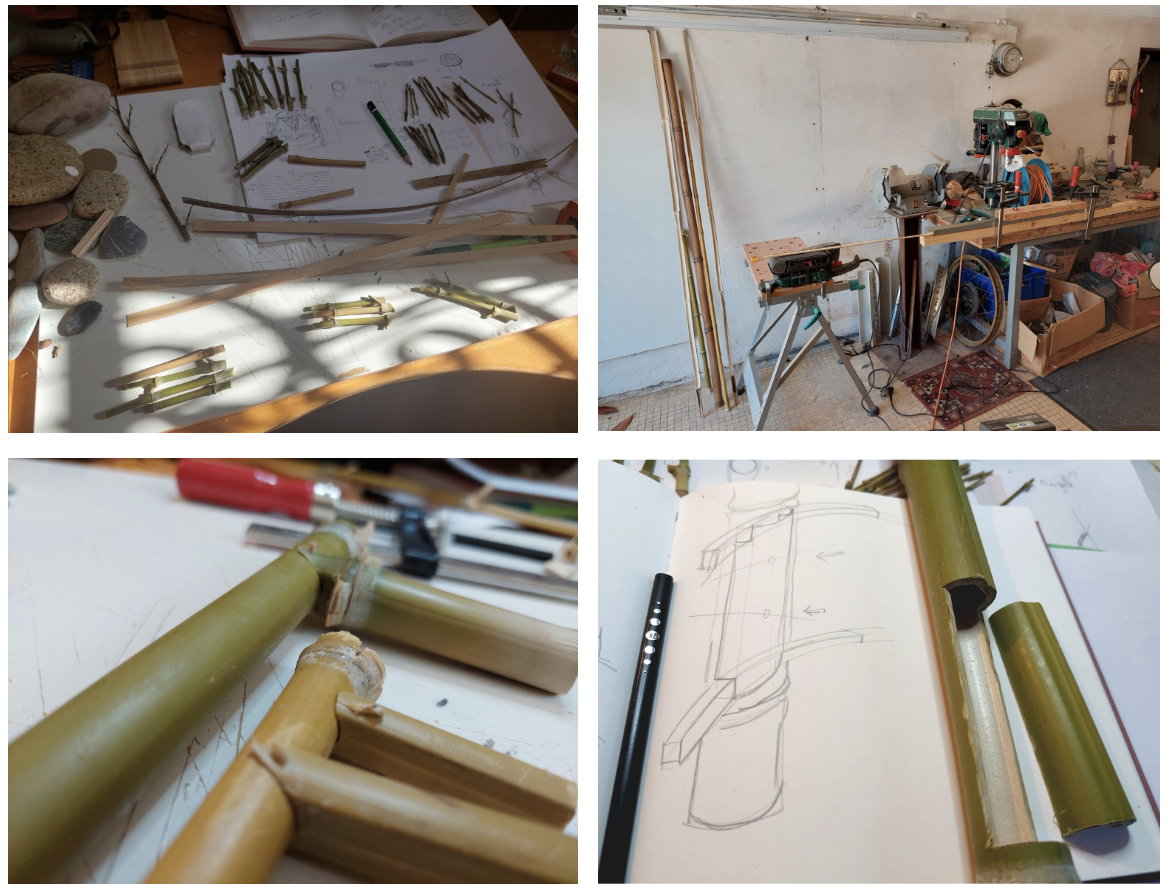 A special thanks to Orin Hardy, Kane Macartney, Cécile Durand, and everybody that was part of the program that inspired and supported me in the process. The Bamboo world is a thrilling passion, with this amazing material and its many possibilities it feels like the sky's the limit.
Thank you!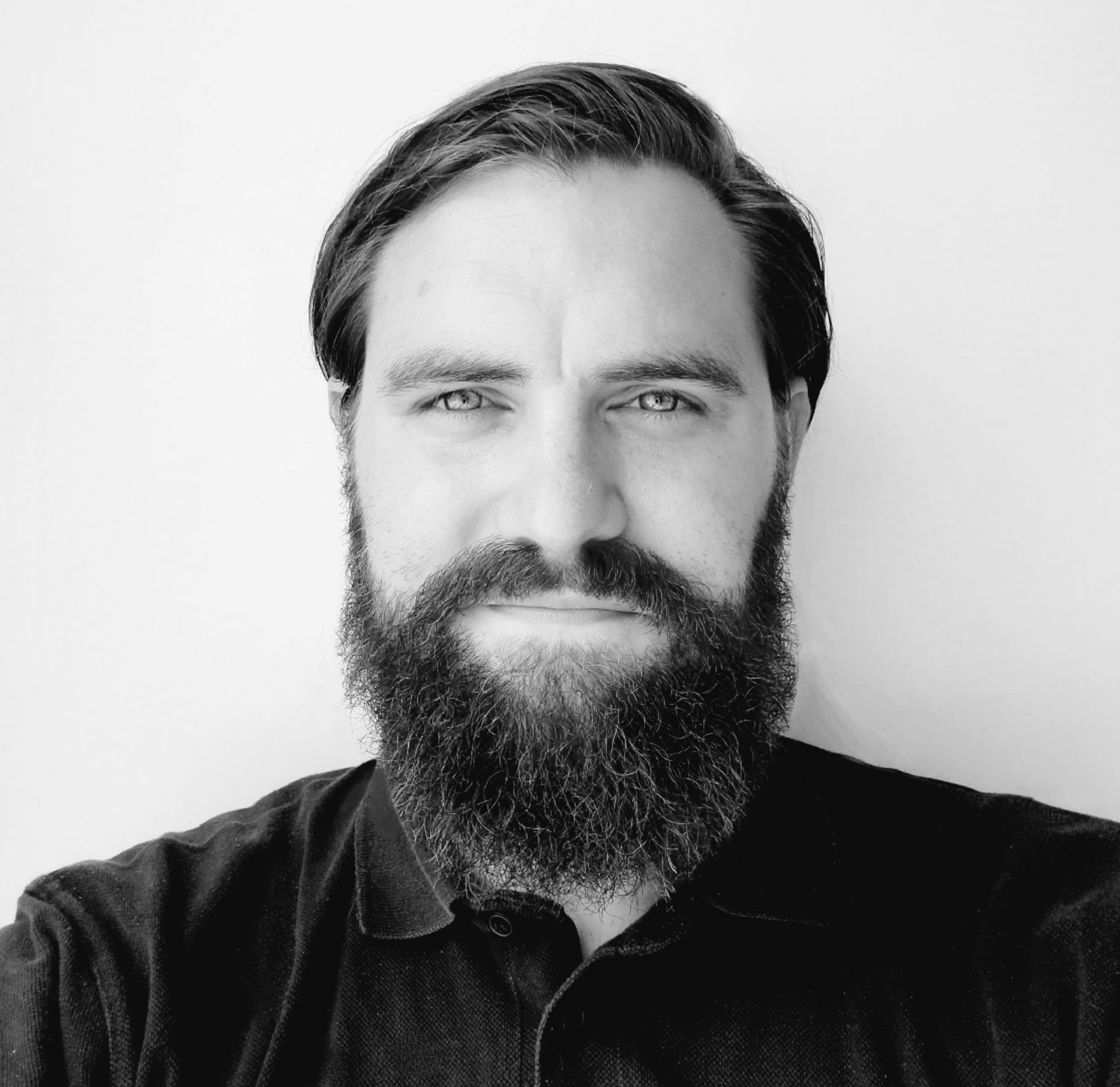 About the author
Paul is first an animator for tv, then a theme park designer, and now passionate about bamboo with a growing commitment to nature and future generations. Throughout my international experiences, his dedication is to bringing his creativity to help build a more engaging and more sustainable future together.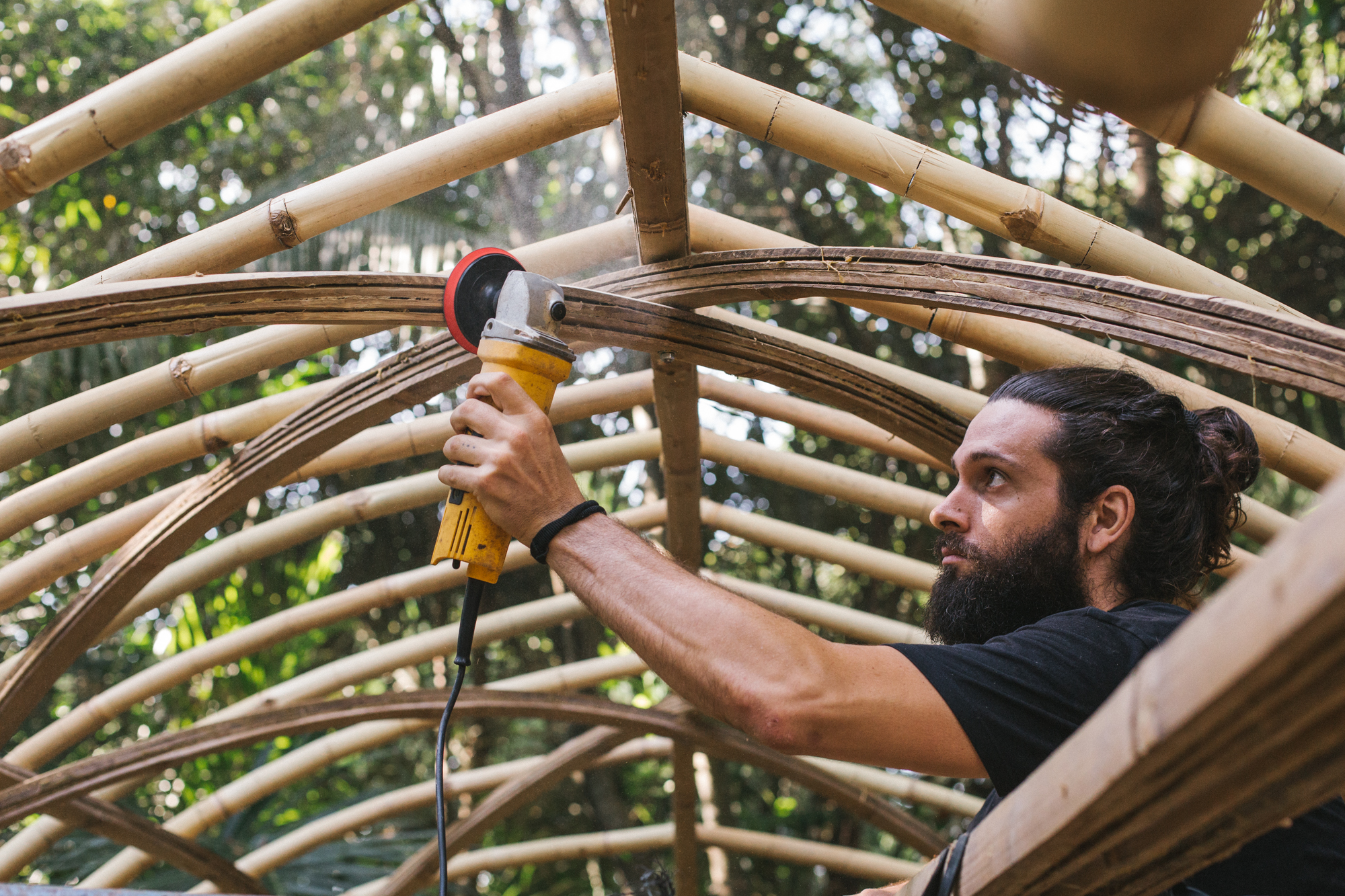 October 20-31, 2023
The 11 Day Bamboo Build & Design Course in Bali
In 11 days, we'll show you how to build bamboo structures we'll share all that it takes to build with nature.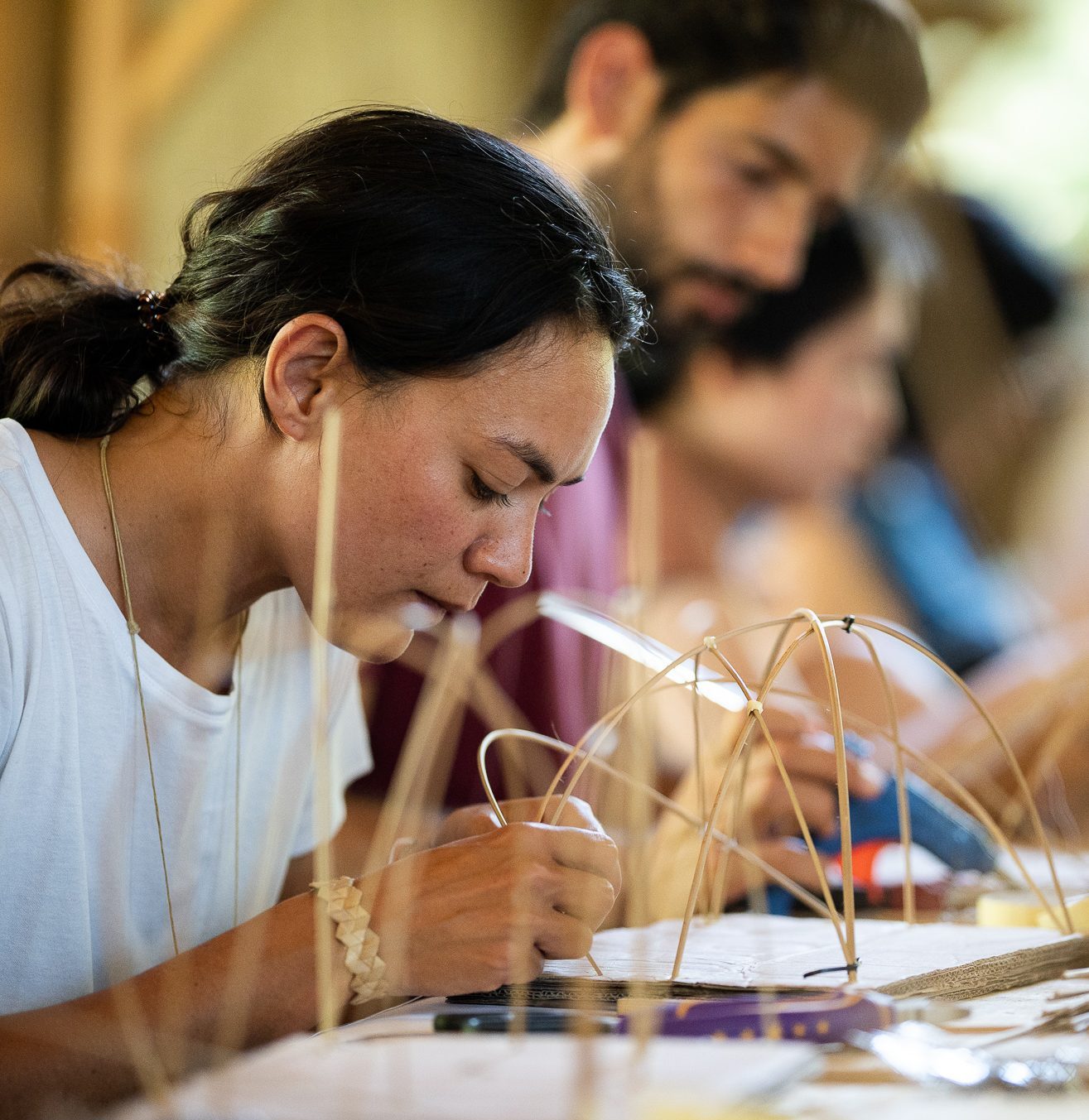 2024
The Fundamentals of Building with Bamboo Online Course
All the fundamentals you need to get you started working with bamboo. Deep dive into cinematic videos and step-by-step guides that will provide you with a strong understanding of bamboo as a design and building material.