Explorations Of A Typhoon Safe Bamboo Structure
By Nathania Brocoy Ritualo | July 29, 2022 | Alumni -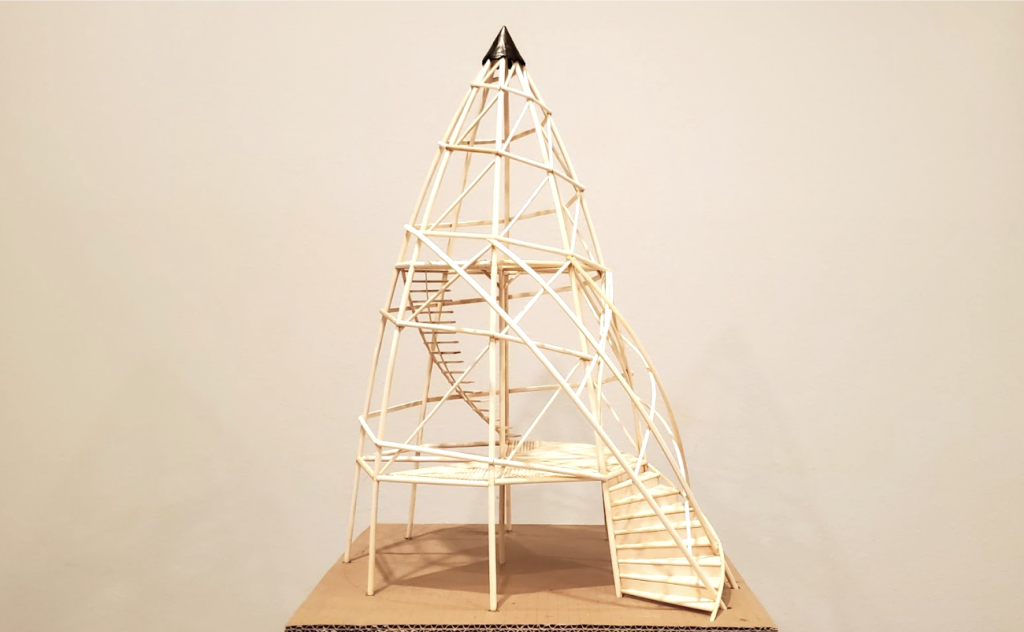 In this article, Nathania shares her experience of exploring the design of a typhoon-safe structure during the 11-week, Bamboo U Online Course.
Student Name: Nathania Brocoy Ritualo
Name of Project: Project Wind
Bamboo U Course Title Attended: The Bamboo U Online Course
Year/ Month attended Bamboo U: January 2022
Country: USA/Philippines
Work/ University: Cerritos college
My name is Nathania Brocoy Ritualo. As of right now I am planning to study architectural drafting and design in the fall of 2022 to learn how to communicate my ideas better on paper and with CAD software.
Back in 2018, I took some construction courses at El Camino College and one of my teachers shared a video of Elora Hardy's Ted talk. I was amazed by the bamboo houses that I saw and I knew I had to show the video to my mom. From then on we began to dream of building bamboo structures in the Philippines. At this time Bamboo U only had an onsite course, so I could only plan to go to Bali someday to take that course (a goal I still have yet to fulfill). Several years had passed and we forgot about our dream until 2021 when the dream came back to us. I checked out Bamboo U's website again and I was excited to find out they created an online course which I immediately enrolled in.
The online course taught me so much from planting and caring for bamboo, to harvesting, treating, and processing, to designing, model making, and building bamboo structures. My favorite module in the course is the one dedicated to bamboo model making. Within that module, there is a step-by-step guide to building the model for a pavilion called: The Kubu. Making the model was just what I needed to get a great understanding of how to work with the material which helped me design and make my own bamboo models for the first time.
The Bamboo Building Concept
I called the project, Project Wind because wind is one of the major elements that makes typhoons so destructive. Project Wind is all about creating an experimental bamboo structure that can hopefully withstand typhoons. The diameter of the structure is approximately 3.5 meters and the height is about 7 meters. It can be used as a living space, hangout or shelter during extreme weather.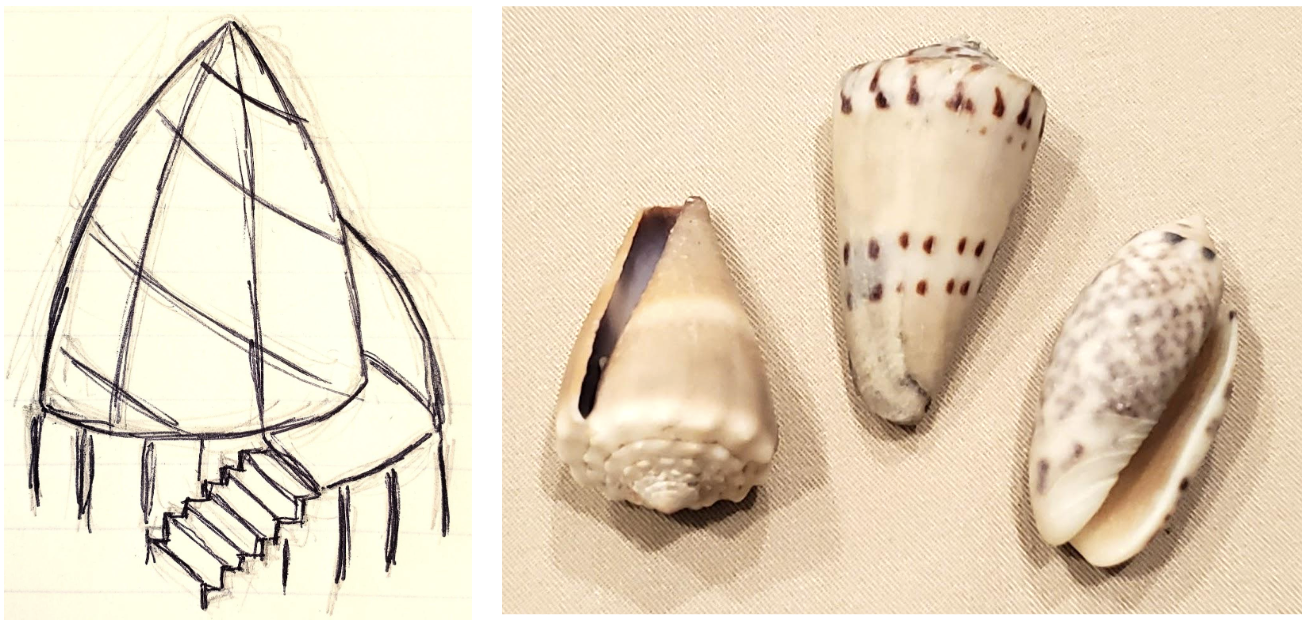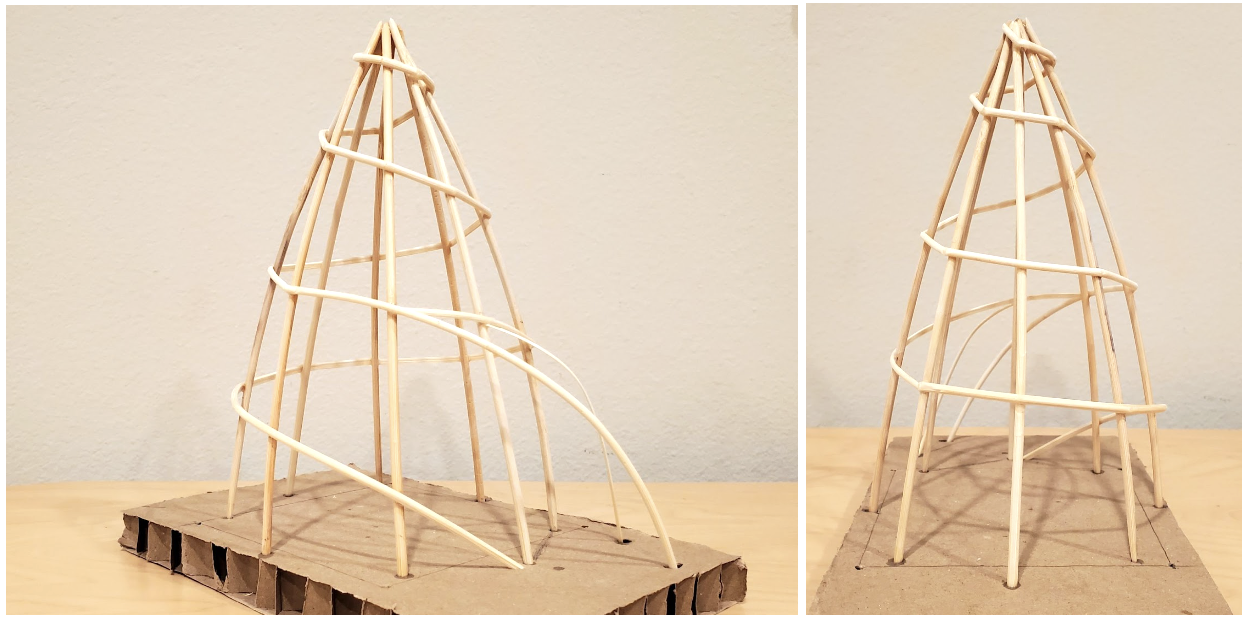 Developing The Concept Into A Structural Model
When developing my idea I did some research on what houses work better in areas that are prone to experiencing high winds and storm surges. After researching, I decided I wanted a structure on high stilts, with two floors, cone-shaped, and with minimal or typhoon-resistant windows. I chose the shape of a seashell as inspiration.
One of the things I drew inspiration from in the course was grid shell structures. I used that system for the part that shelters the entrance. I also used a lot of triangulation between the eight major columns to create stability. On the outside of the major columns, there is a spiral that wraps around all the way to the top where it meets the metal cap of the structure. On top of the steps is a pointed arch entryway and through the entryway is an open floor and the second set of stairs that lead to the second floor.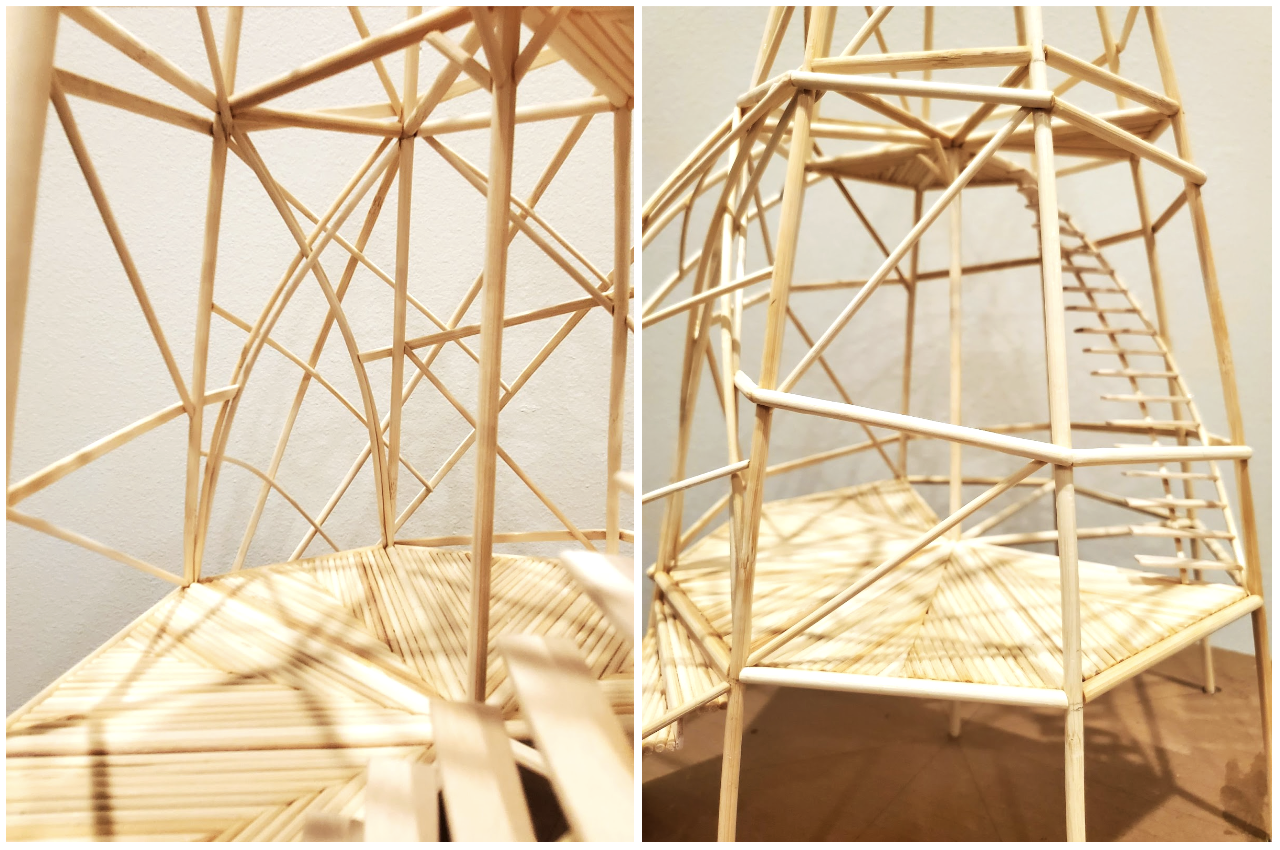 The Online Bamboo U Course teaches you everything you need to know to start building with bamboo and this helped me with understanding the possibilities and limitations of working with bamboo. When it comes to the possibilities, seeing the structures shown in the course has inspired me to build beyond the norm.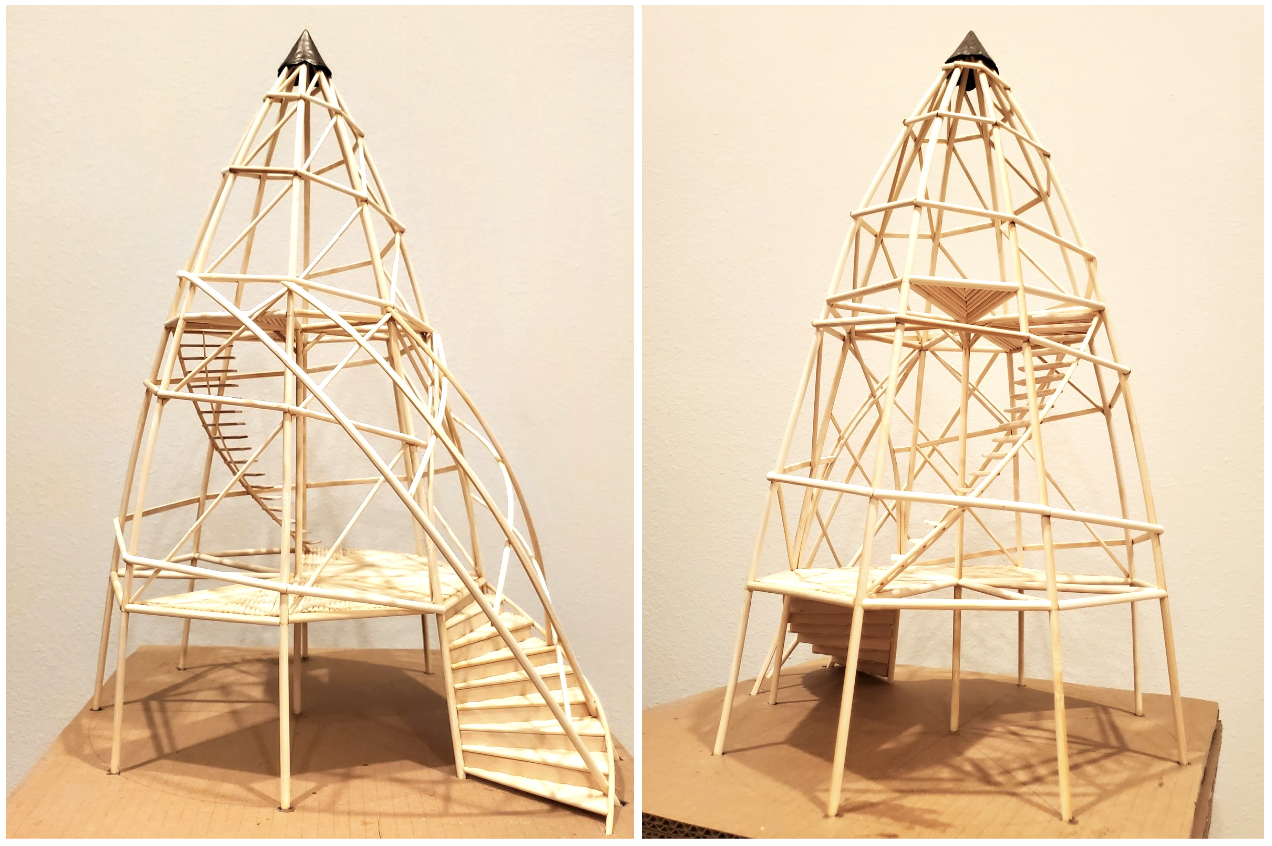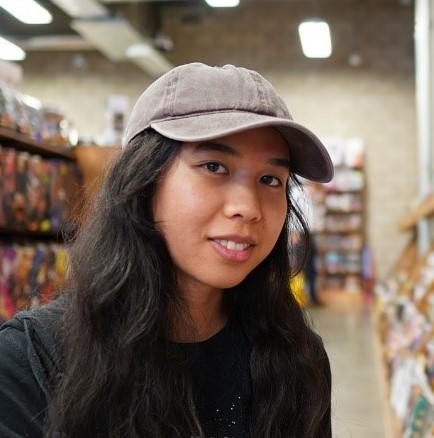 About the author
Nathania Brocoy Ritualo
|
Student, Artist, Entrepreneur
Nathania is a fiber artist and entrepreneur. Her passion is to create spaces that bring out people's curiosity, imagination, and inner child. One of her dreams is to create an interactive garden displaying bamboo structures.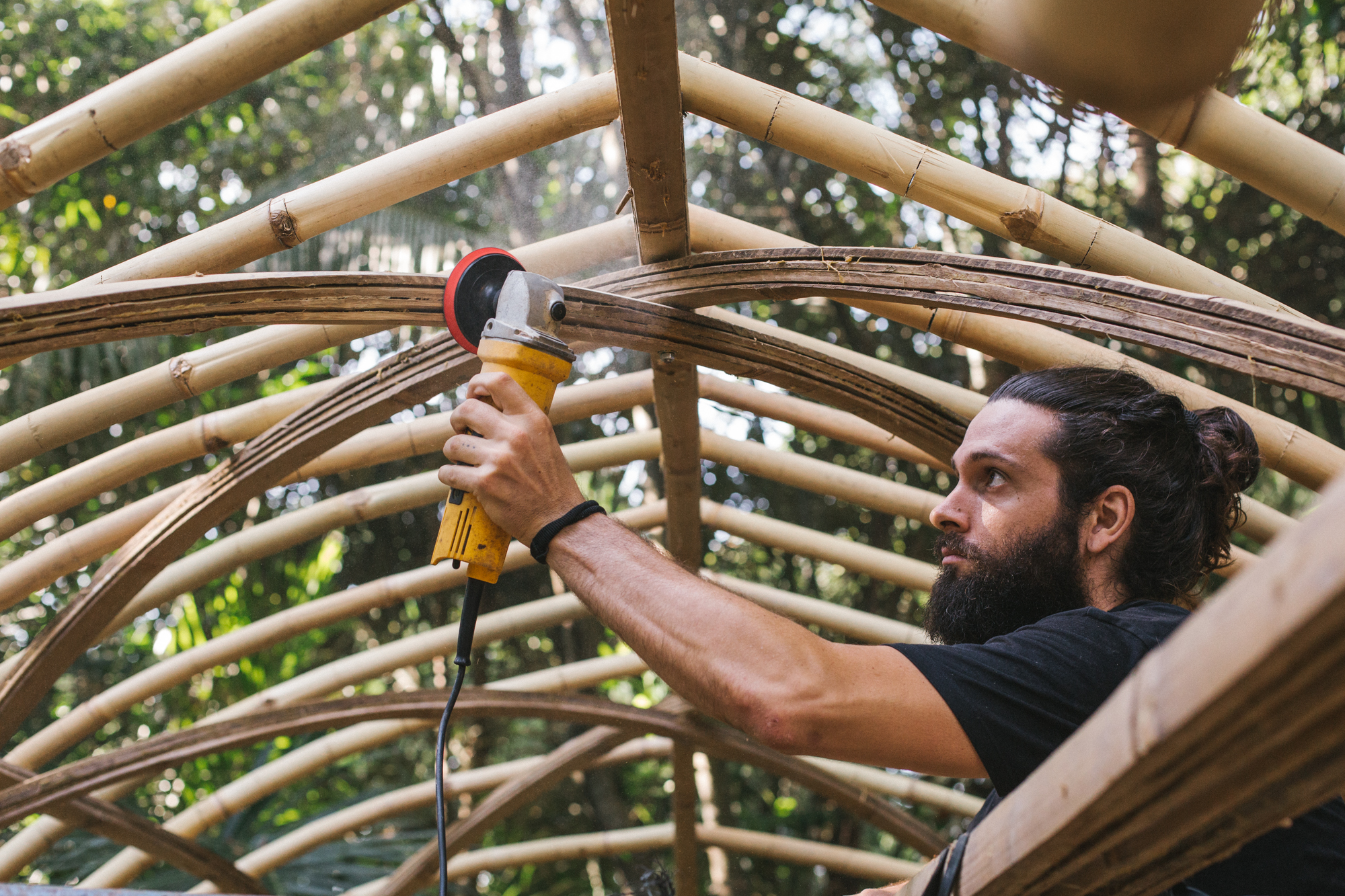 March 22- April 2, 2024
The 11 Day Bamboo Build & Design Course in Bali
In 11 days, we'll show you how to build bamboo structures we'll share all that it takes to build with nature.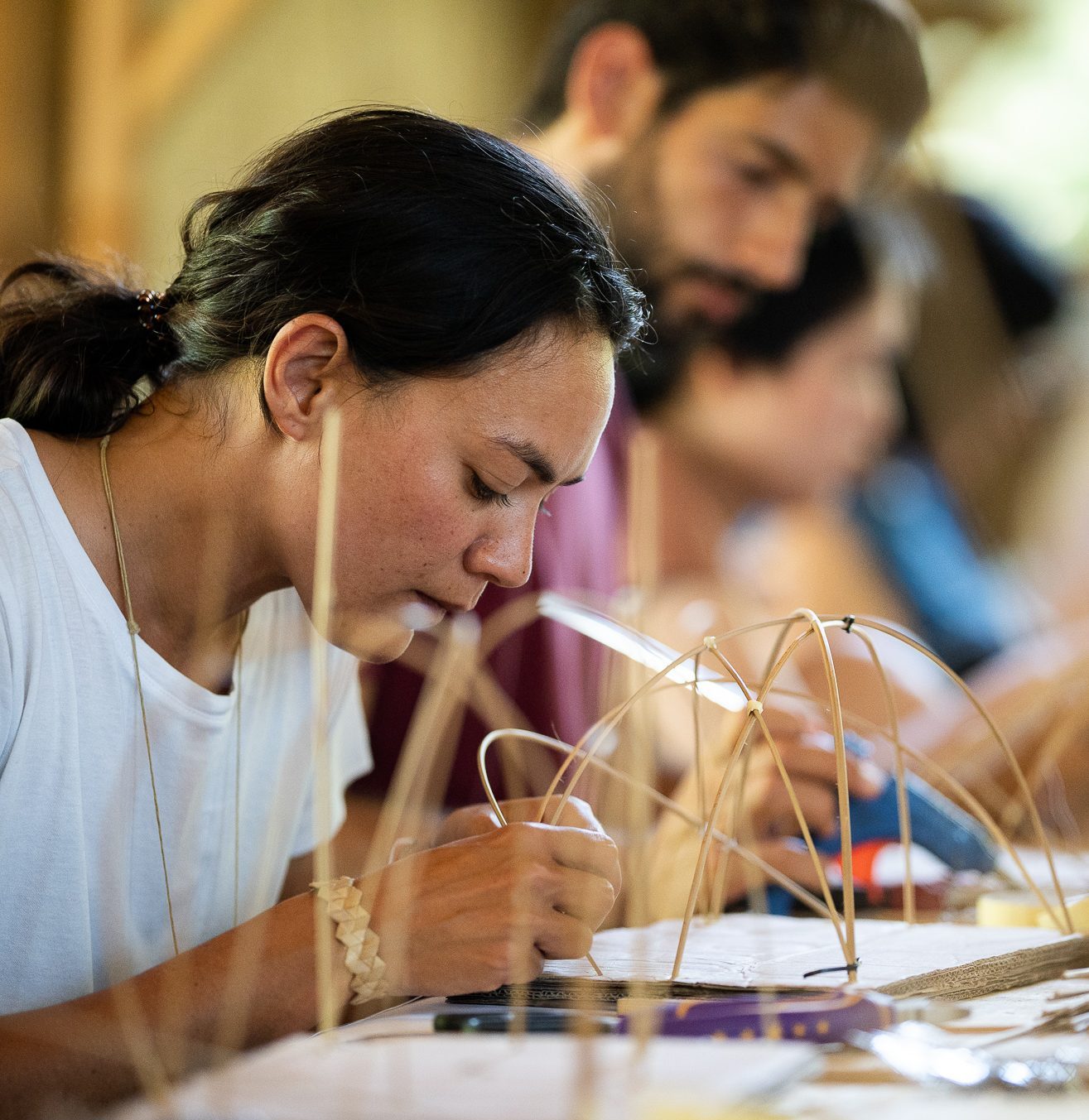 April 26, 2024
The Fundamentals of Building with Bamboo Online Course
All the fundamentals you need to get you started working with bamboo. Deep dive into cinematic videos and step-by-step guides that will provide you with a strong understanding of bamboo as a design and building material.