How To Cost A Bamboo Structure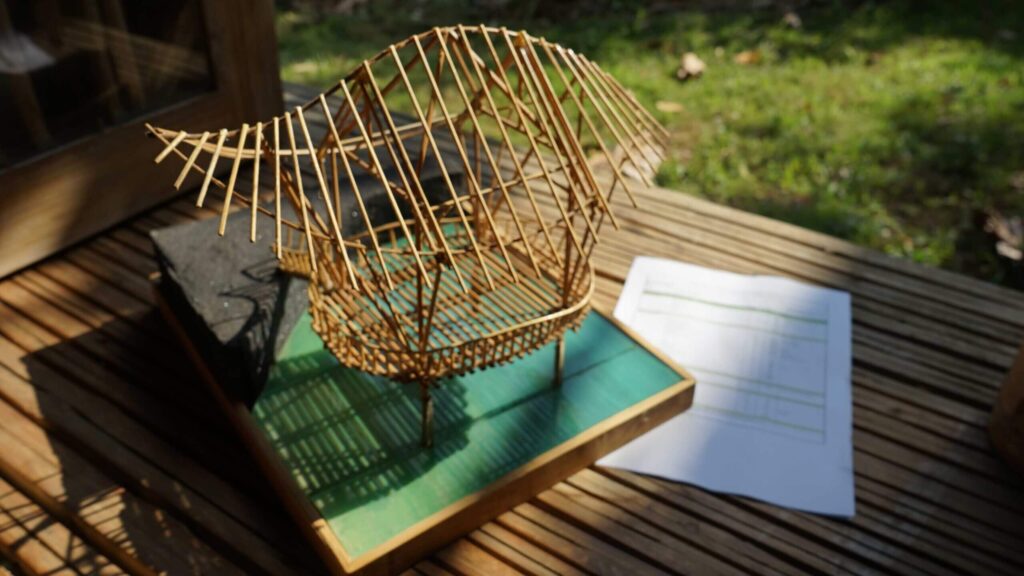 Costing a bamboo building is very different from costing a conventional structure. Although often a point of concern for architects, costing is an important creative boundary
Costing a bamboo structure is quite nuanced and unique. Please keep in mind that this article is somewhat of an over-simplification and by necessity mostly a conceptual approach to costing a bamboo building, nevertheless it will provide you with a strong starting point.
We have used a Bamboo U Building called The Kubu as a case study for this costing exercise. At the end of the article we have prepared for you a free template that you can use as an example to cost your own bamboo structure.
Here are the 3 categories to consider when costing a bamboo structure:
Bill of materials
Labour estimates
Construction planning and management costs
1. Bill Of Materials
Once you have established a clear design and chosen the material palette for the walls, flooring, and roofing of your bamboo structure, you will need to create a scaled structural model for your bamboo building.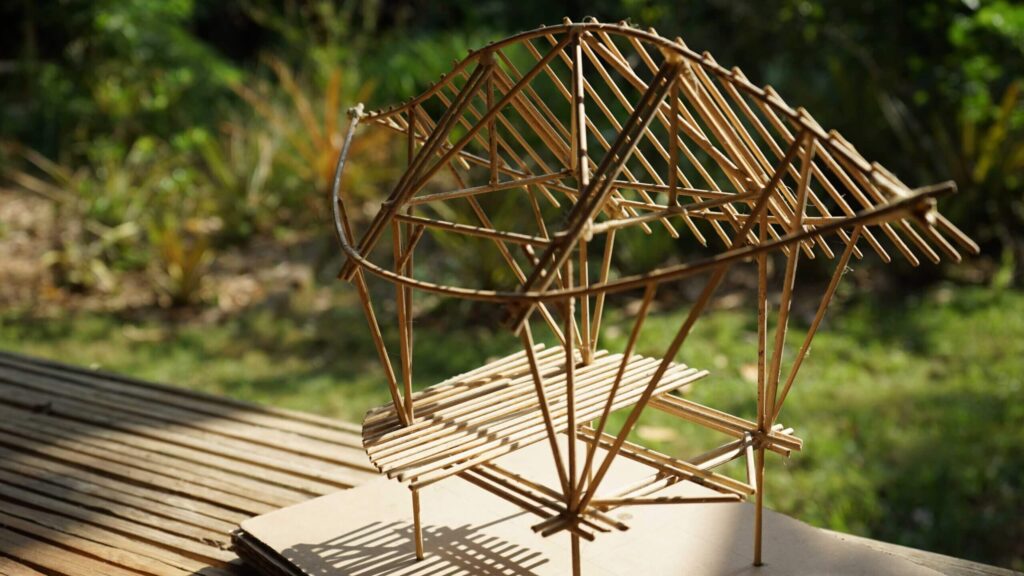 Once your structural model is finalised, a bill of materials is created with all the specifications required for the project. This includes the species of bamboo you will be using, the length of each bamboo pole, and the section of bamboo that will be used for the various different elements of the structure - the base, the middle section or the top section.
The bill of materials is important in estimating your material costs, it acts as a checklist for the materials you will need to source and purchase and helps in the scheduling of material deliveries.
Due to the irregularity of bamboo, we recommend adding 20% of the quantity of bamboo poles counted from the structural model to the bill of materials. This will give you a contingency of extra poles to work with should some of the ones that arrive from the bamboo forest or bamboo factory bend in a way that you don't like or have blemishes or scars.
A Kubu in Bali is a rice farmer's pavilion in the rice fields, a place for the farmer to rest in the midday sun. We kept the design of the Bamboo U Kubu very simple, we used whole bamboo poles for the flooring, local grass thatch alang alang roofing, and kept the structure walless with an open-air design.
For the structural columns we used the middle section of Dendrocalamus asper, for the rafters we used the top section of Gigantochloa apus and for the flooring we used the base section of the same bamboo; Gigantochloa apus. Finally, customised bamboo splits of Dendrocalamus asper were used for the ridge.


2. Labour Estimates
Once your structural model is finalised, together with your contractors and construction team you will want to talk about the construction techniques and detailed finishing you plan to use. This will give you an idea of the kind of craftsmanship and building team you require to complete the structure which will in turn enable you to create a timeline for the project and estimate the labour cost.
It took us a few projects to fully understand how to account for our labour costing properly. Here is a simple formula you can use to estimate labour cost: number of days X number of carpenters required X daily cost per carpenter.
In the Bamboo U Kubu structure, we used simple and quick building techniques which required basic building skills and therefore needed less time to build.
We fastened the structural members together using bolt joints, these are faster to assemble than any other bamboo joinery techniques. We used round poles for the flooring that required no extra processing. For the foundations and roofing, we hired a skilled contractor. The only element of the structure that required fine detailing and a high level of craftsmanship was the railing entrance to the building.


3. Construction Planning And Management
Consider the following elements when planning your bamboo construction:
Site preparation
You will need to set up a raised platform to store your bamboo on site and cover it with high quality tarpaulin. Keep your bamboo protected from sun, rain, and insects. Think about how your site may impact your construction and management. Will you need a crane? Can the crane reach your site? Is there a space for material drop off?
Weather conditions
If you are planning to build your structure during monsoons/ rainy season this may lengthen your timeline, quality of construction and if unprepared, your costs!
Before beginning construction ensure all the materials are available on site or schedule their arrival so that they reach the site by the time you need them.
The building site for the Kubu project was challenging, we had little space to work with and the area was very narrow. This impacted the construction techniques we decided to use. We used a template system to make the structural members on the ground offsite and transported them to site. We also pre- cut the rafters off-site and transported them later to be installed.
In just 5 days, during an 11 Day Bamboo U Build and Design Immersion in Bali, we built the full structure, half of the flooring and one side of the rafters. Later the rest of the roofing, floor and the finishing details were completed by our 4 Bamboo U carpenters.
During construction, we worked simultaneously on the roofing and the flooring. This minimized construction time considerably. It took a little over 3 weeks to complete this small bamboo pavilion.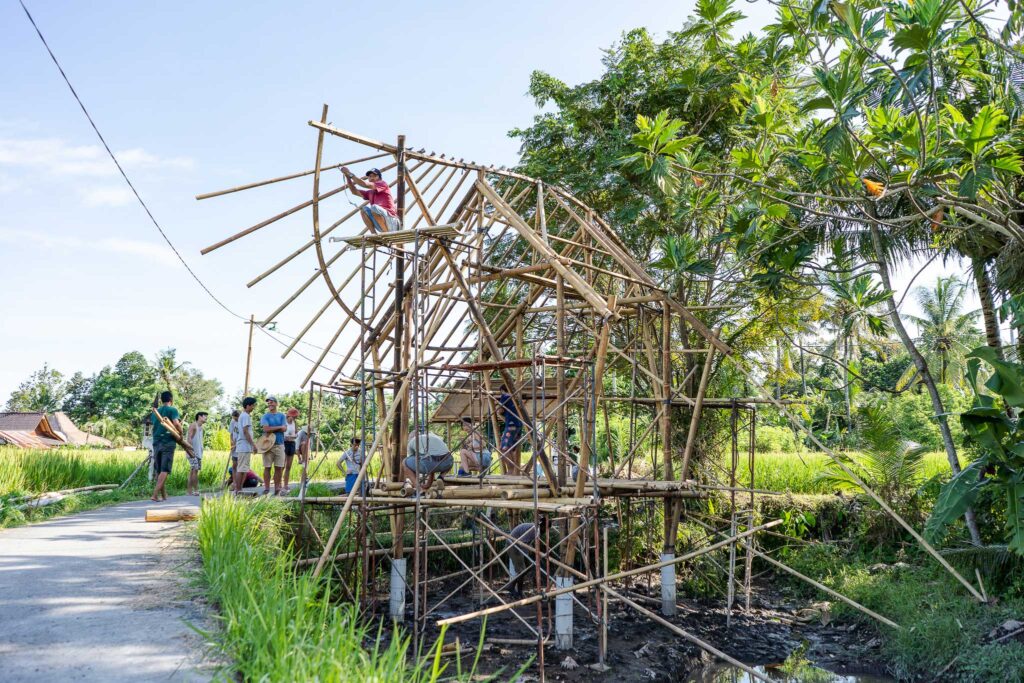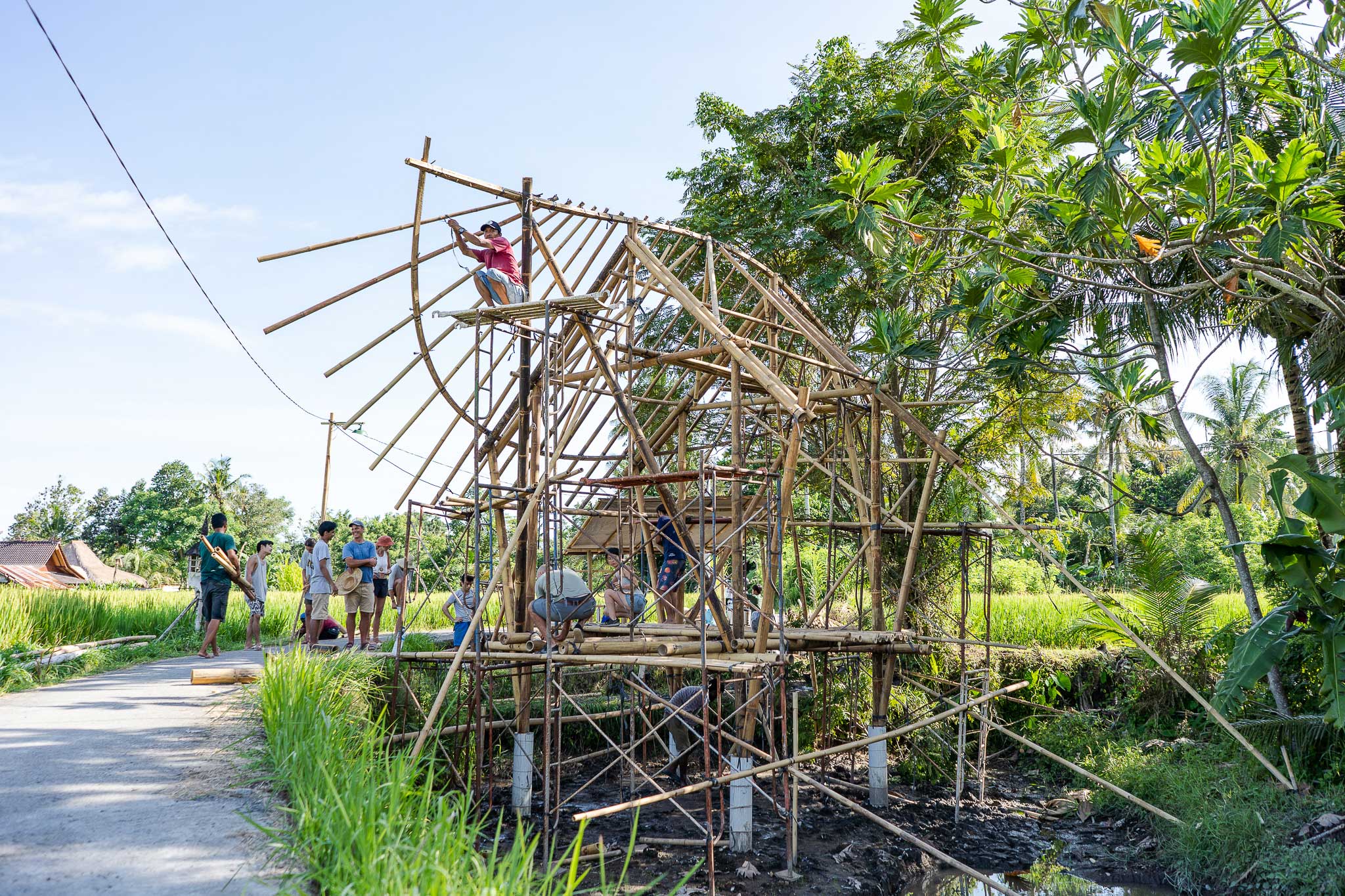 Keep in mind that there are many more variables to consider when designing and building with bamboo as opposed to conventional construction. There are numerous ways to plan the construction of a structure, bamboo pole selection is very important to avoid wasting bamboo, and bamboo is a non-standardized material, so your design and the materials you are using; the shape, roof and floor, and the number of poles you end up using will dramatically vary.
This means it is very hard if not impossible to estimate the true price using a price per square meter. This is a challenge when working with clients, but this irregularity is what makes bamboo so beautiful and unique and presents wonderful design opportunities. With experience, you will learn how to better plan for tolerance in your designs and buildings.
DOWNLOAD A FREE COSTING TEMPLATE TO HELP YOU COST YOUR OWN BAMBOO STRUCTURE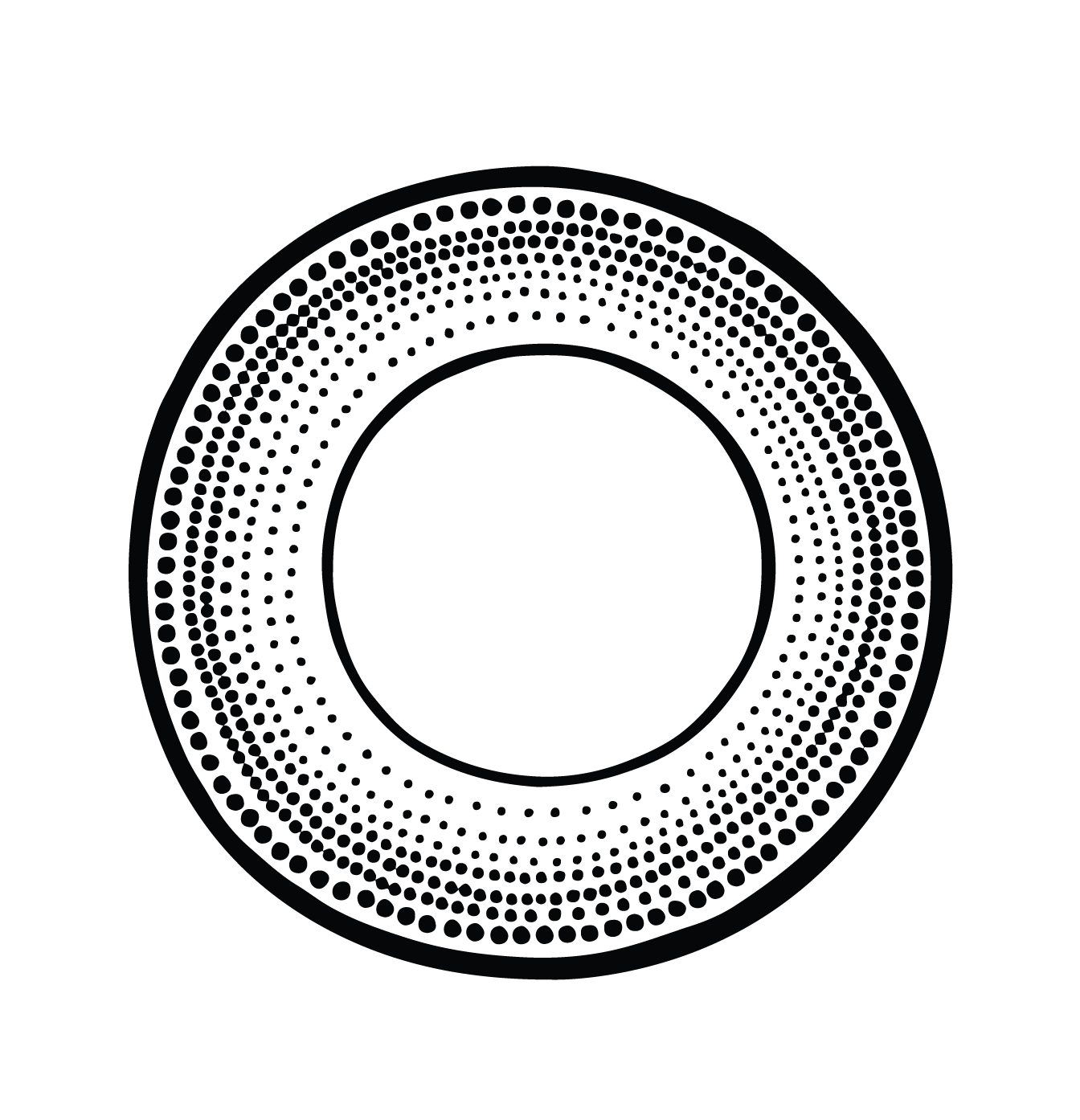 About the author
Maria Farrugia & Sai Goutham
|
Director & Research & Development Manager
Maria is the Bamboo U Director and Sai Goutham is the Research & Development Manager. Together they formulate ideas, write content and create illustrations to share knowledge of bamboo architecture and design.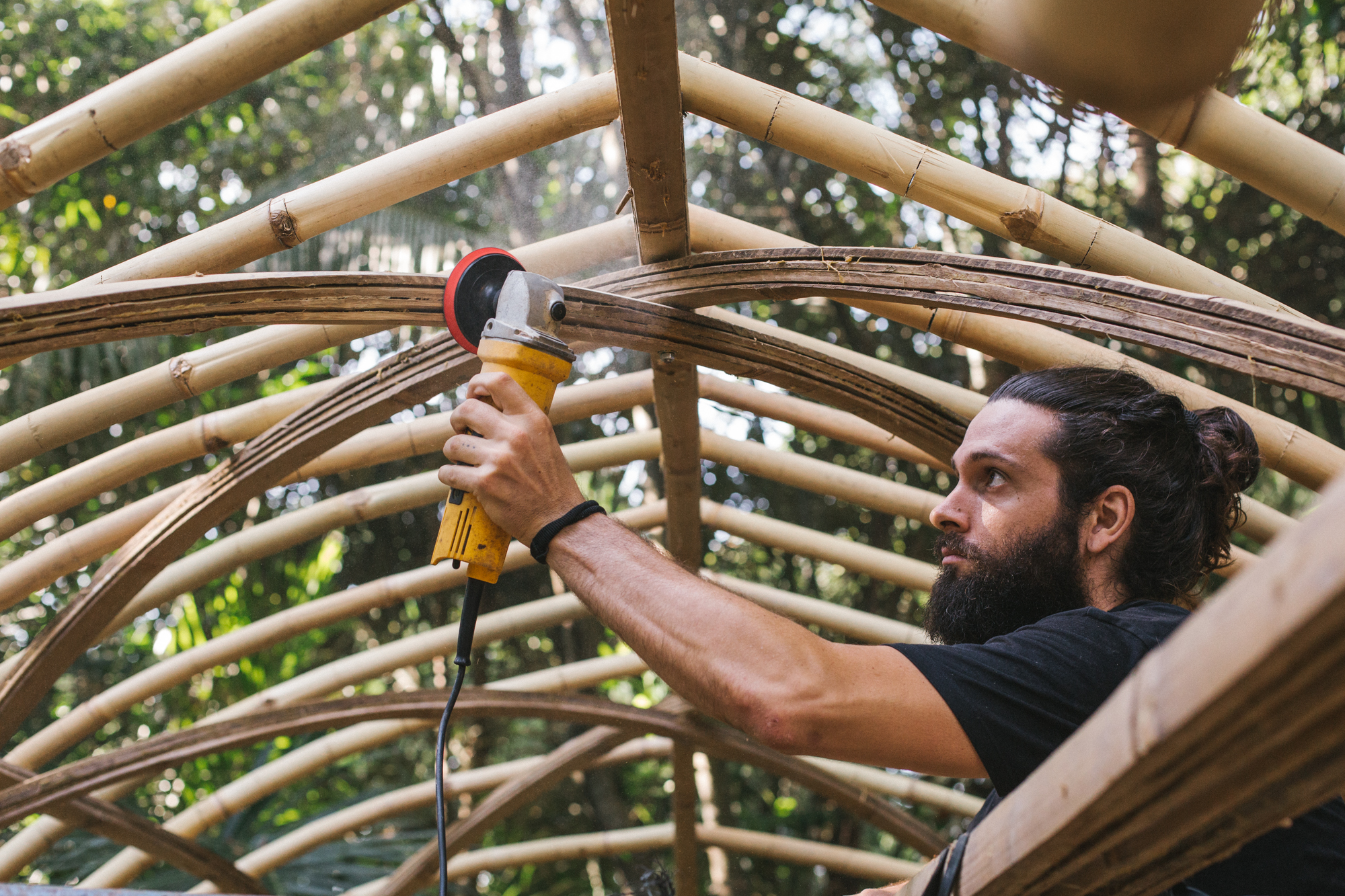 March 22- April 2, 2024
The 11 Day Bamboo Build & Design Course in Bali
In 11 days, we'll show you how to build bamboo structures we'll share all that it takes to build with nature.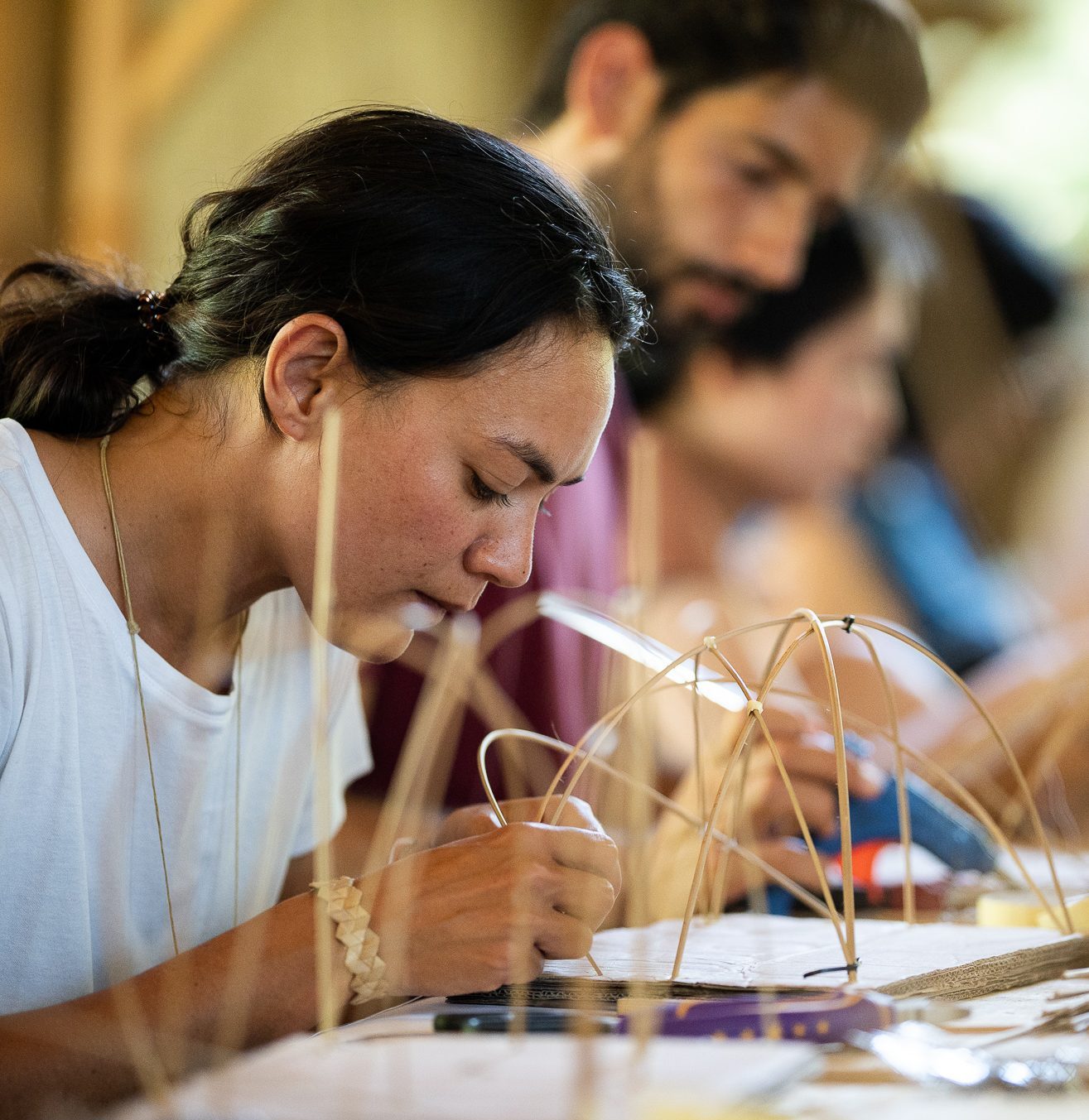 April 26, 2024
The Fundamentals of Building with Bamboo Online Course
All the fundamentals you need to get you started working with bamboo. Deep dive into cinematic videos and step-by-step guides that will provide you with a strong understanding of bamboo as a design and building material.