Top 5 Chair Designs Built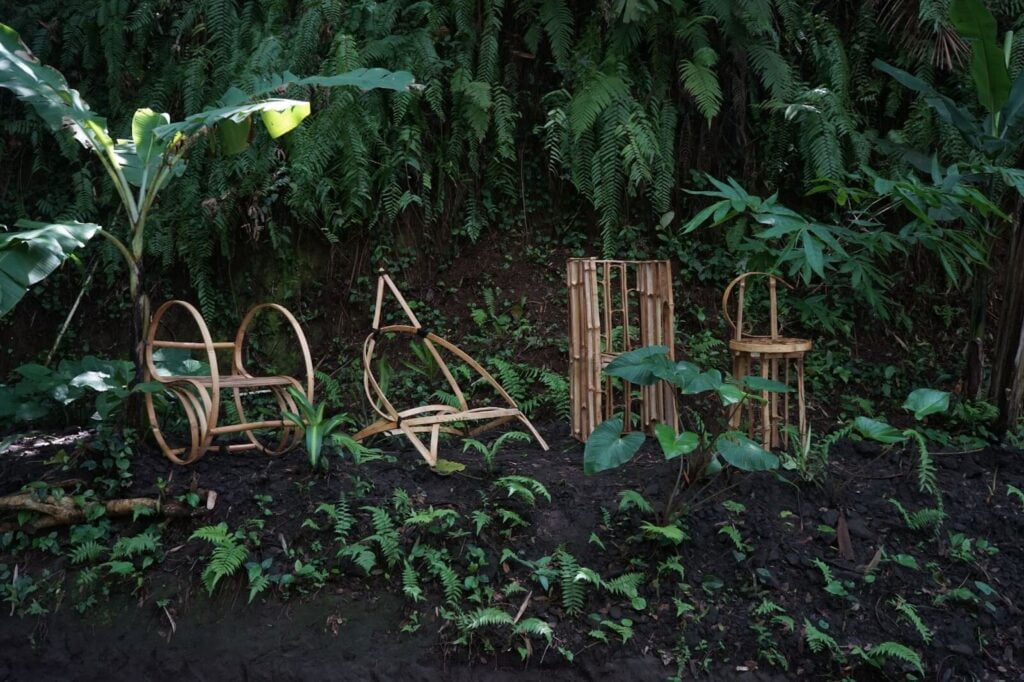 During our courses, we are continuously amazed by the creativity and ingenuity of our participants. Whether online or in-person, the Bamboo U participants have always brought a wealth of both knowledge and artistry to the world of bamboo design and construction. With the end of the year just around the corner, we thought it would be a nice time to reflect on what our students have designed and built during past courses.
Though the majority of our Bamboo 11-Day Build & Design Immersion is dedicated to participants working on a dedicated construction site, some do have the opportunity to develop their own smaller projects. We liked to call this the "Carpentry & Design Station". Originally led by Scott Vandervoort, from the Pratt Institute in New York, and a team of skilled bamboo carpenters, the Carpentry & Design Station fostered creativity to allow students to test the bamboo at a smaller scale.
The Carpentry & Design Station runs over 5 days, which might sound like both a short and a long time depending on what you intend to design. If you decide to build a lamp or a tray, 5 days might be enough for you to build one and move on to one of our construction sites but if you want to design a piece of furniture, the craft will most likely take most if not all of your attention. This is why we rarely see pieces of furniture bigger than a chair or a bench being made during the Carpentry & Design Station.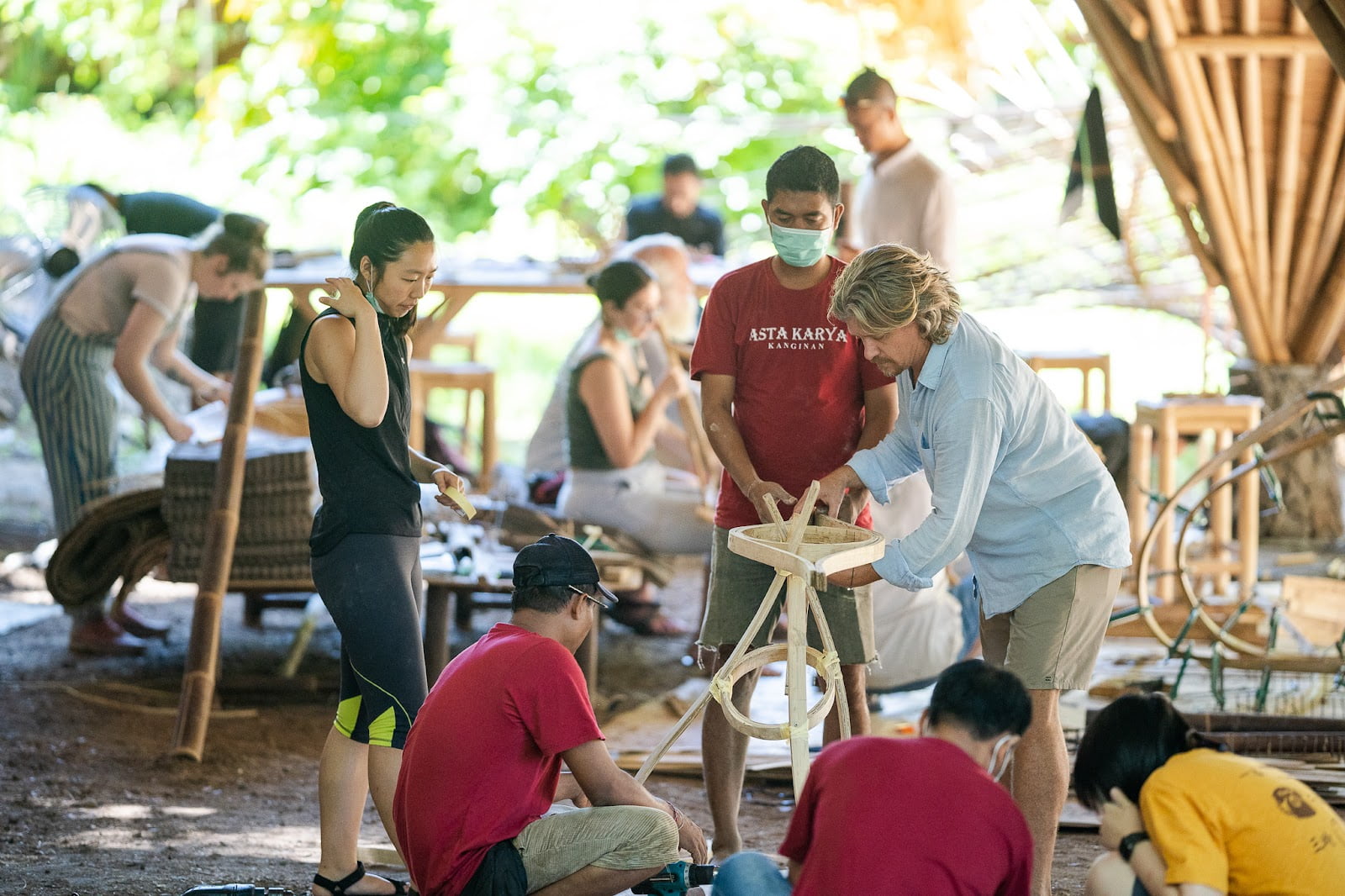 We have had hundreds of participants joining Bamboo U since our inception in 2016, so it was not easy to choose which furniture pieces to feature in this article. But the following 5 pieces (presented in chronological order) testify to a careful understanding and a certain gumption in their design process:
Chair by Ken Kochey (April 2019)
Three Ring Chair by Jon Maddison (June 2019)
Felix Chair by Bert Liang (January 2020)
Chair by Haiqi Yu (January 2020)
Commune Bench by Anina Rubio (March 2020)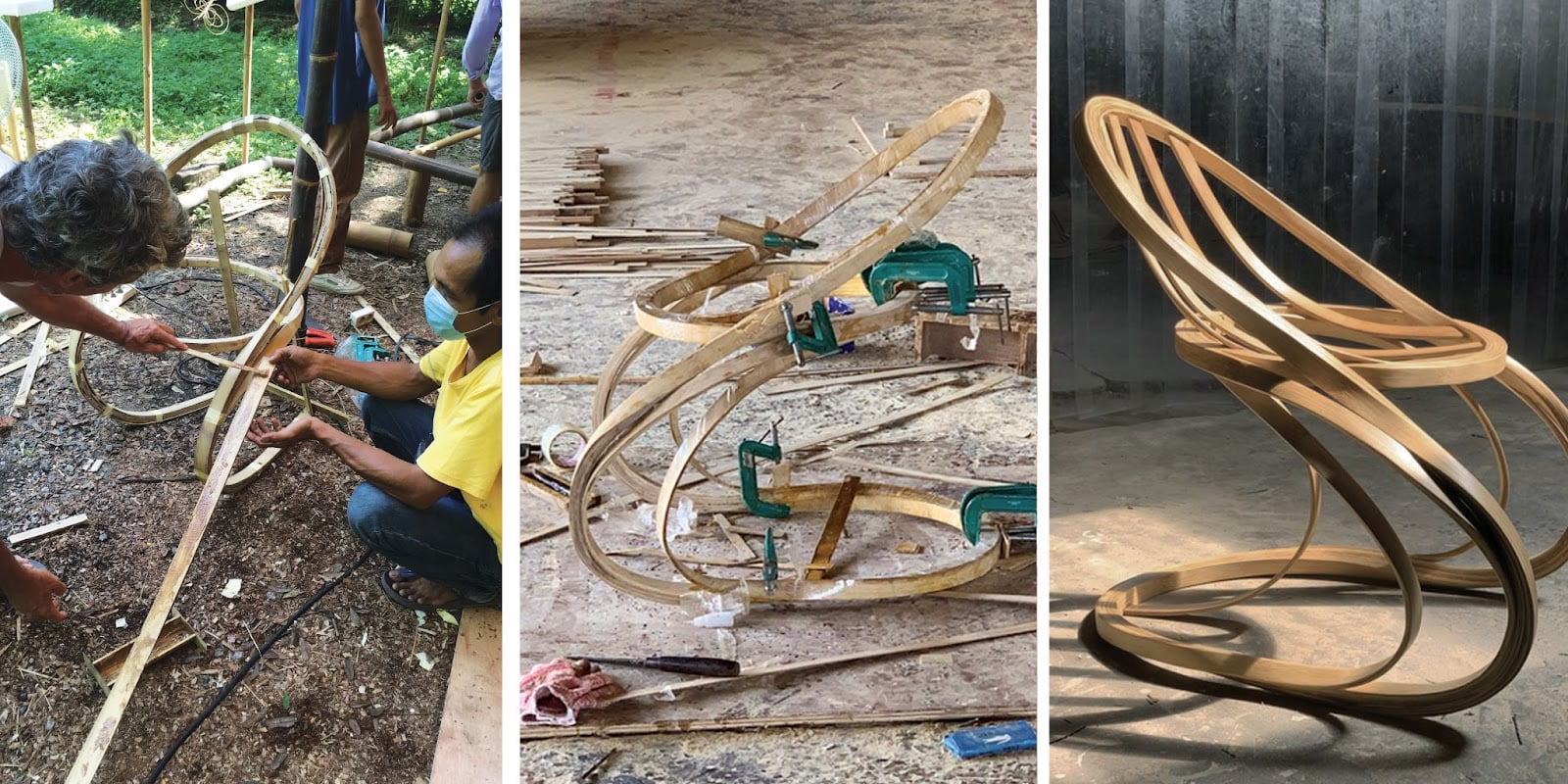 Chair by Ken Kochey, attended the Bamboo U 5-day Design & Carpentry Course in April 2019
Contrary to the other Bamboo U alumni in this article, Ken attended one of our shorter courses: a 5-day course dedicated to the art of bamboo carpentry and design. His design, a cantilevering chair built using bamboo laminated bamboo splits, was eventually developed into a series of prototypes at the PT Bambu Pure Factory. This is his account of his design journey:
"My experience with Bamboo U was very organic in many ways. I signed up without having a very clear idea as to what to expect but was immediately drawn by Scott's Vandervoort enthusiasm and the nurturing environment the entire Bamboo U team created. I was always attracted to the idea of working with curves and the eloquence and grace that comes from them. I quickly decided on constructing a chair for my project and once that decision was made, the sketch took only a matter of minutes. While working on the miniature model, one curve led to the next until I could see what was possible and had what I was looking for.
Bamboo is the perfect medium for my interest in working with curves. The thin splits allowed me to bend and twist until the chair revealed itself in my model. 
I worked with the master craftsman for days, all with Scott's encouragement and input, but half way through, I realized that I was not going to be able to realize my goal of building a working chair within 5 days. Instead, what I was making was not a final piece but rather a prototype. It was at this point that Scott approached me about the idea of taking this design to IBUKU and working in the PT Bambu Pure Factory with the craftsmen to fully realize the design. 
Working in the Ibuku factory was a real honor for me. It took some trial and error, and many different prototypes, but we eventually got the design to the point where form meets function. I could finally sit in my chair. It was such a satisfying experience and to this day, it is one of the things I am most proud to have done."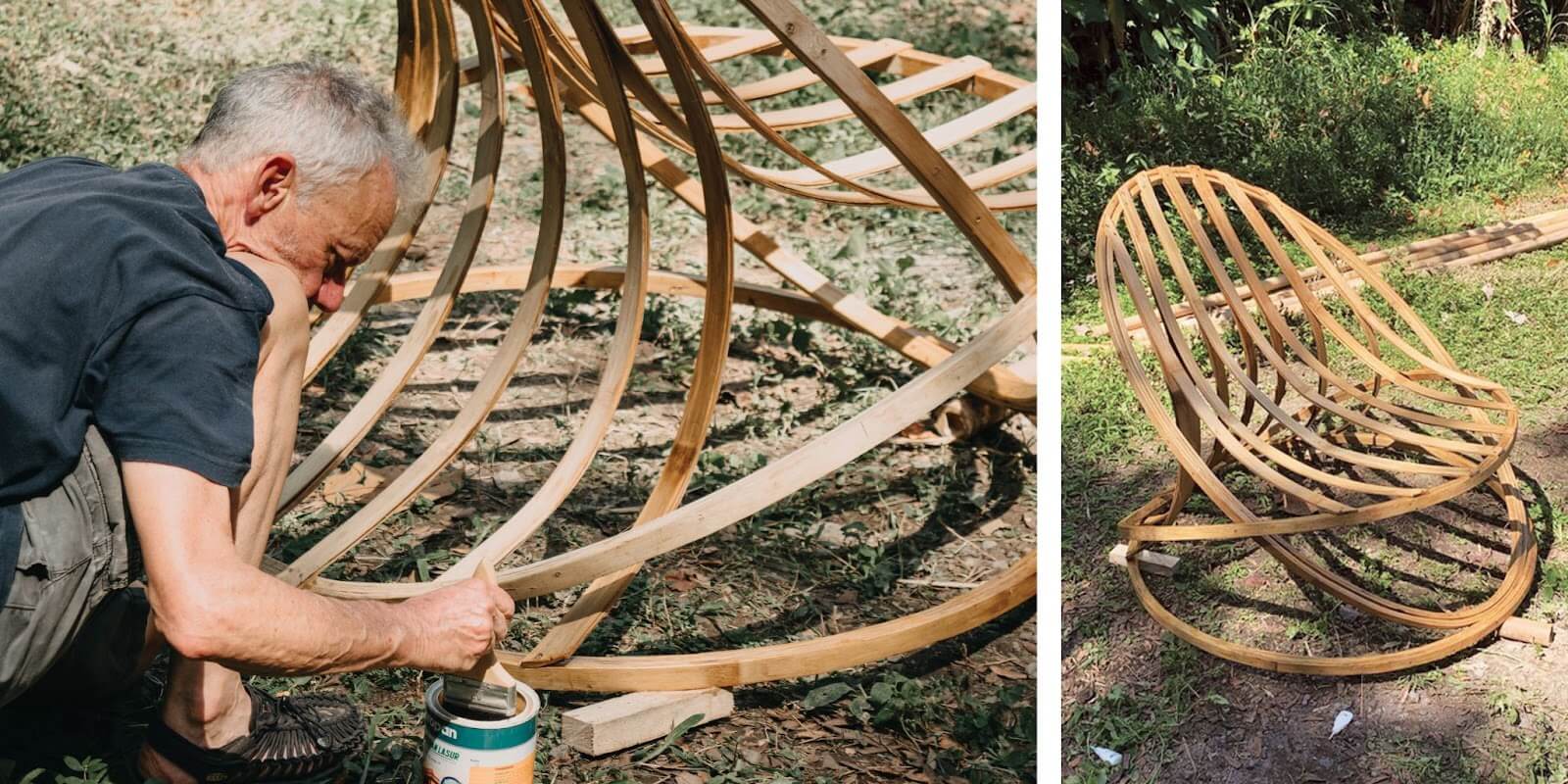 Three Ring Chair by Jon Maddison, attended the 11-Day Build & Design Immersion in June 2019
Jon was one of our participants during the 11-Day Immersion in June 2019. After spending the first half of the course harvesting, treating and model making with bamboo, Jon dedicated his time to design a chair at the Carpentry & Design Station. The concept of his chair was modelled following the intersection of three different bamboo split rings and some on-site decisions which came after carefully model making his idea. The ergonomics of the chair were developed with the help of the carpenters and Scott.
"The idea of the three rings had been in my mind for some time, so I welcomed the opportunity to realise it during the Bamboo U Course. This experience was very much built by trial and error, made possible by Scott's encouragement and support.
I began by sketching the design on paper then constructed a maquette using bamboo model making materials. Initially, I thought of using stretch material to form a sling-like chair and used some cut up tights to create the membrane in the model.
The maquette appeared to work as the bamboo material is quite flexible. However, replicating the model at full-scale proved almost impossible. To form a back to the chair that is higher than the seat, the lower element needs to be a proper ring whilst the other two need to be more oval. 
As we had no fabric material on site to create a sling, bamboo splits seemed the obvious choice to be integral to the structure's design.
Originally, the splits were placed from the middle ring to the head of the chair, all to end in a single point. However, the first arrangement of struts proved unworkable as it put too much strain on the structure, and was visually too complex. Though I chose to have the splits running parallel to one another, the first variation did help me refine the design to its final form."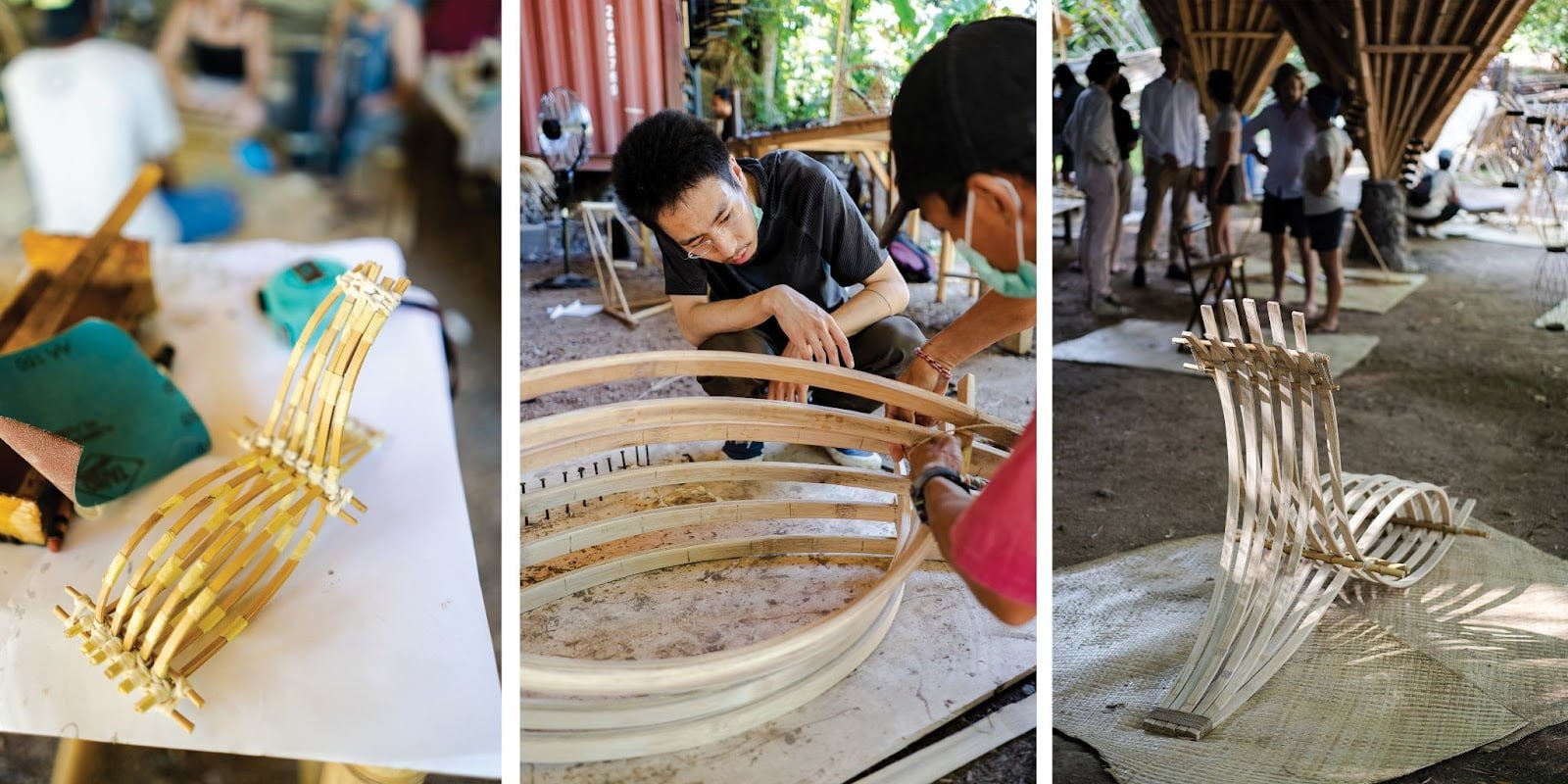 Felix Chair by Bert Liang, attended the 11-Day Build & Design Immersion in January 2020
Bert joined a special edition of the 11-Day Immersion in January 2020: the Pratt Institute Edition. With Scott Vandervoort teaching at the Pratt Institute in New York for over 15 years, it only seemed natural to have him bring some of his students to experiment with bamboo with us here in Bali.
The students from Pratt Institute brought an immense amount of creativity to Bamboo U. Though most had never experimented with the material beforehand, they allowed the material to shape their ideas to life and built objects ranging from a small desk lamp to a lounge chair. This is Bert's account of the time he spent at Bamboo U:
"It was a great experience to model and prototype with bamboo. I started the design with a small model, through which I began experimenting with a lot of different possibilities with Scott. Most of the designs we initially modelled also were surprisingly consistent to be quickly prototyped with the help of those great bamboo carpenters.
Flexibility is the property that I like the most about bamboo. So, I made this lounge chair to reveal and celebrate this property. The laminated bamboo splits give an extension to the bend when one is lying on the chair. Additionally, as the cross strips are joined only by rope lashing and not rigidly fixed, they enable flexibility in another dimension. The name is Felix referring to both the flexibility and the "X" shape of the chair."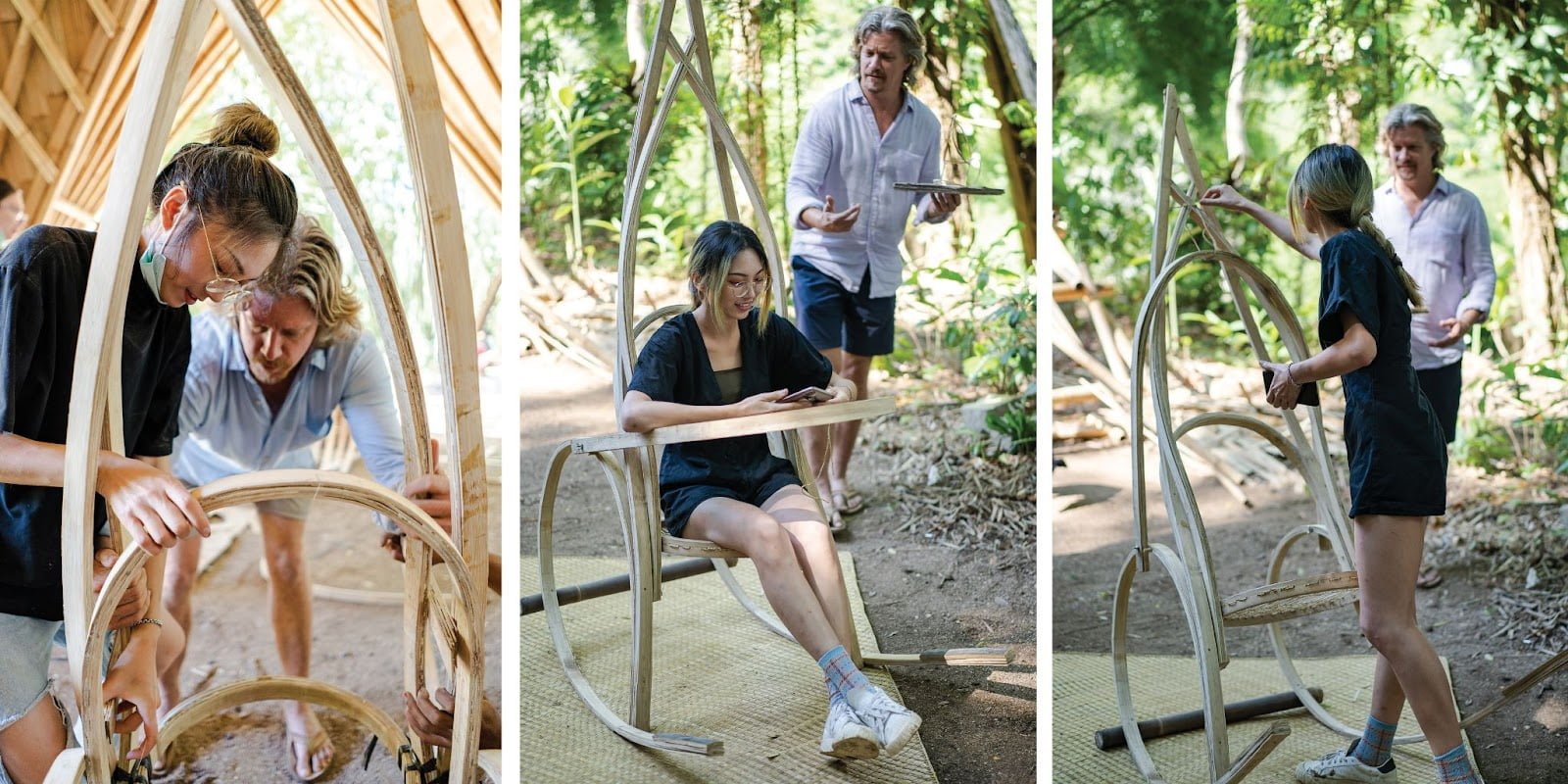 Chair by Haiqi Yu, attended the 11-Day Build & Design Immersion in January 2020
Just like Bert, Haiqi was a student of Scott's who came for the special edition of the 11-Day Immersion in January 2020. She designed a nursing chair fitted with a small barrier to help hold the baby at feeding time. As with most of the participants who attend Bamboo U, the process began with a model and many different iterations of the same idea. Eventually, Haiqi found a way to stay true to her original idea all the while adapting to the body's posture in the most comfortable way.
"The 11-Day Bamboo Immersion is a very memorable experience for me. I decided to attend to seek any inspiration for my thesis development, and during the class I gained a deeper understanding of the relationship between furniture pieces and the human body's posture.
Everyone at Bamboo U is from all corners of the world and we came here for different reasons, but in these eleven days, we went to class together, to work together and to explore the unknown of bamboo together. I learned a lot, not only from the class, but also from the way others treated bamboo, how they expressed their passion for bamboo, and how creative they were to explore the potential of bamboo. 
There was one situation that particularly touched me, and it also gave me a lot of inspiration. It was assembly day, and the last day to finish the model. The atmosphere was intense. For me, the bending of the splits the previous day had not been accurate, so I could not achieve the same effect in my chair as I had with the model. However, Scott came with fresh eyes. He suggested turning the sitting direction to the other side which made the angle make more sense. We held a bamboo strip that was supposed to be installed at the bottom of the chair and finally turned it into a handle that can be moved for nursing safety. This experience taught me that adjusting mistakes might lead to an even better design."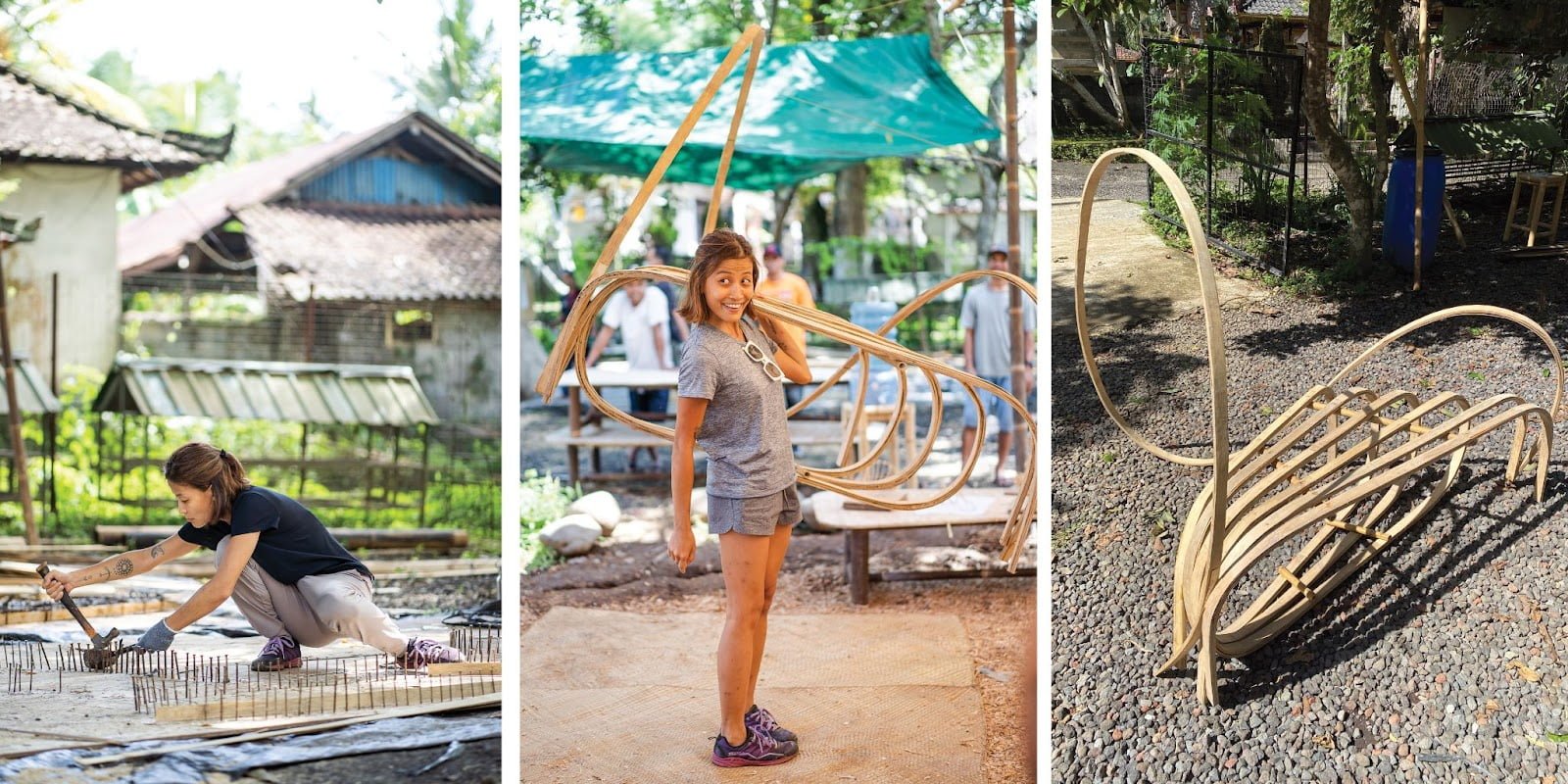 Commune Bench by Anina Rubio, attended the 11-Day Build & Design Immersion in March 2020
This last project came from a participant during our most recent edition of the 11-Day Immersion, almost two years ago! Anina carefully worked with Moko, one of our carpentry instructors in our Bamboo Online Immersion, to develop the design of her bench. Her testimony to the design process she went through during her Bamboo U course shows that bamboo can be extremely flexible when it is shaped in the right way.
"My bench was inspired by leaves found on the campus and the way nature brings a feeling of "rest" and community. The Commune Bench has a space where you can put some mat and pillows to lounge on the ground within the curves whilst the seat can fit 2-3 people.
The bench started out as a model-making accident. Honestly, it was a struggle for me because it was my first time to do model-making with bamboo!
Initially, I was trying to create a mollusk-inspired piece of furniture but once I removed the tape, one part swung completely and formed a curve. I told myself, "this could work", and that curve became the binding line that you can see in my design. For the seating area, I took inspiration from the shape of the leaves that I saw lying around during our walks from campus  to the building area. Scott gave me a lot of advice in form finding and looking at shapes from different angles, a work ethic which I followed from the miniature model to the finished product.
Together with Scott and the carpenters, we figured out the dimensions and adjusted it to make it a bit smaller so that we could build it in the 5-day timeframe. My chair's design had a lot of curves so we had to use slats instead of whole poles. I learned how to create a template using nails, bind the slats properly, sand, saw, and assemble. For me, the most challenging part was shaping the bamboo slats to fit the curved template and making sure that all the slats were perfectly glued without gaps! Scott and the carpenters helped me assemble and secure all the components together. It was such an amazing learning experience and a humbling one. I have more respect for artisans and bamboo carpenters. Building furniture is no easy task, for sure!"
Since we started having a Design & Carpentry Station during our Bamboo 11-Day Immersion, it has been a hub of innovation and creativity in bamboo furniture design. The projects mentioned above are only a handful of examples amongst the many dozens that have been designed during a Bamboo U course in the last 5 years.
We are really looking forward to hosting more creative people next year in 2022, because we know we will be able to see designs like these flourish whether online or in-person.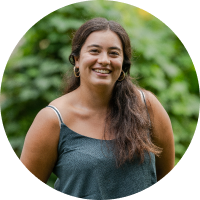 About the author
Cécile Durand
|
Management Consulting Professional
After finishing her Masters of Architecture at the University of Hong Kong where she wrote her thesis about bamboo construction for the rural communities of Bali, she now forms part of the Bamboo U Team as a Management Consulting Professional.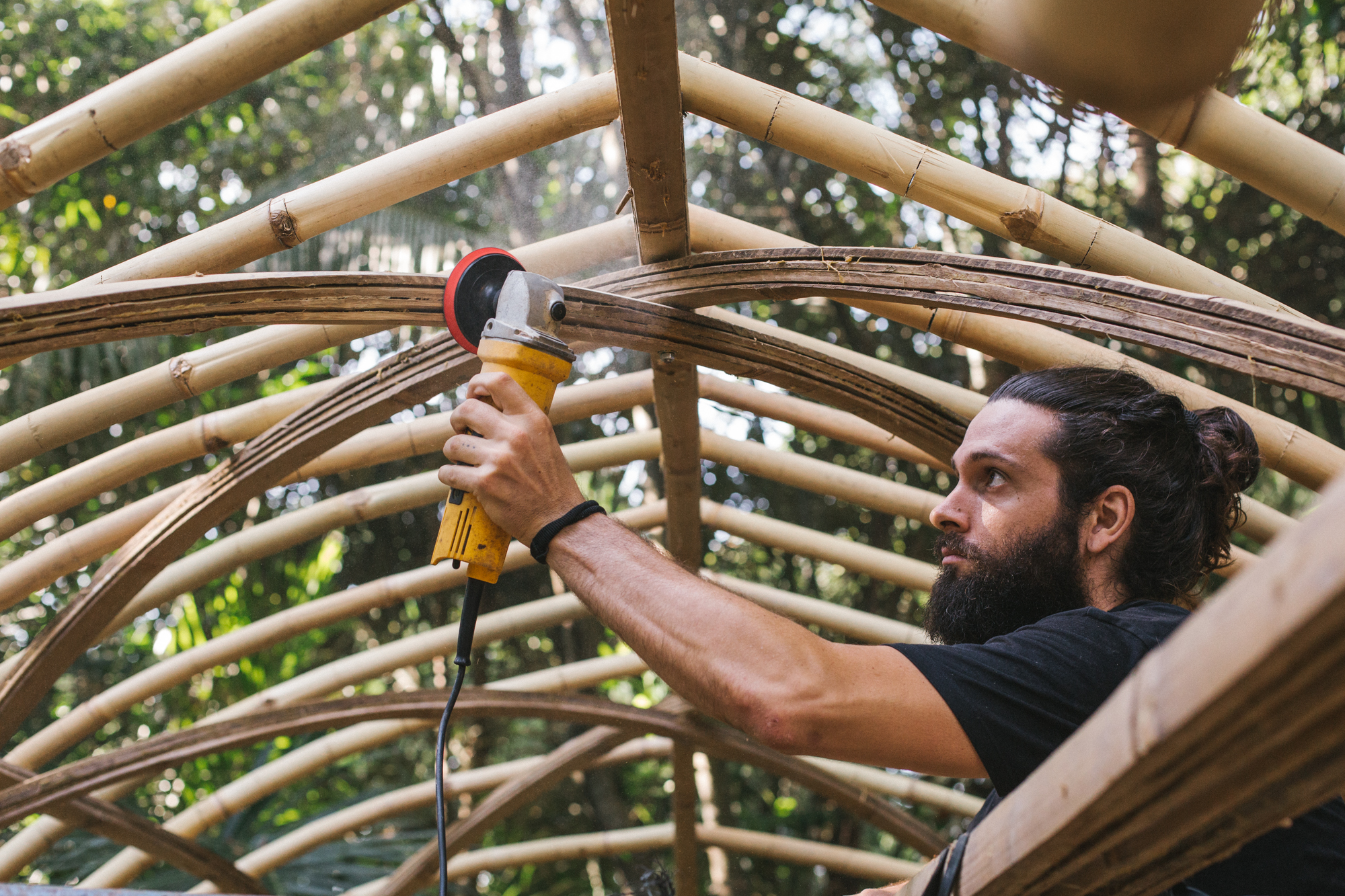 October 20-31, 2023
The 11 Day Bamboo Build & Design Course in Bali
In 11 days, we'll show you how to build bamboo structures we'll share all that it takes to build with nature.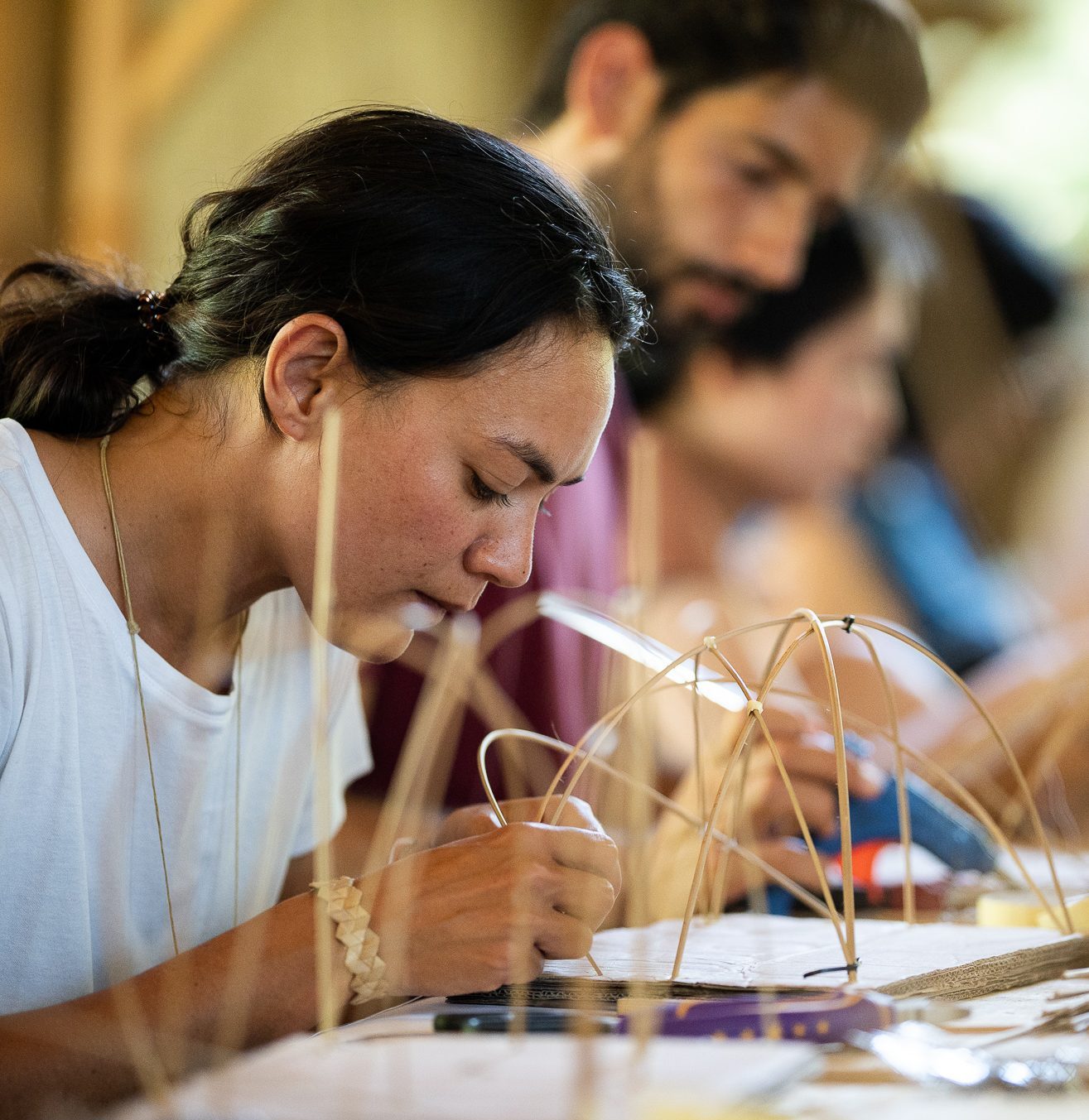 2024
The Fundamentals of Building with Bamboo Online Course
All the fundamentals you need to get you started working with bamboo. Deep dive into cinematic videos and step-by-step guides that will provide you with a strong understanding of bamboo as a design and building material.