5 Digital Design Tools for Bamboo We Love
By Lucas Schlüter | September 2, 2022 | Design -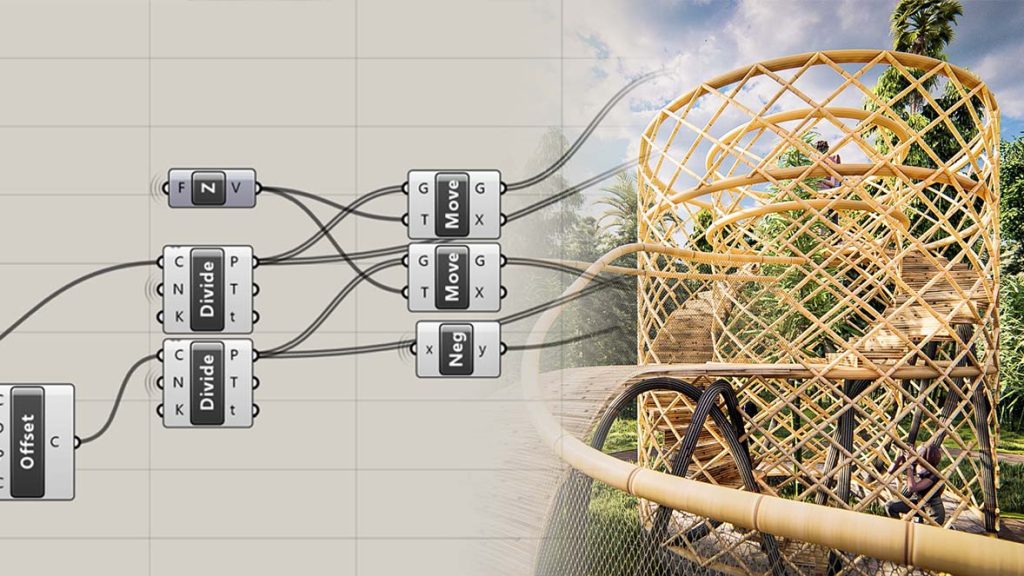 Computer-aided and parametric design can be great allies in the design process for your bamboo project. In this article, we introduce you to 5 different digital tools that we use to develop our bamboo design and construction projects.
In the modern era of computer-aided design (CAD), more and more digital design tools continue to be developed. Many of them are aimed for the wider design and architecture market, however, a few of them are actually adaptable and helpful to design with and for bamboo.
In this article, we sum up five different software that we like to use and explain why we love them for our bamboo design process.
Procreate
SketchUp
Rhinoceros 3d
Grasshopper
AutoCAD
Procreate
Procreate is a digital sketching tool for tablets that helps you capture your first ideas inside a drawing app. In many ways, you can use it as a quick sketchbook for your ideas, create your first master plan, or just capture your concept in simple diagrams.
One of the many reasons we like to use Procreate lies in its intuitive handling and that it optimizes your lines and forms. This comes in really handy when you are designing the first conceptual floor plans for your project, especially if you would like it to be as organic and connected to nature as possible. On the drawing app, you can even sketch to scale with a built-in raster function.
Another useful characteristic of this tool is that you can directly insert images of your physical bamboo model, or screenshots of your 3D model, to sketch over them. This helps you to figure out interior impressions, to optimize rooflines, or even to see how the design is working structurally. If you feel that you need some extra reinforcement, you can simply sketch in another pole or two.
We also love to use it when it comes to interior bamboo design, where we capture different views of the space and sketch in the first ideas that come to mind directly on-site.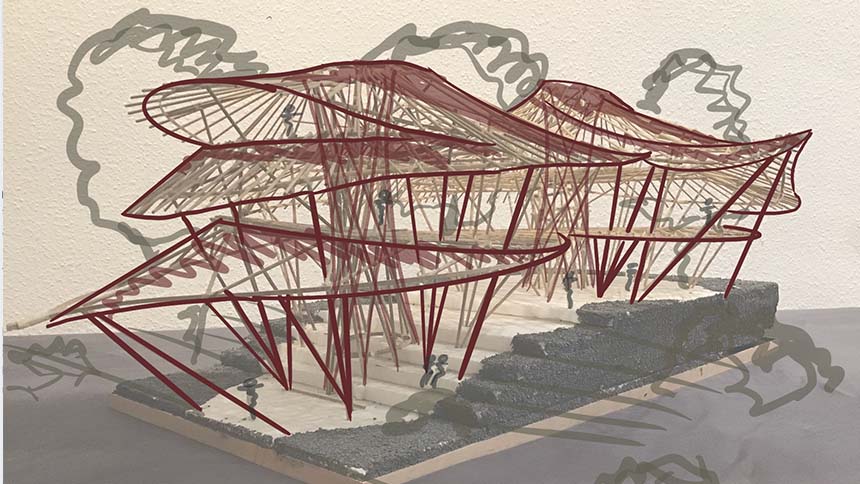 SketchUp
SketchUp is a free, intuitive 3D modeling software which allows you to quickly model 3D prototypes of your design. Since its release in 2000, a lot of plugins and improvements have been added to allow users to use SketchUp for all sorts of designs, both in scale and style. New plug-ins encourage more natural forms which are essential for bamboo designs.
What we like about SketchUp is its simplicity and the instinctive way to use it in design. This speeds up your design process and makes it a very helpful tool to develop the first 3D models of your bamboo project. Another big advantage of SketchUp is that it is accessible to all professional backgrounds. You do not need to have any experience with 3D software or computer-aided design tools before using it, which makes it an ideal software for a first project.
Even though SketchUp is easy to use and that new plugins are constantly getting developed, it has its limits. When it comes to more complex bamboo structures, the software has a harder time keeping up with the creativity of the user.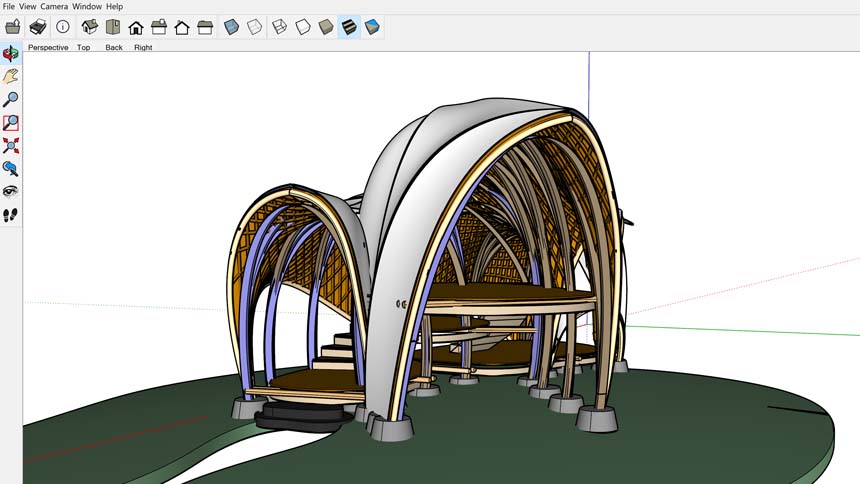 Rhinoceros 3D
Rhinoceros 3D is computer-aided design software that is optimized to design complex 3D objects and buildings. It is especially useful for amorphous, organic shapes. This software, developed by Robert McNeil and friends, is able to generate many different digital prototypes of your designs from highly detailed connection details to more complex building forms where other software has already reached its limits.
When it comes to designing bamboo buildings that rely on curved bamboo poles, or complex bamboo arches, we have found that Rhinoceros 3D is currently the most advanced tool on the market.
Due to its complexity, Rhinoceros 3D is a design tool recommended for more advanced users.
We like it because of the level of detail that you can achieve when you are using it for bamboo. Even with complex shapes and bending structural systems, Rhinoceros 3D keeps up with you, your creativity, and your bamboo designs. Furthermore, additional plugins allow you to quickly visualize your design and optimize it.
It is important to mention that Rhinoceros 3D can also be used to produce your CAD drawing sets (plans, sections, elevations). However, when it comes to more complex bamboo designs, Rhinoceros will not produce the cleanest set of 2D CAD drawings and will most likely require you to clean them up using another graphic tool.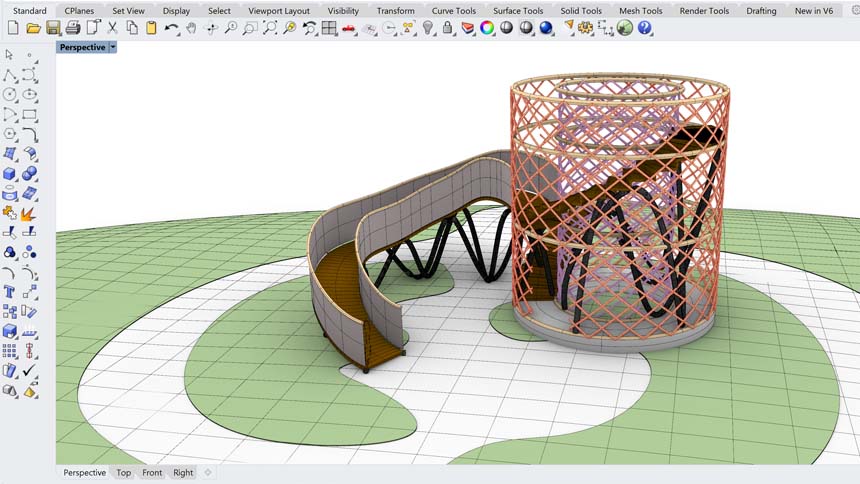 Grasshopper
Grasshopper is a plug-in for Rhinoceros 3D. It is used for parametric design, which helps you to quickly develop complex structures with the help of parametric scripts. Instead of the normal design approach, the parametric design uses different "design parameters" that you combine in an algorithmic thought process. The design parameters could be anything that will influence your design, from the number of openings or the number of bamboo poles you want. This allows you to develop and design more complex, geometric structures and design ideas. The parameters that you set can be adjusted at any time of the design process within seconds to optimize your bamboo design.
We love to use this software in the beginning of each project to develop quick alterations of the design and to figure out our basic parameters such as a number of foundation points, floor and roof heights, etc. It is also very useful in the form-finding process.
When it comes to complex bamboo arches, Grasshopper becomes particularly handy since it can tell you the length and radius of each arch, as well as the number of intersection points of the different arches. This will help you to optimize the structural integrity of your bamboo design. It is also really helpful to use parametric design in your workflow to figure out the right proportion of your different design elements. This can range from the diameter and length of your bamboo poles to the shape, radius, and number of poles of your reciprocal tower. In many ways, this form of digital design tool helps you to optimize and speed up your bamboo design workflow.
Admittedly, this design tool is very complex and requires a good understanding of the software before you can use it freely. It is the most complex design tool on this list. That being said, once you have understood the basic principles of the software, it allows you to design the most complex and beautiful bamboo designs you can imagine. Additional plugins for Grasshopper allow you even to work with physical calculations based on specific bamboo species priorities which can bridge the design intent with the engineering process of the bamboo design. Some of the plug-ins even help you to analyze the surrounding weather conditions to then optimize your building for natural ventilation or to design openings accordingly to the sun's position in different periods of the day or year.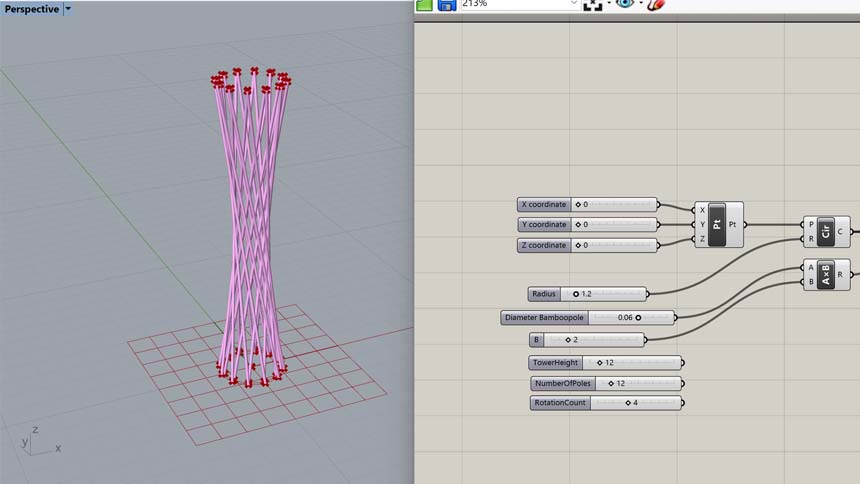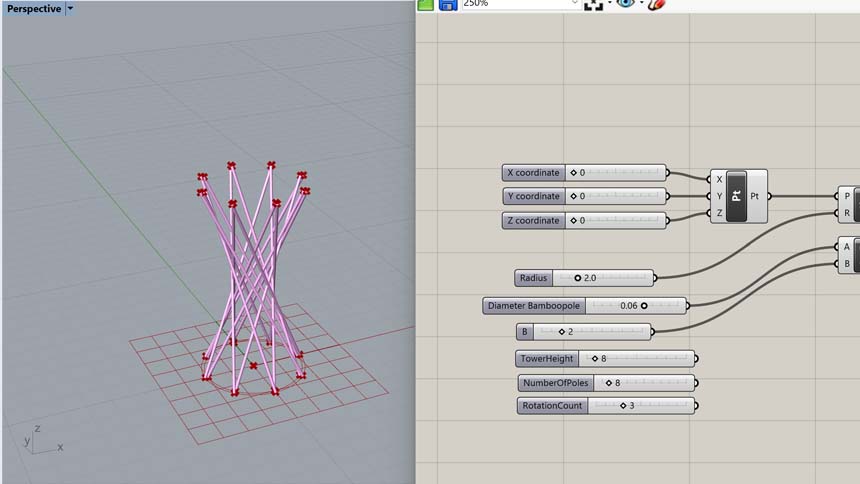 AutoCAD
AutoCAD is a computer-aided design software mostly known for its ability to create 2D CAD drawings. These are the types of drawings typically associated with architectural blueprints: plans, sections, and elevations.
We like to use it after we are done with the 3D design process to produce the final construction drawings of our bamboo project. It allows us to create highly detailed construction drawings of our different connections and details as well as create clean understandable floor plans, elevations, and sections.
AutoCAD continues where Rhinoceros 3D reaches its limits and allows you to continue your workflow nearly seamlessly since both software are compatible with one another. This means that you can import models from Rhinoceros 3D into AutoCAD as well as bring AutoCAD drawings directly into the Rhinoceros interface.
AutoCAD can also be used to create 3D line drawings for the engineer to calculate the structural integrity of your bamboo building.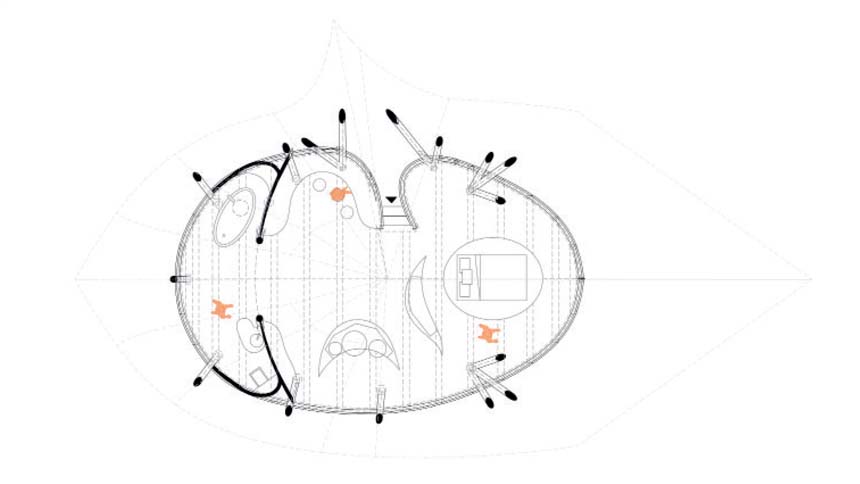 Aside from these 5 useful digital design tools for bamboo design, there are many other useful tools that can help you to visualize your 3D bamboo model. Visualization software like Lumion or Enscape 3D helps you to "walk" through your building as a virtual guest, test how the different materials work together and capture photo-realistic images of your project before it is even built! Indeed, Enscape allows you to directly stand inside the building with the help of VR technology.
Even though visualization software is not a digital tool to actively design your bamboo project, it can help you to control and capture the special atmosphere of your ideas and visualize your creative vision.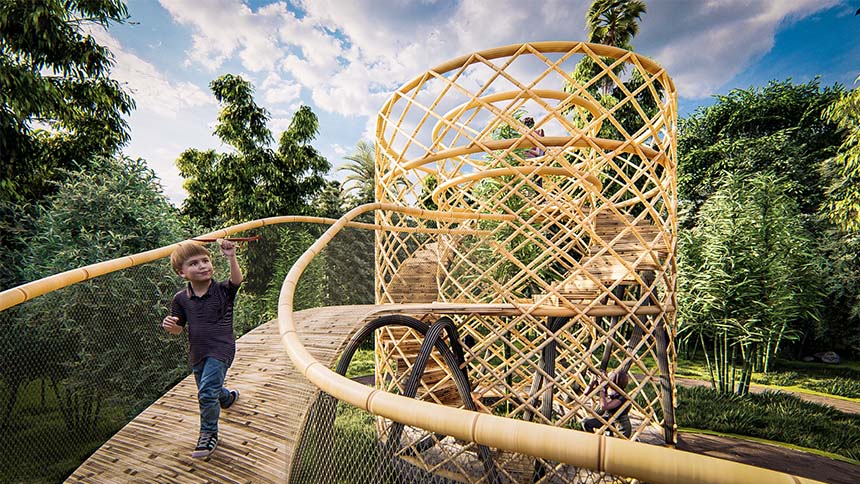 In this modern era of computer-aided design, we can find a wide range of digital tools that can be used in our bamboo design process. Each individual tool presents its own set of advantages and limitations due to the complexity of bamboo itself or the biophilic design language we use in our designs. This often leads to the use of multiple software during our bamboo design process.
On another note, common leading Building Information Modelling (BIM) software on the market, such as Revit or ArchiCAD, have yet not reached the necessary quality to design with and for bamboo. Today, the first attempts are being made to link different software to each other in order to use the best parts of each program in one combined workflow. For example, both Revit and ArchiCAD introduced a live connection with Grasshopper over Rhinoceros 3D, yet they do not always work smoothly and can limit the performance of your computer. Therefore, it is suggested to develop your own bamboo design workflow with your favorite bamboo design tools to allow a smooth design process. To learn how you can optimize this bamboo design process you can take a look at this article (click here) which is dedicated to this topic.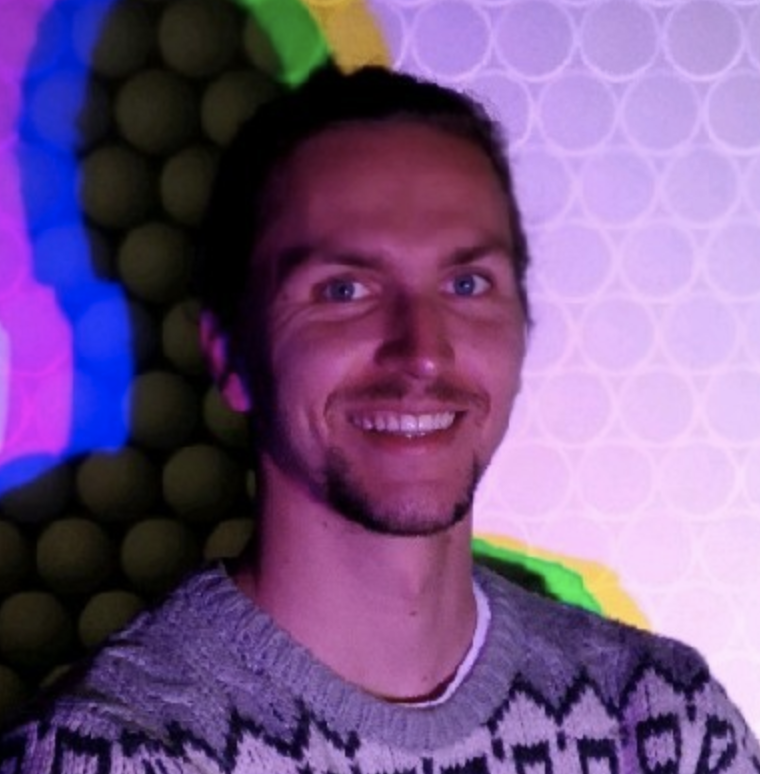 About the author
Lucas Schlüter
|
Bamboo Architect
Lucas Schlüter is a German architect, based in Indonesia. His architecture studies drew him to working internationally, first to Lisbon and then later to Bali to complete his master's degree. Specializing in architecture - project development, he travelled to Indonesia where he encountered bamboo for the first time. It did not take long for him to fall in love with it as an alternative, sustainable building material. He started to work at IBUKU, one of the world's leading bamboo design and architecture firms in 2019.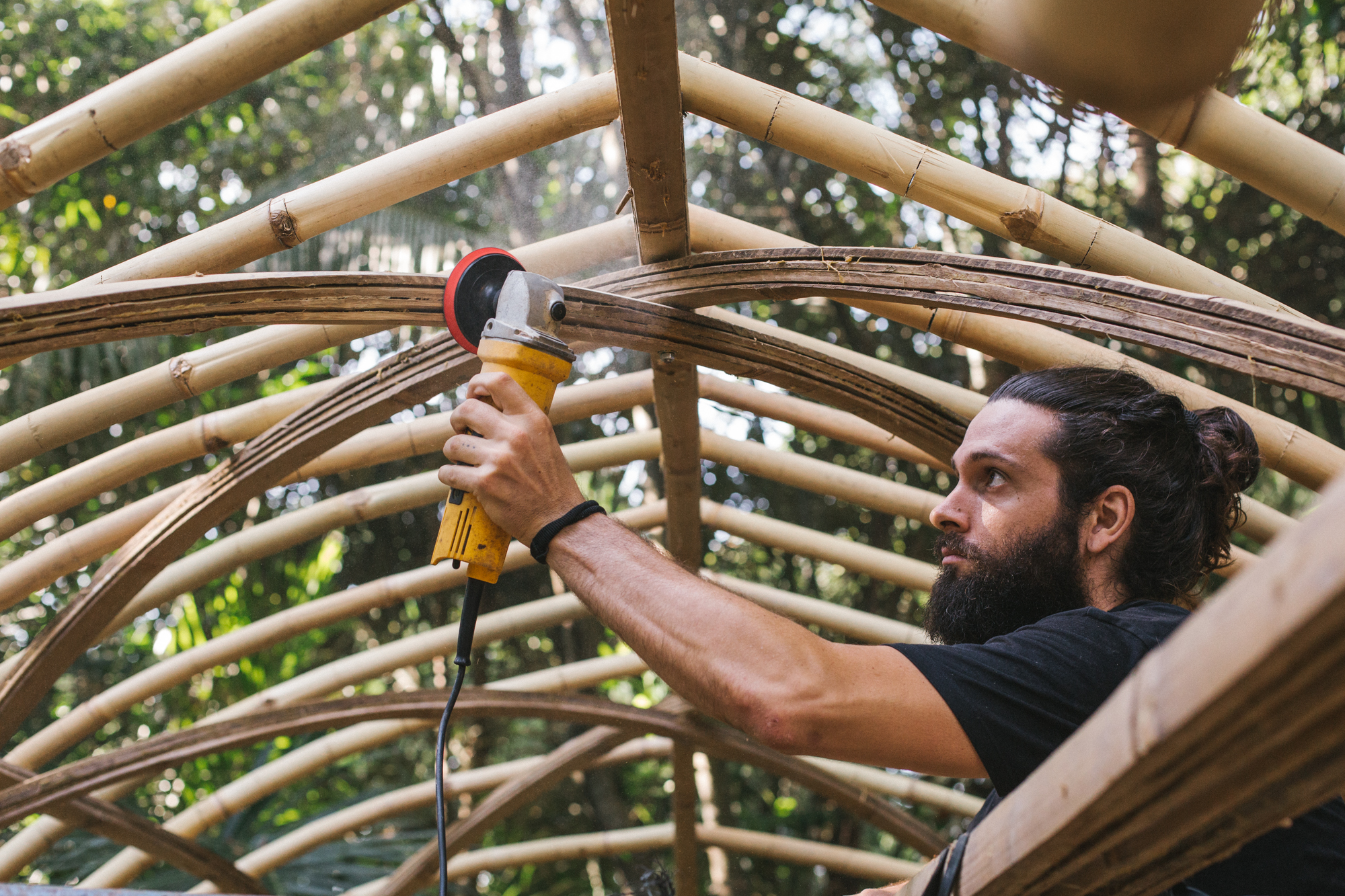 March 22- April 2, 2024
The 11 Day Bamboo Build & Design Course in Bali
In 11 days, we'll show you how to build bamboo structures we'll share all that it takes to build with nature.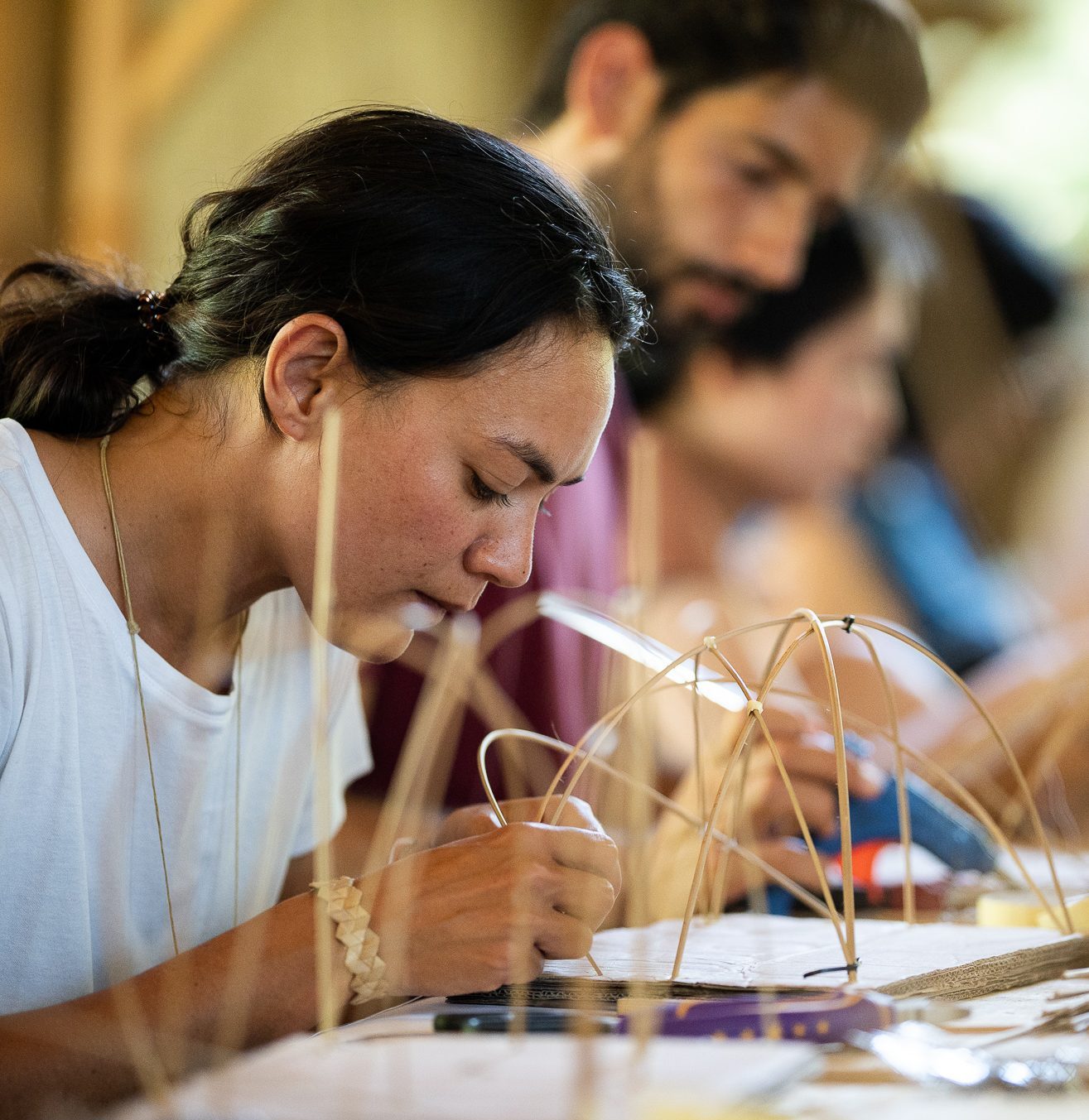 April 26, 2024
The Fundamentals of Building with Bamboo Online Course
All the fundamentals you need to get you started working with bamboo. Deep dive into cinematic videos and step-by-step guides that will provide you with a strong understanding of bamboo as a design and building material.