5 Tips For Beginner Bamboo Designers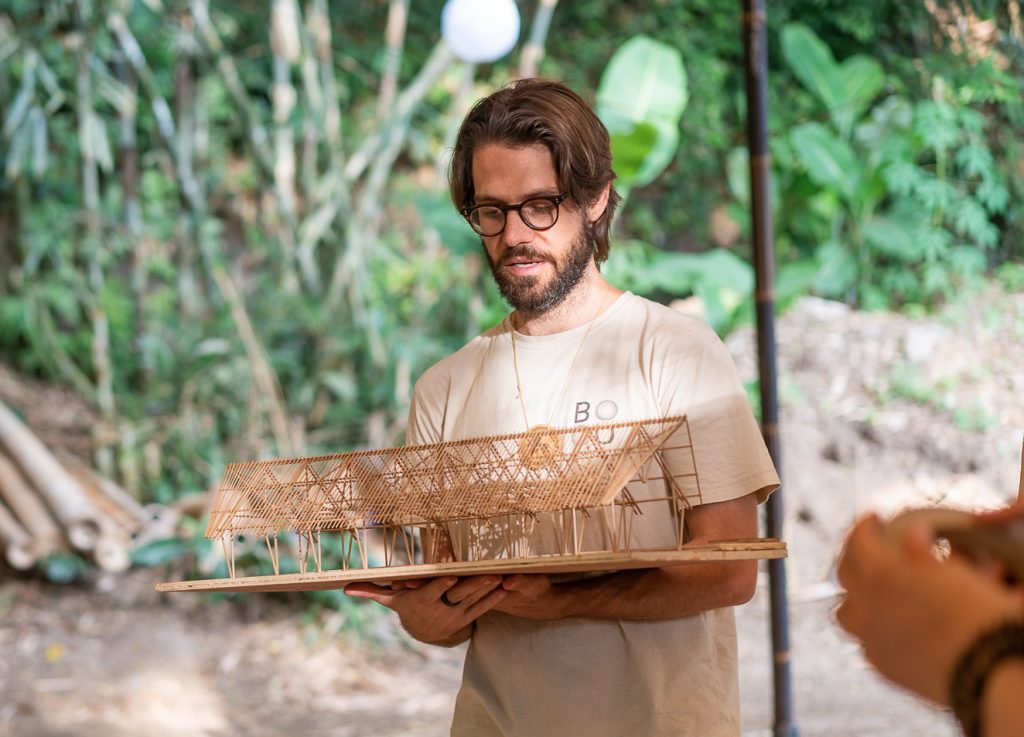 5 things that are often overlooked when beginning to practice as a bamboo architect or a bamboo designer.
Whether you are already practicing bamboo design or thinking about making some big changes in your professional life, this article will give you guidance on how you can begin taking your first steps towards your goal of one day designing your own bamboo project.
In this article, I have narrowed down the five most important points that helped me start my own career as a professional bamboo architect:
Get Inspired About Bamboo
Understand Bamboo As A Material
Explore New Design Skills For Bamboo
Collaborate With Bamboo Enthusiasts and Bamboo Craftspeople
Find Your Own Bamboo Design Language
Get Inspired About Bamboo
It seems that all exciting journeys into the unknown start with a blank page. This might lead to you asking yourself where you should begin. The best way to start your bamboo journey is by gathering as much knowledge about the material as possible. You can find a lot of articles on the internet, journals, videos, or even entire websites dedicated to bamboo. However, I find that the most accurate and well-documented knowledge about bamboo is found in books.
No matter the topic, subject, or specialization in the field of bamboo you might be curious about, you will find many different books to suit your needs and interests. You can find many different books covering various individual topics like treatment, propagation, or even design. Books tend to dive deeper into topics and contain information that you can not necessarily find on the internet. That being said, if you are just starting out, there are some very helpful books that offer a complete overview of how bamboo grows to how you can use it in your furniture or architectural design project. A good example of this is 'Booming Bamboo' by Pablo van der Lugt, a book that is often referenced and used during Bamboo U courses.
Additionally, to really hit the ground running and gain valuable hands-on experience, it is also very helpful to join bamboo courses or workshops. Some will run for a few days on the weekend whilst others will spread over two weeks for some intensive training. Workshops and courses are very helpful in the beginning as they give you a firm base of knowledge and skills that you can use to develop your own bamboo design and building philosophy. Furthermore, they have the valuable and exciting advantage of creating a network with like-minded people and experts in the field.
If you are interested in joining a course, you can see the schedule for the next 11-Day Build & Design Course here.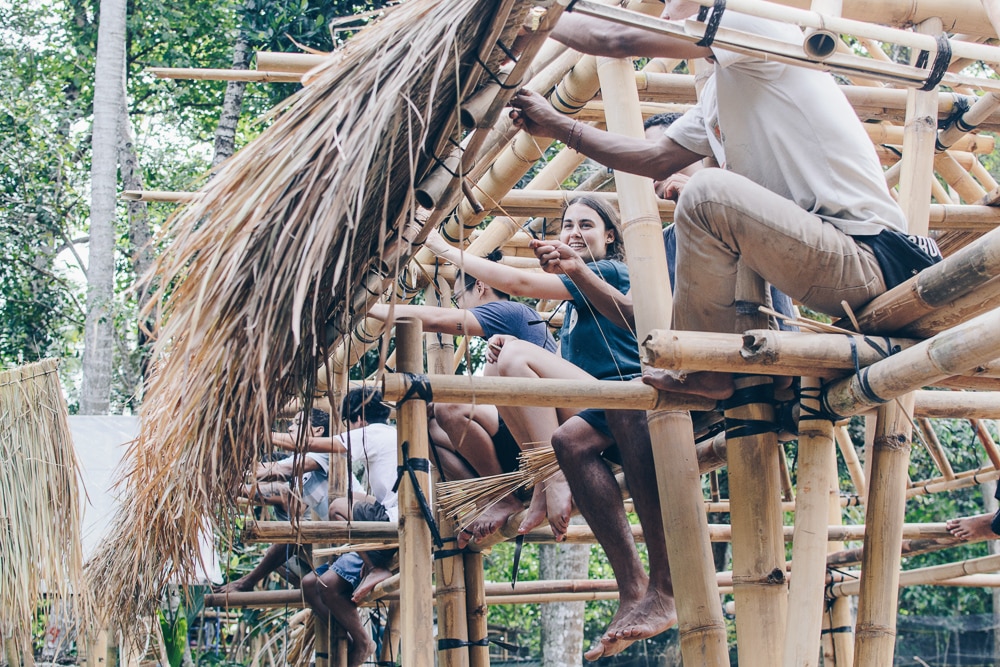 Once you have built your foundation of knowledge, and even participated in your first hands-on experience, it is time to be inspired. It helps to understand and learn from the work of the leaders in the field of bamboo design.
Luckily, we are living in a time where information is more accessible than ever, and nearly every bamboo designer has their own website where you can see a selection of their works, background information, and sometimes even sketches and plans of the project themselves.
Social media platforms can also help you to find inspiration and understand better the way that bamboo designers work and think since often those platforms deliver key insights into their own work ethics and processes. Platforms like Pinterest and Instagram help you to collect reference projects, and ideas of details and can even help you to discover bamboo designers and projects you have not yet heard of. Seeing firsthand the way your dream bamboo designer works might just be the thing to set off your imagination.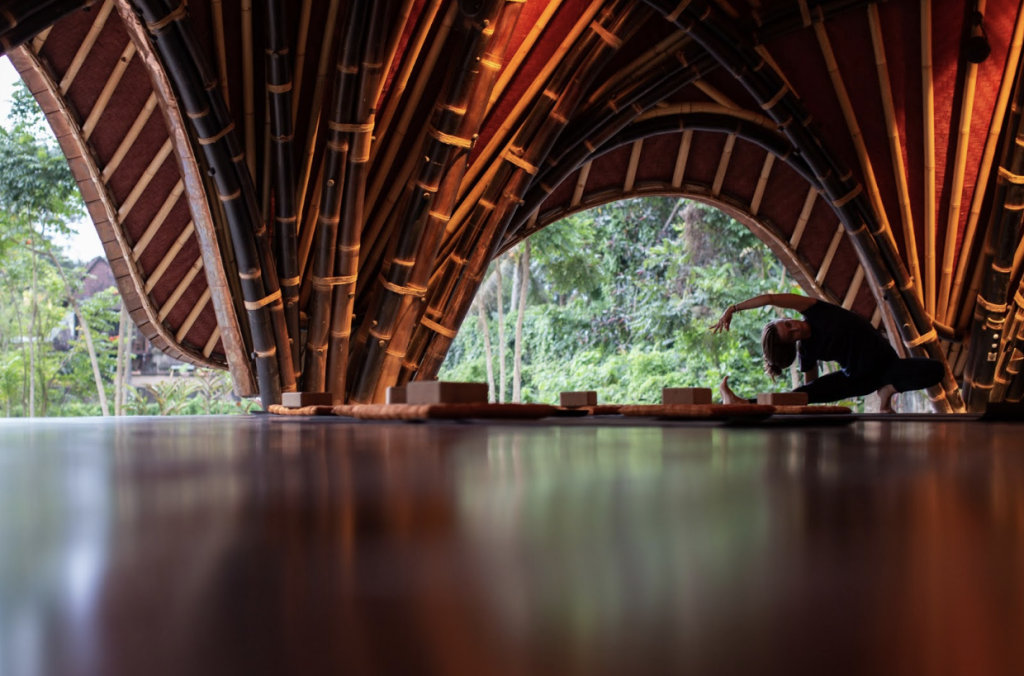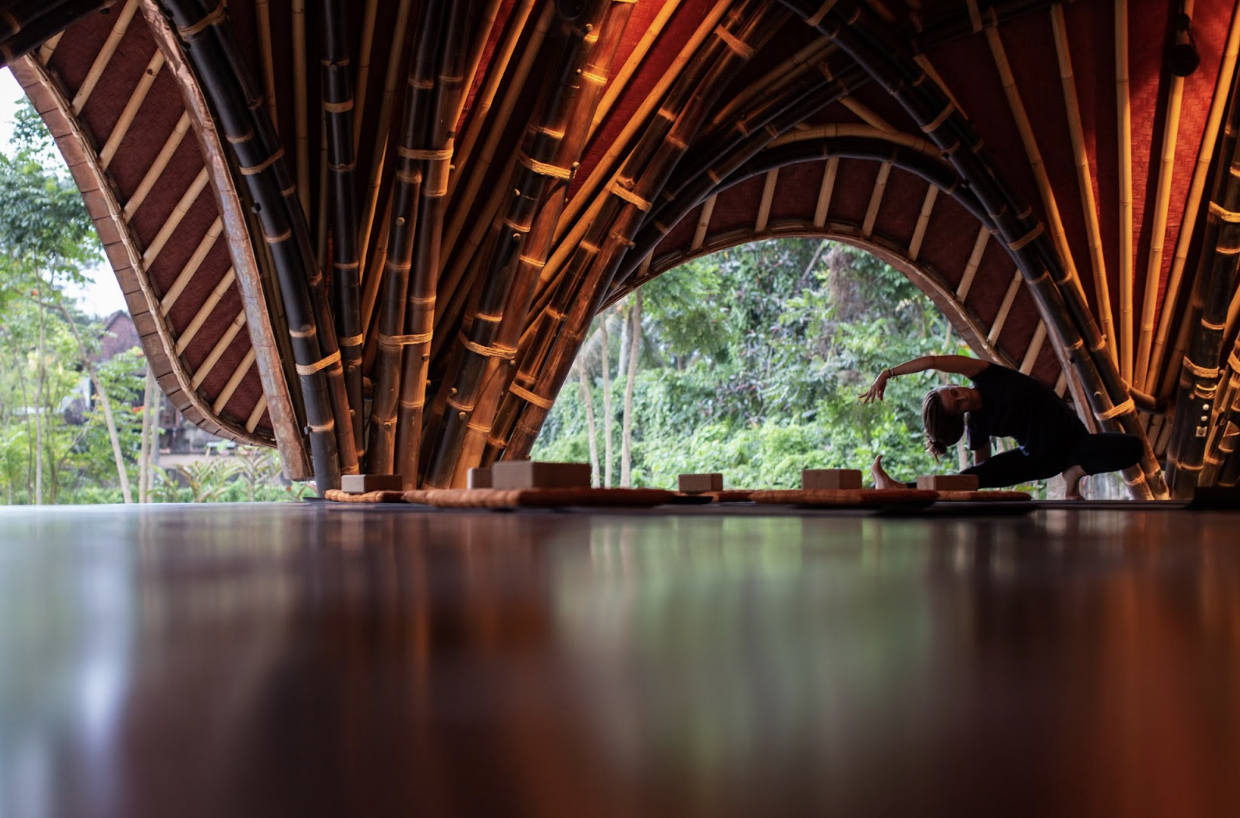 Understand Bamboo As A Material
One of the most important parts of designing with bamboo is understanding the material you are working with. There are so many species of bamboo available worldwide that you will not be able to know them all. But do not worry because you do not have to. Focus on the bamboo that you are able to source locally.
The benefit of using locally grown bamboo is that you are almost guaranteed that it is suitable for the climate you are practicing in. And in some cases, you might find out that it has a cultural connection with your location. This allows you to integrate your projects and designs better into your urban and cultural context. Ultimately, it might also have a positive impact on the local environment.
Once you have an overview of the different species available to you, try and get a few samples to study the material. It is important for you to understand what each bamboo species is capable of in material properties but also how it looks. It is also interesting to see how different types of bamboo harmonize with one another. As you learn more about the bamboo around you, you will soon realize that a few species are most beautiful in furniture design whilst others have their strength in construction.
It's also an opportunity to experiment with different finishes, analyze the potential of carving the bamboo, or simply analyze the pattern of the vascular bundle when you cut through the bamboo. With the right species in hand, you can really explore the ins and outs of the bamboo in your area and design the most adapted project.
Knowing hands-on how your bamboo behaves is one of the key factors to a successful career as a bamboo designer so try to learn as much as possible about your various options.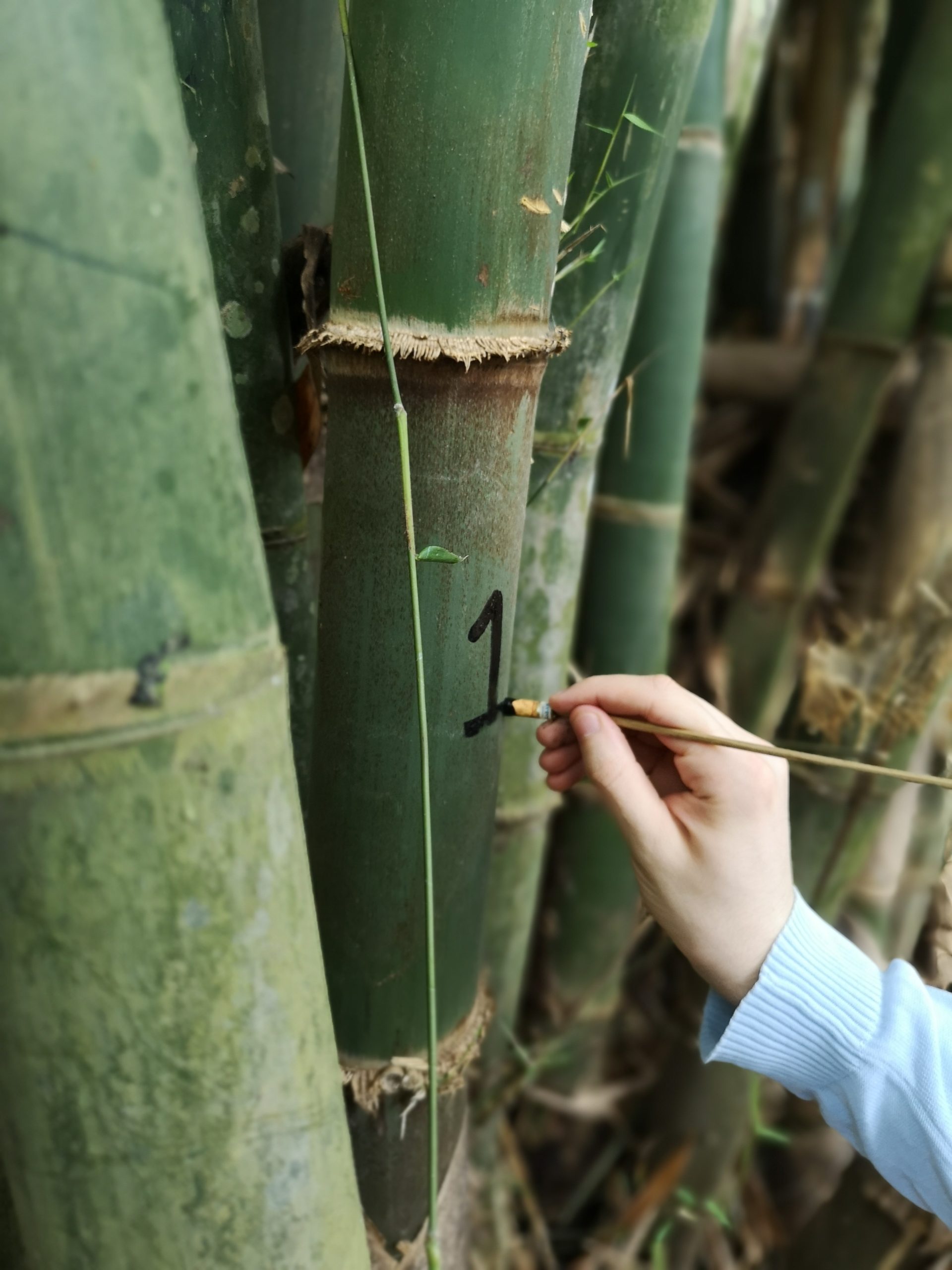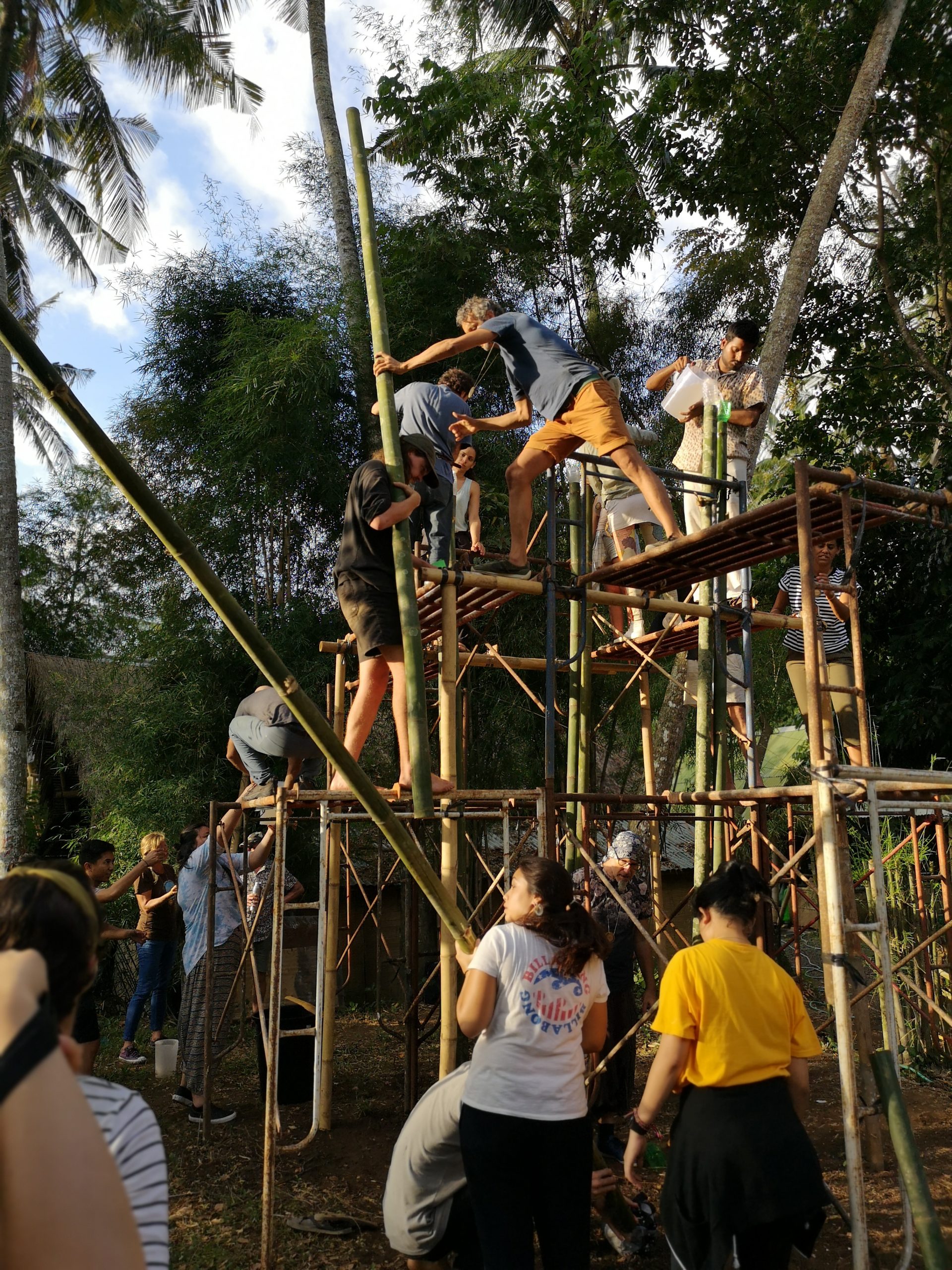 Explore New Design Skills For Bamboo
Once you know what is possible and how other bamboo designers work, it is time for your own creativity to take over. Start by actively exploring what it means to design with bamboo with a small bamboo project. See it as an opportunity to experiment and to find out what you can personally bring to the bamboo design table.
In the beginning, it is helpful to start designing for bamboo with a physical bamboo scaled model. Whether it is a furniture item or a bamboo house, model-making builds the foundation of a successful project. Therefore, as you are learning, I recommend that you build a few prototypes for every project and spend some extra time, in the beginning, to master the more difficult techniques, like creating curves. It might take some time to properly design with a physical bamboo model, but the information and ideas that you come out of the process are so valuable, and might even come in handy for future projects!
Alongside building physical models, it is also becoming more and more common to design for bamboo using 3D design software. This is a great way to quickly create multiple variations of your design and hone in on certain parts in more detail all at the same time. If you already have 3D modeling skills, include them directly in your bamboo design workflow.
Parametric design software or modern 3D design tools can help to define beautiful joineries up to the closest detail or help to create new interesting shapes within a short time which might require several hours to build in a physical bamboo model. Nevertheless, never lose touch with the bamboo. Keep in mind that you need to adapt your design and ideas to the properties and behavior of the bamboo species you have available for your projects. Once you have created a digital model, always test if your concept works in the physical bamboo model as well.
Sometimes, it might seem frustrating that the physical bamboo model might not turn out the way you want it to be, but do not be afraid to make "mistakes". Mistakes in model-making often become treasures that you can find in your bamboo design process. For example, I was building a physical bamboo model the other day at work to test out a new construction idea for a new bamboo structure. Due to poor measuring, I created a bamboo split-beam ring that was too large to fit in the place I wanted it to be. I tried to force it in the same location which led to a twisting deformation of the ring between the main bamboo beams. This little twist gave so much dynamism and life to the atmosphere of the space that it became a part of the design concept and inspired me to purposefully do it to the remaining ring beams as well.
What I have learned from this is that we all need to get out of our comfort zone every once in a while without being afraid to make mistakes in the process. It is surprising how much knowledge and inspiration you can harvest out of those little mistakes if you analyze them and capitalize on their uses. If you are interested in how you can optimize your workflow specifically for bamboo you can have a look at this article.
What I continue to find the most inspiring is that there is still so much to learn about bamboo and even with very little experience in this field, anyone can bring a stimulating and fresh point of view.
I recommend using this to your advantage early on in your process as you develop bamboo designs. In this way, you can include skills and ideas that you have gathered during your studies or in former fields of work that were not connected to bamboo at all. Often these special and unique skills lead to new ideas and concepts that have not been tried before; they can add so much value to your bamboo design.
This experimental process combined with your own gathered experience and knowledge is the main key to working towards a successful career as a bamboo designer.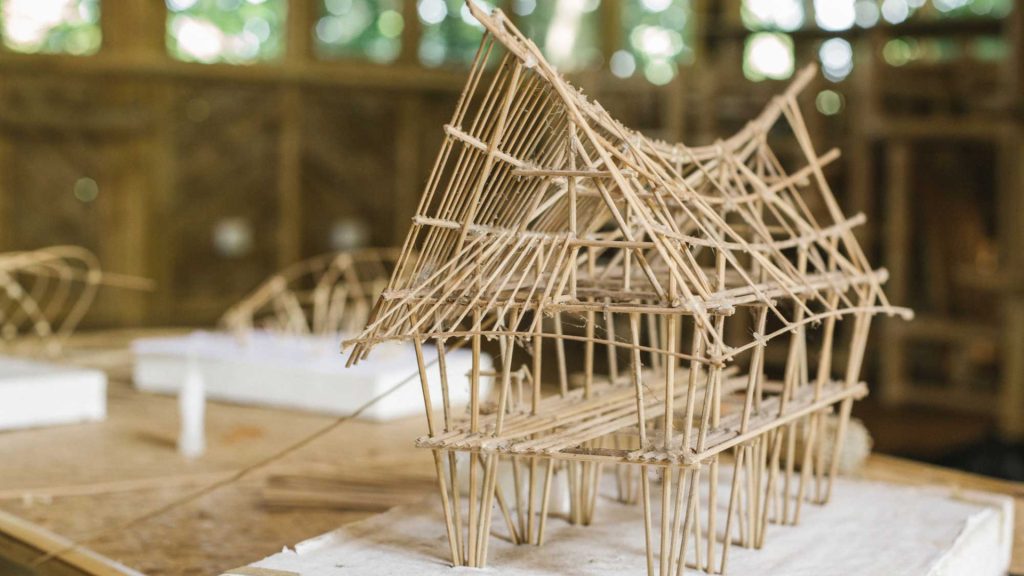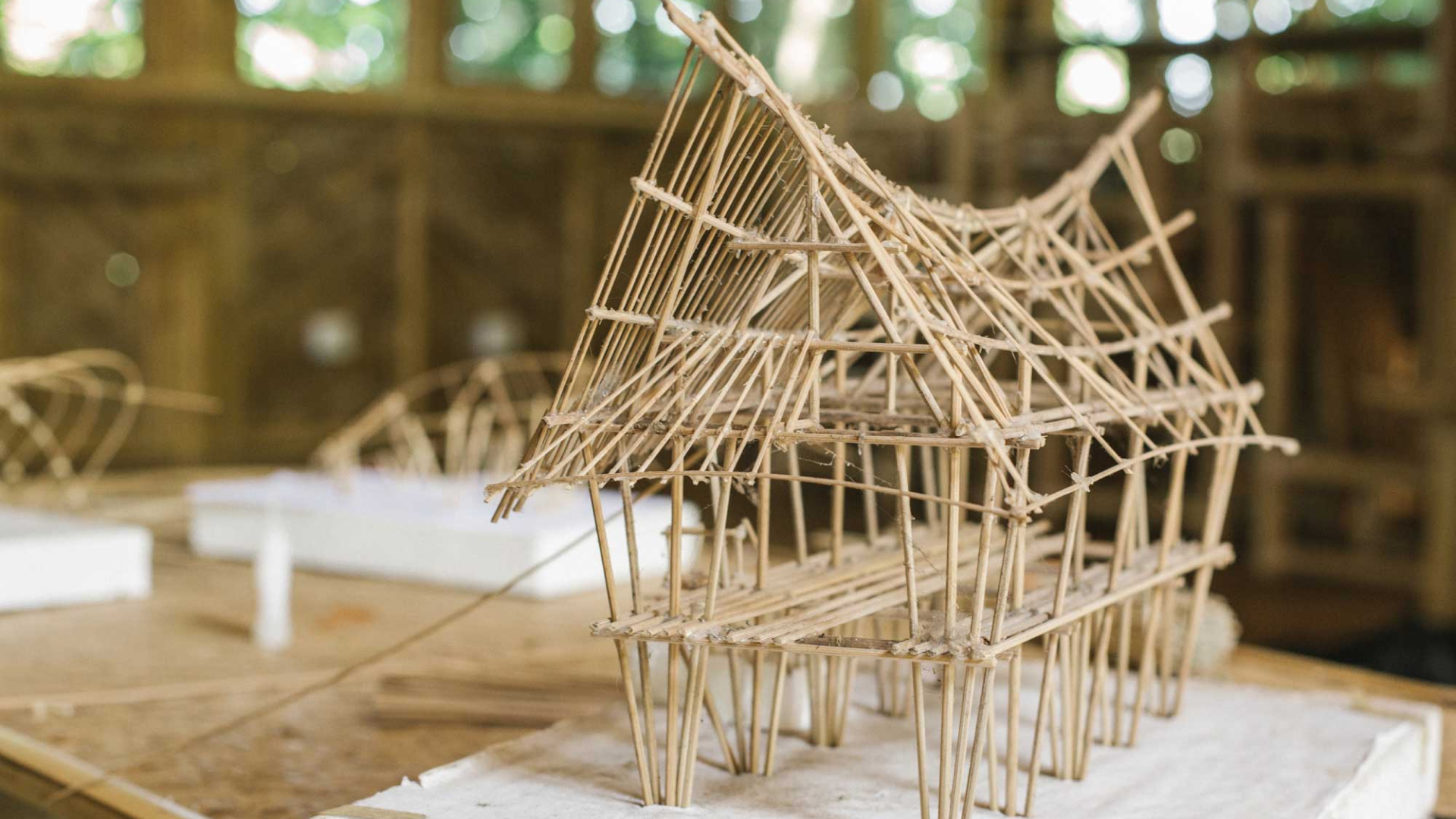 Collaborate With Bamboo Enthusiasts And Bamboo Craftspeople
After gaining your first experimental experience in bamboo design, it is very helpful to start working as a team. Try to reach out to friends with similar interests in bamboo, colleagues at work, and especially people that you have met during one of your bamboo courses! Teamwork helps you to learn faster and get input from different perspectives. Working in a team is a way to exchange ideas, and knowledge and to start fruitful, meaningful conversations about bamboo design and the overall philosophy behind it.
This is especially useful if the people in your team have different backgrounds and focus areas within the bamboo design. A product designer for example might have a different view and approach when it comes to detailing bamboo furniture, while an engineer might come up with thoughts and concerns for the stability and offer solutions to beautifully optimize the structural elements. And then there are the local bamboo carpenters. They are without any question the best people to have long and deep conversations about your design ideas, connection ideas, and material options. Their experience and knowledge are so high and wide that they always come up with creative solutions and they can tell you early on in the design process if your ideas are realistic to achieve. Create a close relationship with your bamboo craftsmen, and you will find that your bamboo design ideas will soon flourish into real-scale.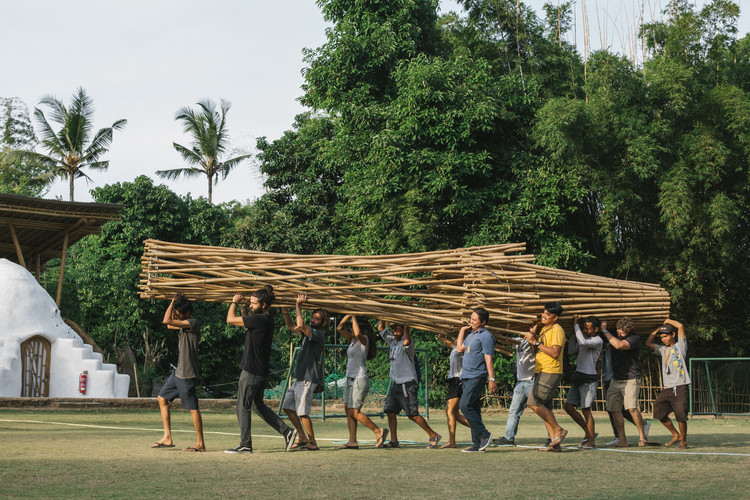 Find Your Own Bamboo Design Language
The last tip in this list might be the hardest to achieve. Your own personal Bamboo Design Language is not something that you will discover overnight. It can be a long process and journey which develops itself through all the different projects and challenges that you will come up against as a bamboo designer. But there will come a time that you understand what you want to express in your own bamboo designs, what you want people to feel when they interact with it, and how you can contribute to a better future with the help of bamboo.
To find your own language, ask yourself simple questions during your design process about how bamboo can benefit the atmosphere of a place through your design and why you design it differently compared to the way you would do it with any other material. Keep on listening to what the bamboo wants to tell you, where it wants to go, or where it wants to bend. Do not forget your background and what has influenced you to be a bamboo designer and with time you will notice that all of your projects will be connected by a common thread: your own personal Bamboo Design Language, without you even noticing. Though none of your designs will look like each other, they will be recognized as your own work. This is what makes your bamboo work special and unique to you.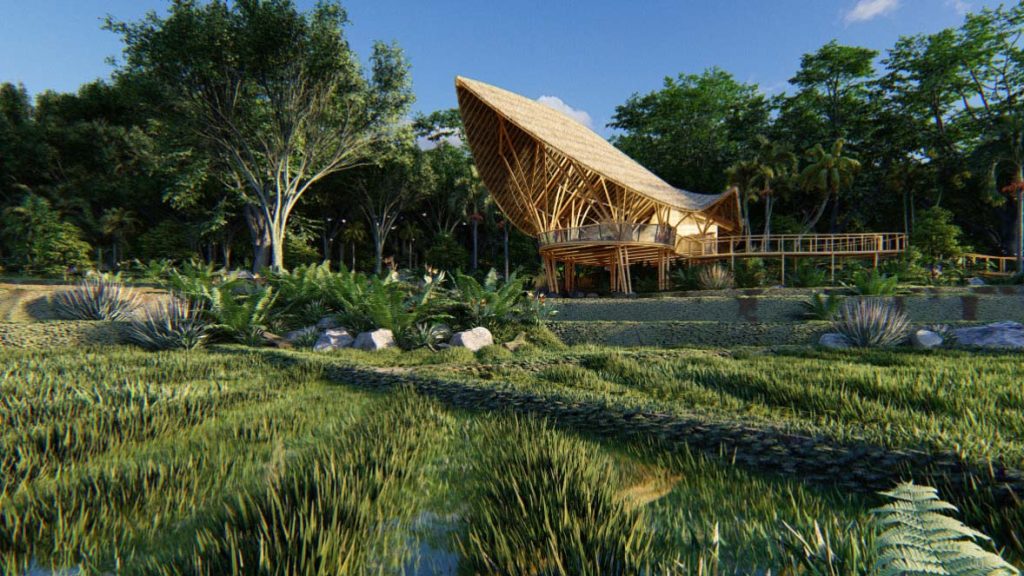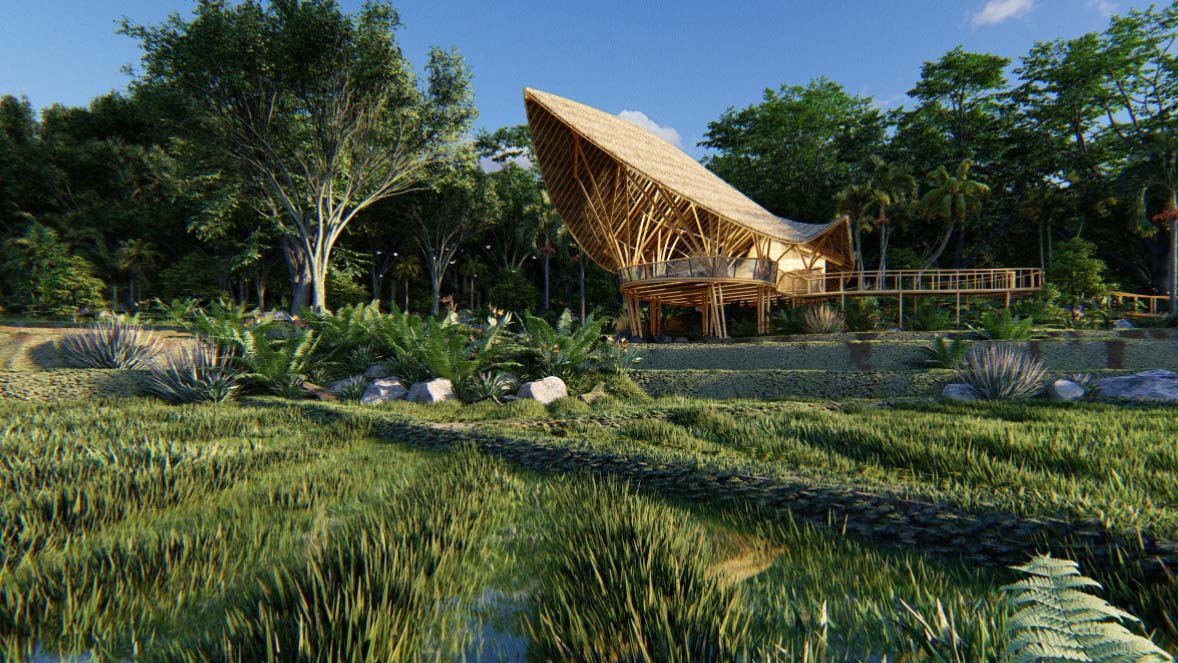 Rendering of a bamboo project.
If you choose to follow all, or even just a few, of these tips, I hope that bamboo starts to take a big part in your future and in your life. The process of becoming a bamboo designer is a long journey that will shape itself based on your interest, knowledge, and experience. As long as you keep the flame of interest in bamboo alive and you do not lose touch with the material, this journey will be successful and bring you a lot of fun, joy, and pride to be part of a more sustainable future.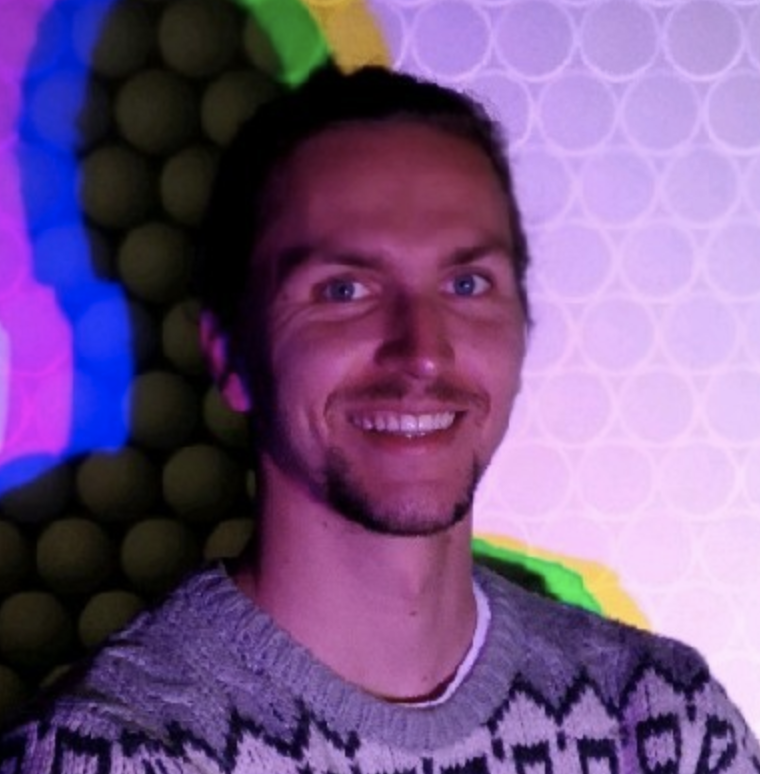 About the author
Lucas Schlüter
|
Bamboo Architect
Lucas Schlüter is a German architect, based in Indonesia. His architecture studies drew him to working internationally, first to Lisbon and then later to Bali to complete his master's degree. Specializing in architecture - project development, he travelled to Indonesia where he encountered bamboo for the first time. It did not take long for him to fall in love with it as an alternative, sustainable building material. He started to work at IBUKU, one of the world's leading bamboo design and architecture firms in 2019.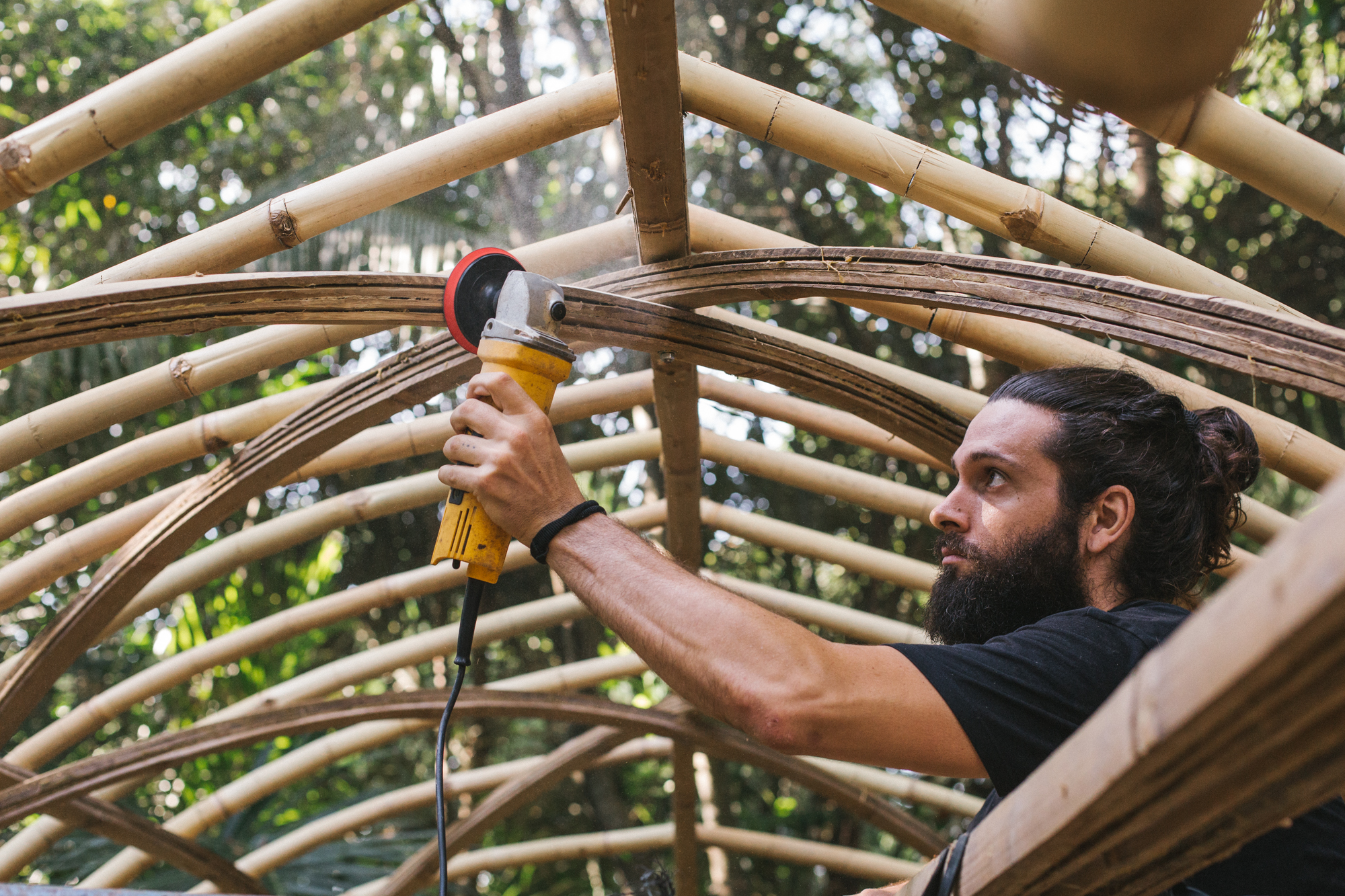 March 22- April 2, 2024
The 11 Day Bamboo Build & Design Course in Bali
In 11 days, we'll show you how to build bamboo structures we'll share all that it takes to build with nature.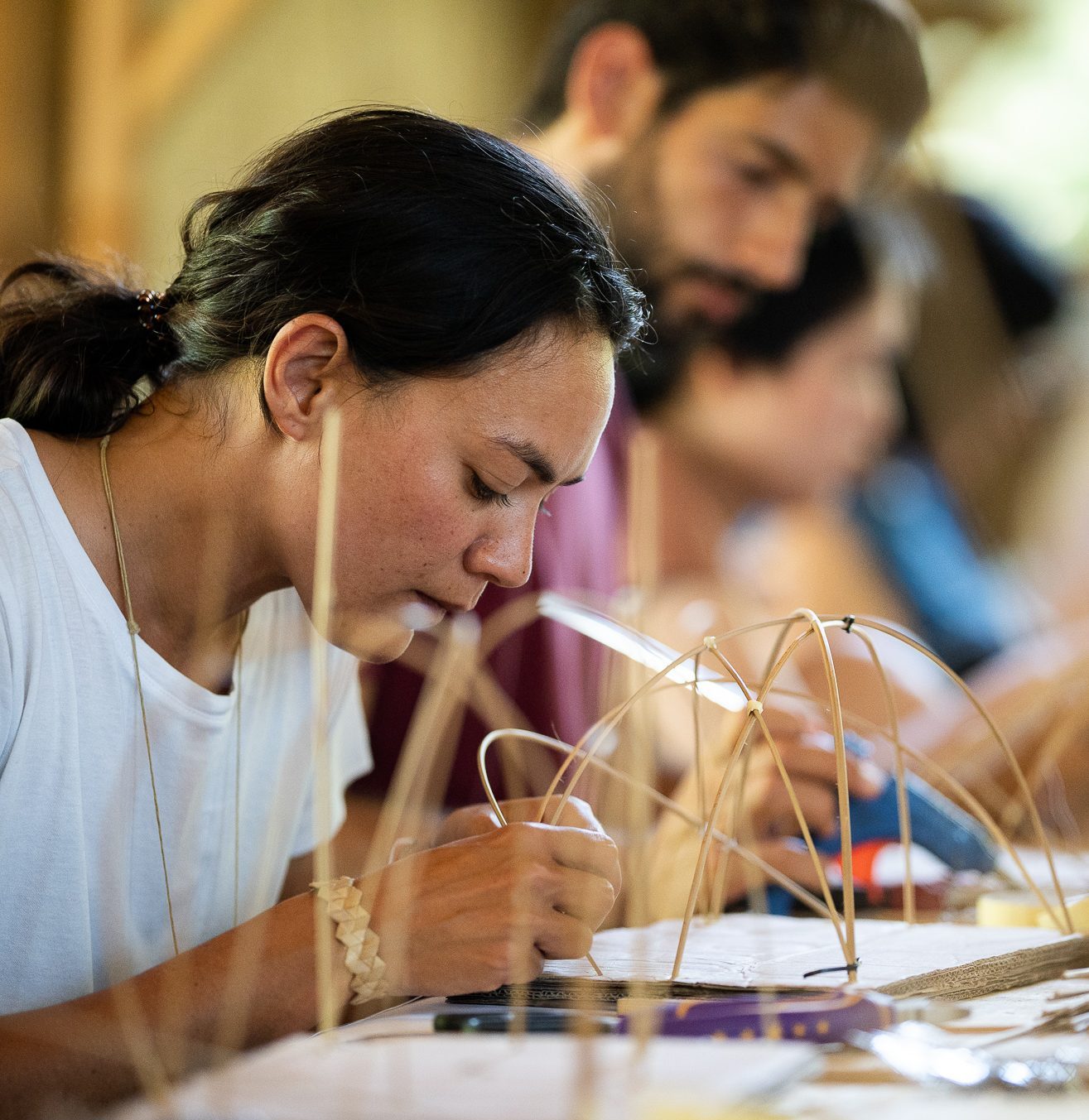 April 26, 2024
The Fundamentals of Building with Bamboo Online Course
All the fundamentals you need to get you started working with bamboo. Deep dive into cinematic videos and step-by-step guides that will provide you with a strong understanding of bamboo as a design and building material.