Designing a Bamboo Festival Pavilion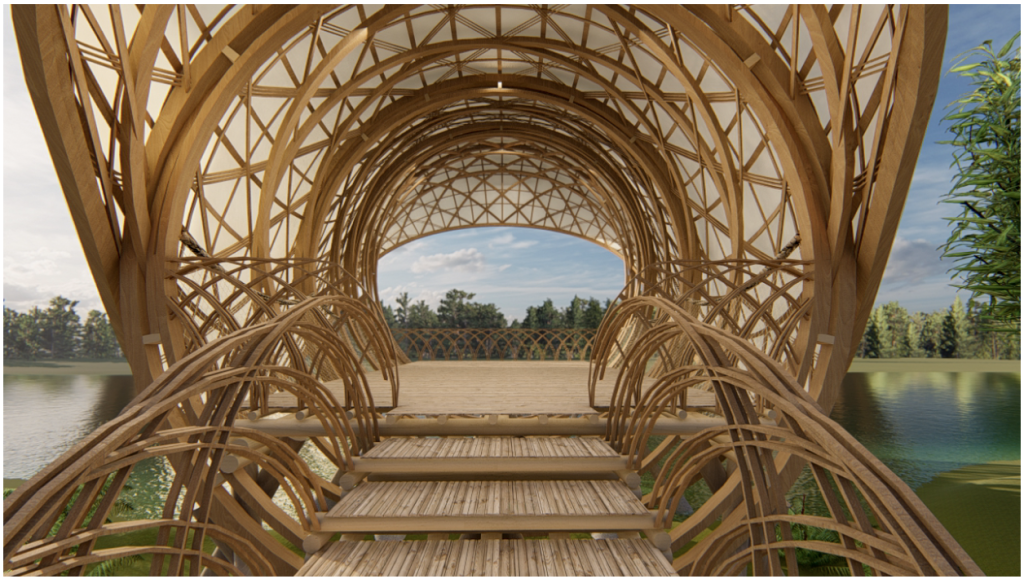 Meet Ckori Pena, Venezuelan architect and interior designer based in Phuket, Thailand. Read about her journey designing a bamboo festival pavilion during The Bamboo U Online Course.
Student Name: Ckori Pena
Name of Project: The Cocoon
Bamboo U Course Title Attended: Bamboo Online Course
Year/ Month attended Bamboo U: 2021 August
Country: Thailand
Work: Studio CKP
My name is Ckori Pena and I am a Venezuelan architect and interior designer based in Phuket, Thailand. In 2016 I founded Studio CKP with the idea of creating designs that blend with the environment, looking for sustainable materials and practices.
I joined Bamboo U because I am fascinated by green technology and sustainable design. In 2010, I was inspired by John Hardy's TED talk and I was intrigued to learn more about bamboo and incorporate the material into my projects as much as possible. In 2017, after visiting the Green School, the Bamboo Village and The Kul Kul Farm in Bali, I knew that this course would be an excellent opportunity to get deeper into the study of bamboo and its infinite applications.
During the Bamboo U Online Course, I learned about bamboo harvesting, treatment, the characteristics of each bamboo species, how they can be used more efficiently, and their advantages over other materials. The course has broadened my vision of its economic and environmental impact and helped me understand the research and advances by bamboo pioneers from all over the world.
I learned about structural systems, techniques, and software that I was not familiar with which opened a new world of possibilities for my design process. This hands-on experience helped me put into practice theories and knowledge learned in the course, which are reflected in the geometry of my project's structure.
The Bamboo Building Concept
The name of my bamboo project is called 'The Cocoon'. It is 14m x 8m x 8m and its function is a festival pavillion for Wonderfruit Festival in Thailand.
The pavilion is a connector between land and water – Us and Nature. The space makes visitors feel the presence of the surrounding living world, elevating our spirit and acknowledging our love for nature and other human beings. This feeling is achieved by using bamboo's natural tensile and bending properties to create a non-isolating shelter from sun and rain.
Thanks to the open-air design, which allows natural ventilation, the Pavilion connects us with nature, bringing the outdoors indoors.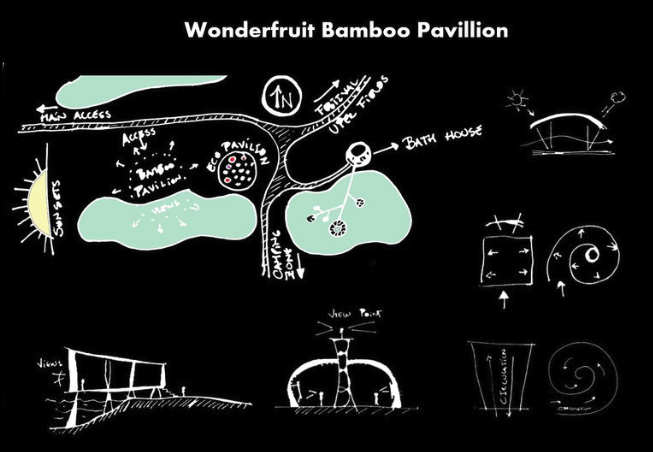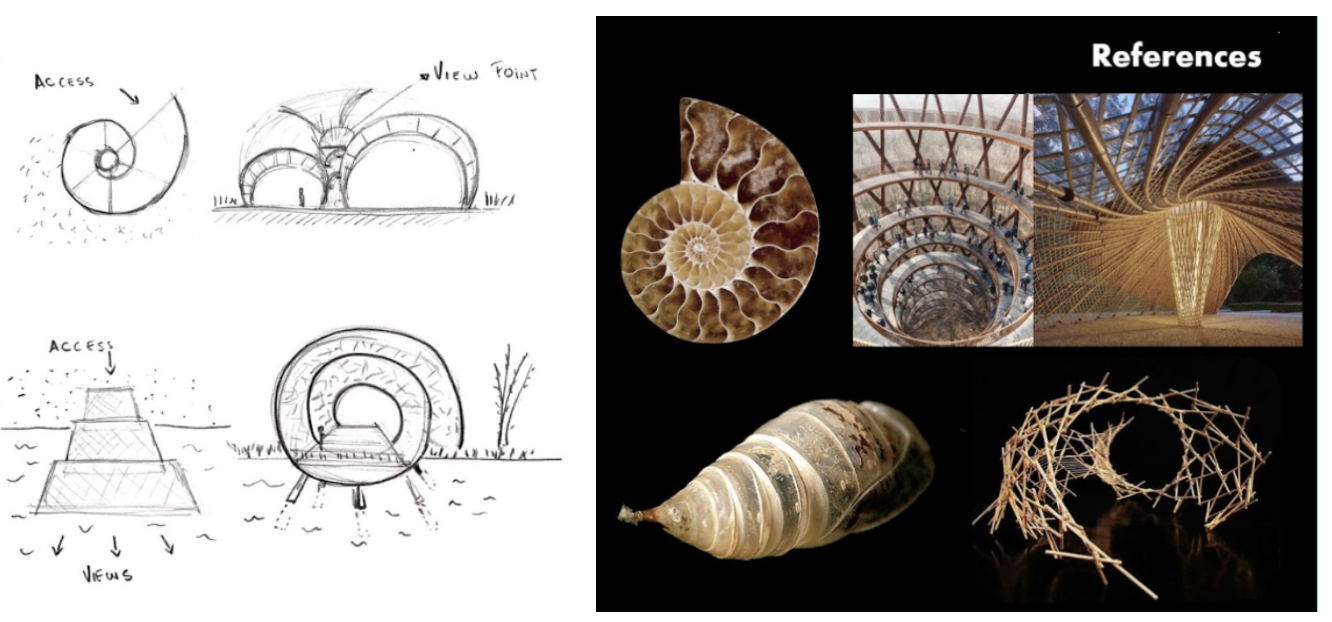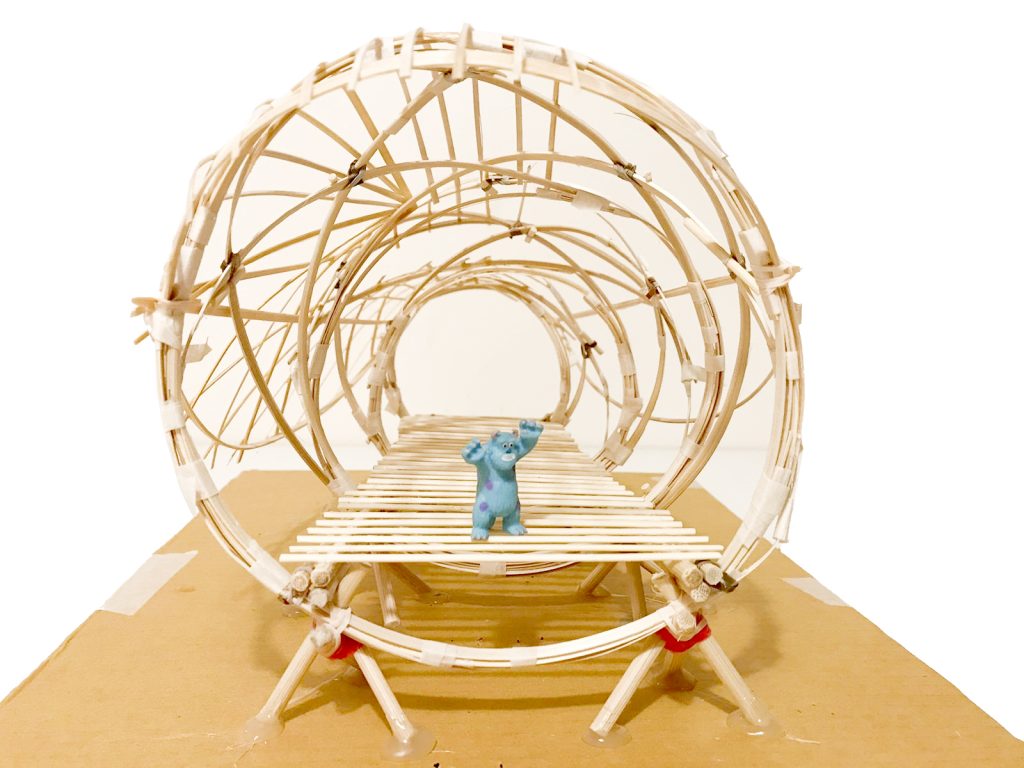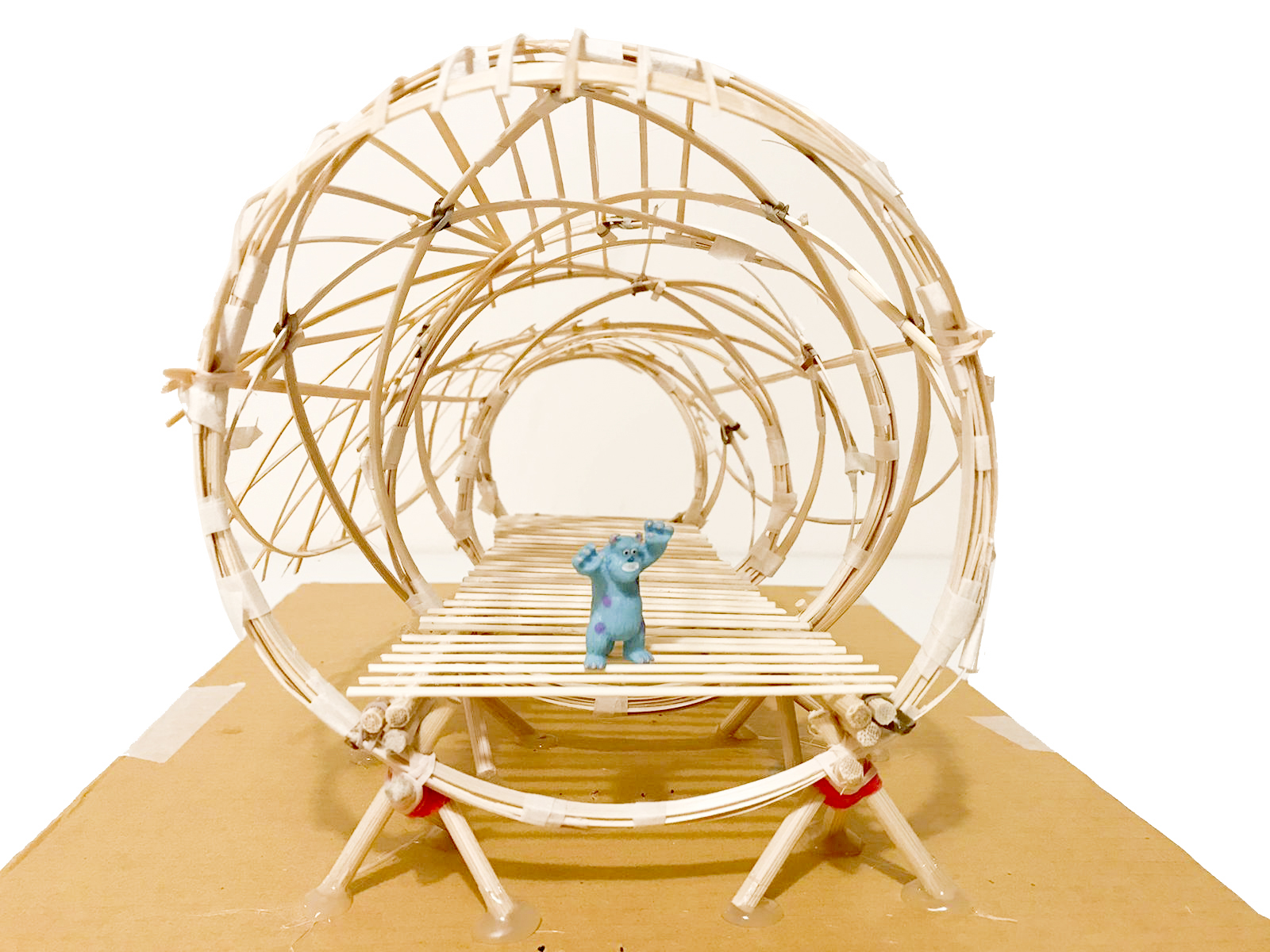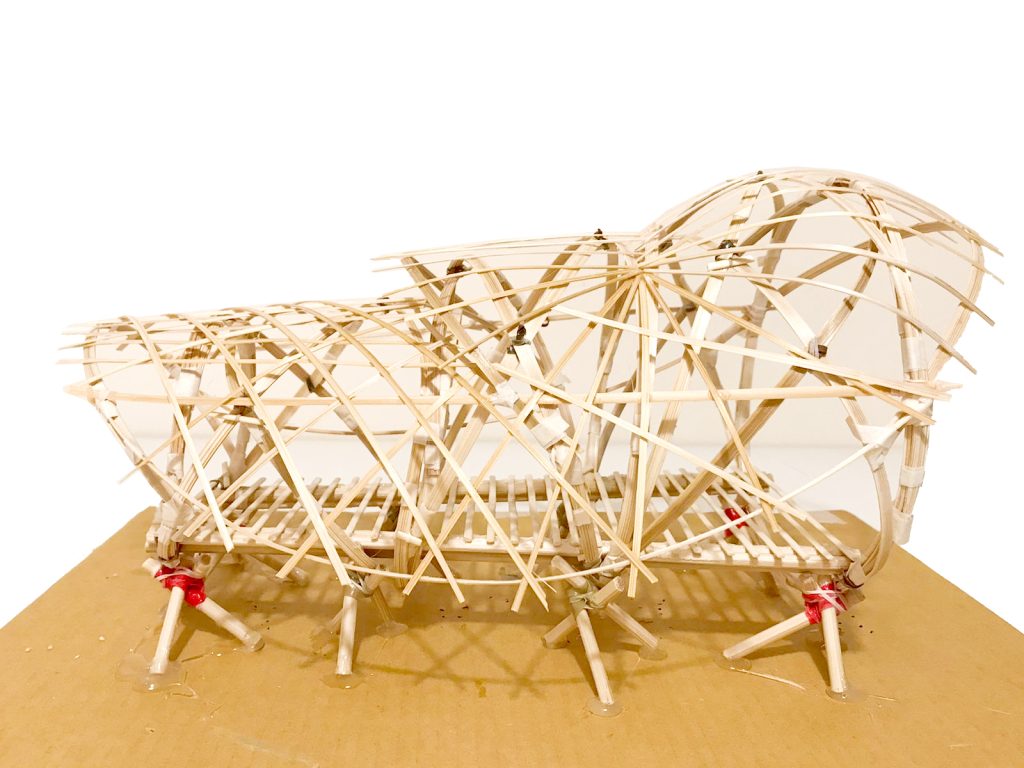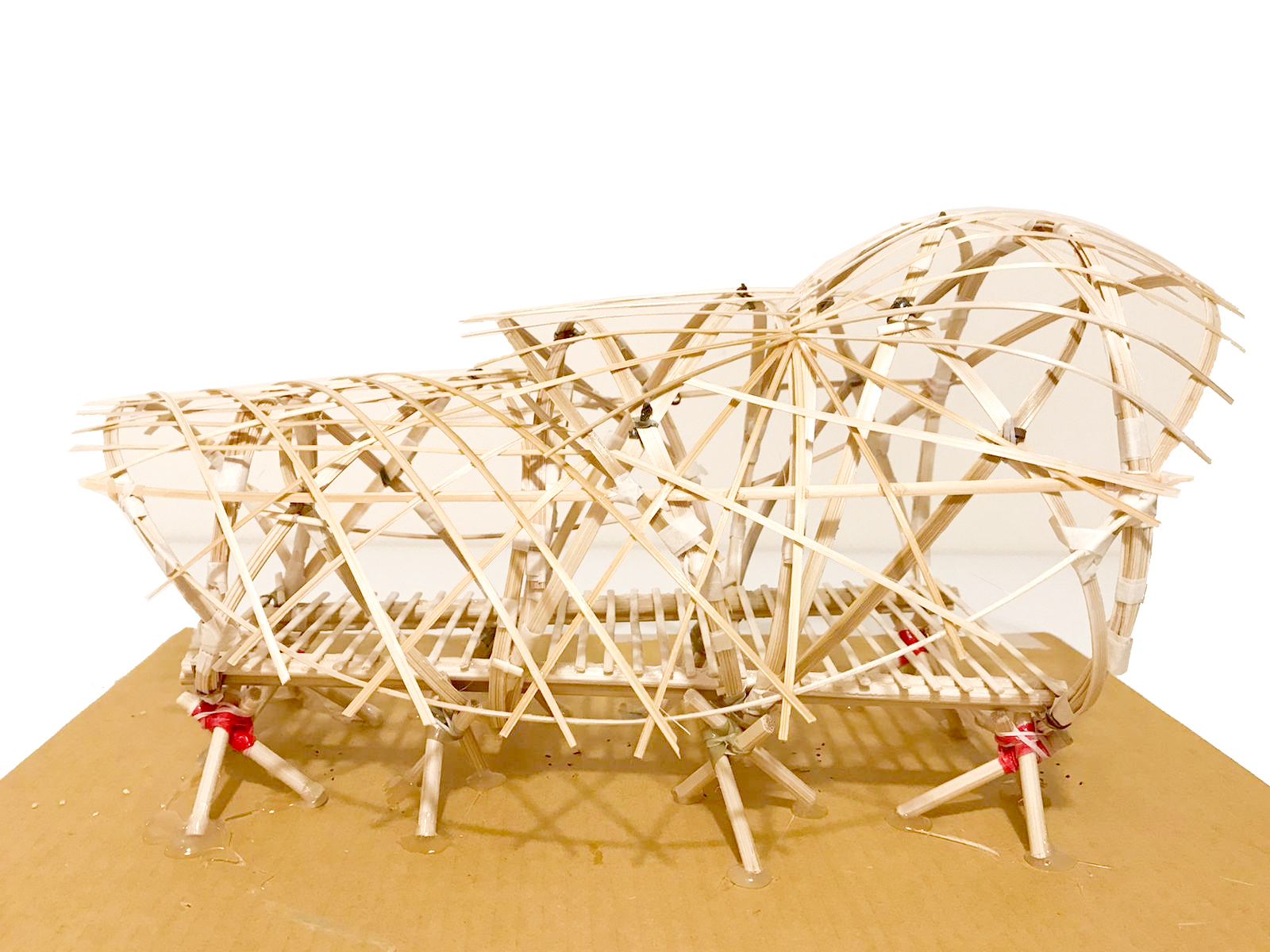 Developing The Concept Into A Final Structural Model
Inspired by nature and the site where the structure would be built on, shapes of the nautilus, spirals, and curves were on my mind for this design combined with the views, water, and surrounding landscape. I went from sketch drawings to small-scale bamboo modeling, playing with curves and testing the structural properties of the materials, bringing my concept to life.
After the shapes were defined, I complimented my design with a 3D modeling and I started playing with the geometry structure proportions as well. When I was finally satisfied with the result, I applied the changes to my final model.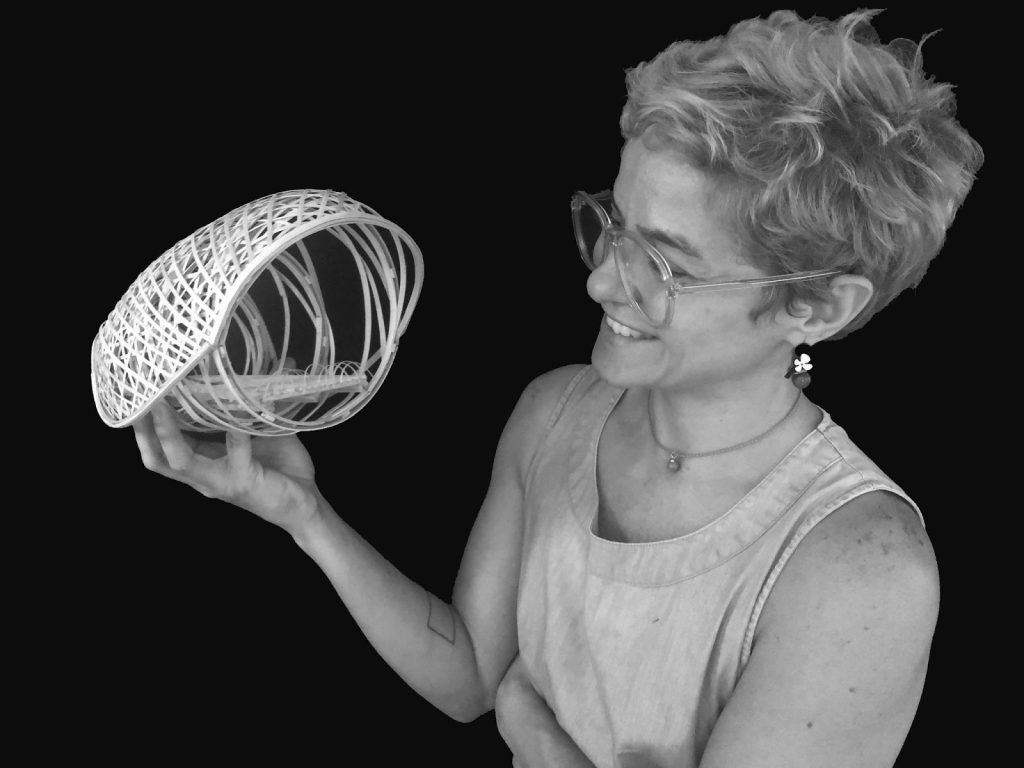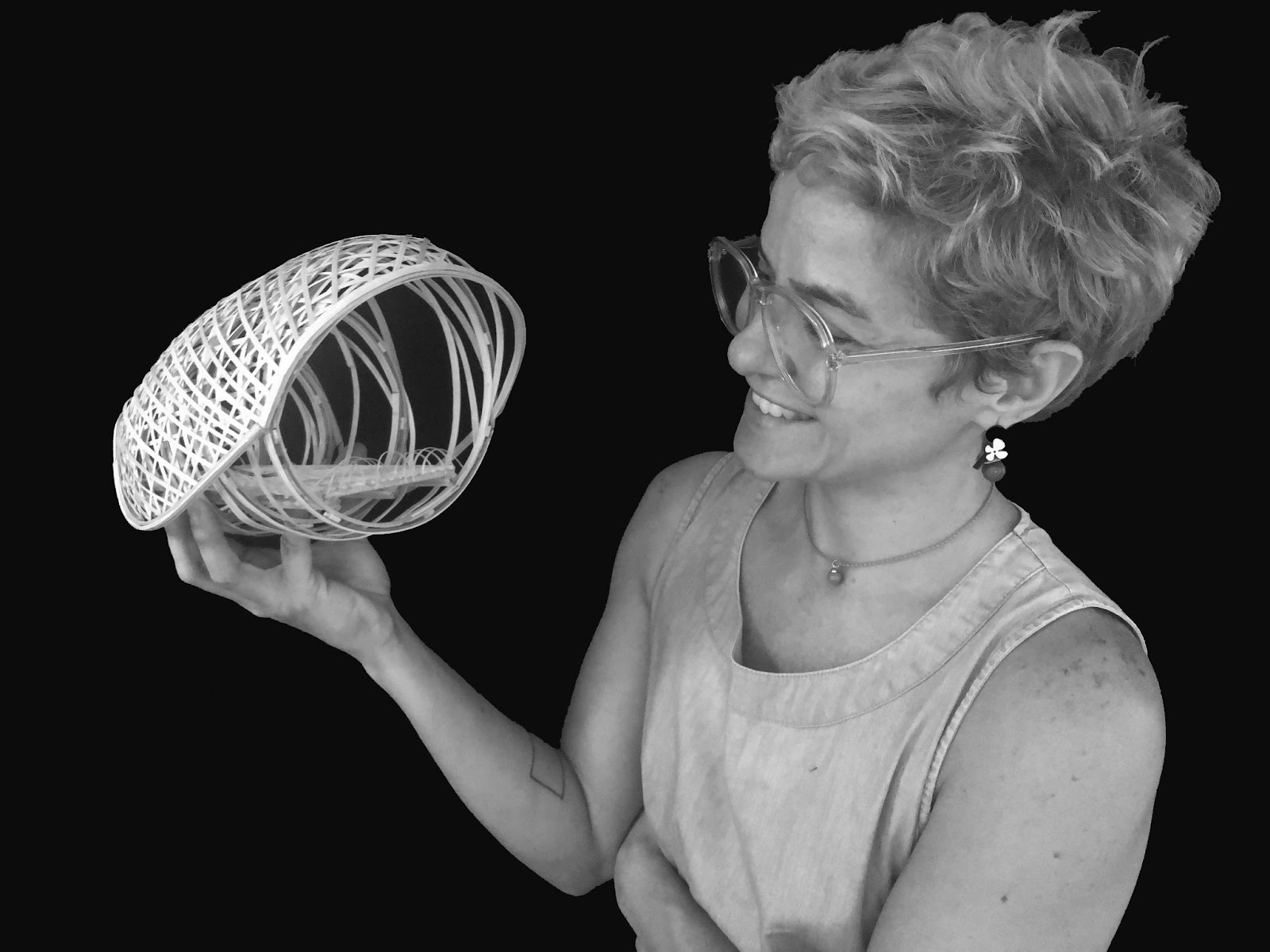 Structural Systems
I decided to use grid shell structures made out of bamboo splits combined with reinforced split bundles in the shape of rings and helix. I used a template on the working surface to shape the curves of my scale model, then placed the arches in the correct position, fastened together with the rest of the structure. It was very interesting to apply the same technique of construction to an actual scale model.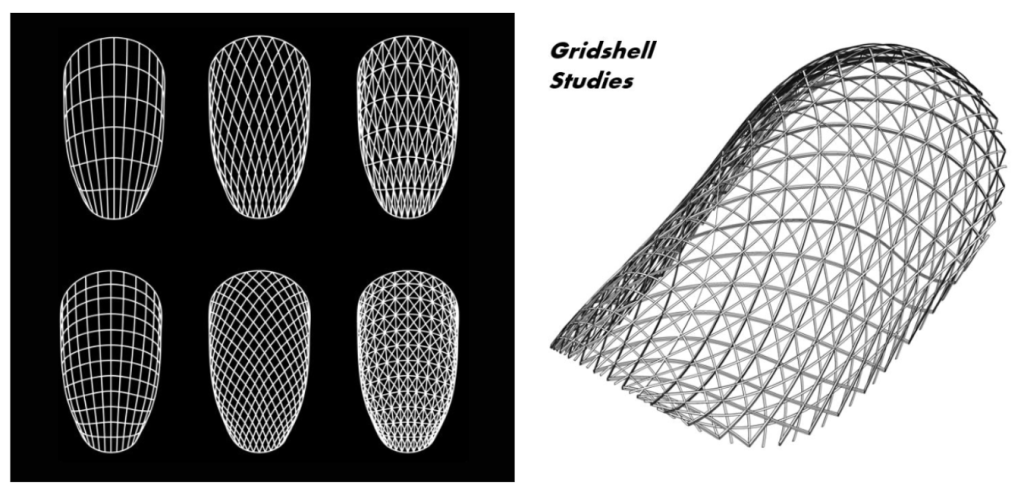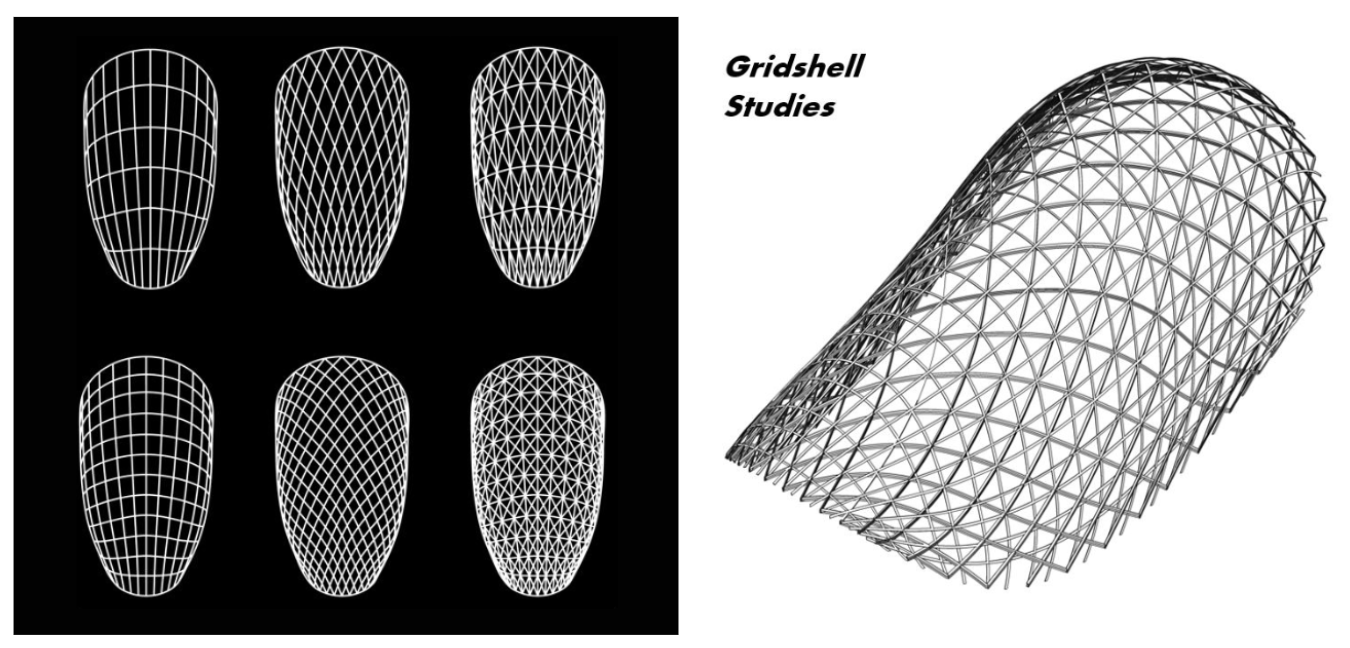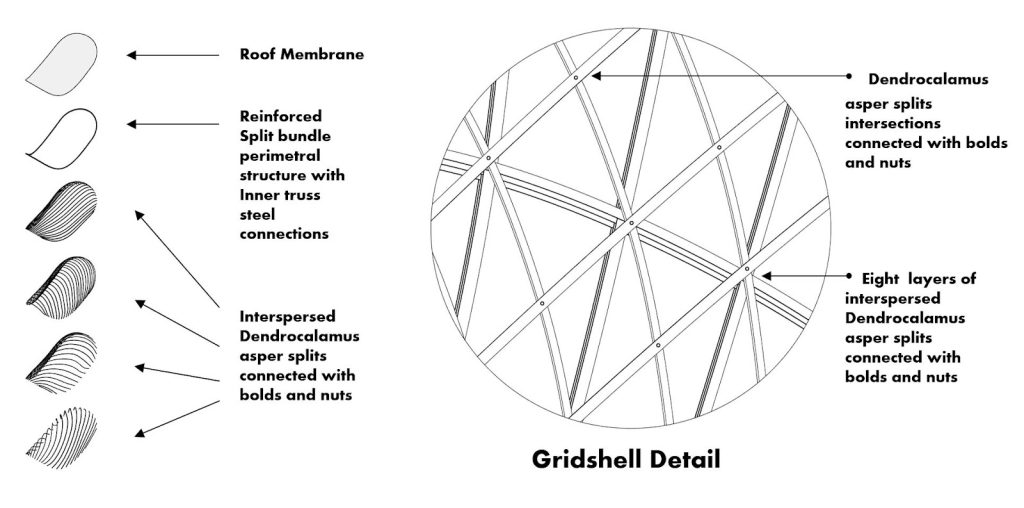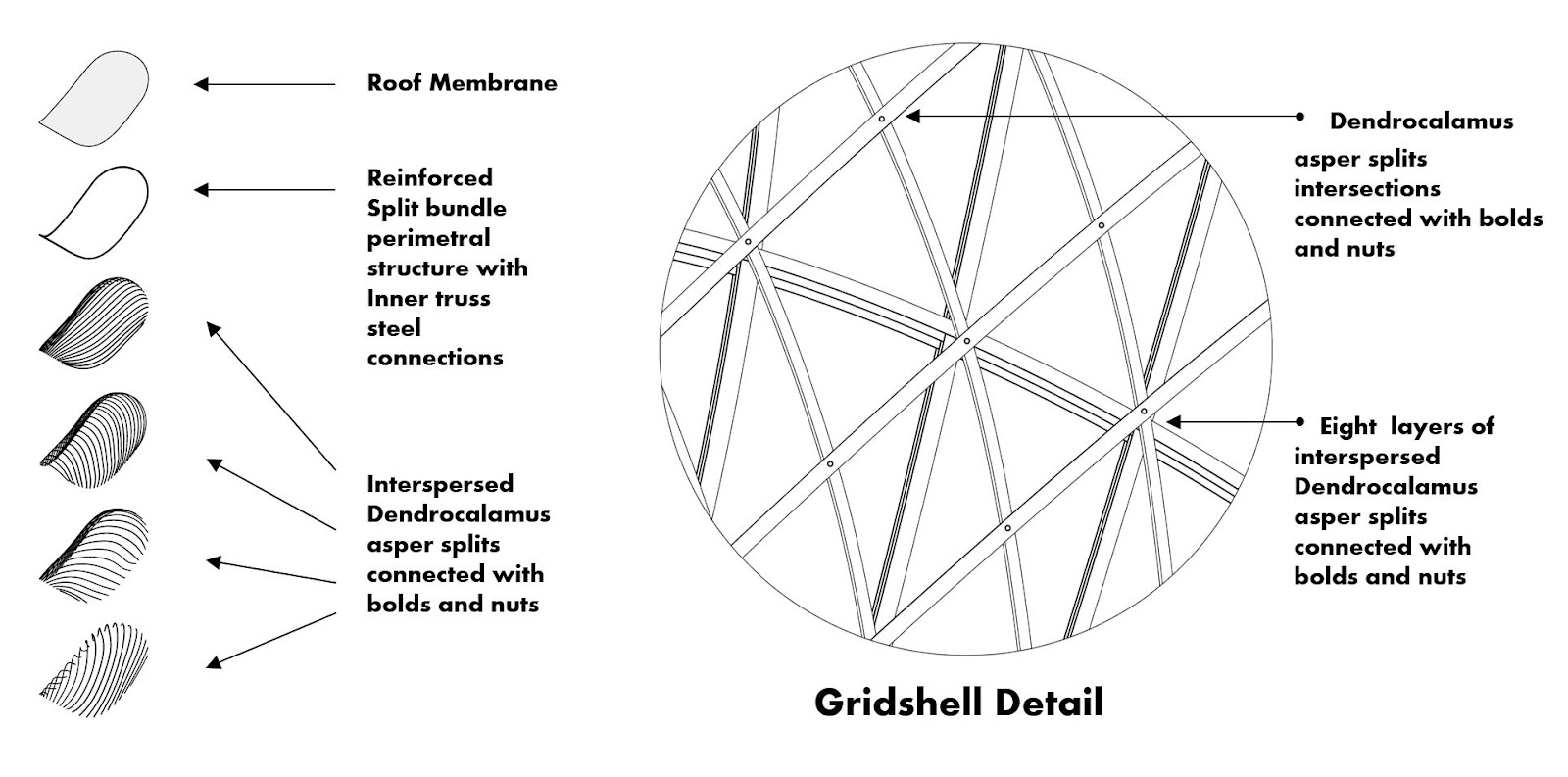 I used tripod lashed columns made out of Dendrocalamus Asper culms and a reinforced concrete base as the foundation. For the deck and stairs, the structure is made out of Dendrocalamus Sericeus culms. The main ring ribs and the helix are built with Dendrocalamus Asper reinforced splits bundle. And as for the Grid shell roof structure, it is made out of Dendrocalamus Asper splits and reinforced splits bundle as well.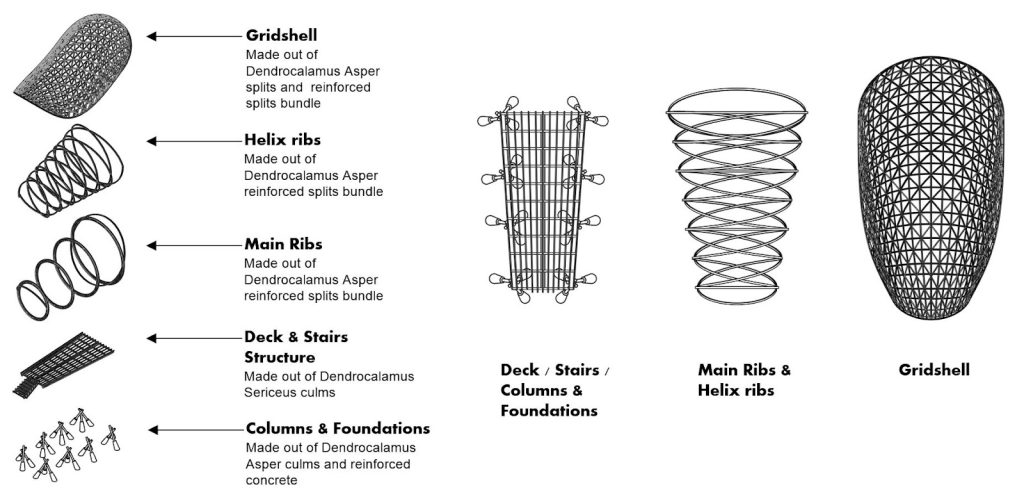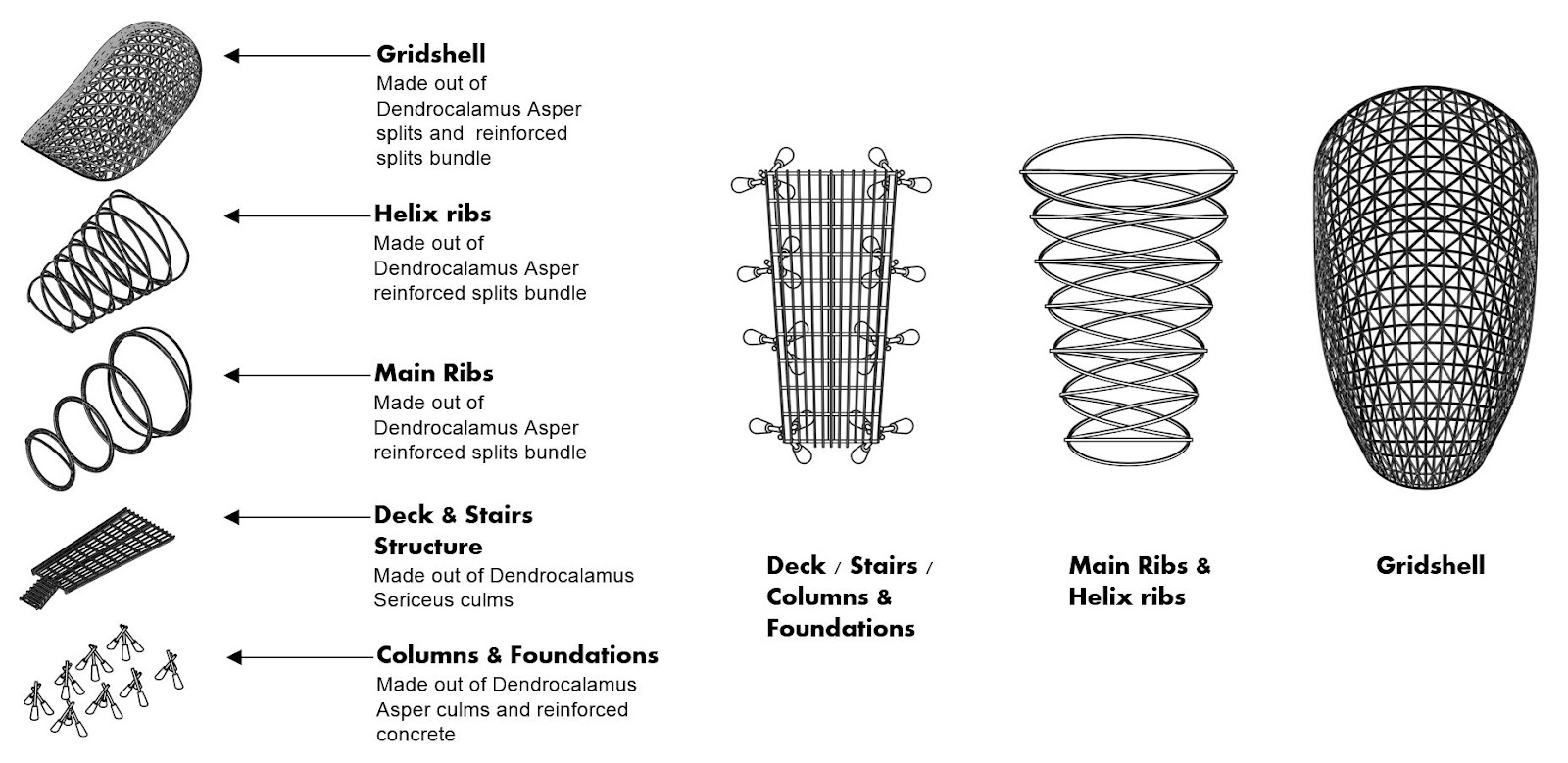 I really enjoyed all the modules and each of the live sessions. I loved the way the course was developed starting from Bamboo Taxonomy, Physiology, Forestry, Harvesting and Preservation, and Bamboo Carpentry and Joinery.
Structural Systems
It made me look at bamboo in a different way and helped me understand how to use each species accordingly. The Bamboo and Engineering module was my favorite module. It taught me the advantages of bamboo's mechanical and structural properties.
Learning about bamboo splits as a technique was the main inspiration for my project. It's amazing how the splits allow us to create various unique and organic forms with infinite possibilities through technology, innovation, and testing.
Working on the model and with the live sessions made it easy to understand how the design process using bamboo is different from the traditional design process. Considering that every bamboo pole is different, we must start the design process with scale models in order to have a better understanding of the material properties and how every part of the structure relates to each other. If your scale model works structurally, it should also work once your structure is built (and complex structures still require an engineer!).
Overall, the course gave me additional tools to explore and discover more of what I can achieve with bamboo and it inspired me to continue pushing the limits and keep experimenting with this incredible natural resource.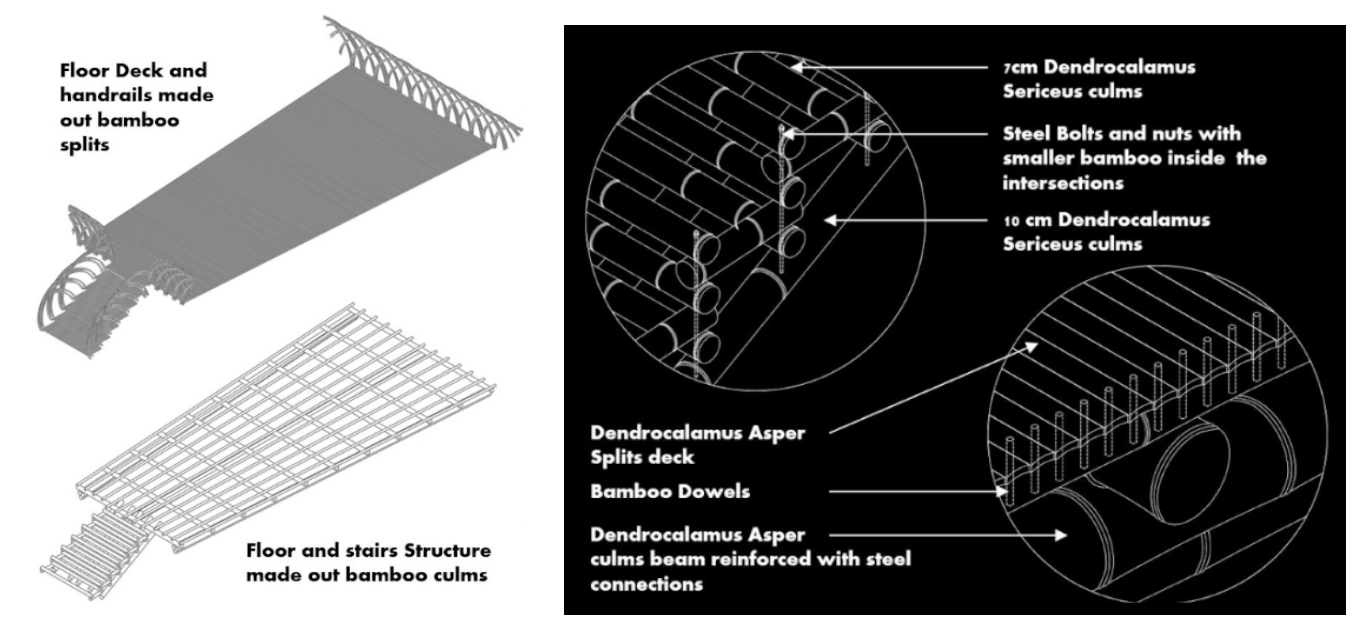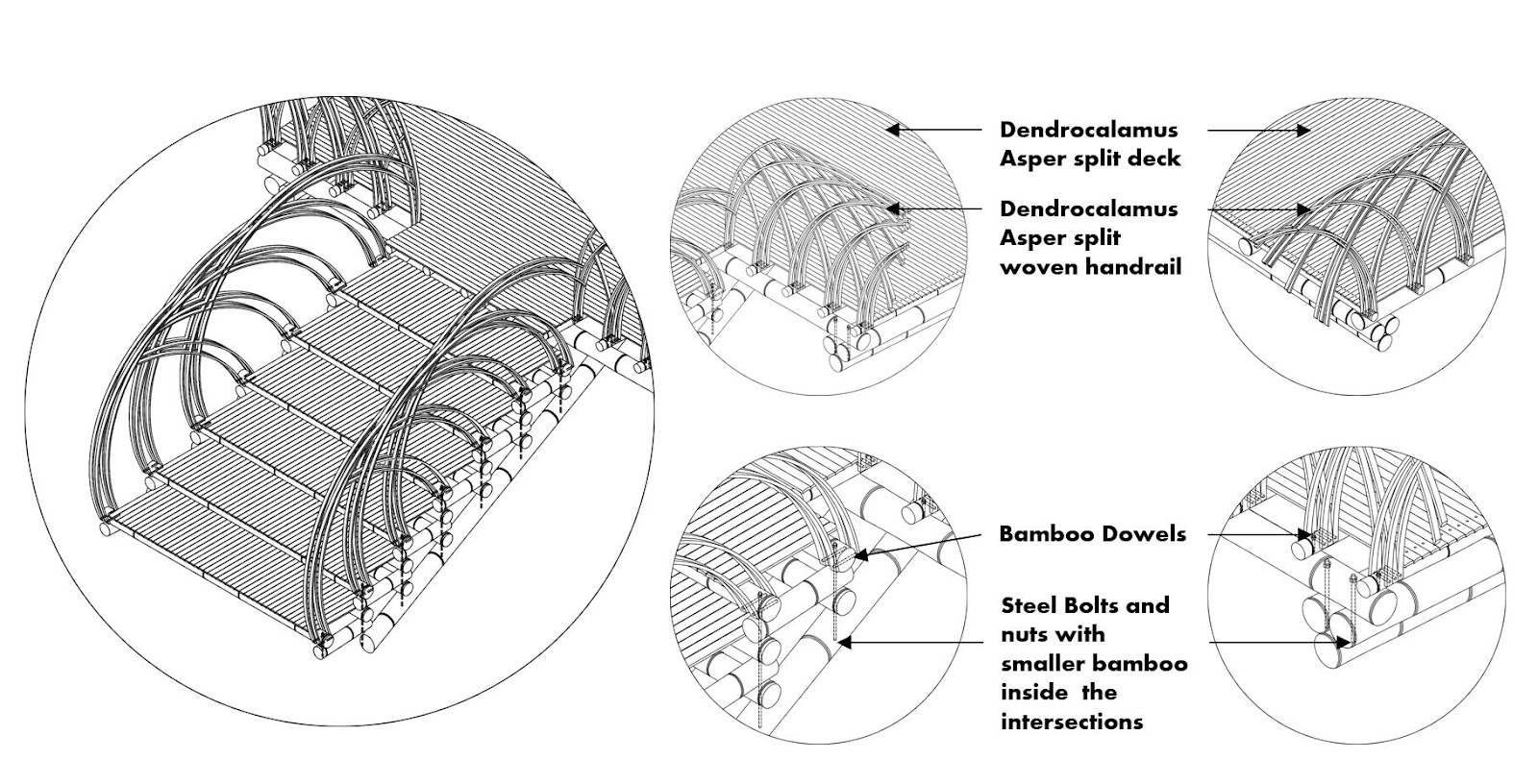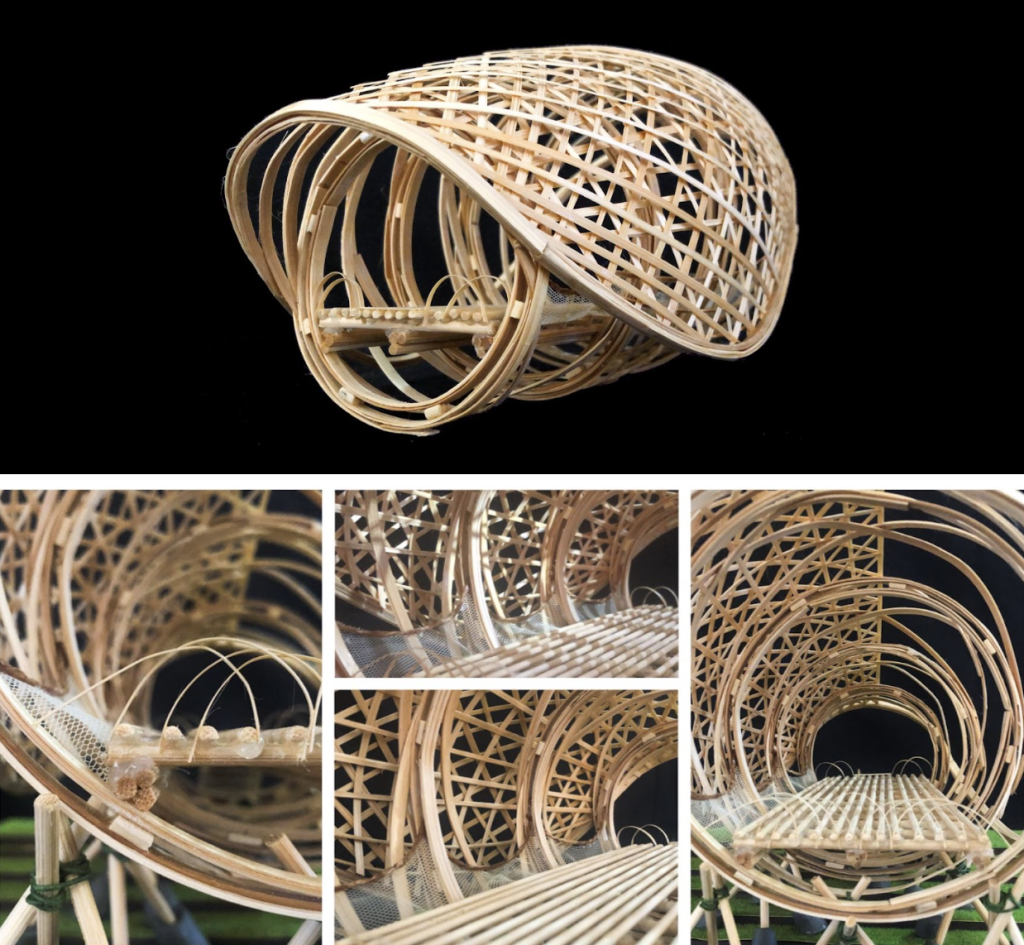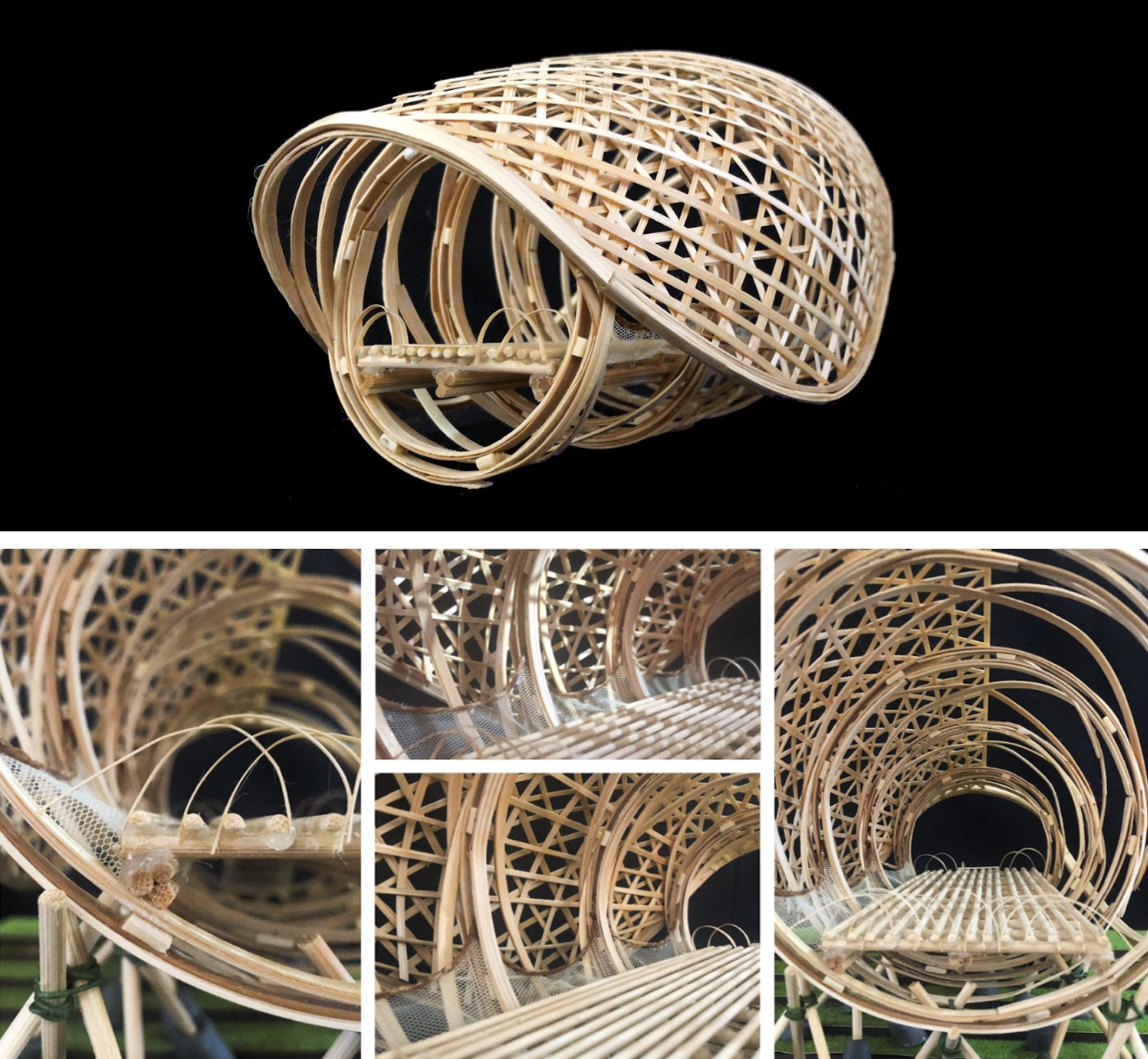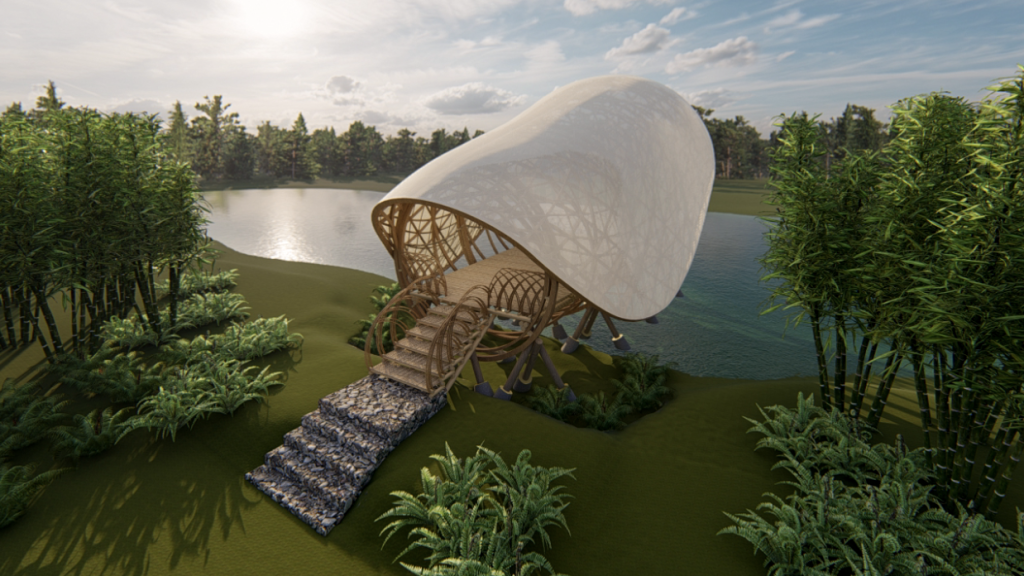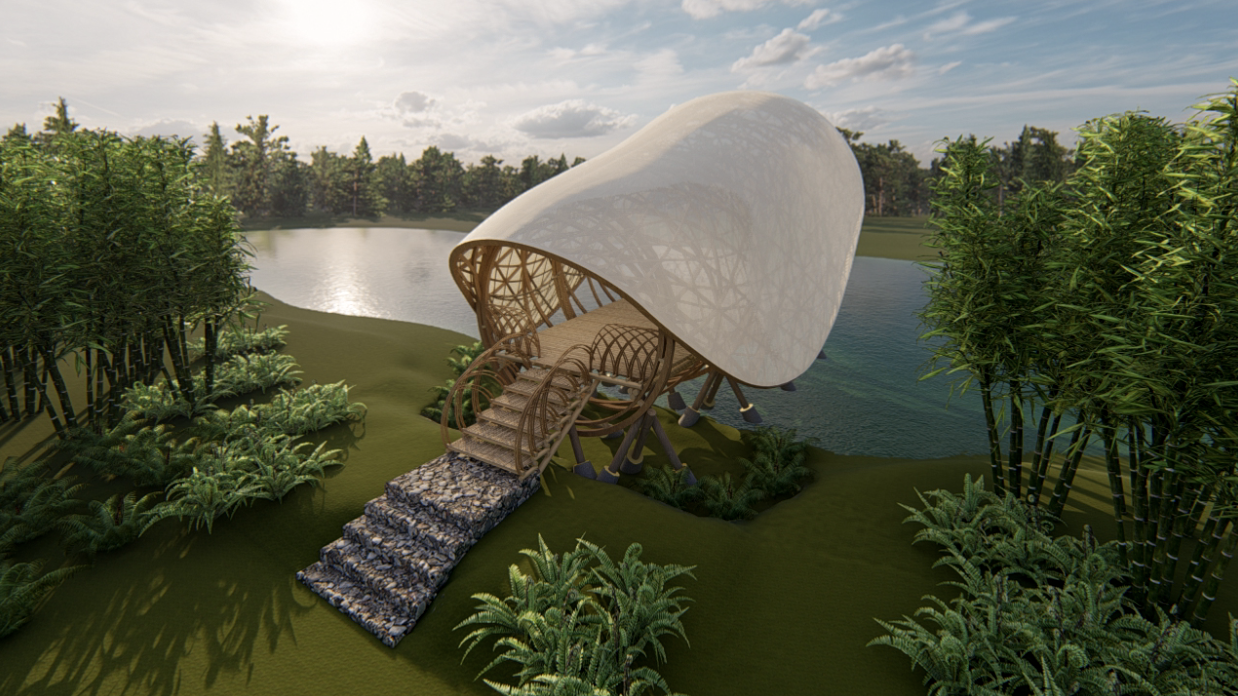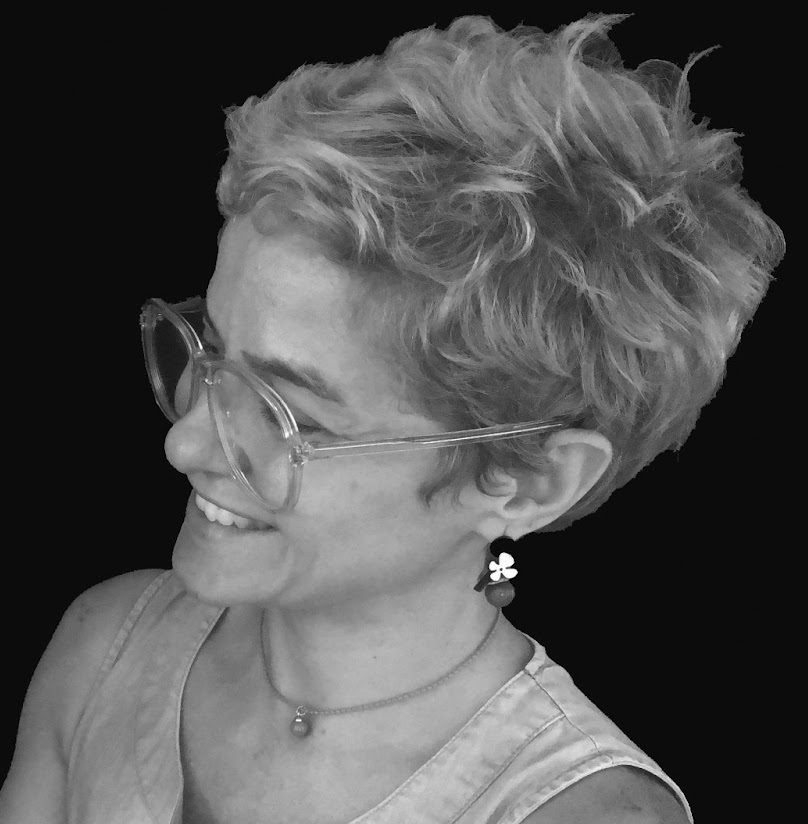 About the author
A Venezuelan architect and interior designer based in Phuket, founded Studio CKP in 2016 with the idea of creating designs that blend with the environment, looking for sustainable materials and practices.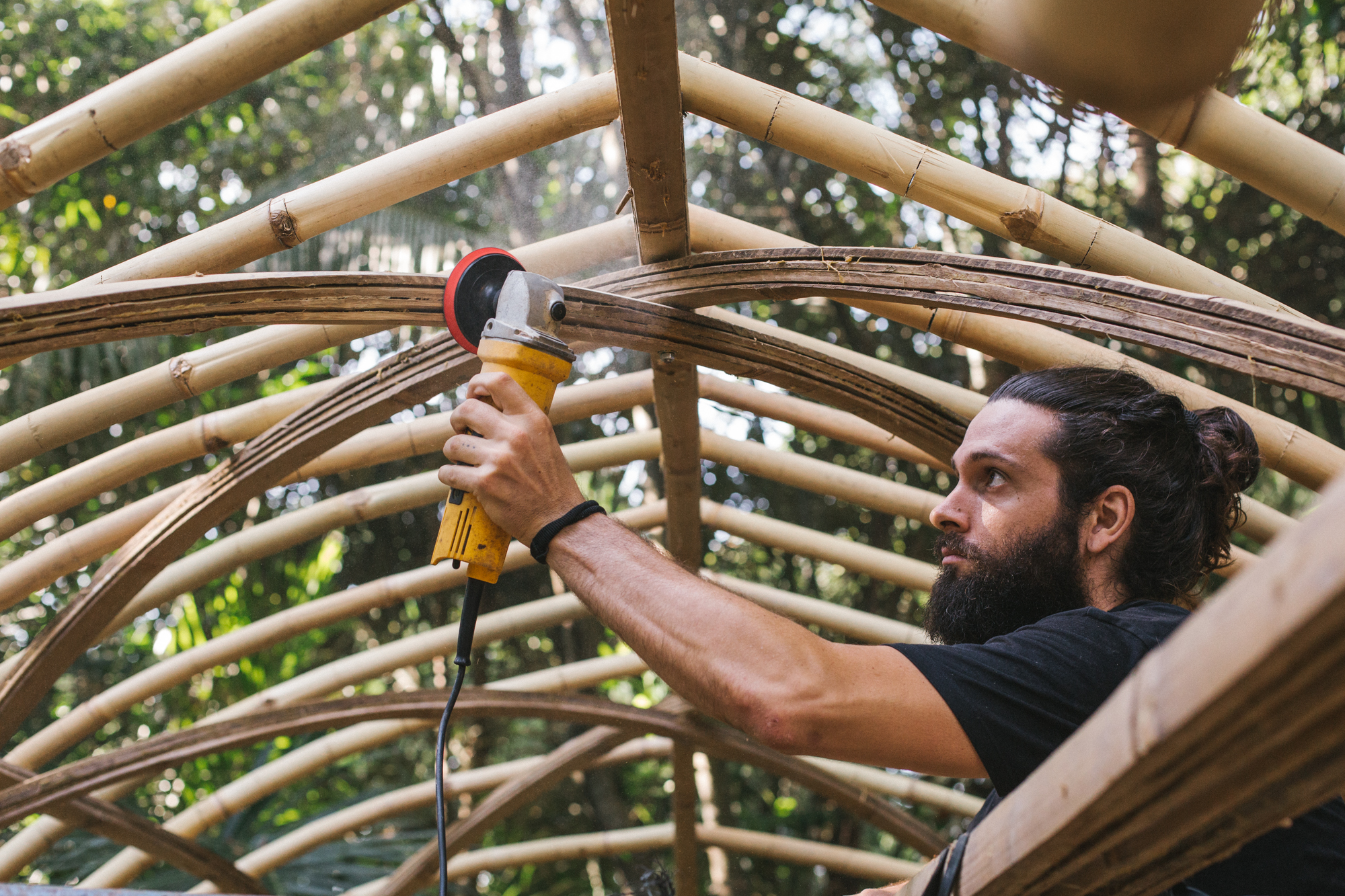 March 22- April 2, 2024
The 11 Day Bamboo Build & Design Course in Bali
In 11 days, we'll show you how to build bamboo structures we'll share all that it takes to build with nature.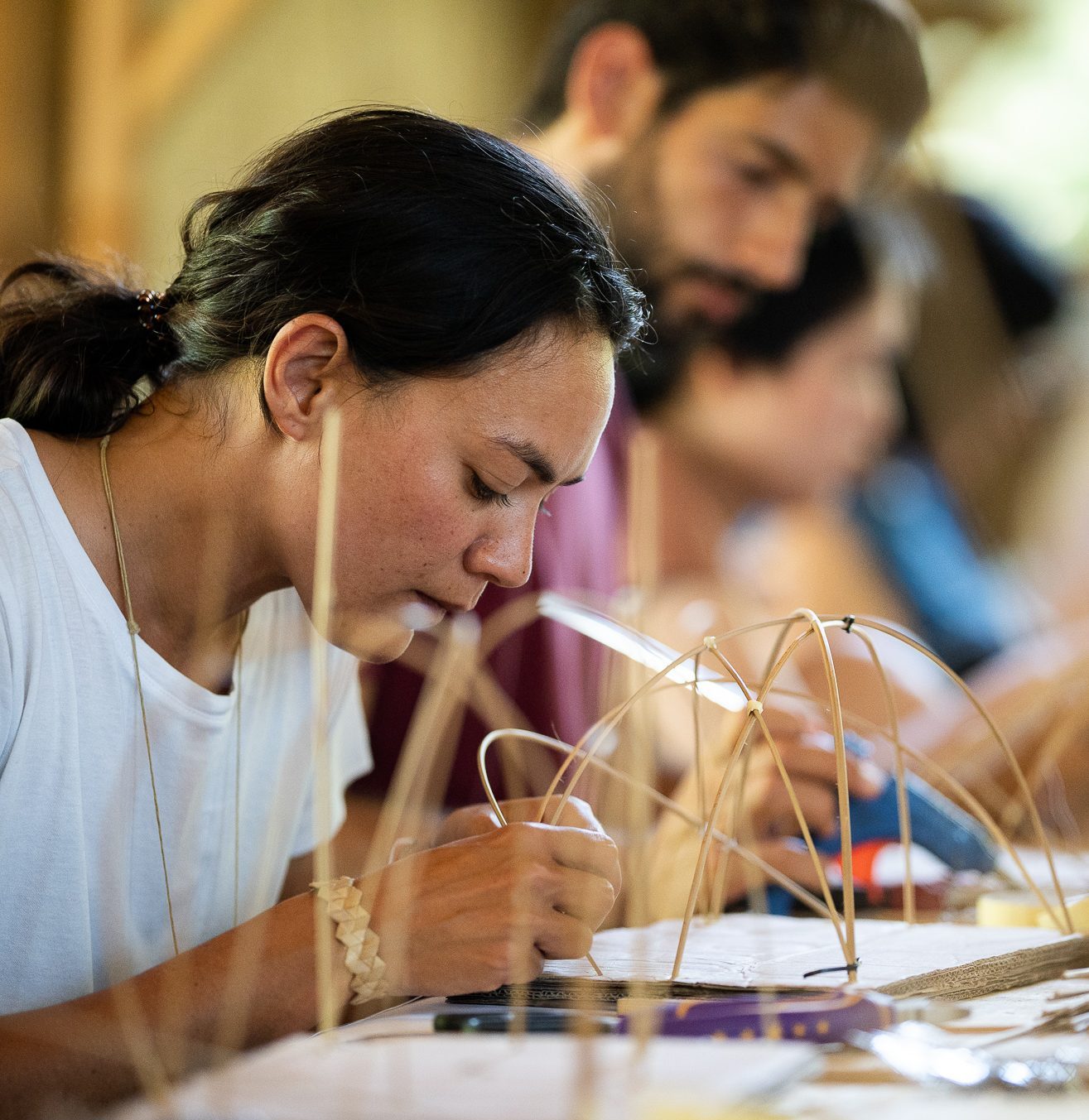 April 26, 2024
The Fundamentals of Building with Bamboo Online Course
All the fundamentals you need to get you started working with bamboo. Deep dive into cinematic videos and step-by-step guides that will provide you with a strong understanding of bamboo as a design and building material.