Bamboo Architect's Essential Toolkit
By Lucas Schlüter | October 4, 2022 | Design -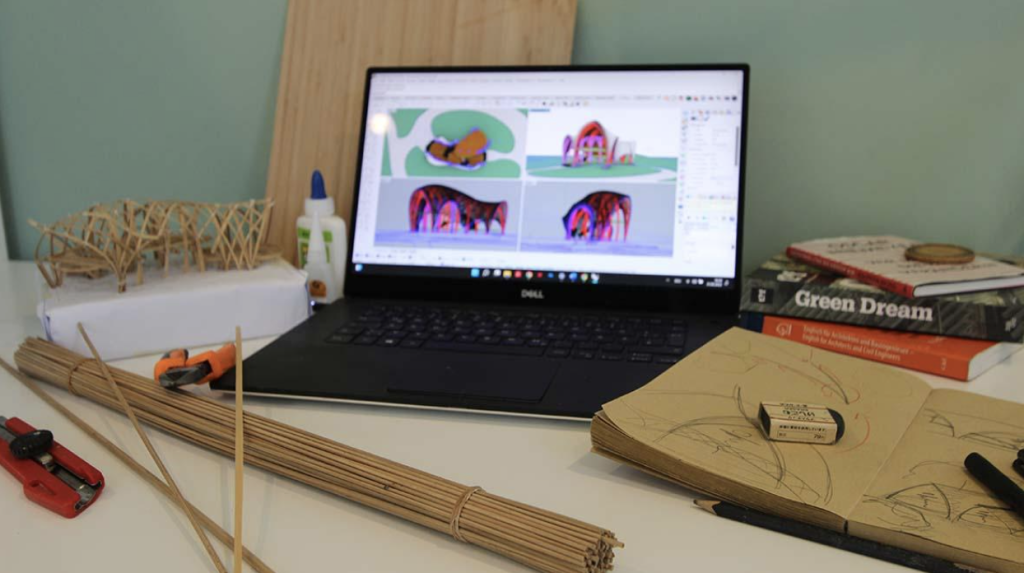 While working on your bamboo design, either professionally or for your own passion project, you can draw back on a variety of tools to help you achieve your goals.
This article gives you insight into the most essential tools you need for bamboo design. These include:
Sketchbook / Tablet
Model making Tools
Bamboo Model Making Sticks
Laptop / Computer
Book
Sketchbook / Tablet
No matter if you design a bamboo villa, a bamboo sofa, or a small toy out of bamboo, each design process will start with a sketch. A good sketch often builds the foundation for a successful project. Sketching helps you capture your initial ideas and trace the development of your design.
A simple sketchbook helps us to follow our thoughts throughout the different phases of the design process. Often, it will start with sketches of the site, and your first ideas and progressively get more and more detailed as you move towards the completion of your design. At a later stage in the design process, when your bamboo model begins to inform you on the joinery and carpentry, sketches can be a powerful tool to archive your design intents in a constructive way.
We have found that both a paper sketchbook and a tablet, with special drawing apps like Procreate, are equally useful. Indeed, both are able to keep the essence of the sketch. Whilst a full paper sketchbook gives you a complete overview of your design journey, a tablet's app can optimize your sketches.
On a tablet, it is easier to adjust your drawings at each of the different stages of your design. Furthermore, you can scale the drawings and import them into your other digital design tools to work on your technical drawings or to build your 3D model. One of the most important benefits of sketching with a tablet is the ability to capture both your physical bamboo model and your sketch directly over the same image to optimize your bamboo design.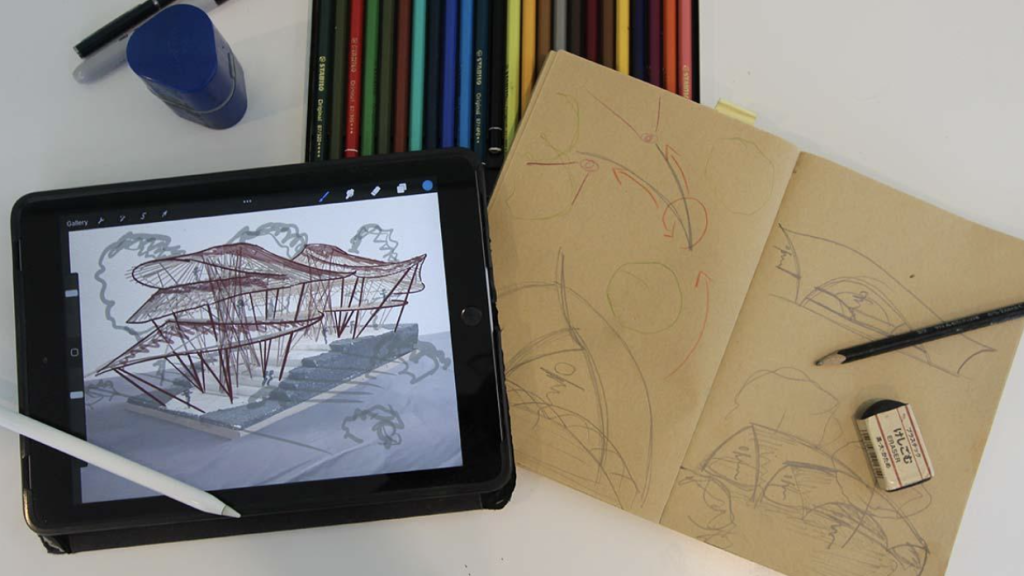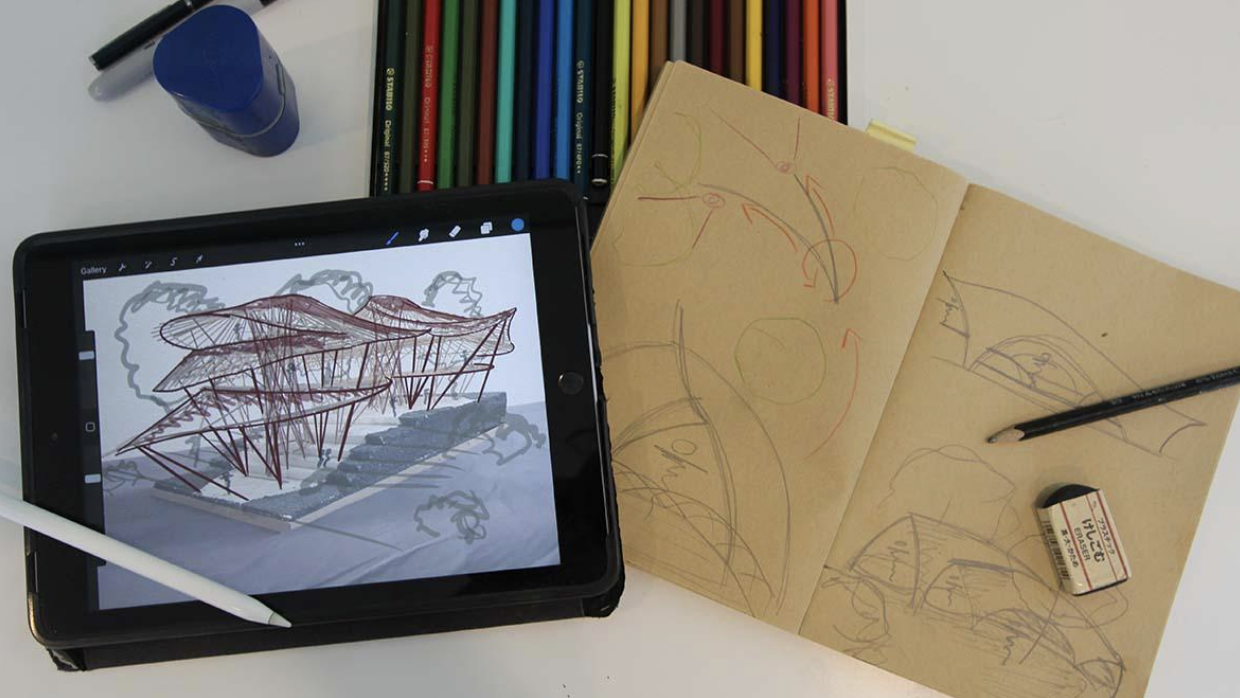 Model Making Tools
Building a physical bamboo model is the core element of the design process for bamboo buildings, furniture items, or any other bamboo designs in fact. Therefore, the model-making tools have an immense role in the life of a bamboo architect. Here is a quick overview of the most important tools for your bamboo model-making kit: Scale Ruler(s), Pliers, Utility Knife, Superglue, Tape, Thread, and the most important one bamboo model-making sticks.
Together, these tools help you to build all of the models for your project from your first concept model all the way up to the final construction model. You can combine these tools with a variety of other model-making tools or materials to complete your model-making kit once you get more skilled with your bamboo model-making.
Bamboo U has published a whole article about the different tools you can use to build your bamboo model, which gives you a complete overview and many useful inside knowledge of the art of bamboo model making.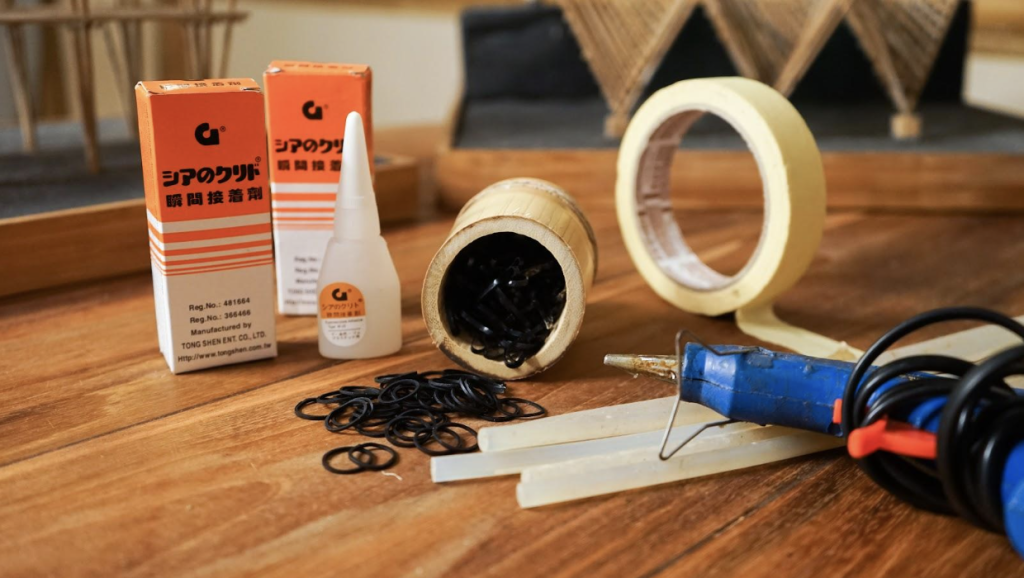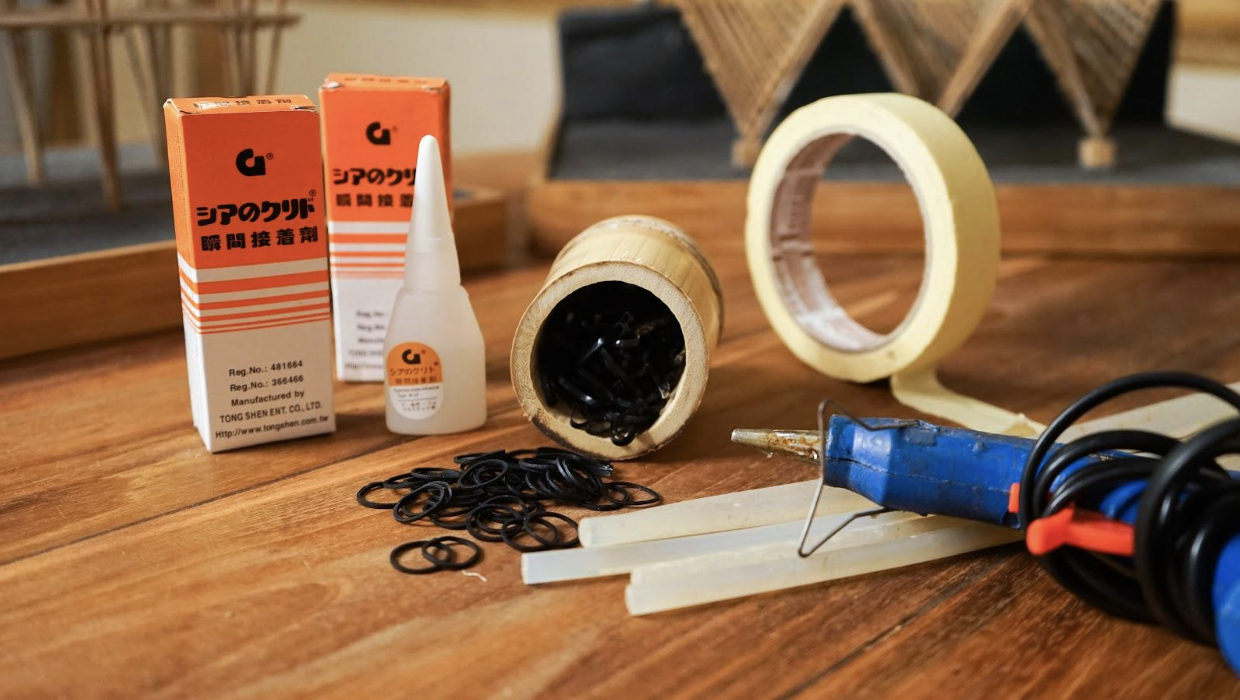 Bamboo Model Making Sticks and Material Sample
Even though the bamboo model-making sticks are a part of the model-making tools, they are so important that they have their very own section in this article. Bamboo model-making sticks allow you to understand how your type of bamboo wants to behave, which shapes it can take and where their limits are at a smaller scale. Of course, you must do proper testing and engineering with the full-size poles, but the sticks can give you a very good understanding of the limits and opportunities of your material. Even if you are not planning on building a physical model, because you are working with parametric design, for example, the model-making sticks help you to find new ideas and push the limits of your design.
In addition to scaled model-making sticks, it makes sense to gather a few samples of the bamboo types you want to work with to analyze their characteristics such as flexibility, and strength or simply to see their texture and look.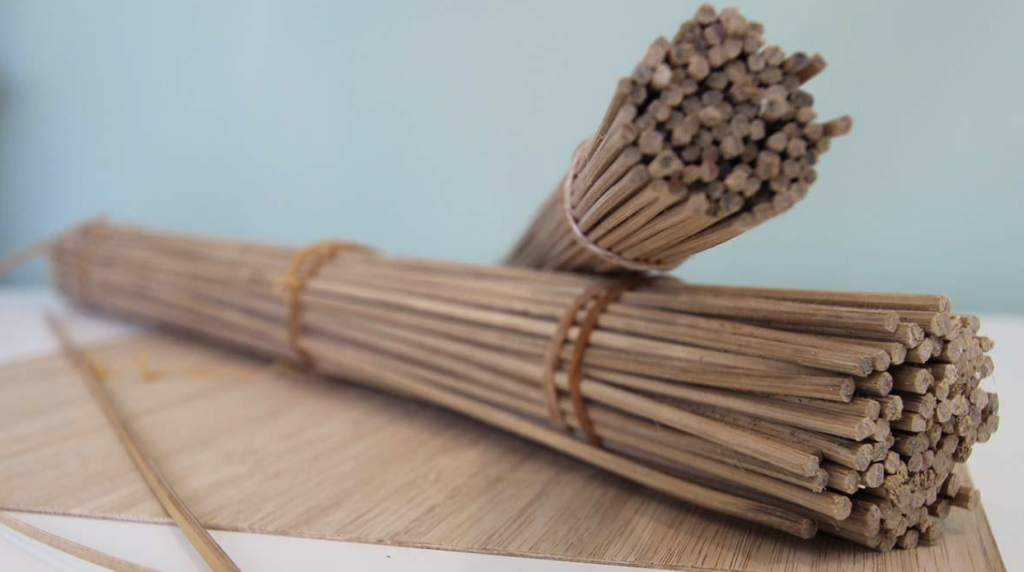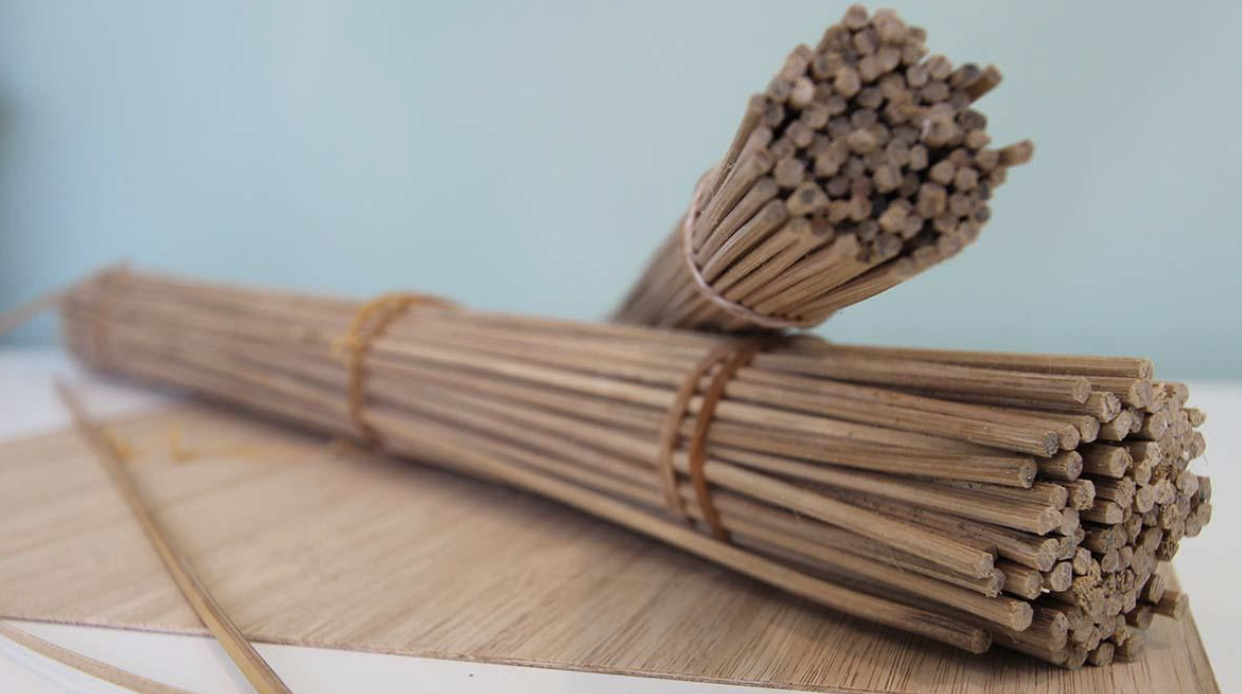 Laptop / PC
As designs become more complicated and design software constantly evolves, a good laptop or desktop has become an essential tool for a bamboo architect. Digital design tools, like Rhino3D, allow you to quickly develop your first ideas in a "3D space". And with plugins like Grasshopper, you can quickly bring your bamboo design to the next level.
Other software, like Lumion or Enscape, allows you to visualize your project and even "walk through it" before it is even built. Augmented Reality (AR) and Virtual Reality (VR) are becoming increasingly accessible to the public. When used under the right circumstances, they can be great tools in the future of design, and even more so for bamboo. Therefore, a laptop or computer is an obvious part of the bamboo architect's toolkit.
Laptops are typically preferred for smaller-size projects. Due to their portability, they come in handy to quickly adjust drawings according to changes and to find quick on-site decisions.
Often bamboo designs are planned in complex amorphous shapes which are harder for the computer to calculate. Therefore, we suggest that your laptop has at least 16 GB Ram and a good graphic card to allow your software to run smoothly. A good example for that is the XPS series from Dell, a Lenovo Yoga, or the newer MacBook Airs.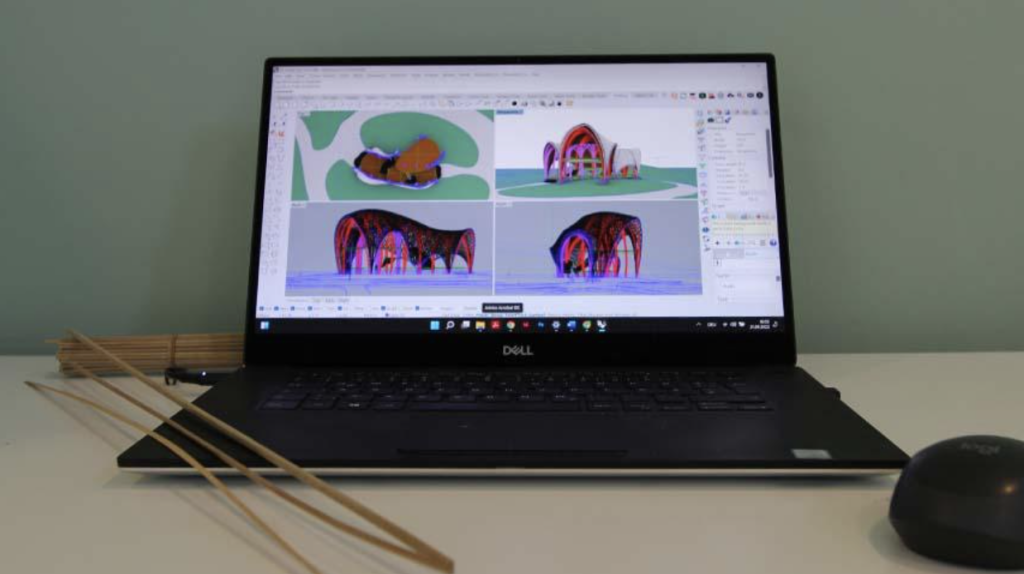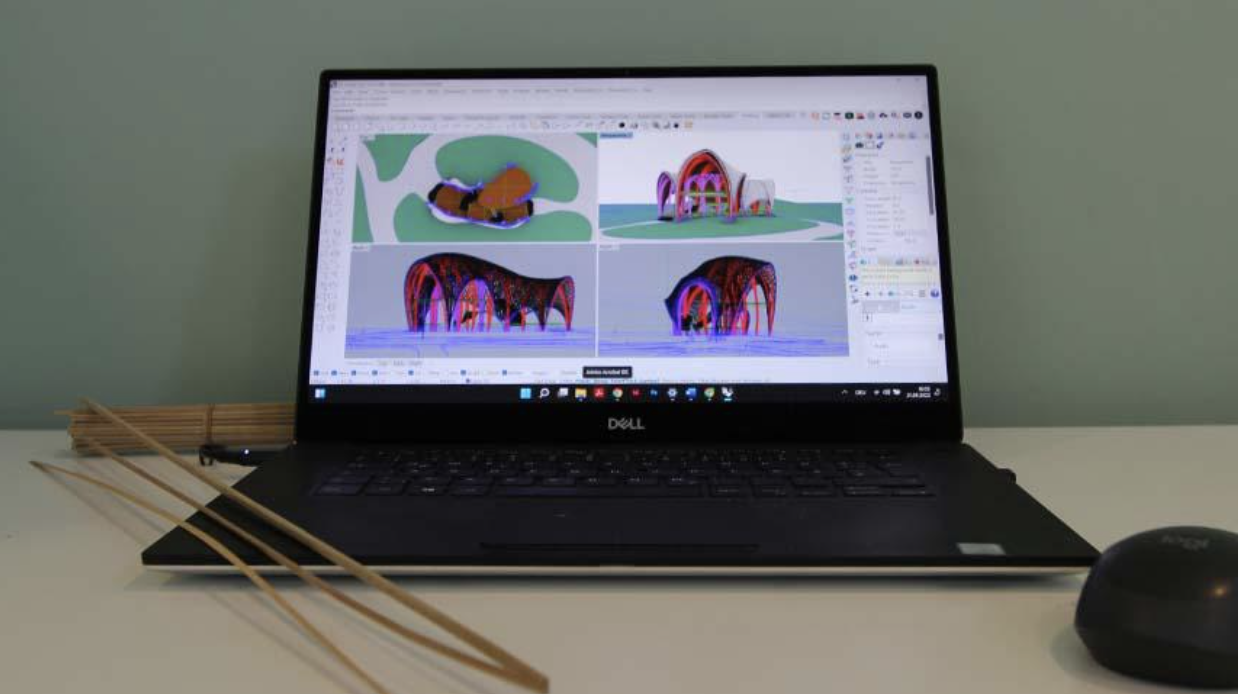 Books (optional)
Books are great, powerful tools at every stage of any project, and not just the bamboo ones! Indeed, they can help you find inspiration in the early design stages as well as help you to choose the type of bamboo best suited for your idea. The right book can explain to you in detail which types of bamboo you can find in your region or even how to set up your own DIY bamboo treatment facility.
If you are new to the subject of bamboo architecture and construction, certain books can give you a well-rounded insight into the material from how the bamboo grows, to existing treatment processes all the way to the different applications of bamboo around the world. If you are looking for this book, it's called 'Booming Bamboo' by Pablo van der Lugt, a collaborator for Bamboo U's online courses.
During the design process, we especially love to look at books about bamboo to learn about new techniques in joinery and to analyze the different material properties of each bamboo species that we can use in our projects. This benefits us, the design team, both early on in the design phase as well as during the construction process.
Though we can nowadays gather a lot of information about bamboo construction online, a good book, such as 'Building with Bamboo' by Gernot Minke, dives deeper into the subject through well-documented and technical research.
If you are looking for some good bamboo recommendations, you can have a look here.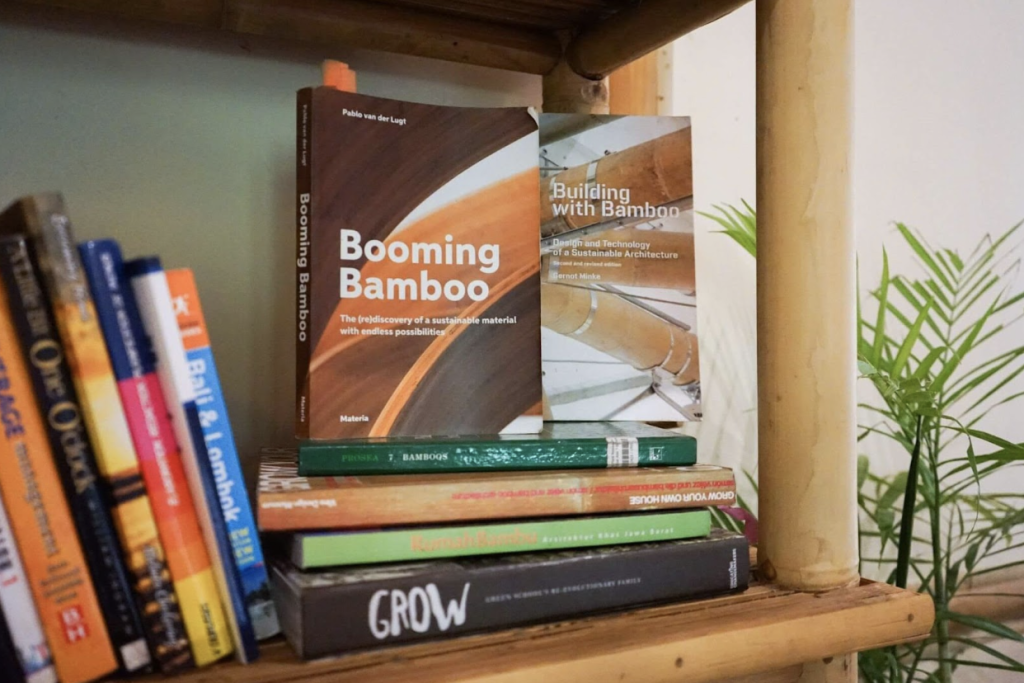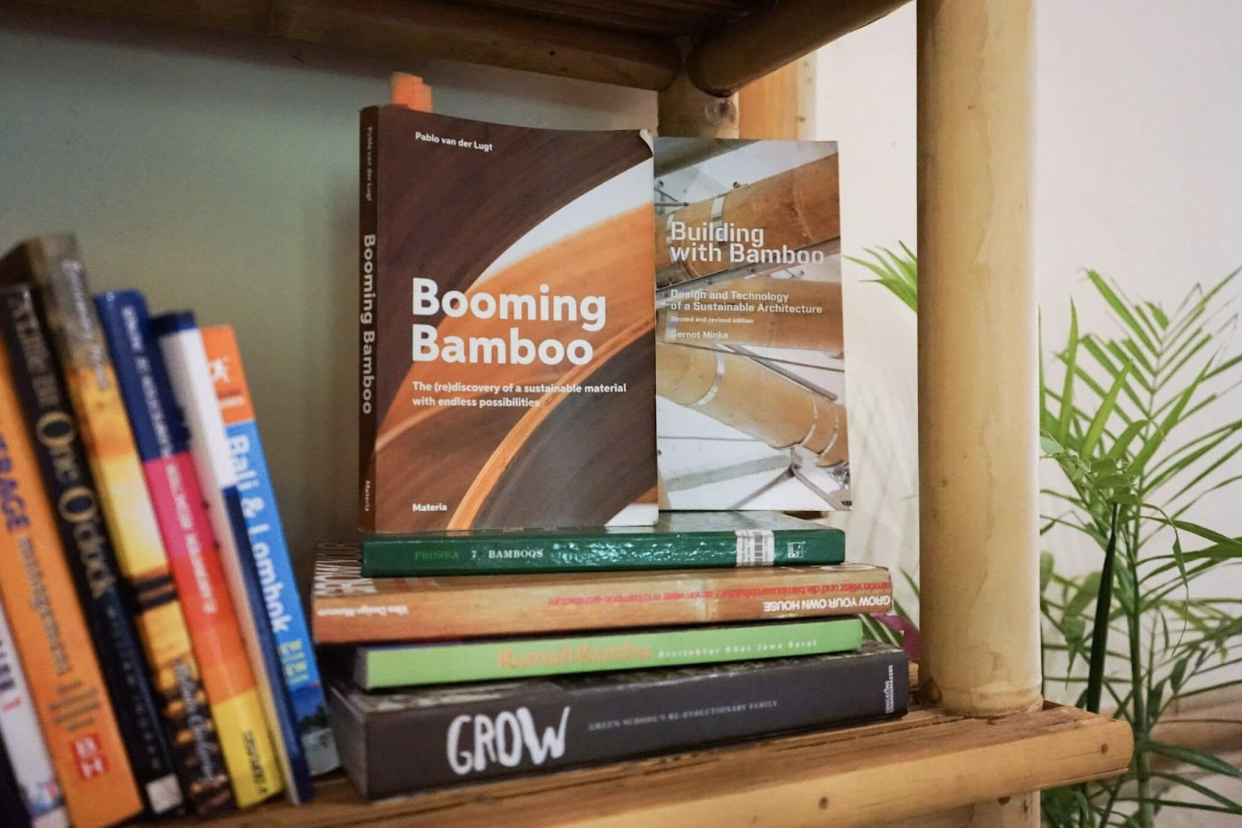 Nowadays, you can fall back on a wide range of design tools that are applicable to the bamboo design. The list above only presents an overview of the essential tools a bamboo architect needs on a daily basis to start any bamboo project with. However, there are many more that can be added according to your personal needs. Sometimes new tools are getting developed which can optimize your workflow, efficiency, and accuracy when you are designing with and for bamboo. They can be used to complete your basic design toolset to optimize your design method, though they are not essential.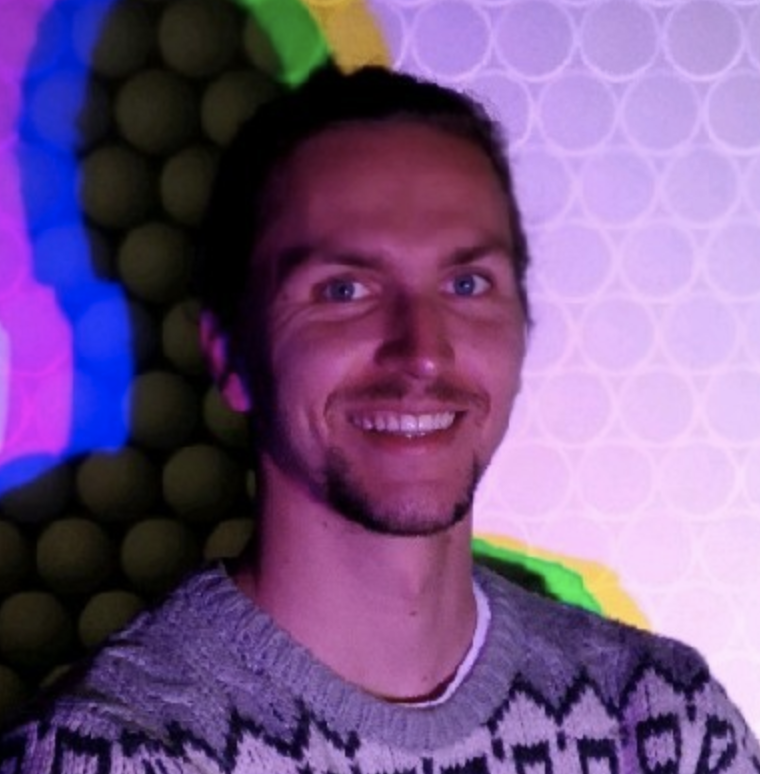 About the author
Lucas Schlüter
|
Bamboo Architect
Lucas Schlüter is a German architect, based in Indonesia. His architecture studies drew him to working internationally, first to Lisbon and then later to Bali to complete his master's degree. Specializing in architecture - project development, he travelled to Indonesia where he encountered bamboo for the first time. It did not take long for him to fall in love with it as an alternative, sustainable building material. He started to work at IBUKU, one of the world's leading bamboo design and architecture firms in 2019.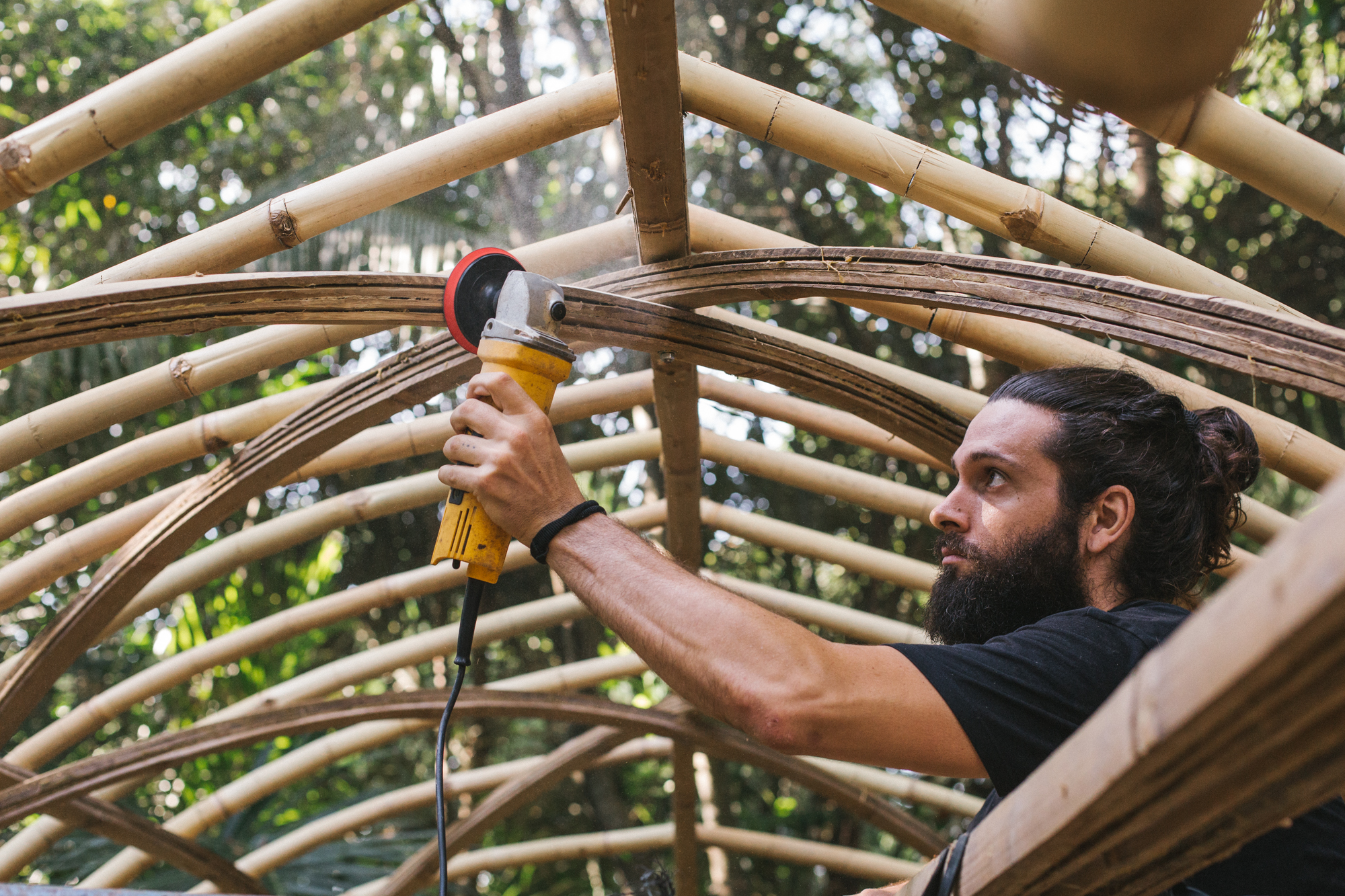 October 20-31, 2023
The 11 Day Bamboo Build & Design Course in Bali
In 11 days, we'll show you how to build bamboo structures we'll share all that it takes to build with nature.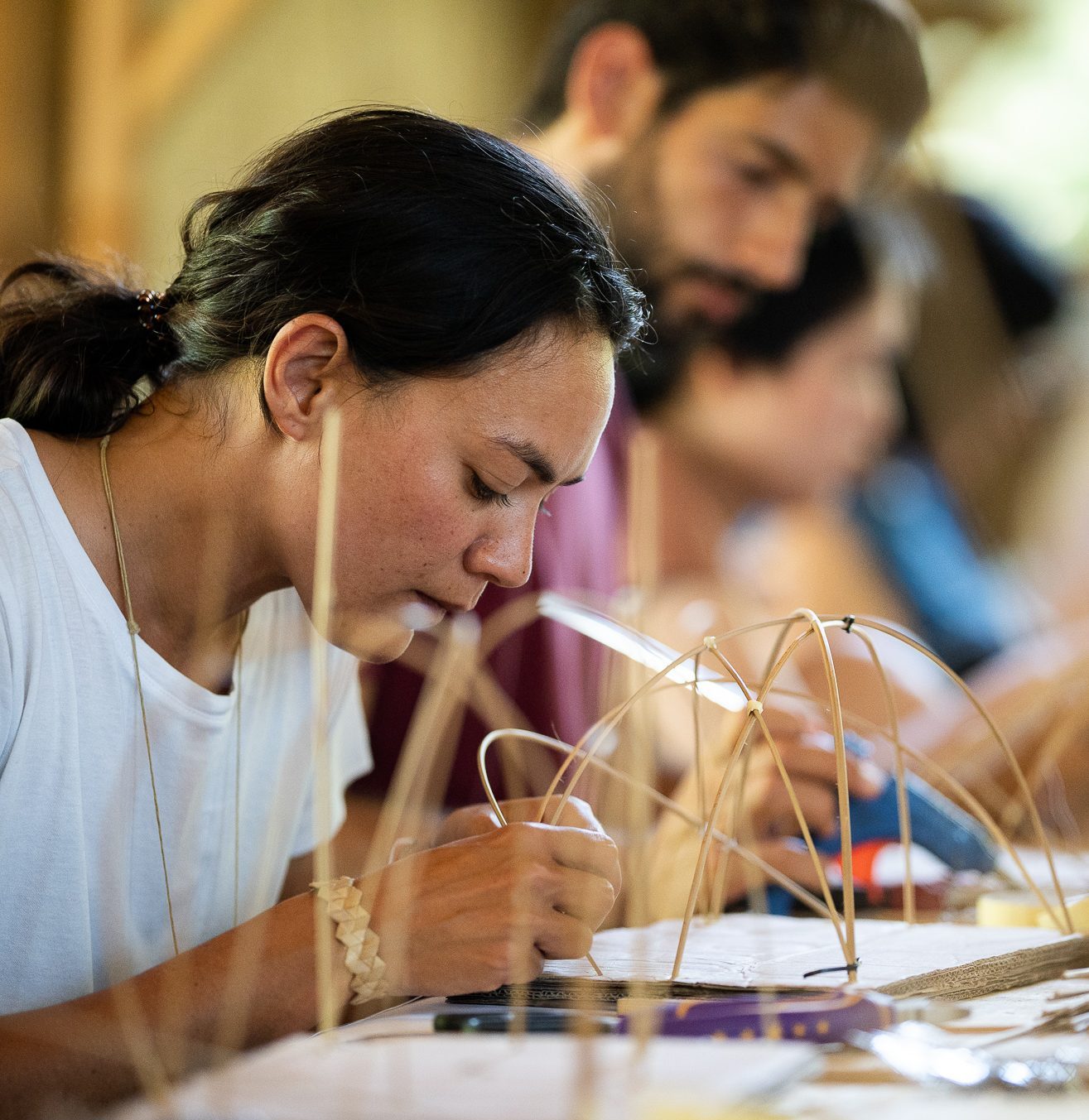 2024
The Fundamentals of Building with Bamboo Online Course
All the fundamentals you need to get you started working with bamboo. Deep dive into cinematic videos and step-by-step guides that will provide you with a strong understanding of bamboo as a design and building material.