5 Unique Carpentry Projects Built During Bamboo U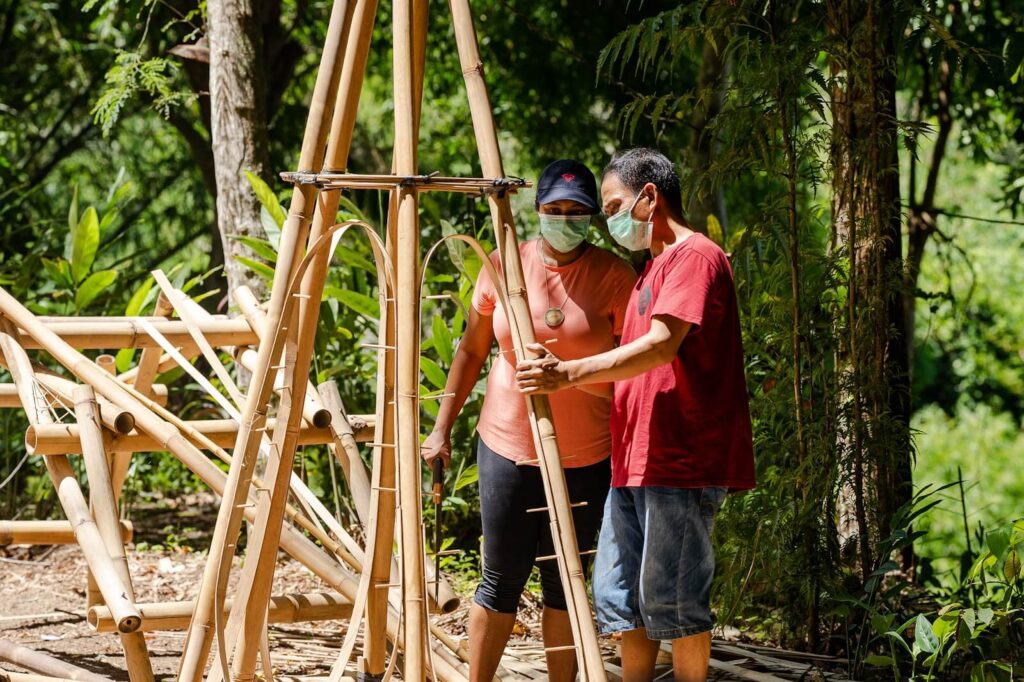 A month ago, we wrote an article about the Top 5 Chair Designs Built during Bamboo U, which made us think about all the other types of carpentry projects which have been built over the years at Bamboo U. It made us realise that we have had a wide range of creative individuals join us at Bamboo U, most of whom were not designers by profession.
Some of the project ideas we are showing here were thought of on the very first day at the Bamboo U Carpentry & Design Station, just as the participants were playing around with the material and the forms, guided by Scott Vandervoort and our team of skilled bamboo carpenters. Others were premeditated, with participants who knew how they wanted to design and work with the material. Overall, all the carpentry projects built during a Bamboo U course are developed from concept to structure over the short span of 5 days, something which continues to amaze us even to this day.
Below, we have selected 5 of the most creative and unique projects which were made during one of our Bamboo U Courses. It was difficult to choose from all the ones we have seen and collected over the years but the ones we have featured here show that anything is possible with bamboo and a little imagination.
Child Tricycle by Tommaso Riva (August 2018)
Dollhouse by Jana Bogaerts (April 2019)
Coffee Table by Rhean Uppal (June 2019)
Emergency Bed by Derek Williams (October 2019)
Halo Lamps by Yuean Zhang (January 2020)
Child's Tricycle by Tommaso Riva, attended the 11-Day Build & Design Immersion in August 2018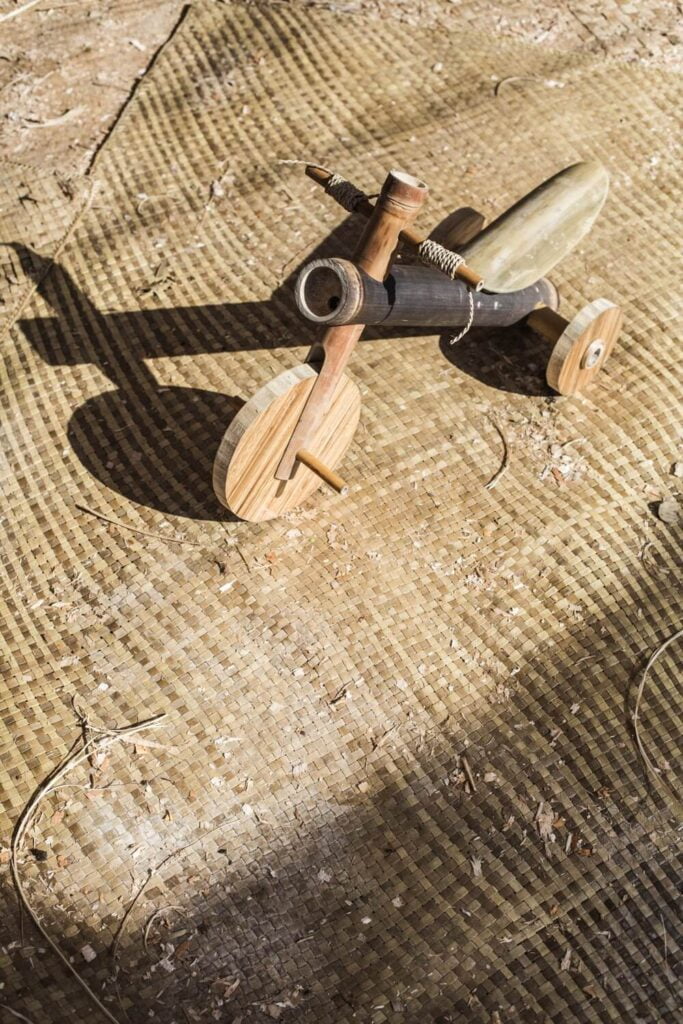 Bamboo bicycles are not unusual in the bamboo universe. In fact, there are many places around the world which produce bamboo bikes, including Boobicycles by James Wolf, one of our
Bamboo Online Immersion lecturers. Bamboo is a great material to use for bicycles because of its natural round form as well as its ability to dampen vibrations.
That being said, it is rare that we see some bamboo bicycles being designed for children! And that is precisely what Tommaso, a photographer from Italy, decided to do when he joined our 11-day Build & Design Immersion in August 2018. He designed the tricycle with our Balinese carpenters for his son, who at the time was not even born yet.
The tricycle is a great example of how to use bamboo in different ways, even in one single project. The main frame of the tricycle uses an array of bamboo species, including Dendrocalamus asper, D. asper niger and Gigantochloa apus. But the beautiful detailing is in the way that Tommaso and the team introduced laminated bamboo panels as the wheels. Together, they make the tricycle into a beautiful handcrafted piece of art fit for a baby just learning to take its first steps.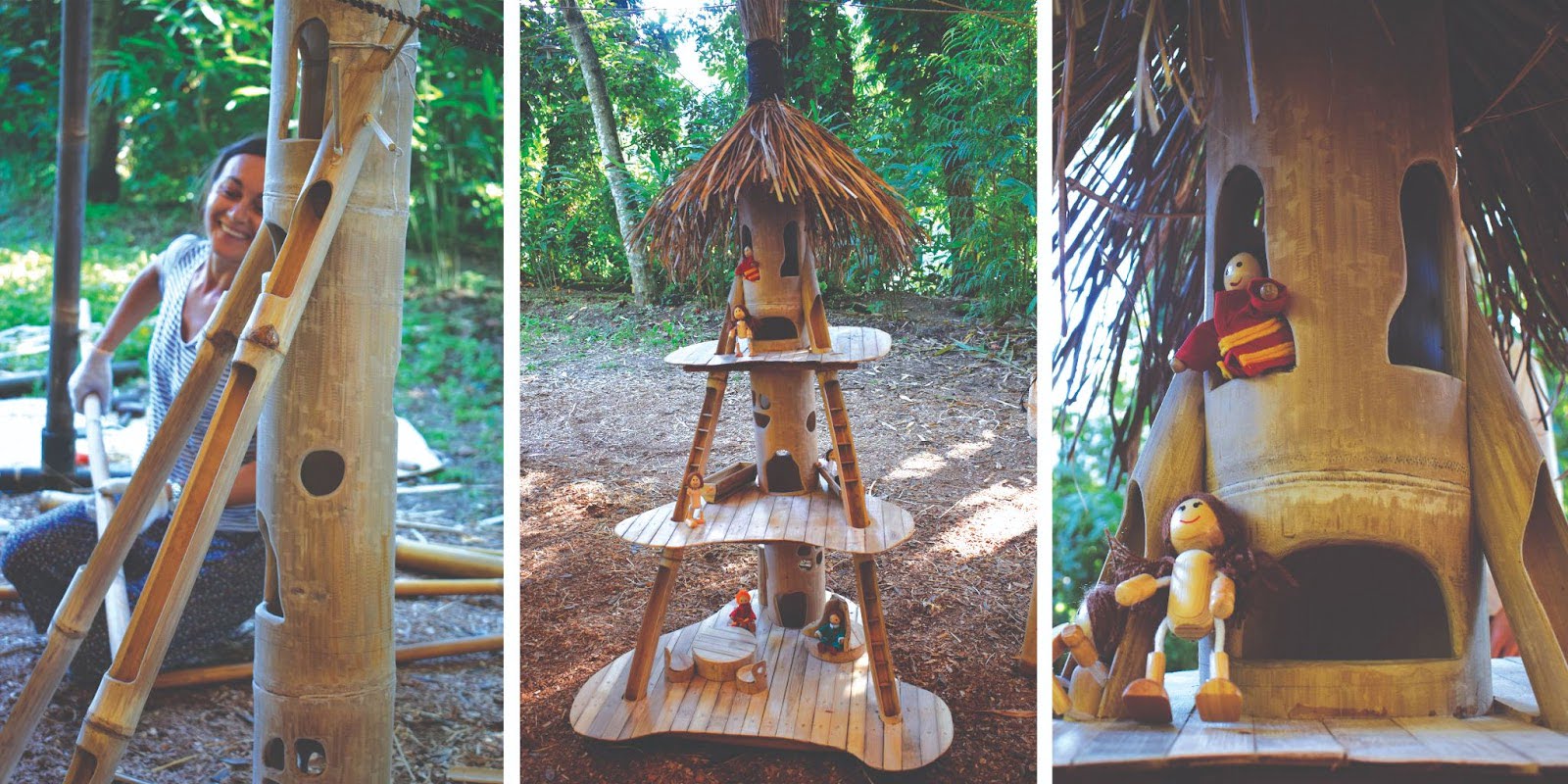 Dollhouse by Jana Bogaerts, attended the 5-Day Design & Carpentry Course in April 2019
Jana is one of our alumni who attended two Bamboo U courses successively. First, the 11-Day Build & Design Immersion in March 2019 and then the 5-Day Design & Carpentry Course the following month. She was a dedicated participant in the Design & Carpentry Station, working carefully to design beautiful, unique pieces of furniture for her children.
At the time of her participation, Jana had two twin boys who had just turned 3 years old. She dedicated her time at the 5-Day Course to designing a one-of-a-kind dollhouse for her boys to play with. Jana used different species of bamboo to achieve the final design of her project, giving the doll house a lot of personality.
The main trunk of the dollhouse uses Dendrocalamus asper, more commonly known as 'Bambu Petung' in Indonesia. She used the nodes of the culm as the floors for the closed "rooms" of her doll house and created various openings for doors and windows using a jigsaw. The triangular structure is completed by two diagonally supporting Thyrsostachys siamensis carved poles to mimic ladders going from one floor to another. The flooring for the outdoor spaces of the house use Dendrocalamus asper splits laid out on a structure of Phyllostachys aurea poles. To complete the structure, Jana added a hat of "alang-alang" grass.
The effect of all these bamboo species and the grass roof working together is mesmerising. The house takes a life of its own, and we can easily imagine the boys playing with it at home.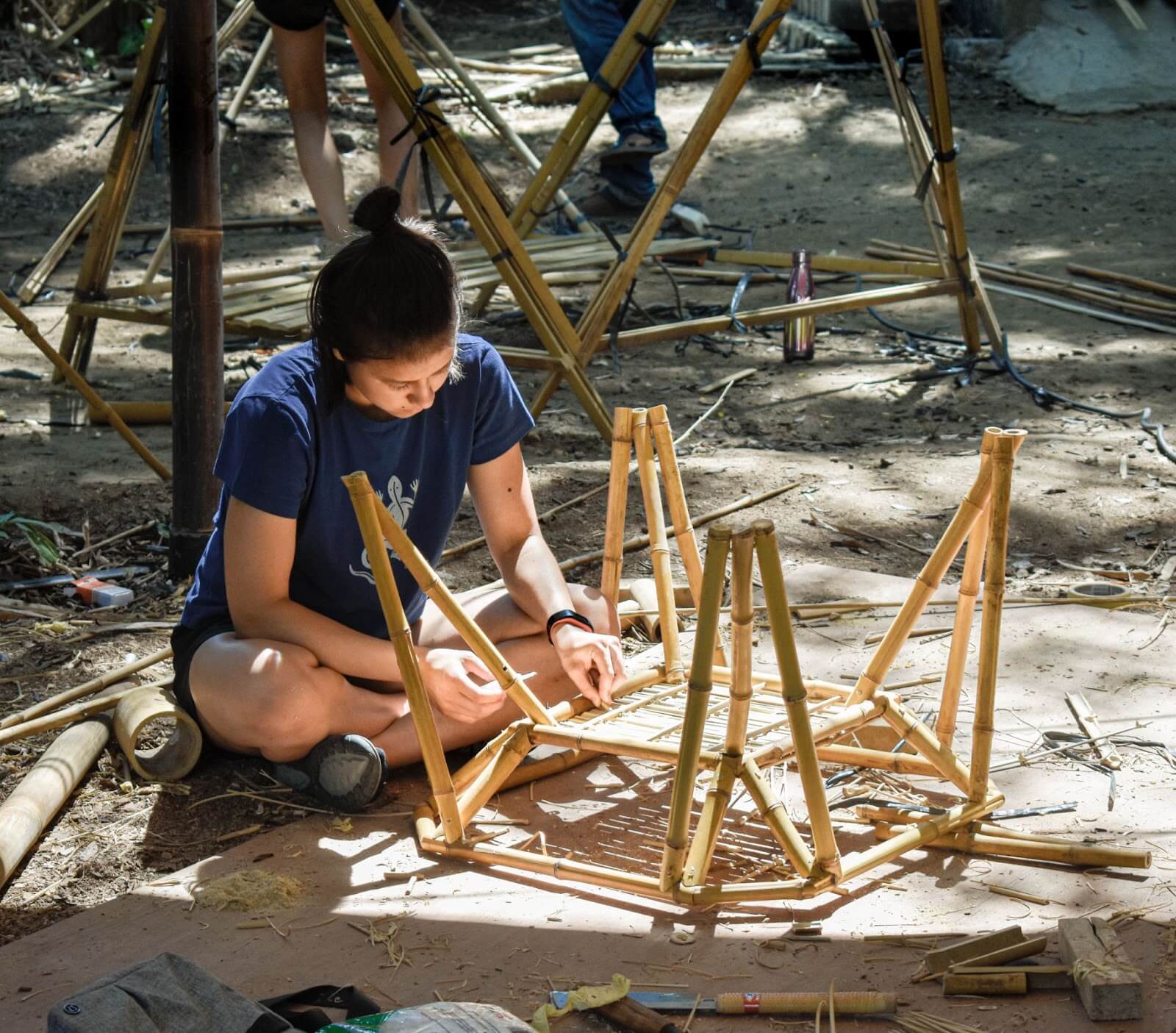 Coffee Table by Rhean Upal, attended the 11-Day Build & Design Immersion in June 2019
We offer many different bamboo species during our Bamboo U Courses, but typically, our participants and carpenters tend to use Dendrocalamus asper and Gigantochloa apus for their projects. The reason for this is that they are the strongest giant bamboo species we have in stock, and we use them for every part of our day-to-day construction projects. However, when Rhean came to Bamboo U in June 2019, she saw a lot of potential in using Phyllostachys aurea, commonly named "Bambu Pancing" in Indonesia. Pancing means "to fish" in Bahasa Indonesia and the canes of this species are traditionally used for fishing canes.
Bambu Pancing is not ordinarily used in construction, due to its thin diameter and limited structural strength. However, it is frequently used in decorative elements and in furniture. Bambu Pancing has a distinct yellow hue and very pronounced nodes which make it beautiful in smaller design projects.
Rhean wrote to us about her coffee table to describe her design and creation process:
"I designed and built this coffee table using bamboo pancing (bamboo usually used for fishing rods). The frame is held together with traditional fish-mouth joints, which were hand-carved with a knife and reinforced with pins made out of the same bamboo species. Making this table was a challenging and deeply rewarding experience. And the table's completion would have been impossible without the guidance of local carpenter, Pak Wahoe, and industrial designer, Scott Vandervoort.
The design process for working with a raw and irregular material like bamboo requires much more patience than when working with engineered or processed forms of material like plywood. Bamboo lacks real straight edges, and this meant that I had to rely on eye-ball estimation, even when realising my designs in their full-scale. Bamboo is also not uniform in strength - so if you drill too close to the nodes, the bamboo will crack. However, adapting to the irregularity of the bamboo pays off ; the result is a product with aesthetic qualities much more beautiful than its manufactured counterparts.
I wanted to make a furniture piece which brought people closer to nature yet still belonged in a contemporary home. There is a built-in shelf which can be used to display books or magazines. I also added a transparent glass table-top, inviting people to appreciate the irregular beauty of the bamboo."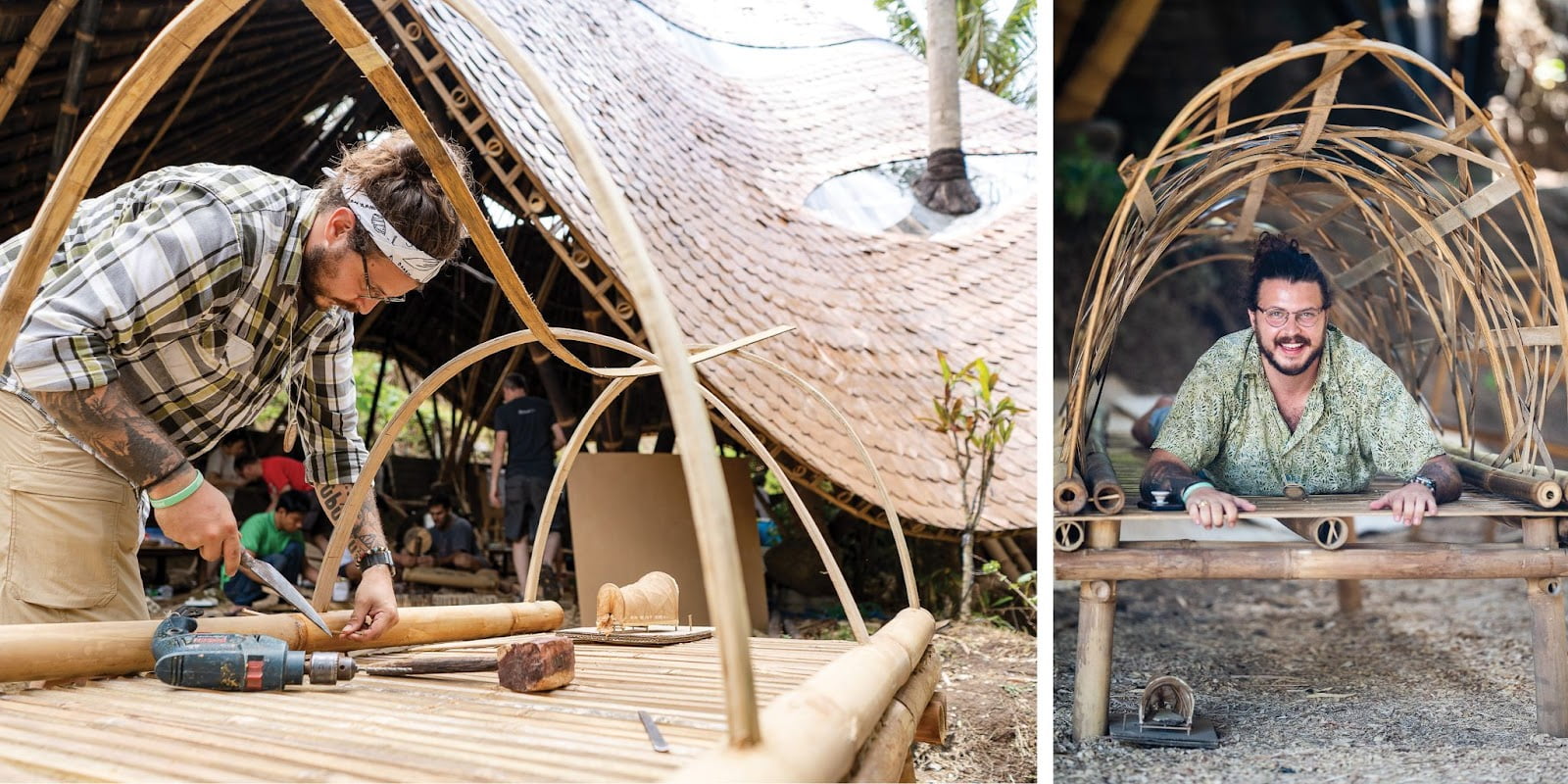 Emergency Bed by Derek Williams, attended the 11-Day Build & Design Immersion in October 2019
Derek initially came as a part of a workshop held with Texas Tech University from the USA. The original workshop lasted 3 days, where Derek learned about bamboo treatment, carpentry techniques and model making. 5 months later, he was back at Bamboo U to attend the October 2019 edition of our 11-Day Build & Design Immersion.
The concept behind Derek's work was to design a sustainable, quick-to-build emergency bed for hospitals and natural disaster relief cases. The elevated bed frame and main structure is made using Gigantochloa atroviolacea built into a simple orthogonal form. This allows for an efficient building process, simply put together using bamboo pins. For the overhead frame, he wove Dendrocalamus asper niger splits together over a structure made using laminated Dendrocalamus asper splits, shaped into an arched tunnel.
The design is dedicated to making a structure that only requires a limited amount of tools and materials, all the while creating something that is easy to carry and comfortable for someone to lie in, as he demonstrates in the second image.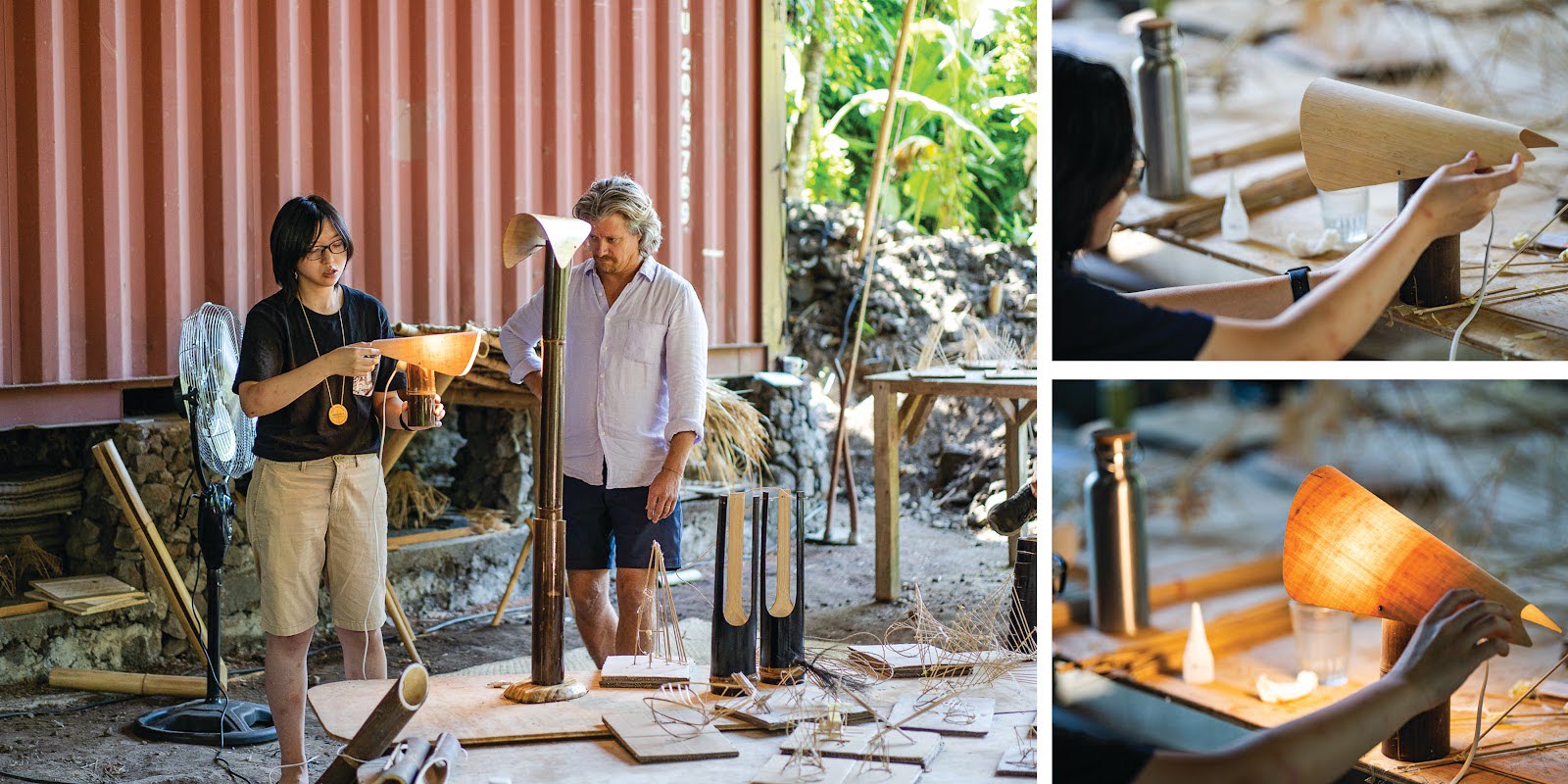 Halo Lamps by Yuean Zhang, attended the 11-Day Build & Design Immersion in January 2020
Yuean was one of a handful of students who joined us in January 2020 as part of a special edition of the 11-Day Build & Design Immersion in collaboration with Pratt Institute. She designed a lamp with a subtle nod to the iconic novel (and TV Series), The Handmaid's Tale. She was inspired by the femininity and delicateness of the bamboo sheet in contrast to the rigid form of the bamboo in its natural round form. She used Gigantochloa atroviolacea for the main structure and a piece of processed bamboo sheet for the lampshade.
During the Carpentry & Design Station, Yuean had the chance to build two variations of her design, one small desk lamp and one standing lamp. Yuean was kind enough to write to us about her process and her ideas in the development of her design:
"Before entering the design process, I decided to use bamboo for the lamp design as the  bamboo will provide an imaginative contrast between the rigid material, the form and the peaceful and quiet atmosphere created. This contrast resonates with a typical Asian female character: restrained and indestructible. 
The design started from some 2D sketches, then moved to a full-scale structural study with bamboo strips to research a way to inlay and hide the existing lights and joints into the shell. In order to maintain a simple shape, I chose a piece of bamboo as the supporting structure and the main body. By discussing with carpenters, we cut a groove on its top to support the lightbulb, and the wires could then also be hidden in its bottom. The original idea of the lampshade design was to split the bamboo board to create a gap slightly and let lights go through the gap. However, Scott and I felt that this direction would make the lampshade too thick and not refined enough. This problem was not solved until we discovered a translucent thin pressed bamboo sheet. The color of this sheet is slightly different from that of the main body. The key is that when light penetrates  the lampshade, this sheet will make the cold light soft and warm." 
The Carpentry & Design Station is a vital part of our understanding of bamboo. The participants teach us just as much about the material as we instruct and they have come up with some truly beautiful and unique ways to showcase bamboo's potential as a sustainable timber alternative.
We are (im)patiently waiting for the borders to open so that we can host more creative and innovative people and see how projects like these develop over the course of a few days. In the meantime, we are continuing to run our Bamboo Online Immersion, where we cover everything about bamboo from seed to structure. You can sign up here for the next edition, starting January 7th.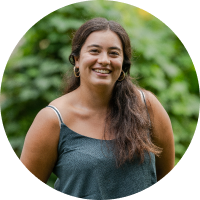 About the author
Cécile Durand
|
Management Consulting Professional
After finishing her Masters of Architecture at the University of Hong Kong where she wrote her thesis about bamboo construction for the rural communities of Bali, she now forms part of the Bamboo U Team as a Management Consulting Professional.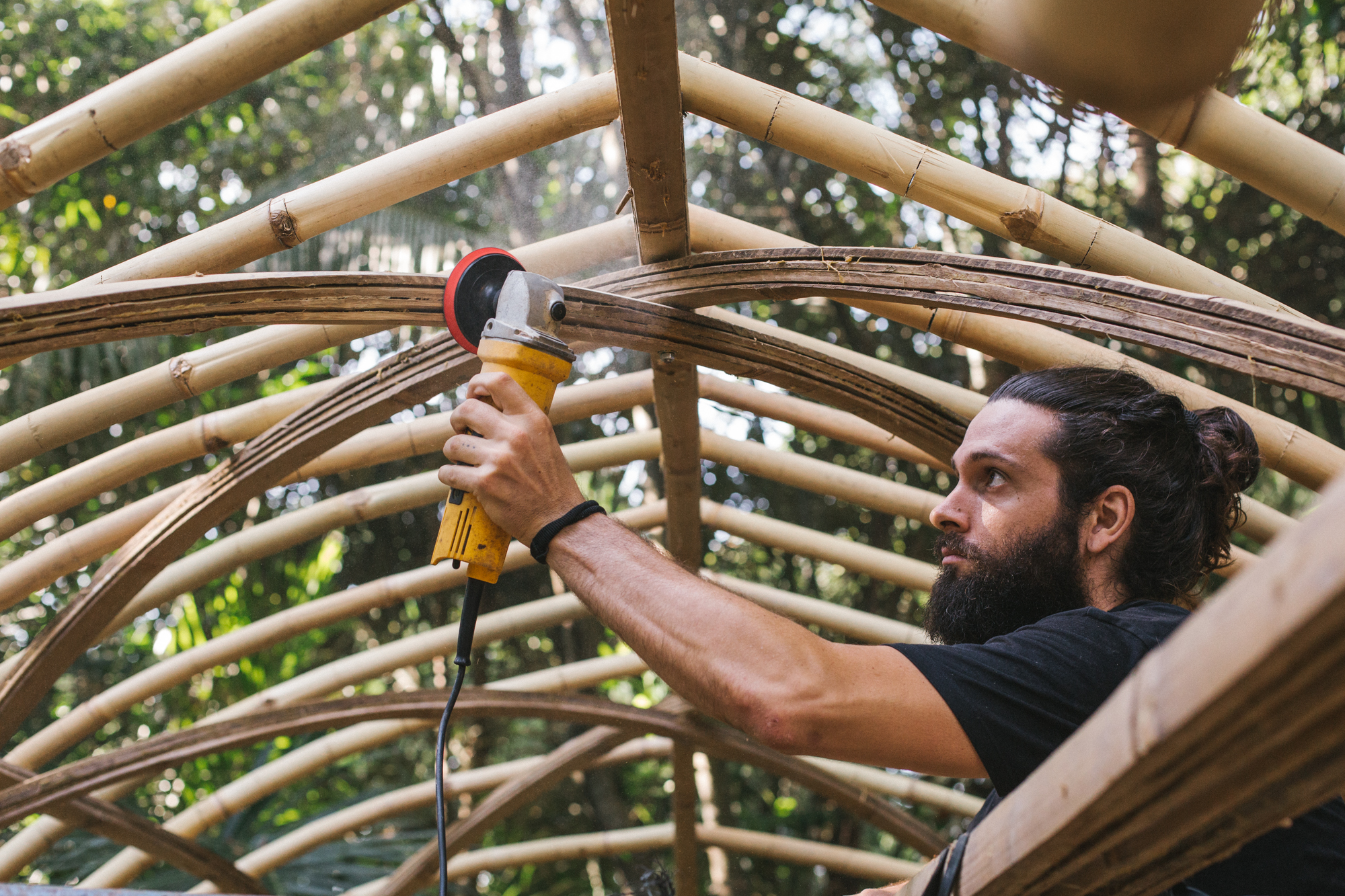 June 10-21, 2023
The 11 Day Bamboo Build & Design Course in Bali
In 11 days, we'll show you how to build bamboo structures we'll share all that it takes to build with nature.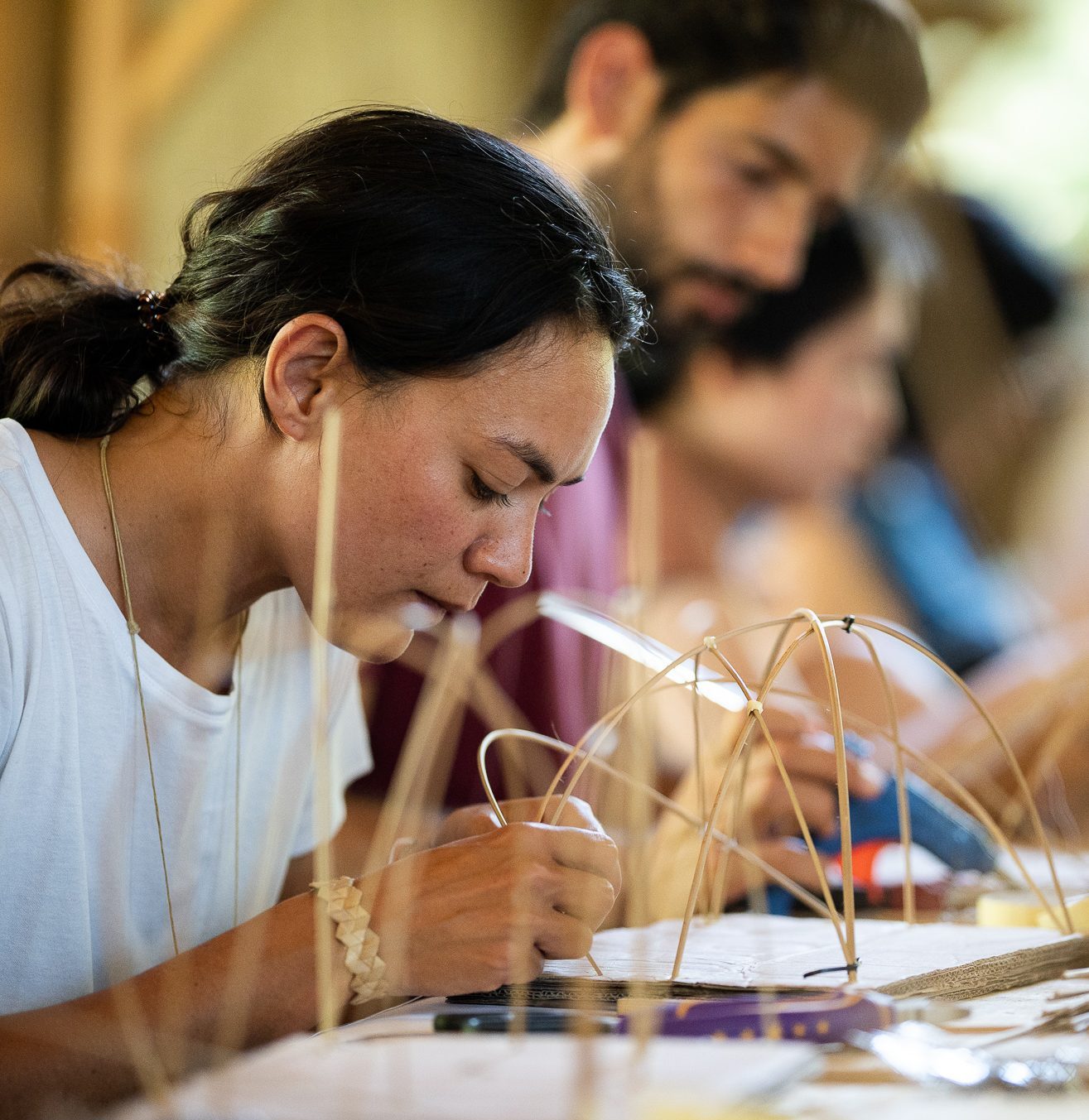 The Fundamentals of Building with Bamboo Online Course
Join the Waitlist
All the fundamentals you need to get you started working with bamboo. Deep dive into cinematic videos and step-by-step guides that will provide you with a strong understanding of bamboo as a design and building material.