Bamboo U X Aalborg University Collaboration, Part 2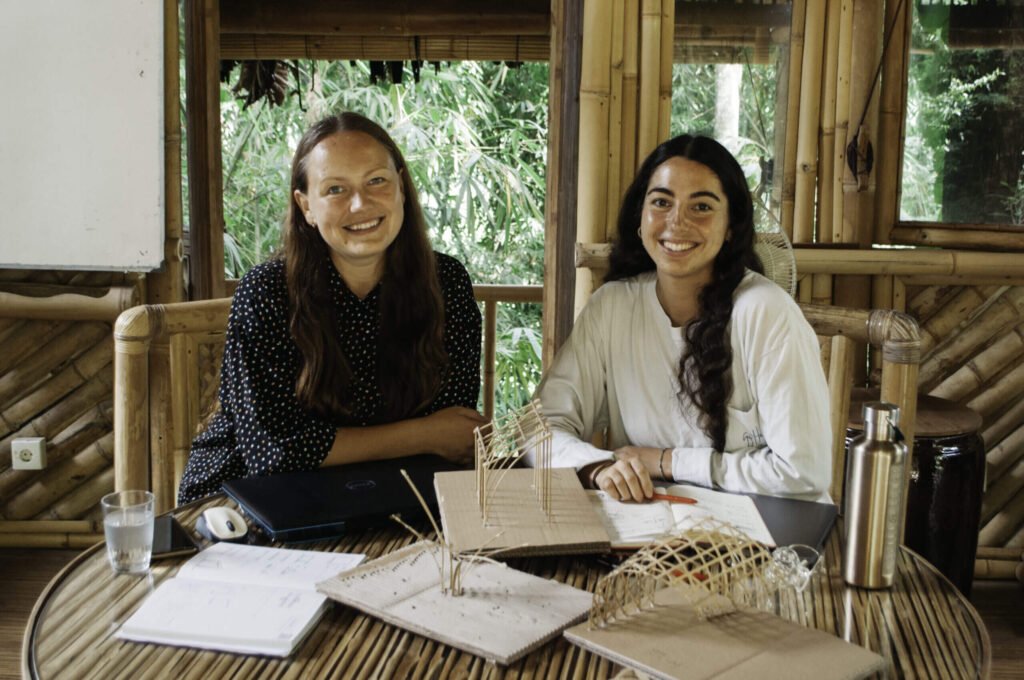 Unlike other articles where we delve into students' projects from past Bamboo U Courses or into the world of bamboo construction, the following article is the second of two written by Leonie and Santa, AAU Denmark MSc Architecture Engineering students. Leonie comes from Germany, her passion is architecture whereas Santa, originally from Latvia, is driven by engineering and sustainability.
You can find the first article that Santa and Leonie wrote last month here.
After arriving a couple of months ago, Santa and Leonie have been extensively researching how to integrate bamboo into Denmark. They've found different iterations and manipulated the various options to see if bamboo would be a sustainable alternative to local timber practices, or not!
Authors: Leonie Hülya Irmak and Santa Krieva
Project: Bamboo U x AAU Collaboration
Bamboo U Course Attended: Bamboo Online Immersion May 2021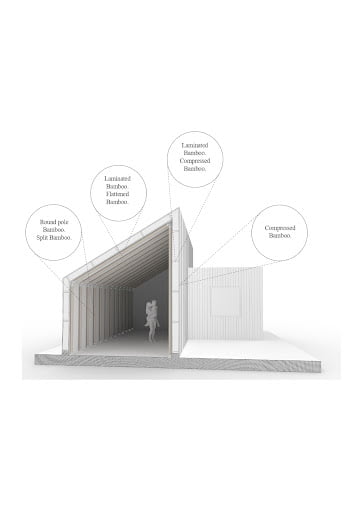 Coming to Bamboo U for research
For this past semester, the AAU Denmark MSc Architecture Engineering program required that we participate in an experimental research in collaboration with a company. This would ultimately result in a scientific paper with research contributing to the state-of-the-art combined field of architecture and engineering
Sustainability is described as the "development that meets current needs without compromising future generations' opportunities to meet their own needs". It is one of our main personal and professional drives. Luckily, our university is equally very invested in sustainability, so we decided to dedicate this semester to research bamboo, as it is one of the most sustainable materials worldwide.
We attended Bamboo U's Bamboo Online Immersion in May 2021 where we learned about bamboo as a sustainable alternative to timber around the world. The course taught us about bamboo starting from the big picture to its sustainable benefits and how to design, make models and create joinery with the material. We gathered all the knowledge from both the written theory and the multiple Live Sessions by leading architects and engineers in the bamboo industry around the world.
After the online course, we wanted to learn more about bamboo so we came to the Bamboo U Campus to collaborate with the team on-site. Whilst in Bali, we began our upcoming research by defining a series of theses, a framework of research and various concepts.
The context and findings of our research paper
This was our starting hypothesis:
"Climate change can be mitigated by implementing non-local materials like bamboo in Scandinavian architecture to reduce the environmental impact of the building industry."
This research aimed to answer how sustainable it would be to use the Indonesian bamboo species in different forms: the round pole, the split and engineered laminated planks in Denmark. We questioned the current bias in Denmark that 'local is always more sustainable' and investigated possibilities for integrating non-local bamboo in sustainably-tectonic Scandinavian architecture.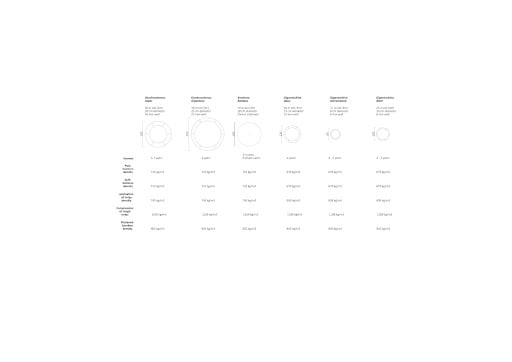 Working together with Bamboo U, we gained awareness of the different bamboo species fit for construction, the holistic opportunities of bamboo as a building material and the challenges of implementing bamboo into Nordic architecture. Being on-site at the Bamboo U campus taught us about Bamboo tectonics, joinery and details but most importantly how to really experience the material. That could not have been seen or explored through a screen.
Our research showed that local Nordic timber material is still more sustainable than non-local Indonesian bamboo. That being said, there might not be enough resources to cover rising housing demand and all future building industries to keep positive afforestation in Scandinavia as well as meet the COP26 carbon neutral goal by 2050. Therefore, the building industry should begin to investigate alternative non-local materials, for example Indonesian bamboo, not to replace wood as bio-based material but as a way to complement timber in the future.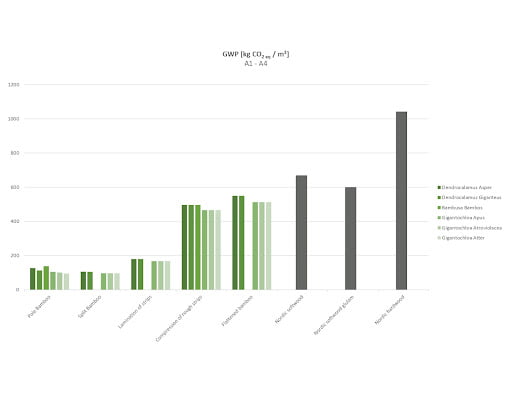 Indonesian bamboo as a round pole, a split or as an engineered laminate are all carbon negative when implemented in Scandinavian architecture. They are therefore environmentally sustainable building materials. Bamboo as a structural material can be integrated into small-scale architecture like single-family houses, terrace houses and holiday homes, but also as a finished application for projects of all scales, functions, and typologies. We believe that climate change can resultantly be mitigated by implementing non-local materials like bamboo in Scandinavian architecture to reduce the negative environmental impact of the building industry.
The challenges of bringing bamboo to Denmark
The main challenge to making bamboo a sustainable alternative to timber in Denmark is materiality options and tectonics, both of which are unfamiliar and different from the Nordic context. It also contradicts cultural and architectural identity. And though all unknown might seem frightening, our research proposes to start with small steps regarding both the material and the context.
Neither environmental sustainability nor cultural, architectural identities should be prioritized when designing and choosing materials for a project. Architecture and engineering practices should be dedicated to working together to push research and develop solutions that engage all areas of a project for an exciting future architecture.
In our research, another challenge we encountered was finding a way to build a bridge between two cultures and architectural identities, the Danish and the Indonesian. In the last couple of months, we extended our own pole of knowledge. We challenged our university supervisors with new contemporary ideas and non-local materials for Denmark.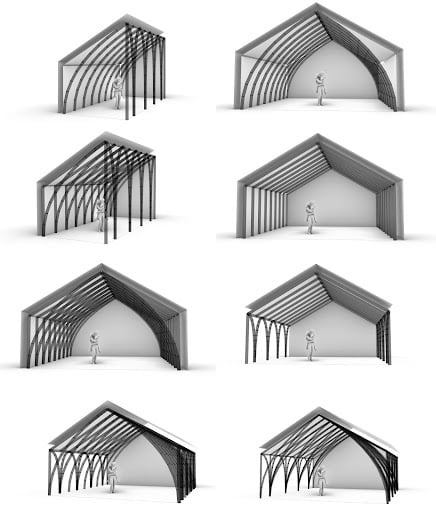 Above is a series of 3D Modelling tests that Santa and Leonie have done to combine Scandinavian design practices and bamboo together.
We also faced the question of finding the middle ground between academic research with a scientific approach and the opportunity to experience material hands-on. We therefore divided and presented our bamboo journey into different parts:
Extensive knowledge from the Bamboo Online Immersion May 2021
Academic knowledge from the research semester with knowledgeable and passionate facilitator guidelines
A chance to extend our hands-on experience at Bamboo U's 11-day Build & Design Immersion, hopefully in April 2022.
With Bamboo U, all of it has become a possibility, and we are grateful for the opportunity. Bamboo as a material is at the same familiar, friendly and it invites us. Bamboo somehow subconsciously gives us permission to be our own imperfect selves in its uniqueness and variety. It was greatly important for us to get to know the material practically and to learn about it before defending it in our research paper. Being here in Bali has opened us to envision working and designing with bamboo, and to see it as a unique and natural solution.
Bamboo U offers an enormous and extensive library of bamboo resources. Firstly, with bamboo professionals with long experience, skills, and passion for the material. Secondly, with a material library of many different bamboo species, which come in all shapes and sizes, from the structural round pole, the flexible split to processed bamboo products. Bamboo U has a worldwide network with bamboo people and shelves full of bamboo literature, which we were able to peruse and read through. Everything that we lacked at our home university, we gained on the Bamboo U campus.
At the end of this journey, we can say that we are grateful for this experience. We are looking forward to exploring Bamboo and working with it even more and hopefully soon as a common material in Scandinavia.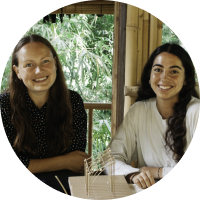 About the author
Leonie Hülya Irmak & Santa Krieva
|
Bamboo U Alumni
Leoni and Santa (originally from Latvia) are Master students in Architecture Engineering at Aalborg University in Denmark. They conducting some extensive research about how to integrate bamboo into the Scandinavian way of life.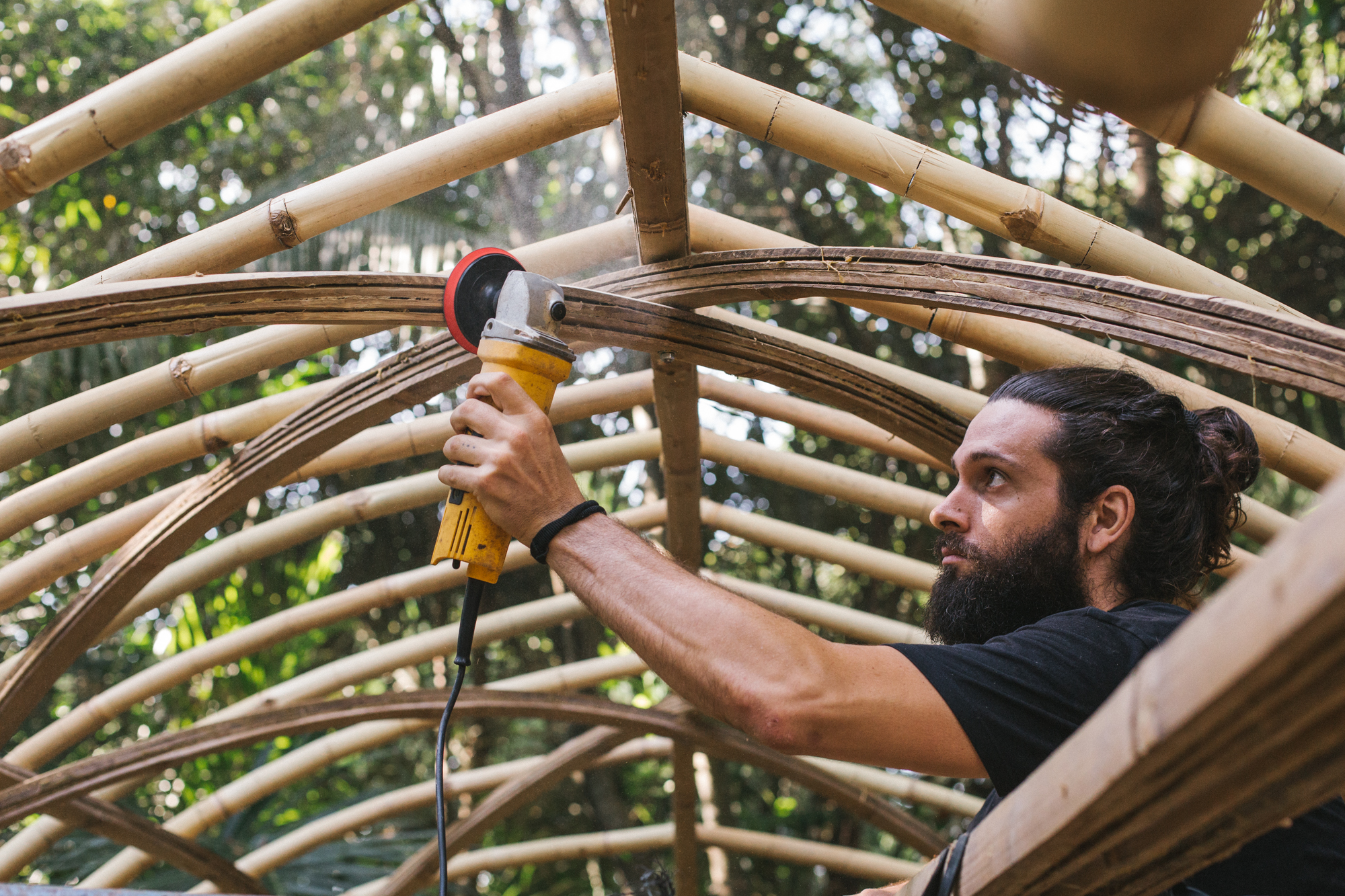 June 10-21, 2023
The 11 Day Bamboo Build & Design Course in Bali
In 11 days, we'll show you how to build bamboo structures we'll share all that it takes to build with nature.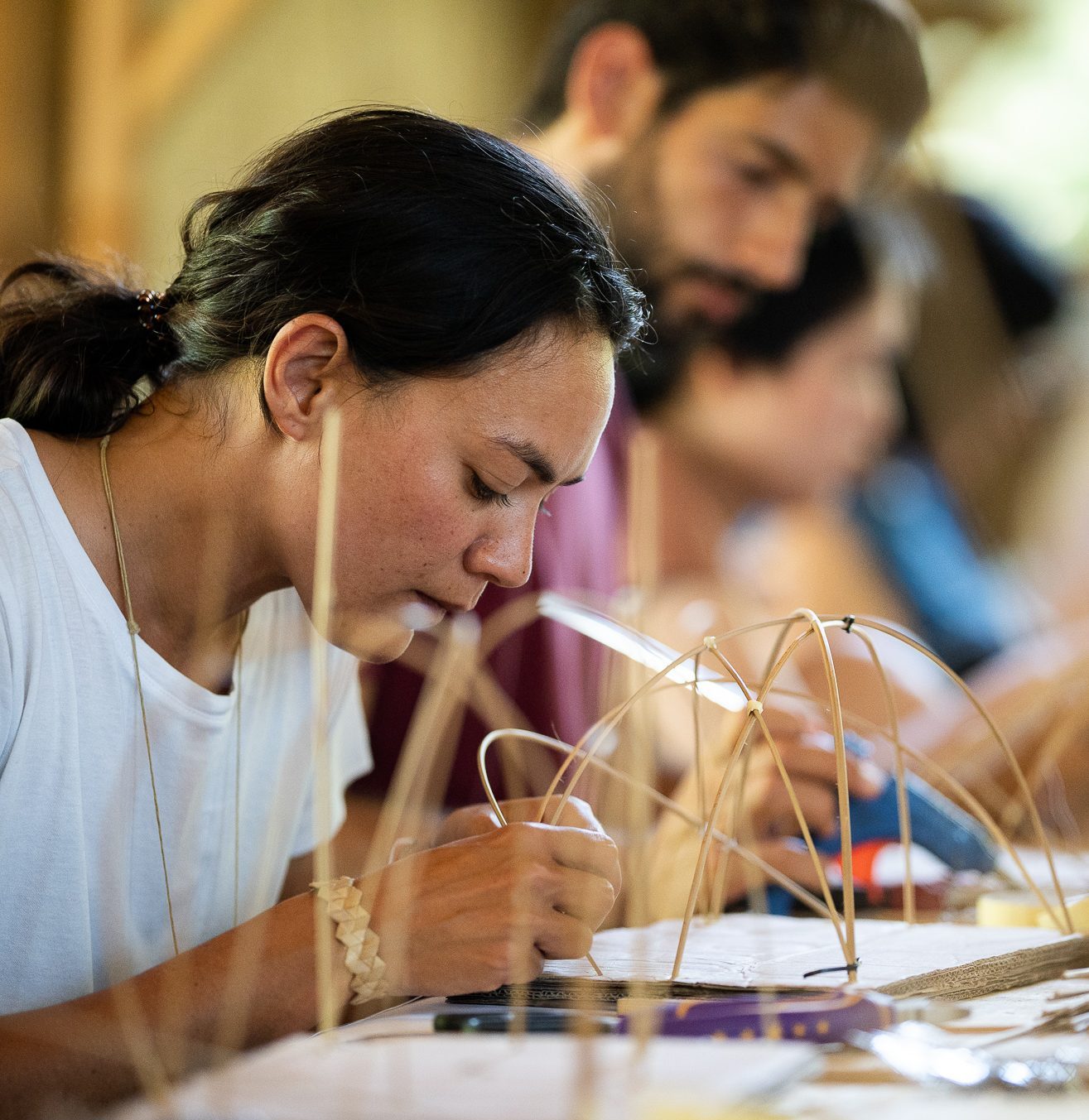 The Fundamentals of Building with Bamboo Online Course
Join the Waitlist
All the fundamentals you need to get you started working with bamboo. Deep dive into cinematic videos and step-by-step guides that will provide you with a strong understanding of bamboo as a design and building material.