Bamboo U X Aalborg University Collaboration Part 1
By Leonie Hülya Irmak & Santa Krieva | November 19, 2021 | News -
Unlike other articles where we delve into students' projects from past Bamboo U Courses or into the world of bamboo construction, the following article is the first of two written by Leonie and Santa, AAU Denmark MSc Architecture engineering students. Leonie comes from Germany, her passion is architecture whereas Santa, originally from Latvia, is driven by engineering and sustainability. Over the past couple of months, and until the end of December, Santa and Leonie are conducting some extensive research about how to integrate bamboo into the Scandinavian way of life.
Authors: Leonie Hülya Irmak and Santa Krieva
Project: Bamboo U x AAU Collaboration
Bamboo U Course Attended: Bamboo Online Immersion May 2021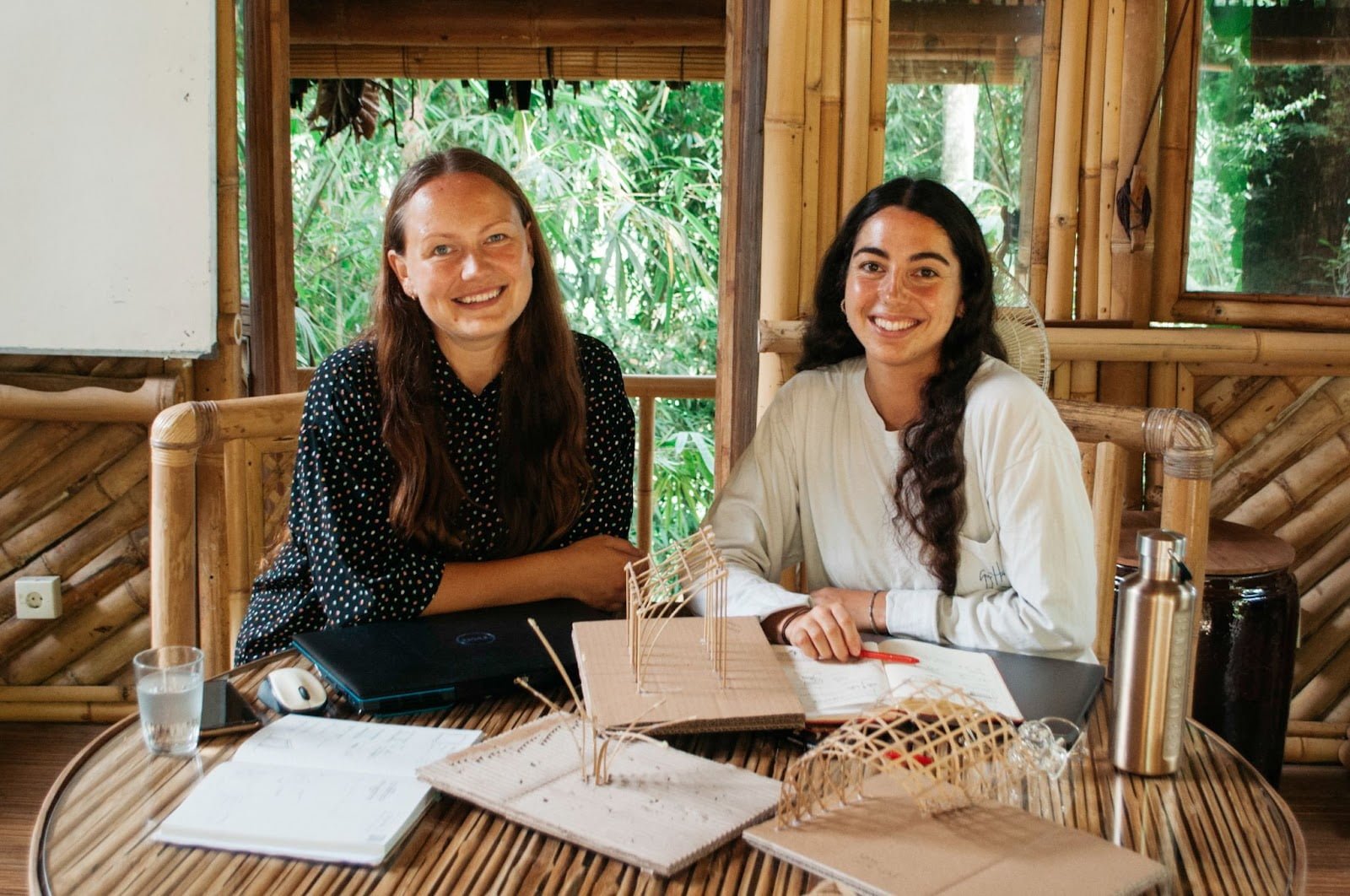 Our names are Leonie and Santa, we are Master students in Architecture Engineering at Aalborg University in Denmark. We met at our university in Denmark and decided to do research together, focusing on both parametric architecture and engineering.
Recently in Europe, we can progressively feel a change in the climatic conditions and we understand how it is affecting not just us but the whole world. Our university is very invested in sustainability, so we wanted to dedicate this semester to researching a sustainable material which could complement other renewable bio-based materials currently used in Scandinavia, such as timber. Scandinavia has a long tradition of building with brick and timber and it is an important part of their cultural identity. Where we come from, there is a strong and firm belief that ''local is always more sustainable''. To challenge both of these ideas, we decided to come to Bali to collaborate with Bamboo U and research whether bamboo could be an answer to both of these statements.
Whilst we were studying in Europe, we became fascinated with bamboo and Balinese bamboo architecture. Recently awarded projects such as The Arc at Green School Bali by IBUKU caught our attention even more. We therefore decided to attend the Bamboo Online Immersion in May 2021 where, over the course of 11 weeks, we became familiar with bamboo and how to work with it from experienced and leading architects and engineers of the bamboo industry. And although we learned a lot in the Online Immersion, We were keen to extend our pool of knowledge, so we were more than happy to come to Bali and lucky enough to collaborate with Bamboo U for our university research.
Lessons learnt from the Bamboo Online Immersion 
At the beginning of our research, we decided to participate in the Bamboo Online Immersion in May 2021. We learned about bamboo starting from the big picture and all of its sustainable benefits before honing in on how to design, make models and create joinery with the material. The course was packed full of knowledge, with written theory and live sessions given by leading architects and engineers in the bamboo industry around the world.
The most significant lessons for Leonie's research were in the 'Bamboo Taxonomy & Physiology' and the 'Sustainable Forestry & Harvesting' modules. The live session by Dr. Elizabeth Widjaja was particularly interesting, she gained awareness of the different bamboo species fit for construction, the holistic opportunities of bamboo as a building material and the challenges of implementing bamboo into Nordic architecture.
Meanwhile the most important modules for Santa were 'Bamboo and Engineering', with a live session with Neil Thomas and 'Processing Bamboo', with Pablo van der Lugt as a guest speaker. Santa extended her knowledge about bamboo as the sustainable timber of the future and about engineered bamboo's potential to work with other bio-based materials even in the Scandinavian context.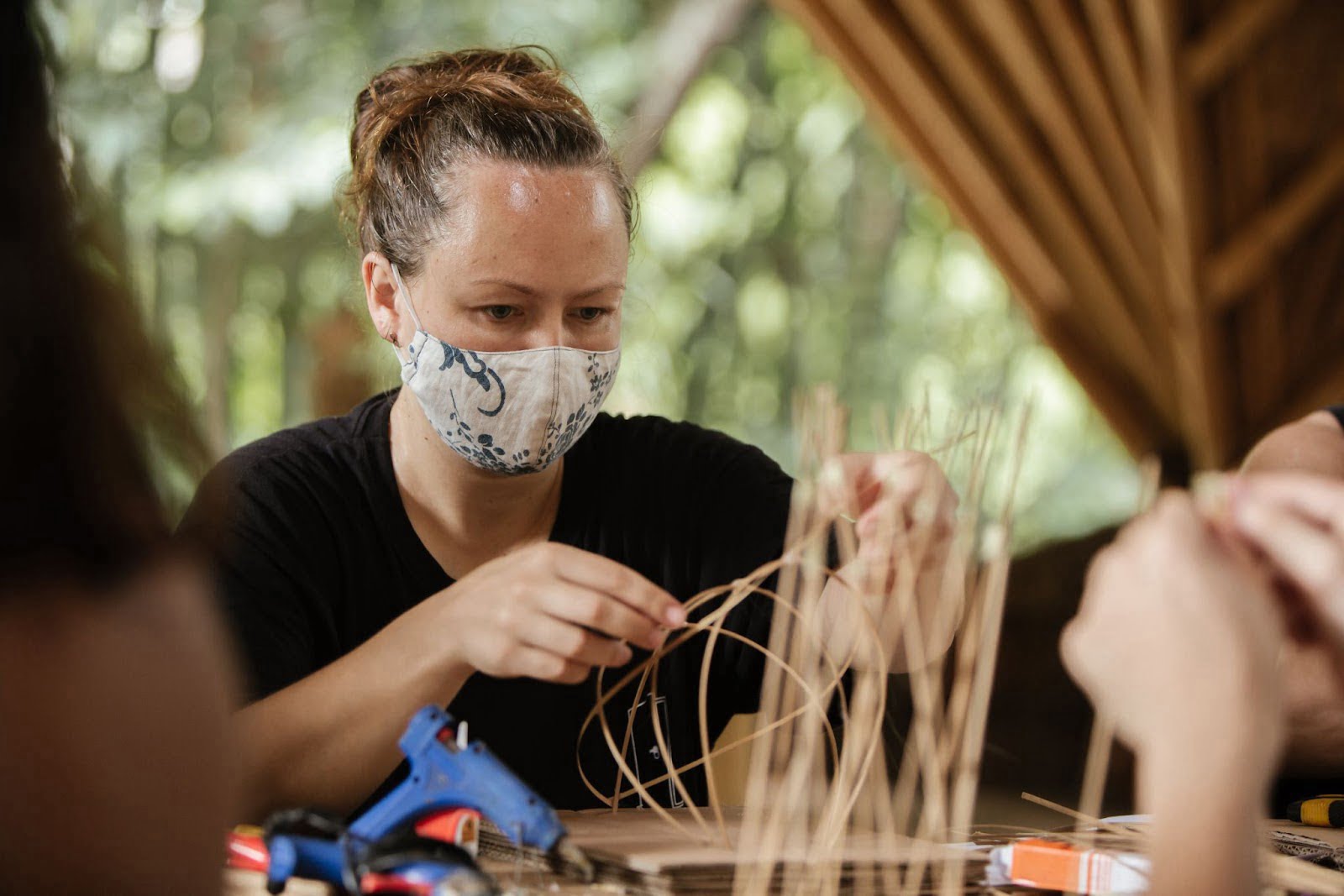 Practical vs Online Learning about Bamboo Construction
It is an amazing opportunity for young architects like us that Bamboo U is giving us the space to learn and work with bamboo no matter where we are in the world. Even online, the course engages with all the participants in live sessions and they are continuously more than happy to answer all questions.
But online is online and to experience bamboo with all five senses is incomparable to the digital world. By physically engaging with bamboo as a building material, we are learning much more about the possibilities and limitations of the material. We are looking forward to participating in Bamboo U's 11-day Immersion on-site, hopefully in April 2022. Furthermore, being surrounded by bamboo architecture every day here in Bali has given us daily inspiration. Our in-person collaboration with Bamboo U pushes our research with constant insight and invaluable knowledge. The Bamboo U Campus and Green School also offer many insights of different building techniques, forms, joinery, and bamboo species that are beneficial to our research and its finished product.

Building with bamboo in Bali: a hands-on experience
Through this collaboration, we are also getting the opportunity to visit and experience some of the finest bamboo projects at sites like the Kul Kul Farm, Green School, Bamboo U Campus, IBUKU and the PT Bambu Pure Factory.
Since we arrived here, we have had the chance to participate in the Bamboo U x Ubud Writers and Readers Festival workshop: the Basics of Bamboo to work on our physical designing experience with the material. One of the activities during that half-day workshop was to learn how to build a bamboo model, led by Mike, the team's bamboo architect. The models are made with locally made, hand-whittled bamboo sticks and splits to mimic the behaviour of the material in real-life construction. Bamboo U has given us the facilities, experienced professional guidance and materials to experiment with bamboo, particularly working at the modelling scale.
The team of artisans, craftsmen and facilitators also encourage learning by doing and testing our ideas hands-on with small scale models. Most recently, we worked on learning how to weave a traditional Balinese basket, using a printed template. With Pak Wahoe, one of Bamboo U's resident bamboo carpenters, we learned to use thin bamboo strips to create a weave, which works as a gridshell structure. We have been able to physically test the bamboo, to bend poles and weave them together using splits. By doing so, we extended our western mindset, adapting our perception to bamboo and its design possibilities.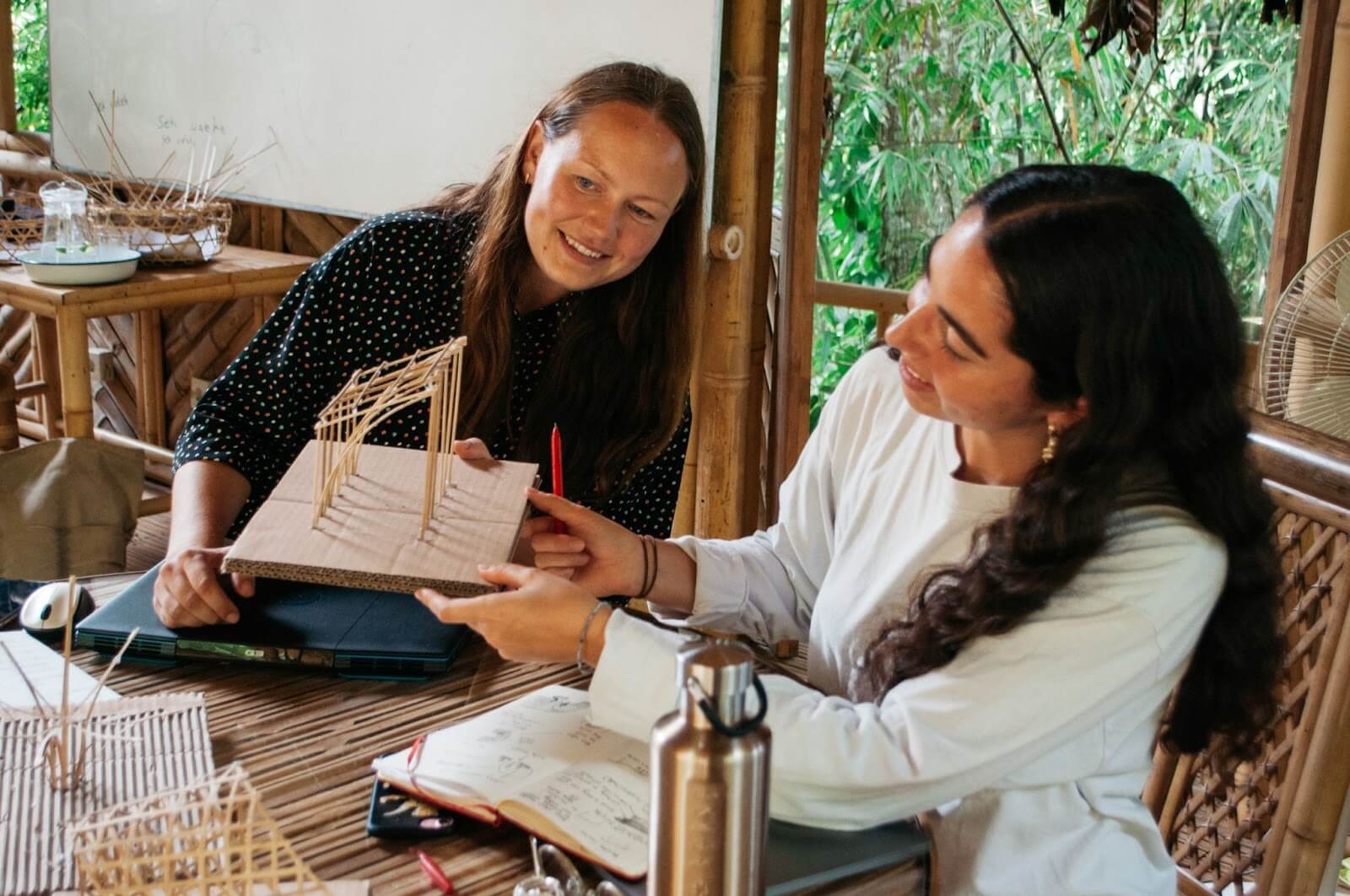 In conclusion, our main interest in researching Bamboo as a sustainable building material is to hopefully generate awareness in Scandinavia to see its implementation back home in daily construction. Bamboo U is a huge opportunity for us to learn and act in the direction of what we believe is needed in the architectural industry. Though we cannot change the world, we can educate ourselves and try to contribute to a better tomorrow.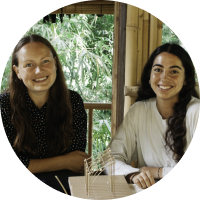 About the author
Leonie Hülya Irmak & Santa Krieva
|
Bamboo U Alumni
Leoni and Santa (originally from Latvia) are Master students in Architecture Engineering at Aalborg University in Denmark. They conducting some extensive research about how to integrate bamboo into the Scandinavian way of life.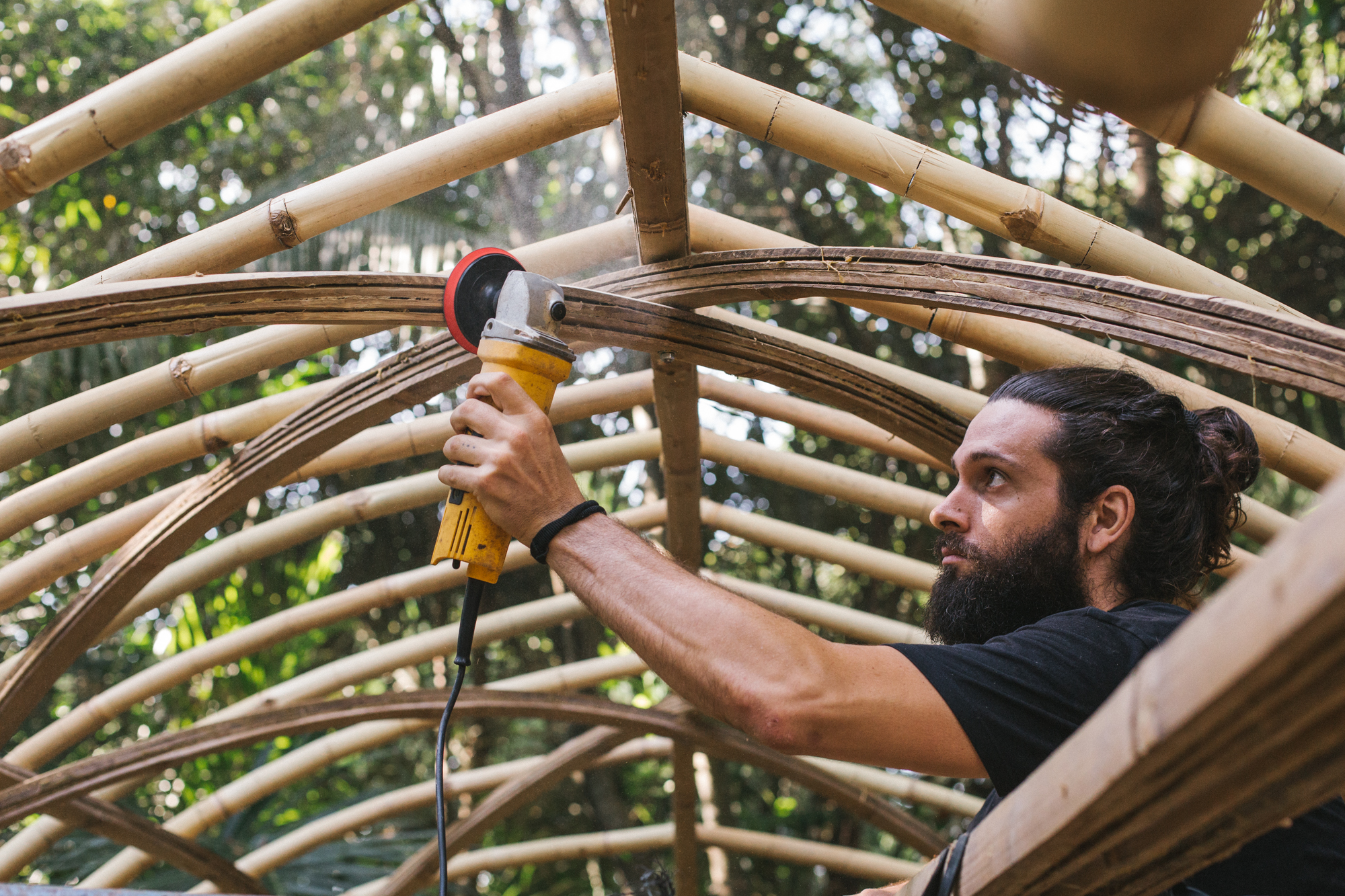 March 22- April 2, 2024
The 11 Day Bamboo Build & Design Course in Bali
In 11 days, we'll show you how to build bamboo structures we'll share all that it takes to build with nature.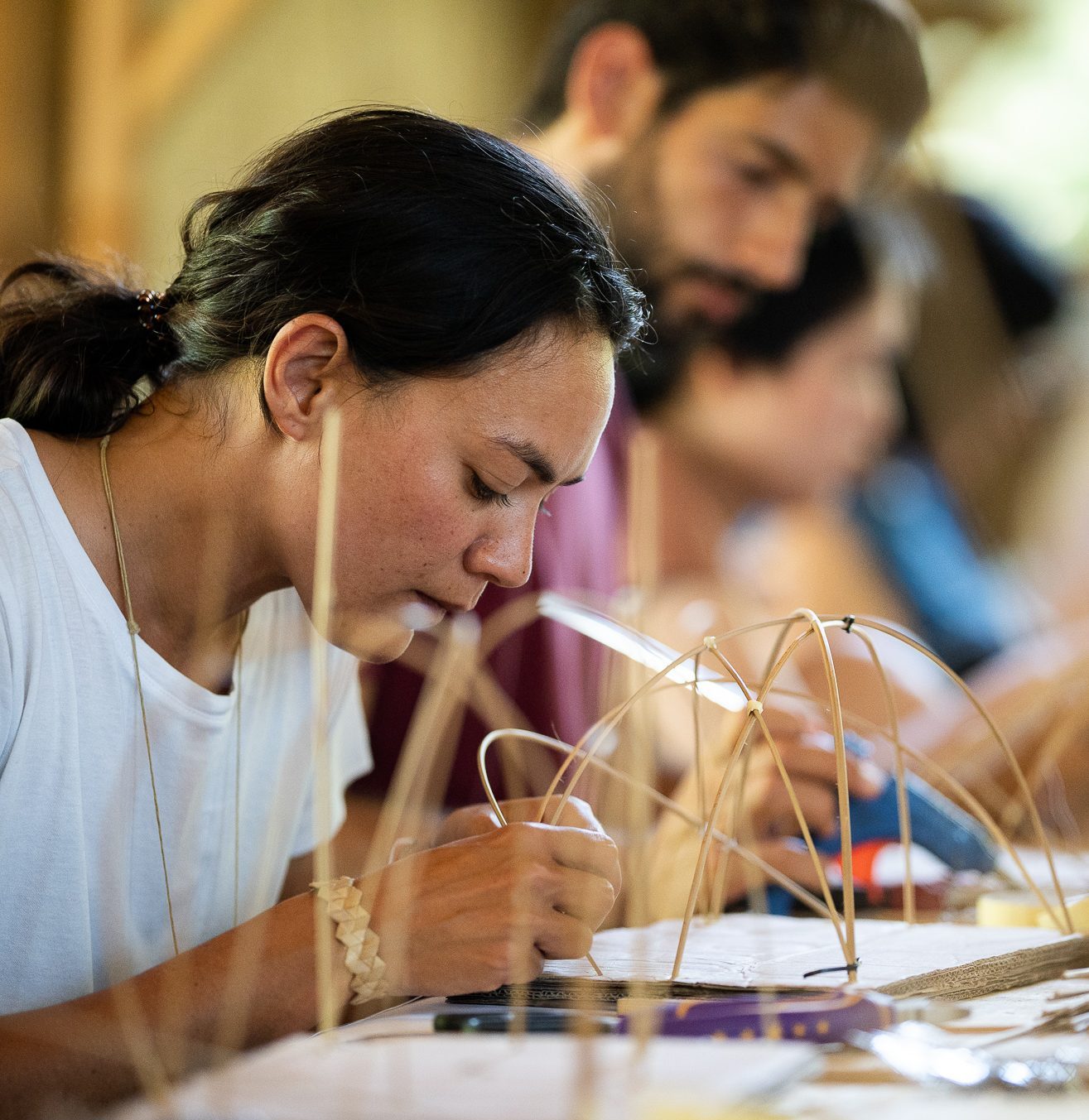 April 26, 2024
The Fundamentals of Building with Bamboo Online Course
All the fundamentals you need to get you started working with bamboo. Deep dive into cinematic videos and step-by-step guides that will provide you with a strong understanding of bamboo as a design and building material.