Building A Bamboo Industry In Uganda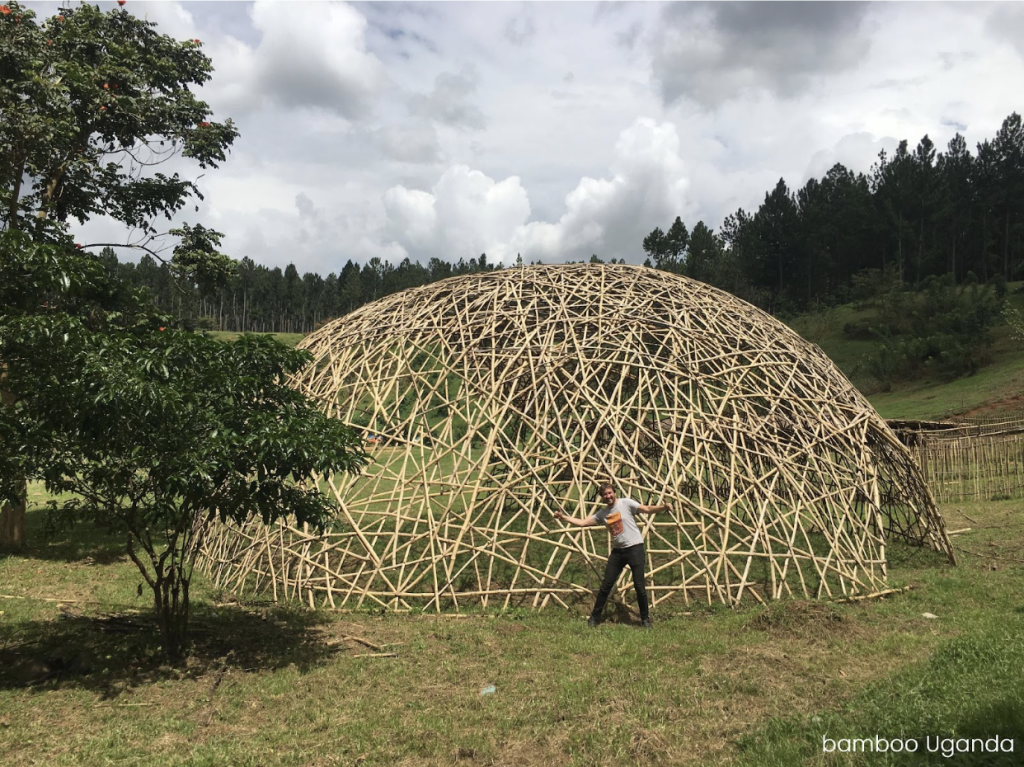 Building a bamboo industry in Uganda, from bamboo plantation, and harvesting to treatment, collaborations and building full scale structures.
Africa teaches the world about how to live with Ubuntu. This philosophy is present in many Africans and can be addictive to everyone who has ever been invited to the continent.
Ubuntu centralizes the interconnections amongst people and between people and the earth. "We are because the earth is" Let us think about a responsibility we all have towards each other, towards ourselves, and towards our environment. With BKVV Architects we happily take responsibility in our work field. We work on climate-friendly solutions for the built environment.
The natural environment has a central role in every project. The materials we work with, have, as much as possible a natural origin, like wood, clay, stones, and bamboo. Over the last few years, our search for natural, honest materials has led us into the field of research and even farming.
If we, as architects, want to design buildings that are climate friendly, the materials that we use must have a positive impact on their environment. One of the materials that can tick off that box very well is bamboo.
The strength, growth rate, and similarities with wood timber make it an interesting resource for the built environment. As we are convinced of the qualities of bamboo we aim to make bamboo a prominent material in our designs.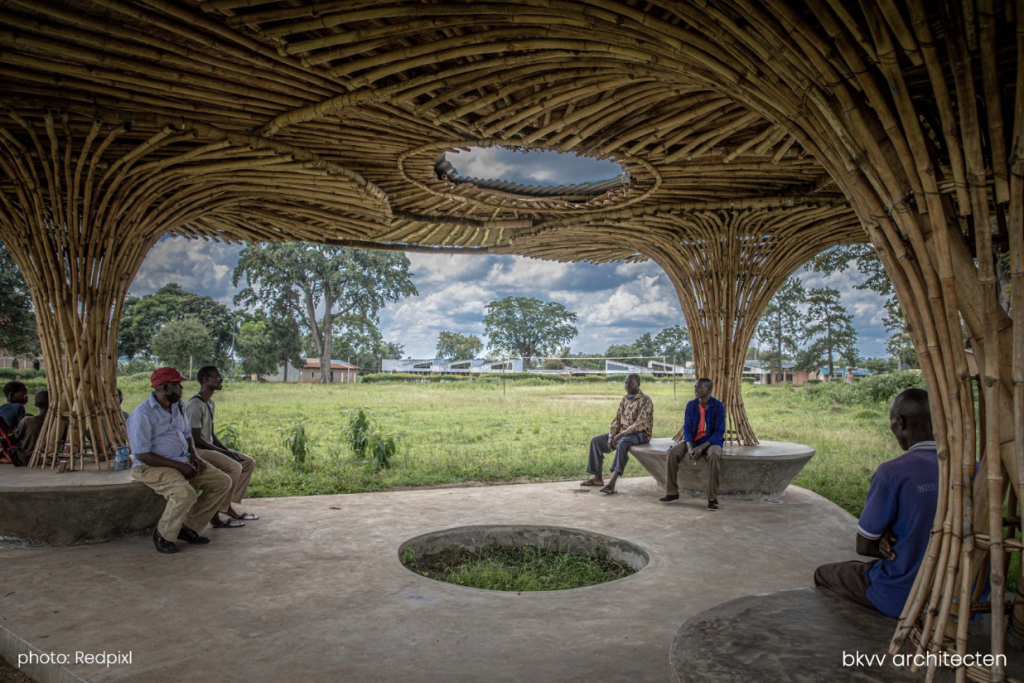 We got the chance to work with bamboo in Uganda. Across the street from the building site of one of the national teacher colleges we were commissioned to design was an impressive bamboo forest. We recommended that we use this bamboo to build the project. The client was easily convinced to do an experiment and build the proposed study shades out of bamboo.
As deforestation is a big problem in Uganda substituting bamboo for hardwood has important value. The whole campus is renovated with the same design principles that focus on what mother earth provides us with: we tuned in on the main wind direction, the path of the sun during the day, and the local materials to make an optimal design that needs minimal use of installations. The campus is now in balance with its environment.
The first use of bamboo in this project inspired us and many other people around us. We kept on receiving questions for other projects with bamboo. It lets our office explore a new path. In its natural environment bamboo is an important player in the balance of its ecosystem. Regenerating degraded lands is even possible. The next step is balancing the built environment.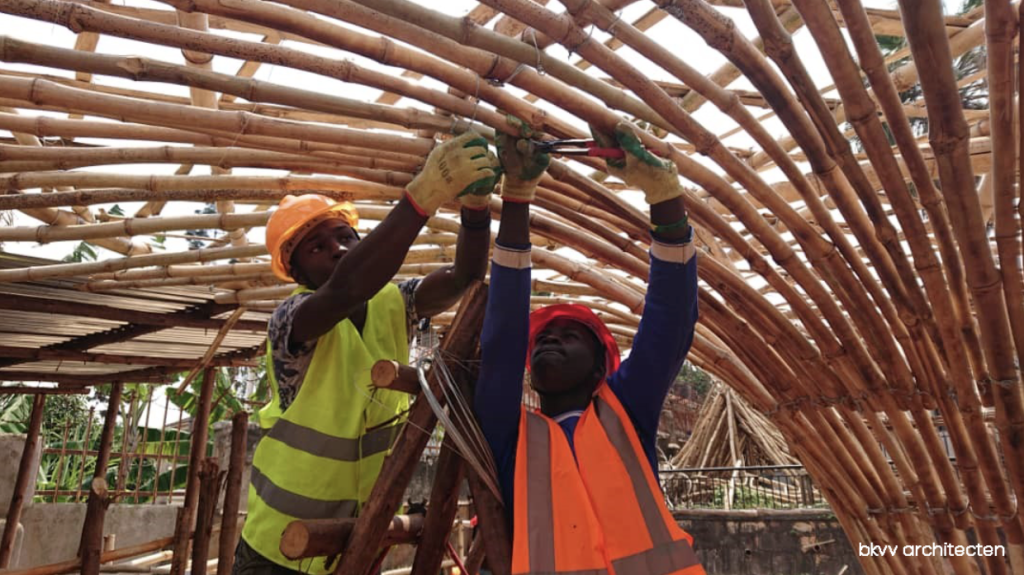 We have quite a big group of bamboo enthusiasts around us in Uganda. Together we formed a new collaboration named: Bamboo Uganda. With an active department of INBAR and a government supporting farming bamboo, we had a good start. The bamboo industry was slowly growing but it mainly focused on small handicrafts.
Together with Bamboo Uganda, we decided to work on setting up the industry for round pole construction. We are working on three levels to reach this goal. In the nursery, we are growing seedlings to be sure of a strong raw material. The factory is creating a market for farmers to sell their mature bamboo poles and at the same time, turn manufactured poles into building materials. Finally, designing and building bamboo structures.
You could compare our approach with a top chef of a fine restaurant that grows his/her own fresh biological herbs and vegetables. By growing our own bamboo and processing them following international high standards into reliable building materials we ensure our clients of a building that is built with high-quality locally grown natural materials that have a positive impact on its environment
Over the past few years, BKVV Architects has been executing several (award-winning) projects in Uganda. In these projects, collaborations were formed with (local) engineers, contractors, clients, the government, NFA, and people from many other disciplines. We have shared our holistic view on building climate-friendly with locally grown natural materials and created an expanding community with a similar green goal.
_______________
Learn more about Sanne's work in Uganda on The Bamboo U Podcast
Sanne is a Bamboo U Alumni, she joined both our online course and the 11 Day Course in Bali, ready about the model she created during the online course: https://bamboou.com/a-bamboo-center-in-uganda/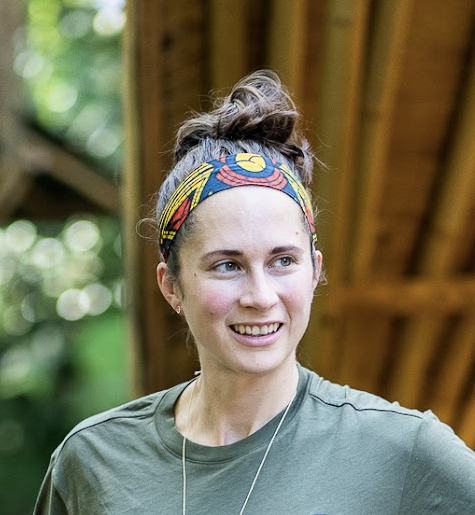 About the author
Sanne Eekel works as an architect at BKVV Architecten. The office is based in Amsterdam from where they work on projects on the European and African continent. Over the last 5 years, she has dove into the world of building with bamboo by learning from international experts, analyzing built structures, reading books and most of all from actually building structures. This first project is based in Uganda. Together with a strong local team her team is building up the whole value chain of bamboo.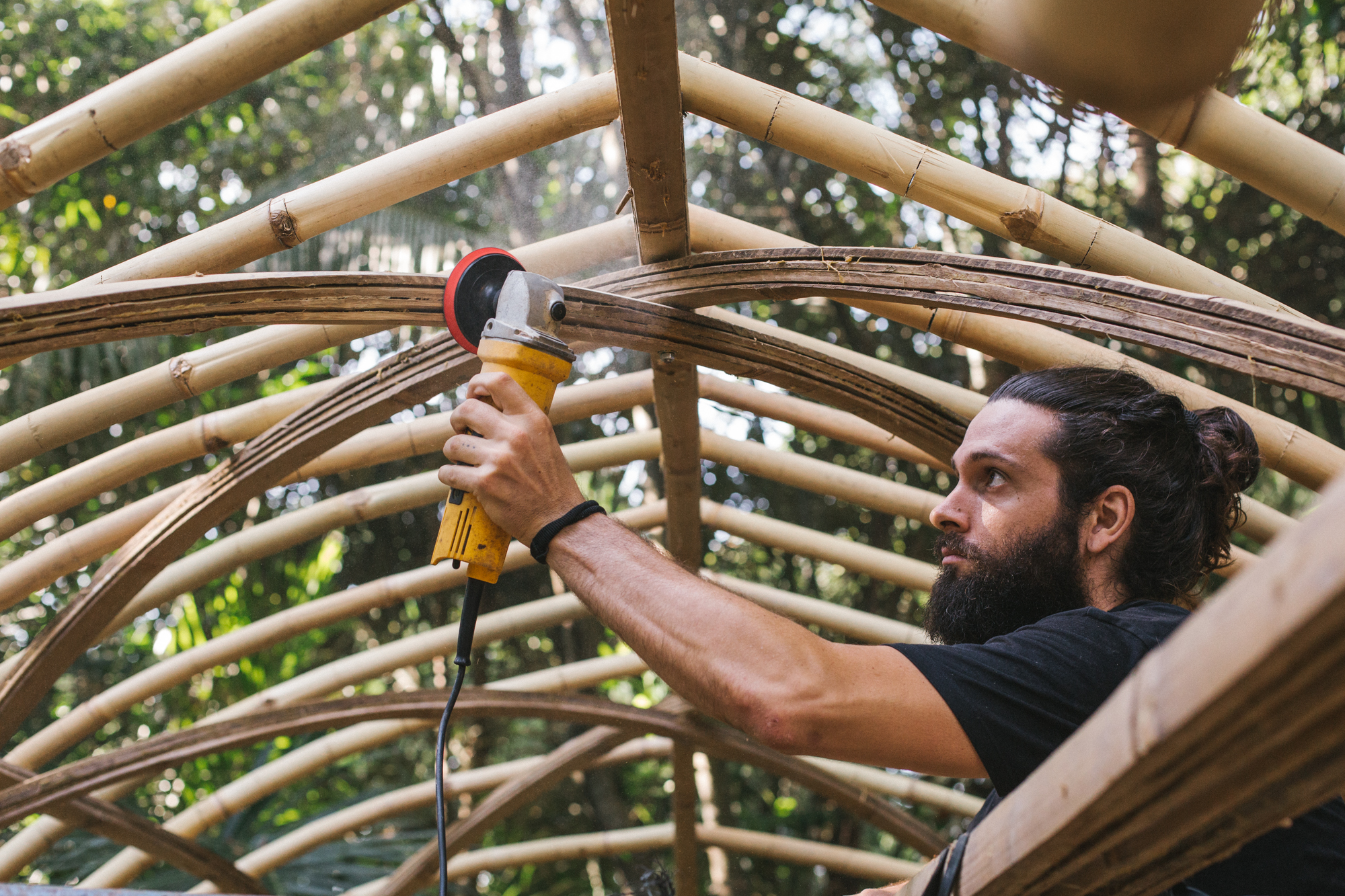 August 19-30, 2023
The 11 Day Bamboo Build & Design Course in Bali
In 11 days, we'll show you how to build bamboo structures we'll share all that it takes to build with nature.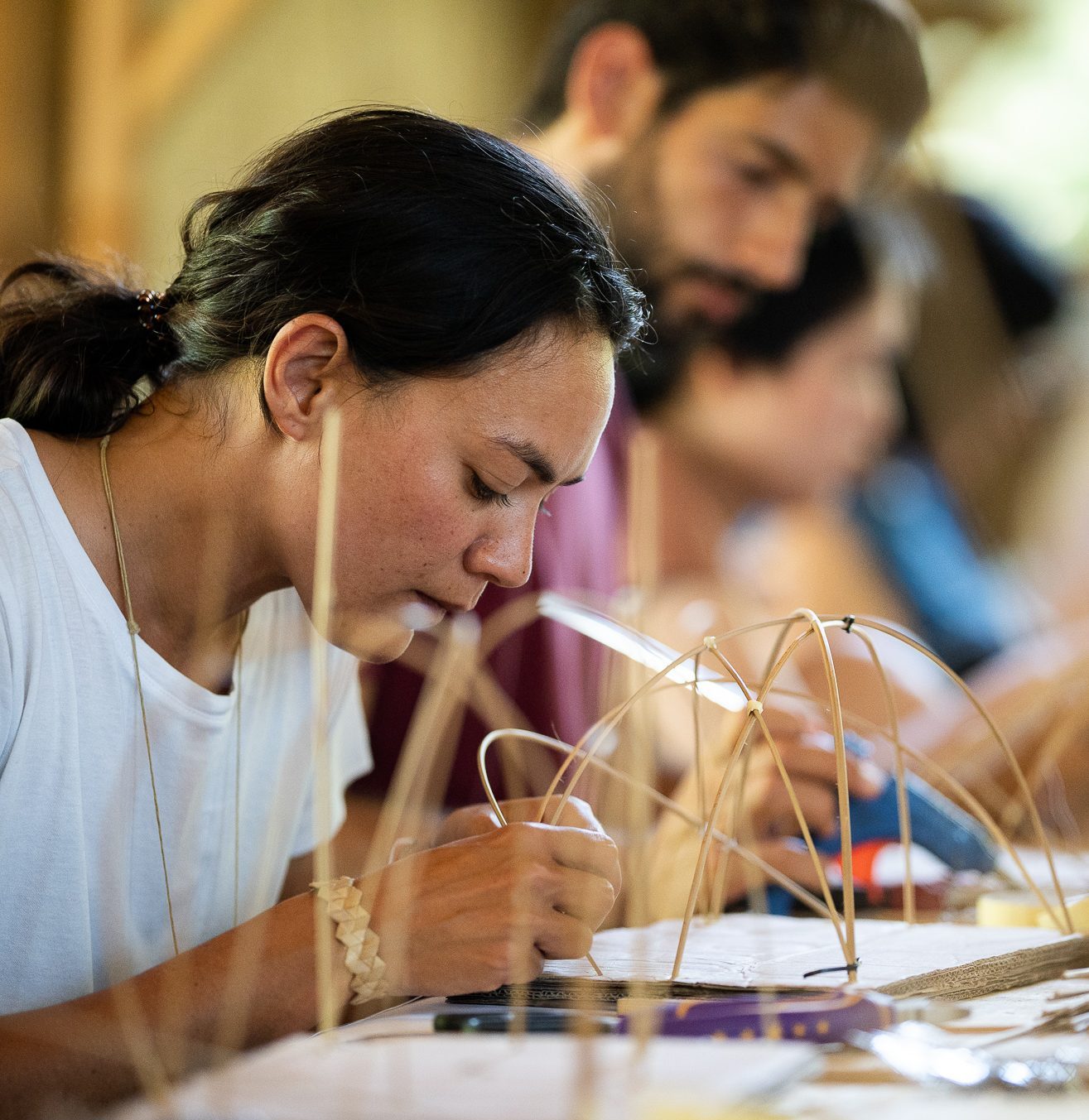 The Fundamentals of Building with Bamboo Online Course
Learn More
All the fundamentals you need to get you started working with bamboo. Deep dive into cinematic videos and step-by-step guides that will provide you with a strong understanding of bamboo as a design and building material.